The following article contains affiliate links, which means Sex Toy Magazine earns commission from products purchased through links in this post. If you love our work, please consider supporting us by ordering the products of your choice using the links placed in the article.
Some men collect watches, some men collect clothes. One of my best friends has over 200 bottles of cologne. Different strokes for different folks I guess. Me? I collect sex toys. I haven't counted the total amount, but I have a lot of them.
Some brands are nearly universally good – for example, you pretty much can't go wrong with a toy from LELO. How about Fleshlight? After all, this is one of the most famous male sex toy brands of all time.
Well, most Fleshlights are great. They are affordable, durable, and easy to use. It is no wonder that these toys have sold well for years and continue to do so.
Today, we will be taking a quick look at one of the newer Fleshlights on the market – the Autumn Falls Fleshlight. There are two types of orifices on offer for this Fleshlight – anal (the sleeve is called "peaches") and vaginal (this sleeve is called "cream".)
In this Autumn Falls Fleshlight review, we will be taking a closer look at both of these sleeves. We will see how they feel, how to get the most pleasure out of them, and finally, whether they are worth a buy or not.
So, saddle up and get ready for the ride!
• Who Is Autumn Falls And Who Are Fleshlight Girls?
• A Quick Look At The Autumn Falls Fleshlight
• Vaginal Autumn Falls Fleshlight – How Does It Feel?
• Anal Autumn Falls Fleshlight – How Does It Feel?
• What I Like About The Autumn Falls Fleshlight
• What I Do Not Like About The Autumn Falls Fleshlight
• Where To Buy The Autumn Falls Fleshlights And How Much Do They Cost?
• Final Verdict – Is The Autumn Falls Fleshlight Worth It?
Who Is Autumn Falls And Who Are Fleshlight Girls?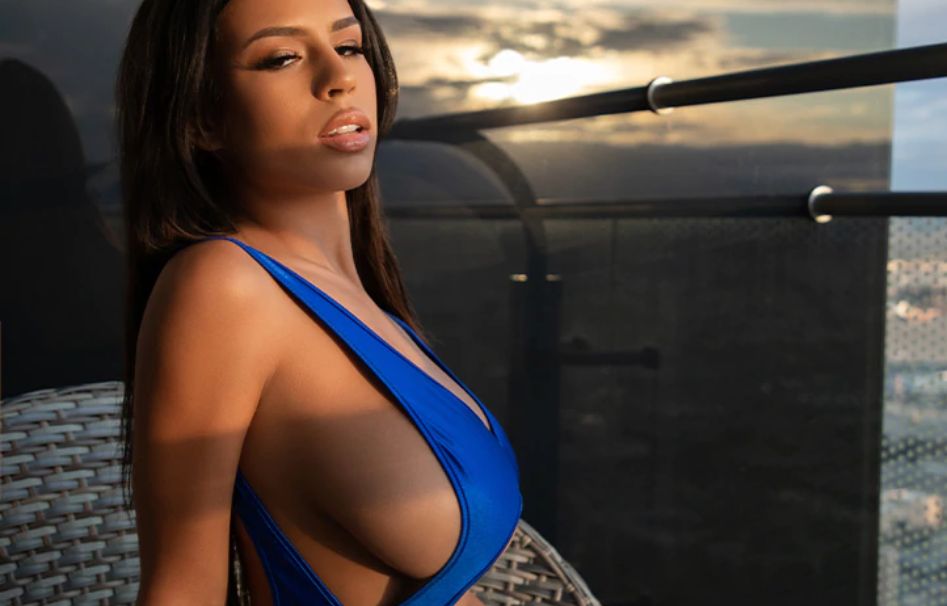 Autumn Falls is an American-based pornstar of Puerto Rican origin. During the last few years, she has been making a name for herself as one of the hottest Latin performers around.
What makes her so popular? Two things – that curvy body and her enthusiasm in all of her scenes. You see, we can't pretend that there isn't a lot of shadiness in porn. And, when a star comes along that is truly uninhibited and simply loves having sex on camera…well, we naturally love these kinds of performers. And, Autumn Falls is one of them.
To be honest, there is no big secret to the success of Autumn Falls – if you love Latinas (and A LOT of men do, myself included), then you will love Autumn Falls.
The massive popularity of Autumn Falls also led to her collaboration with Fleshlight. Fleshlight has a line of sleeves called Fleshlight Girls – these toys are molded to look and feel exactly like the orifices of the most popular pornstars on the planet. And, since Autumn Falls joined this series, we now also have a masturbation sleeve directly inspired by the vagina and butt of Autumn. Simply put, Fleshlight offers gives us the chance to see how it would feel to have vaginal or anal sex with Autumn Falls.
How does this work exactly? Well, before going in-depth to see how this bad boy feels, let's take a quick look at the Autumn Falls Fleshlight.
A Quick Look At The Autumn Falls Fleshlight
As we already mentioned, all Fleshlights are made to mimic the experience of having anal or vaginal sex. But how exactly does this work? Well, all Fleshlights use what the company calls SuperSkin – a material much softer and more realistic than silicone.
In addition to this realistic material, all Fleshlights also come with a unique chamber system. Both the vaginal and anal sleeves of the Autumn Falls Fleshlight come with three different chambers – each of them feels slightly different.
So, penetrating this toy is not a straightforward experience and each area of the Fleshlight feels different. This also means that it is hard to get tired of these toys. You can get a different experience depending on how deep and fast you decide to go.
Since this chamber system is the main selling point of the Autumn Falls (and of all Fleshlights for that matter), let's take a look at what kind of masturbatory experience they offer.
Vaginal Autumn Falls Fleshlight – How Does It Feel?
One thing you will immediately notice about this Fleshlight is how gorgeous it looks. They have gone all out here – the toy has the exact golden skin tone that made Autumn so famous in the industry. This might not be an important detail to some, but for me, the experience starts with the visual…and boy does this p*ssy look good!
Now, let's look at how it feels from the inside.
Chamber 1 – Lots of beads in this chamber. When you slide in, you will feel each of these beads work on the head of your penis. To me, this feeling is somewhat similar to when someone quickly licks the tip of your penis with their tongue. For someone not used to Fleshlights, this intensity can be surprising and very intense.
Chamber 2 – Things get a bit tighter here. This is to make sure that you will get some variation as you penetrate the Autumn Falls Fleshlight.
Chamber 3 – A waffle cross-grid with tightness variation again. A fitting Grande Finale of this Fleshlight.
For my average member, the Autumn Falls Cream Fleshlight feels just right – enough tightness and enough variation. If I feel like it, I can go for some regular penetration. Or, if I am feeling slightly more feisty, I can just rest my penis in one of the chambers and let it rest there. Just twirl the Fleshlight around when your penis is in and it will be enough to give you a unique orgasm.
In a nutshell – you get a lot of fun for what you pay.
Anal Autumn Falls Fleshlight – How Does It Feel?
The anal experience is all about something forbidden, exciting, and intense. And, this is precisely what this Fleshlight is all about. Let's examine how the "Peaches" orifice (what an appropriate name!) feels.
Chamber 1 – Yup, tightness right off the bat! These ridges are soft yet quite pointy. Even more intense than the vaginal entry of the Autumn Falls Fleshlight. Try not to shoot your load immediately, though. There is more fun to come as you go further into this Fleshlight.
Chamber 2 – Suction cups! Blowjob fans rejoice because the suction cups feel like…they suck. In a good way, obviously.
Chamber 3 – Here, you will get oval-shaped textures that are not as intense as what came previously. I love this contrast. The first two chambers feel as if they are there to test just how much intensity I can handle. The final chamber feels like a soft massage, the final resting spot where I can let go and come.
In a nutshell, what you have here is the anal experience with a little twist in the end. Love it.
What I Like About The Autumn Falls Fleshlight
In the following, let's quickly sum up some of the main advantages of the Autumn Falls Fleshlight:
The looks – There is no going around the fact that both the vaginal and anal Autumn Falls Fleshlights look beautiful. This golden color, the enticing soft lips of the vaginal Fleshlight, the inviting hole of the anal Fleshlight…just looking at these toys is enough to get me going.
The cleaning process is simple – Cleaning this Fleshlight is a very straightforward process. Just take the sleeve out of the case, run some warm (not hot!) water through the toy, let it dry out…and there you have it. Liquid soap is also a good idea. Solid soap might be a bit harsh for the SuperSkin material. Yes, you can find specific cleansers for Fleshlights as well, but I do not find them all that essential. As long as you do not use hot water and soap, you will do just fine.
The price – In this price category, Fleshlights continues to be one of the best male sex toys around. You get a versatile toy that is discreet, durable, and most importantly, will give you some awesome orgasms.
What I Do Not Like About The Autumn Falls Fleshlight
All things considered, I only managed to find a single noteworthy flaw in this toy. And, this goes only for the anal version of this Fleshlight.
The Autumn Falls anal Fleshlight might be too tight for some men – Luxury problems, I know. If you are packing some serious heat down there, you might find this anal Fleshlight to be a bit too tight. That said, some men do in fact enjoy the extremely tight fit.
Where To Buy The Autumn Falls Fleshlights And How Much Do They Cost?
For the most current price, feel free to check out the best offers for the Autumn Falls Fleshlights.
For the best price, customer service, and shipping, your best bet would be to order this bad boy directly from the developers – the official site of Fleshlight.
The prices of the Autumn Falls Fleshlight are constantly changing because Fleshlight tends to offer discounts fairly often. However, expect to pay approximately $100 or 80EUR. 
---
Final Verdict – Is The Autumn Falls Fleshlight Worth It?
I mean, if you read this article you already know that I am a fan of this toy. I recently put together a tier list of my favorite Fleshlight Girls male masturbators. And, the Autumn Falls Fleshlight made it to A tier back then.
However, some time has passed and I would easily rank it S-tier worthy now. So, what can I say to sum everything up? If you have been thinking about purchasing a Fleshlight for a while, then the Autumn Falls toy would be one of the best possible starting points.
Have fun, gentlemen! See you again soon!