The following article contains affiliate links, which means Sex Toy Magazine earns commission from products purchased through links in this post. If you love our work, please consider supporting us by ordering the products of your choice using the links placed in the article.
Generally speaking, people are becoming more open about using sex toys and exploring their sexuality with each passing year. As such, it is no wonder that so many of us prostate owners eventually start to become curious about exploring prostate orgasms. For many, this area is a sort of mysterious "forbidden land" that waits to be explored.
But how to reach that holy grail and stimulate the P-spot in a way that actually feels pleasurable? Well, this is where prostate massagers come in.
If you have researched these toys before, you have undoubtedly come across Aneros. And for good reason – this sex toy company has specialized in prostate stimulation for a long, long time and their prostate toys are still some of the most well-loved and acclaimed in the industry.
But still, which Aneros toys are worth the time and money? To help out our readers, I decided to put together a quick guide on the best Aneros toys – here, you will find products suitable both for complete prostate beginners and more seasoned anal explorers. I will include quick reviews of each product just so you know what to expect and whether that specific toy is a good fit for what you are trying to explore.
Before we get to the reviews, let's also answer some of the most commonly asked questions about Aneros toys.
---
How to choose which Aneros toy  to buy first?
Mostly, the choice should be based on your previous experience with prostate massagers and male anal toys. Aneros has also put together a recommendation tool – a questionnaire where the buyer answers a few questions about their experience level and preferences. Based on the answers, Aneros selects the model most suitable for you.
Are Aneros toys easy to clean?
Yes. Hot water and non-abrasive soap are all you need to take care of your Aneros prostate massagers. Just wash and rinse the toy and let it air dry. Note that I am talking about warm water NOT boiling water. Boiling water can severely damage your Aneros product and should be avoided at all costs.
What are the advantages of Aneros over the alternatives?
There is one very specific advantage worth mentioning – the company has a background in the medical field. As such, their team knows about the male anatomy in-depth. With Aneros, the term "good design" is not just thrown around as a marketing ploy. This design team truly knows its stuff.
---
So, without further ado, let's get to the best part. Here are the best Aneros toys currently available:
• Best Overall – "Helix Syn V"
• Best for Beginners – "Aneros Helix Syn Trident"
• Best for Pinpoint Prostate Stimulation – "Aneros Eupho Trident"
• Best Remote-Controlled – "Aneros Vice 2"
• A Unisex Anal Toy – "Aneros Tempo"
• Best for Advanced Users – "Aneros Progasm Ice"
Best Overall – "Helix Syn V"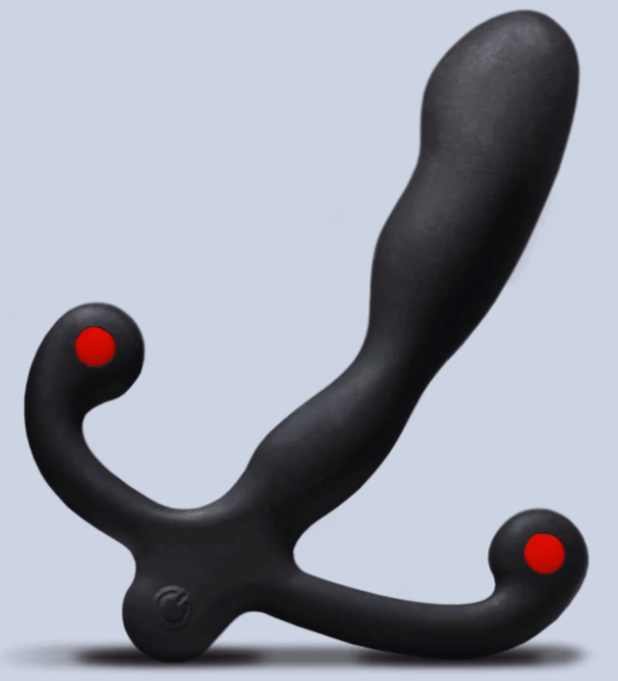 Check price and specs at Aneros
We start with none other than the legendary Helix Syn V – a staple of male prostate toys and a recent winner of the "outstanding anal product" from AVN. So, what makes this little strangely-shaped little gadget so special?
First, there is the material. This thing is built from hypoallergenic, medical-grade silicone that feels great to the touch. And, as most men know – first impressions are important. Especially considering that prostate stimulation can feel scary for a lot of men at first.
Secondly, there is the shape. The Helix Syn V is a result of thousands of hours of design and testing. The result is a toy that stimulates 4 male erogenous zones at once. Yes, it can be intense. Yes, it can be scary. And yes, it can feel absolutely amazing.
While we are discussing the shape of this thing, it is also worth a mention that it stays out very well. An area that many butt plugs and prostate toys get wrong. And trust me when I say this – nothing is quite as annoying as getting close to a prostate orgasm and then having the toy pop out all of a sudden.
Lastly, there are the vibrations. 8 patterns and 3 speeds in total are suitable to cover all experience levels with ease. A good, intense buzz for more experienced users, something slow and steady for beginners. If you are completely new to prostate play, then I would skip the vibrating modes of Helix Syn V completely. Just explore how the toy feels inside you and experiment with various angles. Once you start to get a bit comfortable and "happy" with the feeling, feel free to start exploring the vibrations.
So, how to sum up this toy? Well, it has its reputation for a reason. Simple as that.
Best for Beginners – "Aneros Helix Syn Trident"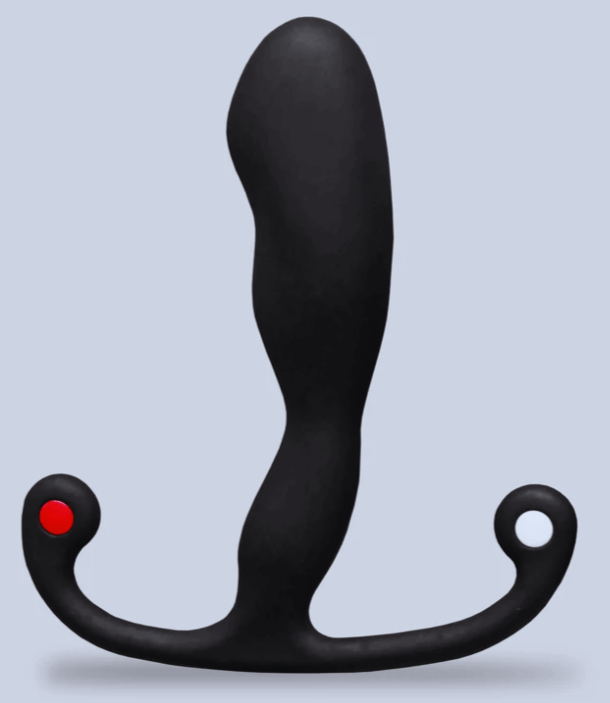 Check price and specs at Aneros
Next up, we have the Helix Syn Trident. Here, we have arguably the best entry point to all Aneros toys. Why? Simply because it is very, very beginner-friendly.
Here, we have the familiar trademark Aneros shape, but with a little less oomph – it is not quite as girthy as the Helix Syn V. In addition, the Trident does not come with vibrations. With this toy, the sensations are delivered silently – the design of the Trident does all of the talking.
Just let the Trident enter you slowly and let your body respond to it. Beginners should just start with the tip, feel how the head of the toy plays with you from the inside, and then slowly creep deeper and deeper and feel the full effect of the Aneros design.
So, who would I recommend this one for? Complete beginners. I am talking about men who are still unsure of whether they even want to stick anything up there. The Trident is cheap, small, and non-intimidating. Yet, you still have a design that has converted millions of men into enjoying prostate play. Watch out though – there is no going back after getting a taste of this type of stimulation.
Best for Pinpoint Prostate Stimulation – "Aneros Eupho Trident"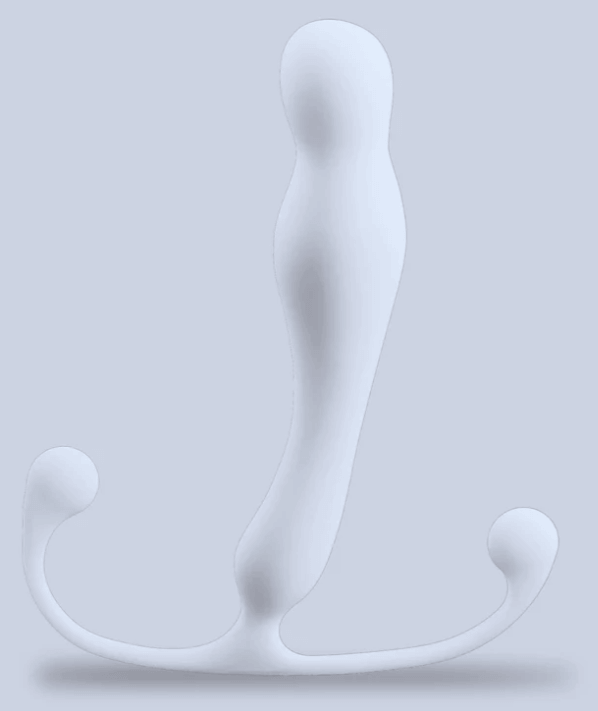 Check price and specs at Aneros
Precision. This is the word that instantly pops into my mind when I think about the Eupho Trident. It is the slimmest Aneros currently available and this makes it a very, very unique model amidst other best Aneros toys.
The feel of the Eupho Trident is hard to describe, but "tickling" is as close as I can get to putting it into words. Take the entire thing in and you feel it pinpoint exactly the right areas. The tingling sensation is even more intense with a little back-and-forth movement which is made super comfortable via the ergonomically placed "hands" of the Trident.
This slow back-and-forth rocking combined with how pointy the toy is gets me hot fast. As with all Aneros models, it took me a while to "learn" and get used to it, but once I did, there was no going back. Perhaps I am getting a bit too personal here, but for some reason, the sensations of the Trident are further elevated by hot water. I can enjoy other Aneros toys pretty much whenever and wherever, but this one just works very well in a hot bath or a shower.
I don't know – there is just something about the heat that makes the pinpoint sensation even better.
The Trident is an even cheaper toy than the previously mentioned models, but I would still not recommend this one to a complete beginner. This pointy sensation is an acquired taste. It is a sort of sensation that may scare off many first-timers from exploring prostate stimulation further.
Best Remote-Controlled – "Aneros Vice 2"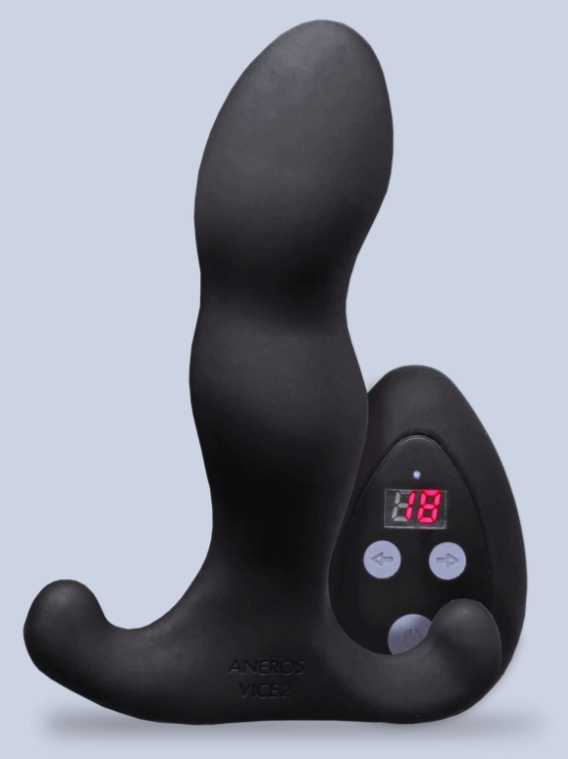 Check price and specs at Aneros
Due to their great design, most Aneros toys are pretty beginner-friendly. Not the Vice 2 though – this boy is big, bad, and rumbly. The mid ridge and the head of the toy are both 1.2 inches, making it one of the largest units offered by Aneros.
The selection of vibrations and patterns is also the largest out of the alternatives – a whopping 18 vibration patterns and 4 different speeds in total are what you get here. Operating between these different options has been made easy via an included wireless remote.
The remote is a godsend for an Aneros this big because taking the entire toy in is a feat in itself. Vice 2 fills you up, quite literally. It sits in well (as do all other Aneros models), but I still try to move as little as possible with this one. And, this is where the remote comes to aid – I do not have to move to add a little buzzing action to my session.
With this one, I am yet to discover the more intense speeds and patterns. It is not every day that I am in the mood to take in something this big. As such, I am just not ready to feel it rumble inside me with full power. Not yet anyway.
Overall – a powerhouse of a unit fitting for a true prostate connoisseur.
A Unisex Anal Toy – "Aneros Tempo"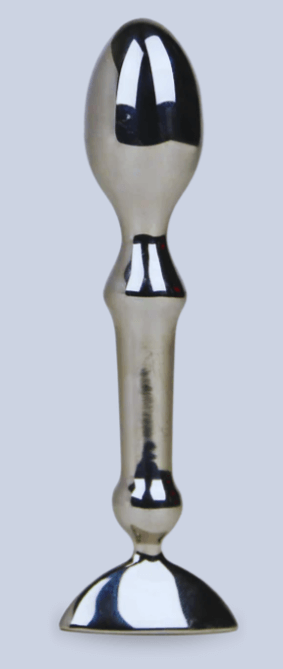 Check price and specs at Aneros
The Aneros Tempo is often overlooked in favor of other Aneros toys, but unfairly so. With the Tempo, we have a completely unisex anal massager. And, the fact that it is fitting for both men and women automatically makes it one of the most versatile Aneros models yet.
Seeing that it is a unisex toy, the shape of this one is a little different from the anchor-looking design associated with most Aneros massagers. Instead, the Tempo is a classically phallic-looking model with a bulbous head.
Since this is a toy made of stainless steel, you also have the opportunity to practice temperature play with this one. What is temperature play? It means enhancing the sexual experience via hot or cold. Just warm up the toy, let the Tempo hit the spot, and feel that warmth from the inside. It could make that first P-spot orgasm that much more special.
And yes, the effect is there with the cold as well – however, personally, I am not that big of a fan of intense cold hitting my prostate. The shock of the cold is just too much and tenses me up immediately. That said, I know users who enjoy ice-cold toys for precisely this reason. Different strokes for different folks!
All in all, yet another solid offering from Aneros and arguably the most versatile toy in the lineup.
Best for Advanced Users – "Aneros Progasm Ice"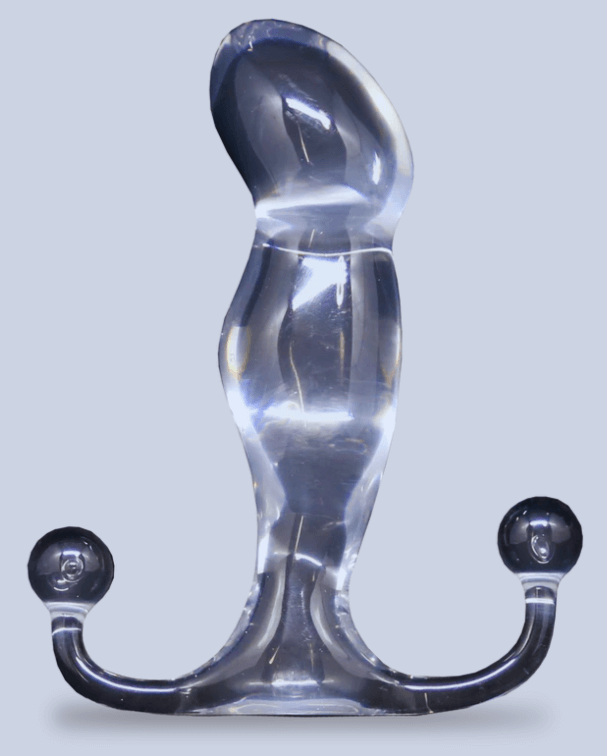 Check price and specs at Aneros
First off, this is my favorite Aneros toy when it comes to sheer looks – simply love the see-through look, those massive bulbs, and that hard surface. This is one of those toys that gets me hot just by touching it – ridiculous, I know, but this is just how it is.
It is also a rather unique one in the Aneros roster – here, we have the traditional Aneros shape, but in a much girthy form. As such, this thing has become my go-to when I want to just "vibe" while being filled with a non-vibrating Aneros. Vice 2 is for when I want to feel that filled vibe with some vibrations, the Progasm Ice is for when I just want to lay down with something bulky inside me.
Now, is it beginner-friendly? To be honest, no. The look of the toy is super tempting and feels good, I admit that. But take a look at these measurements and think carefully whether you really can take something this intense.
For someone already familiar with prostate stimulation though – a great, budget-friendly model that will not disappoint.
---
And there you have it – the best Aneros toys as chosen by yours truly. All in all, it is nearly impossible to go wrong with ANY Aneros toy. Pretty much the only thing you will have to watch out for is your personal experience level, but this is where our guide will come to your aid. Whichever toy you end up choosing – stay patient and do not give up! It can take time to ease into prostate play.
Take care and have fun!