The following article contains affiliate links, which means Sex Toy Magazine earns commission from products purchased through links in this post. If you love our work, please consider supporting us by ordering the products of your choice using the links placed in the article.
Adrien recently put together an article on the best black sex dolls available. This immediately gave me an idea for writing an article inspired by my own fantasies.
Ever since I was young, I have had this recurring, steaming hot dream. This fantasy involves a complete stranger taking me from behind at a library. I won't go into more details, but let's just say that this stranger has a long, black member that is also alarmingly thick. I know I'm not the only one with fantasies such as this. And, this is precisely why I decided to put together an article listing the best black dildos available.
You see, I am pretty sure that my fantasy will not come to life. Do I care? Not really. There are fabulous black dildos available these days. I whip out one of my favorites, use my imagination…and voila! Rainbows, sunshine, orgasms!
But, before we get started with our list, allow me to answer a few commonly asked questions about choosing and using dildos:
What features should I look for when choosing a black dildo?
Know your limits, ladies! You shouldn't choose a super girthy monster "just because." If you are at the beginning of your dildo journey, start on the smaller scale of things and casually work your way up. If you are an experienced sex toy user and huge toys are your thing, feel free to go for something like King C*ck (yup, this is a legitimate name of the brand.)
Also, make sure that the materials used are body-safe. Rest assured, all the specimens listed here fit the bill.
Is a dildo a good choice for a first sex toy?
A loud YES! Dildos are a superb choice for women getting started with sex toys. They are cheap, simple to use, and will help you learn about your sexuality. Also, dildos are more discreet and quiet than most sex toys. Just make sure not to go too crazy with size, but we already established that.
Am I a racist for having fantasies about black men and/or wanting to buy a black dildo?
No. Sexuality is about boundless self-expression. And, if your fantasies involve getting penetrated by a BBC, this is all fine and dandy. There is absolutely nothing to be ashamed of. You see, I hate stereotypes as much as the next girl. But, in my humble opinion, sexuality is a field where we need to let go of complex issues such as racism and politics. You are free to fantasize, girl!
Without further ado, let's get cracking, here are the best black dildos available in 2021:
A squirting black dildo – "Squirting Realistic C*ck 9.2 Inch Ejaculating Suction Cup Dildo"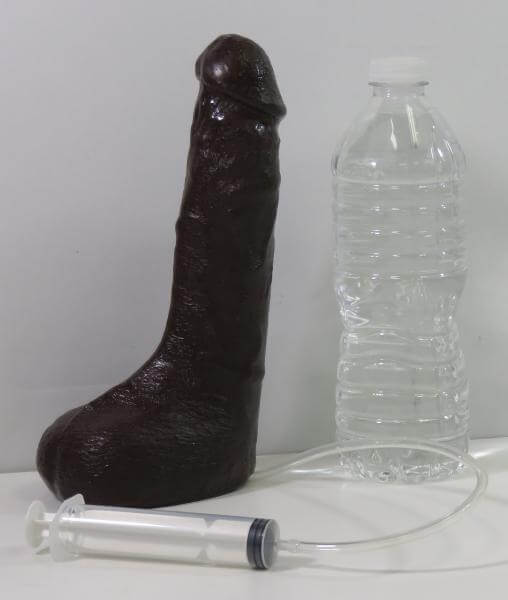 Key advantages: a black dildo with a squirting function, realistic testicles
Check price on Betty's Toy Box
This black dildo from Doc Johnson is a beast. 6,5 inches of insertable length and 9.11 inches of girth will give even the most experienced women a wild ride. So, how about some words of advice before you have fun with this black dildo? Have some patience, an erotic mood, and lots of lube…and this thing will blow your mind. I am by no means a size queen. It's all about the motion in the ocean, not the size of the boat. Still, there are times when I get dreamy and just want to feel something thick, veiny, and massive slowly enter me. These fantasies also include getting a warm load on my body…and this is where this black dildo from Doc Johnson comes is.
Yes, this is a squirting black dildo. How does it work? Simple, you just push all the air out of the dildo and inject it with a body-safe lubricant of your choice. A syringe is included in the package. Still, do not go too liberal with the choice of "ejaculate." Warm water might be cheap, but it just doesn't do the trick. Trust me, I've tried. Totally ruined the immersion of the experience.
Spunk Lube is not that expensive and can be easily added to the order, so this is where I would start if this was my first squirting dildo.
Yes, squirtability (I just made a new word up) is the major talking point of this black dildo. But, not the only one. If you are a girl who loves some ball-action, this is among the best black dildos for your tastes. The testicles of this dildo move, giving it an almost eerily realistic feel. All in all, this black dildo deserves its reputation as one of the masterpieces of Doc Johnson.
Best vibrating black dildo

– "Lovehoney Double Dipper Vibrating Strapless Strap-On Dildo 7-inch"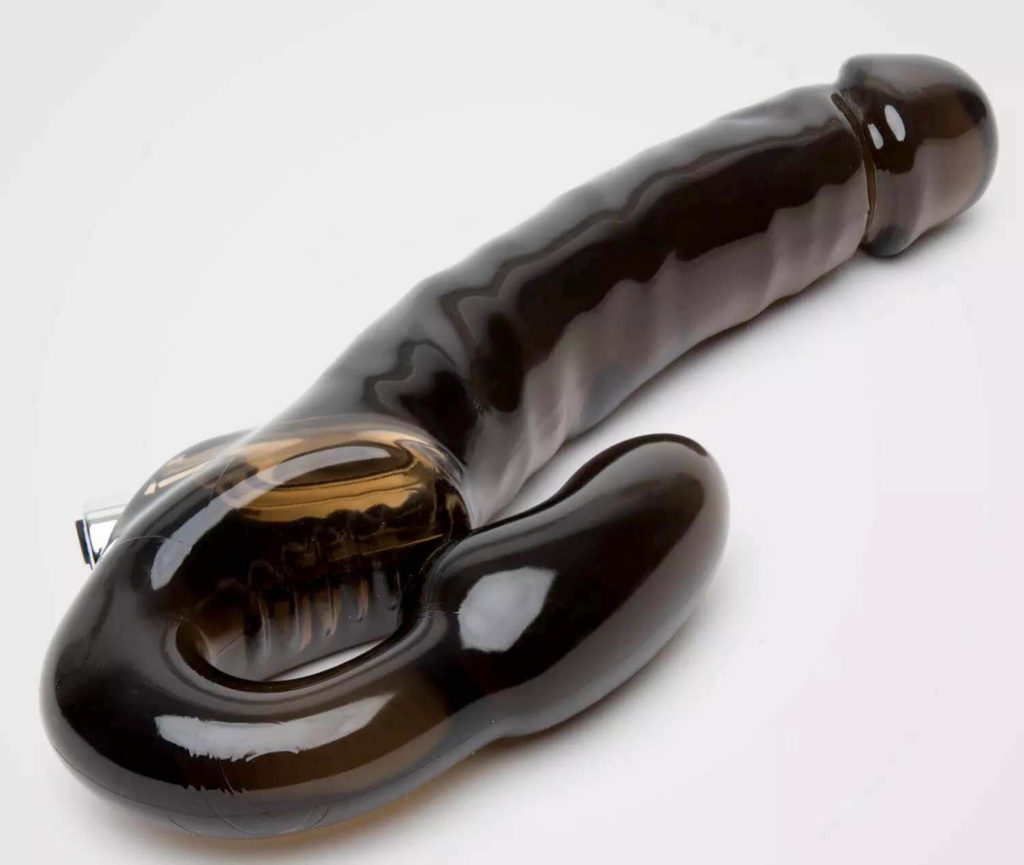 Key advantages: beautiful design, suitable for pegging, superb bullet vibrator included
Check price at Lovehoney
First off, this thing is beautiful! Just look at this dark amber shade, the glass details, and those curves!
This is a strapless strap-on. Confused? Allow me to explain. The wearer gets her G-spot massaged by the shorter shaft, while the receiver gets to enjoy 7 inches of the main shaft. Add to this some oh-so-good vibrations and you have quite the mix for some carnal fun.
Speaking of the bullet vibrator of the Double Dipper – heaven! Some of the smoothest vibration transitions ever, which make the (admittedly large) size of this thing so-so pleasurable.
Yeah, while this might be intended for couple play, it is slowly but surely becoming one of my favorite black dildos.
The girthiest black dildo – "King C*ck Mega Chubby Realistic Black Suction Cup Dildo 7 Inch"
Key advantages: the girthiest black dildo available, great for stimulating the clitoris
Check price at Lovehoney
If you thought that the previous black dildo on our list was scary with its girth of 9.11 inches, close this article right away. Size-wise, this black dildo is in a category of its own. Just look at the thing. Pretty much all girth and no length. Exactly like in my fantasies.
Just like the previous black dildo on our list, this is not a product for a beginner. Still, if the size is your thing, this is your choice right here. Make sure to use massive amounts of lube, and go super slow. I'm not gonna lie, my first session with this dildo was painful. Even with loads of lube. I was much too fast. However, the second and third times were pure ecstasy. I actually managed to enter it balls deep and come. How? I used a clitoral vibrator to get me within seconds of a climax. I was soaking with my juices and lube, and I slowly entered this beast of a black dildo into me. To the very end.
This thing is girthy enough to stimulate your clit, so some very slow (I must emphasize this part) back and forth movement did the trick. I came. And I loved it. I do not use this black dildo often, as using it is almost a religious (and slightly scary) experience. But, when I am in the mood, it just works.
A curved black dildo for g-spot stimulation – "Prince Yahshua Porn Star UltraSkyn 10.5 Inch Dildo"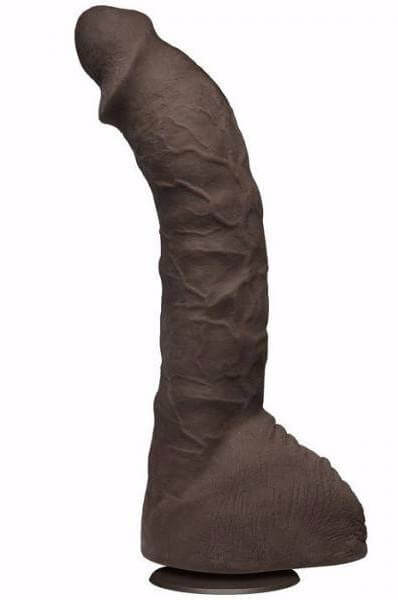 Key advantages: great for g-spot stimulation, a visually pleasing black dildo
Check price at Betty's Toy Box
Whew, after reviewing the previous beastly black dildos, it feels good to catch my breath with the mold of legendary Prince Yahshua. Although, it must be said that 6.28 inches of girth and 10.5 inches on length are hardly similar to an average pecker.
So, why is this mold on our list of best black dildos? Simple. This curve! Prince Yahshua is an industry legend for one reason, his curved penis. Some women love the look of a curved cock, some do not. But, even if you do not like curved penises in real life, I highly suggest giving a curved dildo a shot. Speaking from experience, curved dildos/penises are far more likely to stimulate my G-spot. Of course, all women are different. But, for ladies with no curve experience, try it out. You might be surprised to see how much you love it.
In addition to the legendary curve, the Prince Yahshua mold has also nailed the veins and the ridges. You see, the TRP/TPE material of this black dildo is firm yet very flexible. This means that you will feel every bump, ridge, and vein while motioning this dildo inside you…and that curve! Using this beauty makes it easy to see what made Prince Yahshua so famous in the industry.
A black dildo for beginners – "X5 Hard On 8.75 Inch Dildo – Chocolate"
Key advantages: a realistic dildo, great for the cowgirl position, an economic price
Check price at Betty's Toy Box
Let's continue our list of best black dildos with something a little more realistic and beginner-friendly. The X5 Hard On is, in many ways, comparable to the Prince Yahshua mold. How? The veins, ridges, and bumps are done to perfection. And, you feel every single curve as you are having fun with this dildo.
This black dildo is a great option for women just starting to fulfill their dark fantasies, as it is much smaller than the previous dildos on our list. It comes with a length of 8.75 inches and a girth of 6.50 inches. By no means an average dong, but still not huge enough to scare away first-timers.
Let's also talk balls, as this is yet another example of balls done very well. Squishy, bouncy, realistic…just great! And, since this beauty is also harness-compatible, it has become one of my favorites for some cowgirl action. All in all, if I was to suggest a black dildo for a beginner, this would be it.
An inflatable black dildo – "C*ck Locker Extra Large Inflatable Dildo 8 Inch"
Key advantages: comes with a practical pump, inflates to an impressive girth
Check price at Lovehoney
Our list of best black dildos wouldn't have been complete without including an inflatable dildo. For those who have not used inflatable dildos before, let me give you a quick breakdown of what you can expect. The C*ck Locker is a latex black dildo that might seem light at first, especially compared to other beasts on this list.
But, there is more than meets the eye to this beast. Slowly let the toy enter you and start pumping away. Not too fast, not too slow. You will feel as this black dildo slowly expands inside you. And, let me tell you, this feels as awesome as it sounds. For someone who wants to feel how taking 7 inches of girth feels, yet doesn't want to jump right to inserting something as humongous, this is your chance right here. You can start average and feel it work its magic inside you, slowly.
How about a pro tip? Deflate the C*ck Locker inside you seconds before you come. You can thank me later, ladies.
A black double dildo – "Ruse 18 inch Silicone Double Dildo – Black"
Key advantages: great for double penetration, great for couple play, made from high-quality silicone
Check price at Betty's Toy Box
Double the trouble! When compiling this list of best black dildos, I knew I wanted to have at least one double dildo on the list. And this baby from Ruse was the best choice. When selecting a double dildo, one feature is super important. It needs to bend well! Duh! And, this dildo from Ruse certainly fits the criteria. The platinum-cured silicone material has just the right amount of movement for using this with a "special friend."
Since I do not have a female friend to use a double dildo with, I'm gonna speak about how I get the most out of this black dildo from Ruse. Good old DP! You see, since this black dildo is not insanely girthy (5.49 inches), it is suitable for anal use as well as vaginal. The bend I already described makes using it easy. Whichever position I prefer at the moment, I will lead my solo DP session to a glorious finish with this double dildo.
What more can I say? For lovers of DP or girl-on-girl action, this is the best black dildo available.
The most realistic black dildo – "King C*ck Ultra Realistic Suction Cup Dildo with Balls 8 Inch"
Key advantages: a superb interpretation of a real penis, great for g-spot stimulation
Check price at Lovehoney
Whew, this has been quite the ride. We have looked at double dildos, some truly huge black dildos, and even a squirting black dildo. But, what if you just want something as realistic as possible, just a bit larger? Don't fret, I know what you're looking for.
This BBC from King C*ck is a masterful interpretation of a real penis. The shaft, the balls, the material. Every little detail here is spot on. Except for the size (10,5 inches in length), which is admittedly on the humongous side of things. This thing is also as thick as a trunk. This means that this bad boy will also easily stimulate your G-spot while you're penetrating yourself. You will get stretched out, you will hit all your spots. And, most importantly, you will come.
Despite the size of this dildo, there are no additional bells and whistles to talk about here. This is a spot-on imitation of a very big penis. Simple as that. This is also probably the reason my husband loves to watch me play with it. The man just loves seeing this big boy enter me. And, hey, who am I to judge.
Best small bl

ack dildo

-"Colours Realistic 4 Inch Silicone Dildo – Black"
Key advantages: beginner-friendly, suitable for anal
Check price at Betty's Toy Box
During the last few months, I have been experimenting with smaller dildos. I have never been a size queen when it comes to real penises, but I admit that there is just that extra something about big dildos. So, small black dildos are new territory to me.
So, how is it? Surprisingly great. In fact, my ecstatic experiences with this small devil made me realize that this list needs an update. So, how small are we talking? – 4 inches of insertable length and 4.71 inches in girth.
Why do I love this dildo so much? Simply put, this is the first black dildo that I can comfortably use for anal play. I usually start out with slowly letting this thing "paint" my vagina wet by sliding over the outer parts of my vagina. After this, some penetration (combined with clit stimulation) until I come. If I am in the mood (and I usually am), I want to go for round two immediately. This time, though, I get even more feisty and go for some anal play with this dildo.
If I use plenty of lube and are in the mood, this is exactly the size of d*ck I want to take anally. I feel all the detailed veins and well-crafted head of the dildo stimulate this erotic and ever-so-delicate area, yet I never feel uncomfortable and overwhelmed. Usually, the next orgasm is quick to arrive. Except this time it feels completely different. If you have secretly thought about anal, then this black dildo could be one of the safest starting points.
Best uncut black dildo

– "Addiction Ben 7 Inch Silicone Uncut Fantasy"
Key advantages: unique texture, great for foreskin fetishists
Check price at Betty's Toy Box
I know I know – yet another long, girthy, and meaty beast. Why even add it to this list then? Well, this bad boy is uncut.
I do not have some kind of special relationship with uncut penises. Frankly, I do not care how you rock your c*ck. As long as everything is clean, we are good.
With all that said, I still highly recommend giving the uncut a penis a try. It IS different. There is something sexy about a raw, uncut member. Also, this particular dildo has gone the extra mile – there are extra "scales" on the entire thing. And yes, you will feel each and every one of these scales as you play with the dildo.
Now, there is also an obvious elephant in the room that needs to be addressed – this is a very big dildo. So, if you are new to dildoes or sex toys in general, I would advise choosing something slightly less intense instead of this big boy.