The following article contains affiliate links, which means Sex Toy Magazine earns commission from products purchased through links in this post. If you love our work, please consider supporting us by ordering the products of your choice using the links placed in the article.
Are there men who don't like a good blowjob? Yes. These men are called virgins and/or liars. Blowjobs are awesome. This is a fact of life. The lips, the wetness of the tongue, the warmth! Honestly, I'm getting hard just thinking about the lips of my wife on my d *ck.
But, not everyone is blessed with a willing partner. Does this mean that the world of oral is off-limits? Well, this certainly used to be the case. When I was working in a sex shop, blowjob machines were not a thing. In fact, I tried my first blowjob simulator only 4 years ago. And, it was love at first suck!
These days, there are loads (hehe!) of blowjob machines available. And, to help you choose your first sucker, I decided to list the best blowjob machines of 2022. All of these beauties have given me numerous moments of pure bliss, both solo and with my wife. And, I'm positive that you will love them too.
But, blowjob machines are still a somewhat obscure category of male masturbators. So, to help novice suck-enthusiasts, I decided to first answer a few commonly asked questions about blowjob machines.
---
How do blowjob machines work?
By mimicking the feel of a mouth sucking you off. Blowjob machines use textures and sensations similar to the human mouth. The best blowjob machines offer various different speeds and pressure settings to suit even the most experienced oral receivers.
Is the feel of a blowjob machine comparable to the real thing?
The big question. Physically speaking, the best blowjob machines are pretty damn close to the real thing. Plus, not everyone knows how to properly suck dick. My personal verdict on blowjob machines? Way better than a bad blowjob, and way better than just jerking off. If I was single, blowjob machines would probably keep me locked up in my house for months on end.
What are the differences between cheap blowjob machines and premium machines?
Just read the list. I included something for everyone. High-end blowjob machines can be connected to VR, offer more operating modes, and usually last longer. Don't get me wrong. There are great cheapies as well. In fact, you can blow your mind for under $20 if you know how to choose. And after reading our list you WILL know.
Can couples use blowjob machines?
Hell yeah! I often let my wife sit on my face while letting a machine suck me off. She loves it. I love it. Blowjob machines are certainly not conventional sex toys for couples. But, screw the conventions! Trust me, blowjob machines can add a new dimension to your sex life, regardless of whether you fly solo or not.
Excited about buying your first blowjob machine? You should be. You are in for a hell of a ride.
These are the 8 best blowjob machines for 2022:
• Best Non-Vibrating: "Fleshlight Turbo Thrust Blue Ice"
• A Cheaper Onyx+ Alternative – "Lovense Max 2"
• Best Value: "Autoblow 2+ XT"
• Best for Deep Throat: "La Bocca Della Verita"
• Best for Beginners: "Sue Johanson Head Honcho Male Masturbator"
• Great Cheapie for Couples: "Lovehoney Head Master Vibrating Blow Job Stroker"
Our Top Pick

– "LELO F1S V2"
Check price on LELO
Key advantages: a fully waterproof device, high quality silicone sleeve, customizable heat and pressure, based on artificial intelligence, great for edging and climax control training, glass design, rechargeable, Bluetooth compatible, quietest blowjob machine on the market
For a tech enthusiast like me, this male masturbator from Lelo is a dream come true. It is truly a remarkable bridge between pleasure and modern technology. First things first, when unwrapping, you will see just how good it looks. In that sense, it is comparable to the Onyx+. Still, it is a different beast entirely. Let's examine why.
To summarize, this toy shines in pretty much all aspects. For one, it offers almost unlimited customizability. Seriously, you can endlessly mess around with the heat and pressure settings and always find new sensations. If you are new to blowjob machines, this toy will keep you occupied for months on end.
But, how does it feel? Great! This is not comparable to a regular blowjob, as the device also emits pulsating sonic waves. So, it feels as if you are getting sucked off while also getting the best penis massage of your life. Yes, it is that good.
For those already familiar with blowjob machines, this toy from Lelo is the smartest of them all. So, for those not into tinkering, it can do the work for you. This is due to the patented Cruise Control setting that senses exactly how intensely you need to be stimulated at the moment. Also, this is one of my wife's favorites. Why? Because it is partially made of glass, and the voyeur in her just loves to see how the device sucks me off.
All in all, if you are looking for one blowjob machine to rule them all, this would be my pick.
Best For VR

– "Kiiroo Onyx+"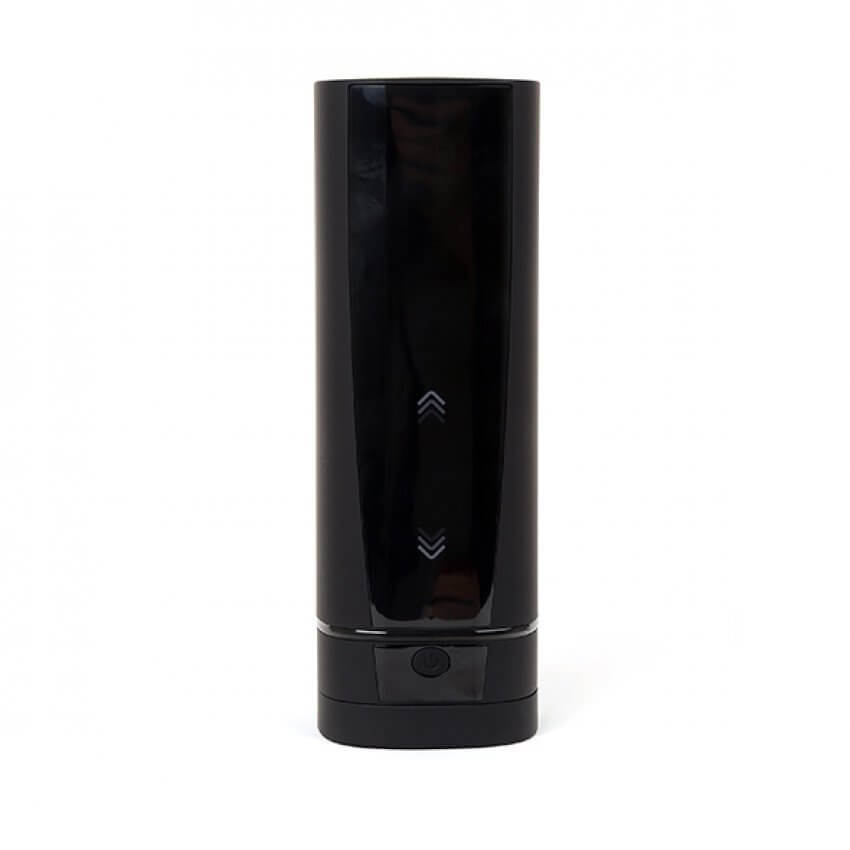 Check price on Kiiroo
Key advantages: one of the best blowjob machines for VR porn, 140 strokes per minute, made from 100% body safe materials, tight yet comfortable sleeve for all penis sizes
The Onyx+ is not marketed strictly as a blowjob machine. So, why the hell is it on this list? Well, because it offers stimulation very similar to a real blowjob. In fact, several of its features make it one of the best blowjob simulators out there. For starters, this stuff looks better than 99% of blowjob machines out there. This toy could easily sit among your other tech devices and no one outside of the industry would know a thing. As with all the other best Kiiroo toys for men, the usability of the Onyx+ is also out of this world.
The Onyx+ gives you three modes. These are manual, interactive, and automatic modes. When it comes to blowjob machines, I mostly go solo, so the manual mode is not for me. Interactive and automatic mode though, F yeah! This baby is tight, but not in an uncomfortable way. The grip is intense and super stimulating. Throw your favorite lube into the mix and the automated 10 contracting rings will take your D for a wet and sloppy ride. It will give you 140 strokes per minute WHILE also being one of the quietest blowjob machines on the market. So, you can easily play with it without your roommates, girlfriend, or wife finding out.
My favorite Angela White VR scene ("CryptoCUMmency Deal") and the Onyx+ got me off in two minutes. For me, this is hella fast. How would I describe the O? Like getting your first blowjob after a super dry spell. Intense, tickling, even too stimulating. But awesome! Highly recommend this one!
A Cheaper Onyx+ Alternative

– "Lovense Max 2"
Check price at Lovense
Key advantages: great value for a cheap price, huge amount of settings, Bluetooth compatible, great for couples
I only recently purchased this blowjob machine. I have only used this bad boy about 4 times so far, but I already see why it is considered one of the best Lovense toys for men. Especially considering that you can often find this toy for under $100 on a sale.
For one, this blowjob machine will give you loads of variety. You have 7 vibration settings and 3 contraction settings in total. This blowjob machine will have a setting suited for your tastes. Doesn't matter whether you enjoy a smooth massage-like experience or an almost psychotic deep throat session. Most of the time, the sensation can be described as a sort of cross between a blowjob and feeling vaginal contractions while you are inside a woman.
The Max 2 uses Bluetooth, which means that it can be operated by your partner. Even if they happen to be thousands of miles away. Just connect the toy with a free Lovense app and you are good to go. Lay down, drift off, and just let the toy gently suck you off.
For this price point, the Max 2 is a nearly perfect blowjob machine. The VR-compatibility is not quite as robust as on Kiiroo toys, but it gets the job done. Especially for a beginner.
Best Non-Vibrating

– "Fleshlight Turbo Thrust Blue Ice"
Check price on Fleshlight
Key advantages: great tip stimulation, premium yet non-automatic, made from the patented Real Feel SuperSkin material
So, you want to go battery/charging free, yet get an all-out premium experience? Go for one of the classic Fleshlight toys. With this one, the first thing you will notice is that the design looks somewhat alien-like. Pro-tip, when it comes to sex toys, this is usually a good sign.
For most guys, the tip is where it's at. And, the carefully designed spirals offer some of the most intense tip stimulation you will find. Enter the tip, slide back and forth. You will be surprised that a non-automatic blowjob machine can stimulate you so intensely. Can I use this for deep throat? Sure. However, it reminds me more of a grade A penis massage than a legitimate deep throat. For a realistic deep throat, go for the "La Bocca Della Verita", the best deep throat blowjob machine on this list.
To get the most out of this toy, here's a tip. Invest in a "Fleshlight Shower Mount" and attach this to a wall. If you are like me, the steam and warm water are often enough to get you horny. Add a mounted Turbo Thrust to the mix and your showers will never be the same. Just to warn you though, your water bills will get bigger, as you will be spending a lot of time having fun in the bathroom.
Best Value

– "Autoblow 2+ XT"
Check price on Hustler Hollywood
Key advantages: relatively cheap for an automatic blowjob machine, simple to use, different size options, easiest blowjob machine to clean
This bad boy from Autoblow is arguably the most hyped blowjob machine of them all. It was funded by a successful crowdfunding campaign that raised over $300 000. What does this say about the modern world? That there are lots of people who love a good suck.
But, is this toy worthy of the hype? Yes and no. It looks a bit clunky, sure. And, once you get to a certain point in your adult toy enthusiasm, you want your stuff to look sleek and cool. But, for those who strictly care about sucking effectiveness (95% of you), this toy is more than enough. This blowjob machine has a super tight and natural feeling sleeve. Plus, it is filled with small beads that give the suck that extra oomph, that special little something.
The blowjob machine also gets bonus points for being super easy to clean and very easy to use. Just plug in, sit back, relax. You will come. You will come heavy.
All in all, if you want a simple, beginner-friendly auto-suck, this more than does the job. However, if you want something with more modes, more tinkering options, and more durability, there are better options out there.
Best for Deep Throat

– "La Bocca Della Verita"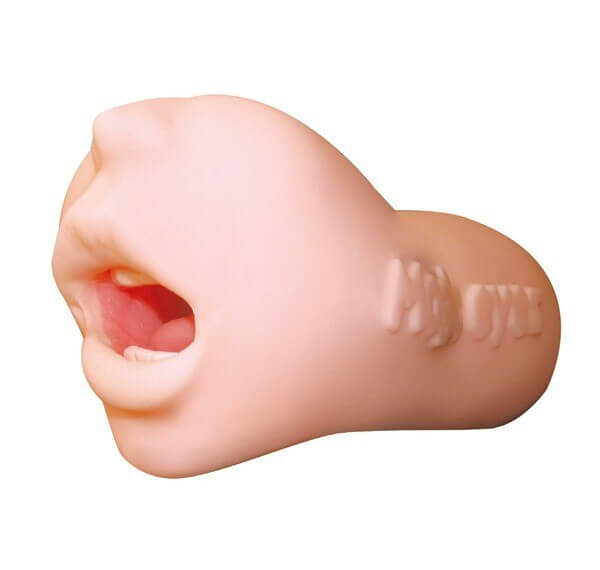 Check price on Lovehoney
Key advantages: great for deep throating, relatively cheap
I know I know. It looks creepy. Especially if you have no prior experience with blowjob machines. But, don't let the looks fool you, this toy has a lot going for it. For one, it is cheap as ashes. So, if you are looking for a risk-free entry to the world of blowjob machines, this is a solid choice.
With this one, the devil is in the details. The blowjob machine looks simple at a first glance, but it is a top seller for a reason. Just use a water-based lube and enter this beauty, you will instantly feel what I'm talking about. Those curves, this tongue, the teeth! Yes, this blowjob machine has rubber teeth in it. Sounds weird, but the teeth only add to the overall experience of this oral sleeve.
So, can a $75 toy give you the feeling of a real blowjob? Actually, the feeling is surprisingly close to a grade A deep throat that Elizabeth gives me. So, if you want to know what a supreme deep throat feels like. Give this one a go.
Yes, this toy might not give you an automated blowjob experience that elite-level blowjob machines do. But, it is still a considerably better experience than using your hands. To summarize, this is a cheap yet perfectly fine blowjob simulator. For beginners, it will give you a great idea of what blowjob machines are capable of.
Best for Beginners

– "Sue Johanson Head Honcho Male Masturbator"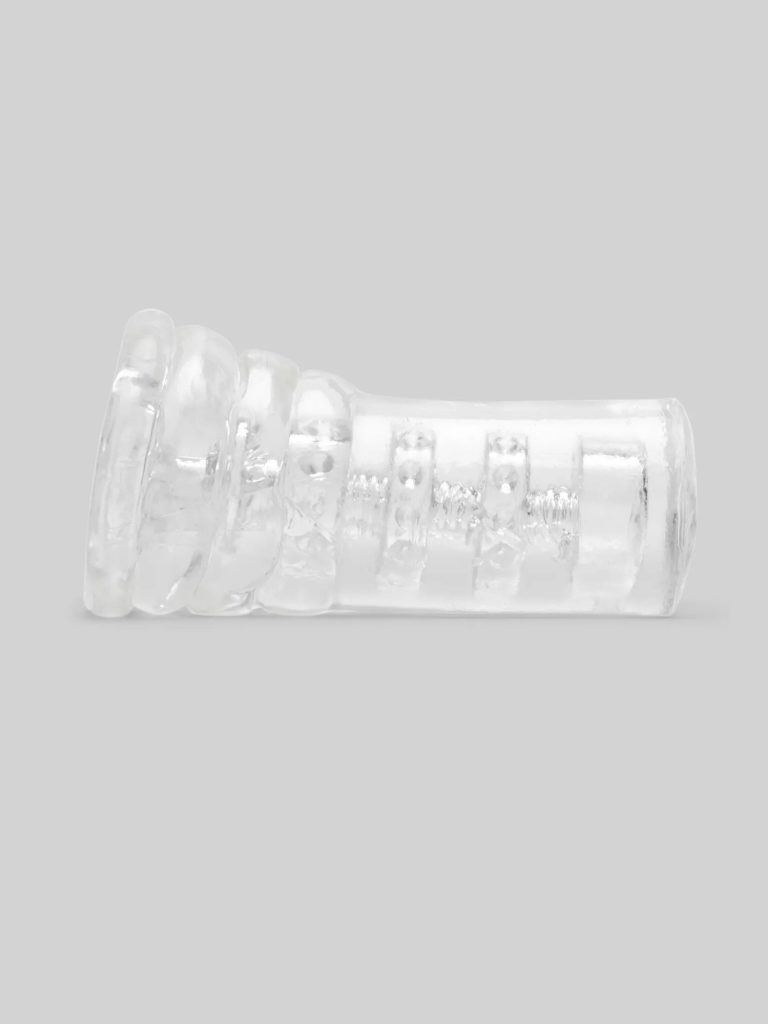 Check price on Lovehoney
Key advantages: great value, innovative chamber system, a tight yet solid sleeve
To be fair, I didn't think much of this blowjob simulator upon unwrapping. Bleugh, it looks more akin to a dildo at first sight. But, lo and behold, it performs surprisingly well. And, it is also a cheapie. What's not to love!
This blowjob machine uses an innovative "chamber" system to get you off. Chamber system? Allow me to explain. The toy has three different suction chambers that work together to give you a good time. The sensation is not easy to describe, but let me tell you this, you WILL enjoy sliding from one chamber to the next. Still, there are some downsides. While the sensation itself feels great, I wouldn't necessarily compare it to a blowjob. The texture feels super soft yet offers just the right amount of grip. All you need from a male masturbator. Awesome stuff, sure. Does it feel like a real mouth though? Not really.
So, if you want to spice things up without spending big, this is a solid choice. If you are looking for something that can replicate a real blowjob, this ain't it.
Still, a worthy sucker!
Great Cheapie for Couples

– "Lovehoney Head Master Vibrating Blow Job Stroker"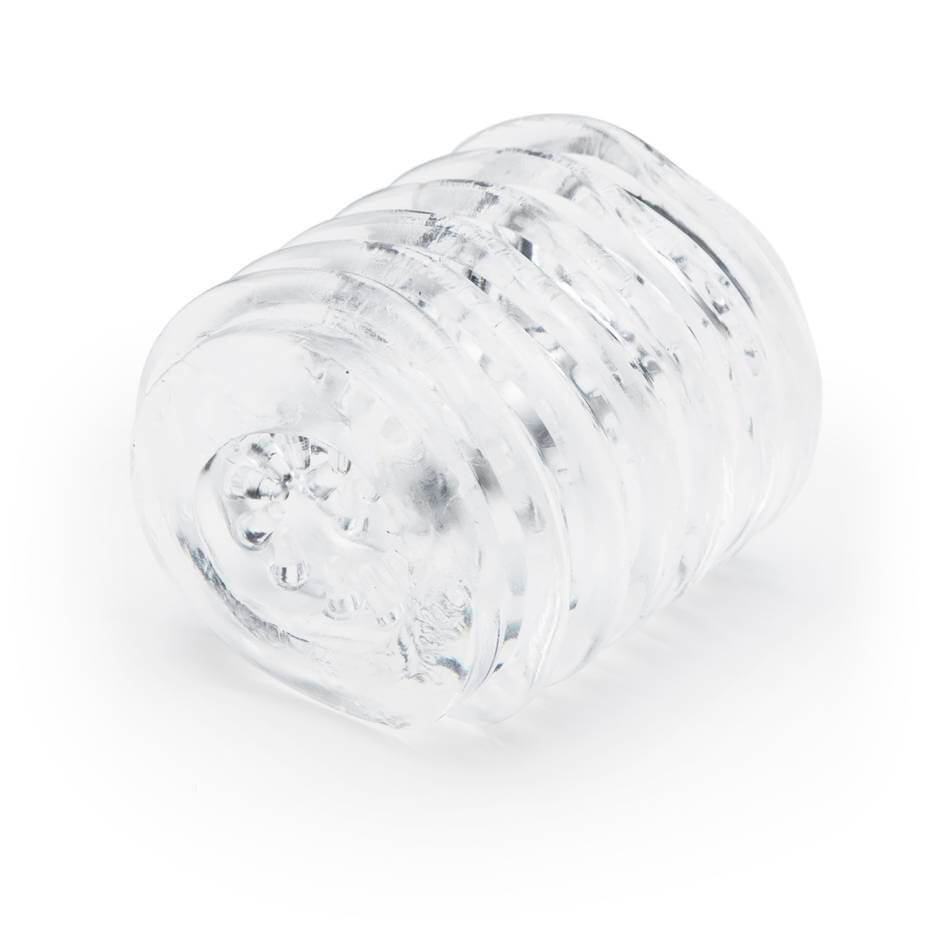 Check price on Lovehoney
Key advantages: premium-looking design, great for couples, great value
My favorite cheapie blowjob machine for having fun with my wife. Why? It is simple to use, looks great, and I love the vibrating effect. Just the right amount of intensity for enhancing my sex life without making me blow my load in two minutes. Want some nasty details? Doesn't matter, you'll get em anyway.
I love letting this vibrate on my d*ck while my wife gloriously sits on my face. Yum! But, something tells me blowjob machines mostly get solo use. Is the "head master" great for solo action? Sure, even the cheapies I listed here are great. And, this bad boy is no exception. The open-ended and highly textured tunnel is great both for getting off and for stamina training. Good stuff!
But, the key question. Is this cheapie better than just jacking off using your hands? It is. And, considering that it costs only $20…you get the point. Just go for it. I'm gonna warn you though, there is no turning back from blowjob simulators.
---
That's it, folks! Hopefully, the list was helpful and you will soon be the proud owner of a blowjob machine. Have fun and enjoy getting sucked off!