The following article contains affiliate links, which means Sex Toy Magazine earns commission from products purchased through links in this post. If you love our work, please consider supporting us by ordering the products of your choice using the links placed in the article.
These days, most sex toys associated with BDSM have gone mainstream. Whips, chains, and cuffs are regularly on the menu for sex toy aficionados. It is surprising, then, how little attention male chastity cages still get.
I didn't expect much before trying my first chastity cage. But, after my first experience, I became an immediate fan. Admittedly, chastity cages are an acquired taste that will not suit every sexual scenario. However, if the time, the mood, and the partner are right, chastity cages can provide a mind-blowing experience for both the wearer and the holder of the keys.
Before we proceed to our list of best chastity cages, allow me to answer some of the most commonly asked questions about the cages:
Why wear a chastity cage?
To experiment. Most men limit the potential of their sexual pleasure because of unwillingness to experiment. I am here to encourage you to try different things, even if they seem weird at first. What have you got to lose? At the very worst, you have a strange sexual experience to laugh about in the future. At the very best, you will find your favorite kink of all time. Want something more concrete? Well, these are the 3 key reasons for experimenting with a chastity cage:
Experimenting with orgasm denial – Lock yourself up and let your partner have the keys. Whatever happens, you will physically not be able to come. You will feel powerless, you will be excited. This combo will be new and exciting. Especially if you are used to getting your way in the bedroom.
Your partner will be the star of the show – You are not able to penetrate your partner. You will be unable to orgasm. What's left? Your partner! He/she will get the experience of a lifetime because the whole thing will be about him/her. Switching the dynamic of the relationship once in a while is great for any relationship.
Physical sensations – As contradictory as it sounds, the physical feeling of utter sexual helplessness is awesome. Some chastity cages keep your member locked, while some prevent erections downright. These are sensations that anyone should try at least once.
Does wearing a chastity cage hurt?
The best chastity cages are restrictive, yet comfortable. You want a product that will be super tight, yet will be comfortable enough to wear for several days.
How about urinating?
As we already established, the best chastity cages are comfortable and suitable for long-term wear. These devices have slits on the front end, which means you won't have to remove the cage when nature calls.
Now that you know what chastity cages are about, let's move on to our list. These are the 5 best chastity cages currently on the market:
A Budget-friendly Chastity Cage – "DOMINIX Deluxe Chastity C*ck Cage"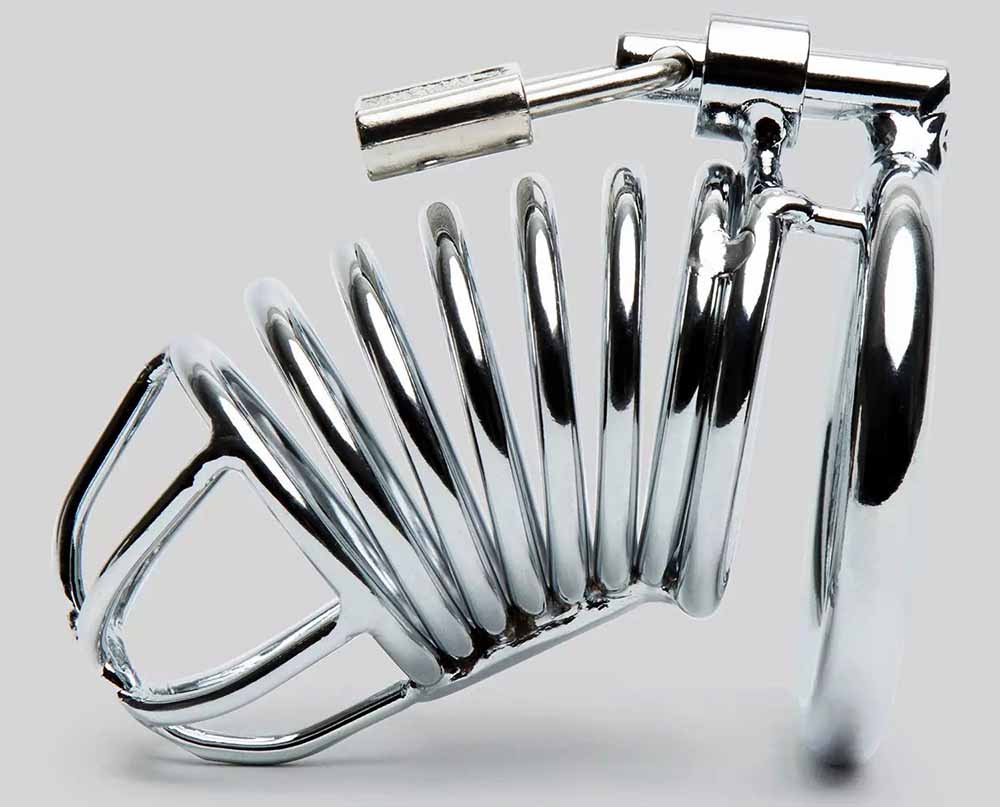 Key features: 2-piece design, see-through, intense hold, budget-friendly choice
Check price at Lovehoney
As the name suggests, this chastity cage is DOMINANT. The intense restriction it offers is certainly not for the faint of c*ck. Thus, this would not be my suggestion for someone new to orgasm denial.
Still, this best-selling chastity cage has a lot going for it – for one, the design of this bad boy is entirely open. Yes, your bulging penis will be entirely visible to your partner. This adds a voyeuristic aspect to an already great power play – he/she holds the keys while you enjoy the pain/pleasure combo of orgasm denial.
The open design of this chastity cage also has a practical advantage. Your testicles and your member will be well ventilated during the session. Even if you are planning on playing right through the night.
All things considered, it is easy to see why the Dominix is still one of the best chastity cages available. It is well-designed and safe, yet restrictive enough to also suit the tastes of more experienced orgasm denial connoisseurs.
Best for Beginners – "CB-6000 Male Chastity Cage Kit"
Key features: lube sample included, great for long-term wear, storage case included, hypoallergenic material
Check price at Lovehoney
My favorite for longer sessions. This one is discreet, well-ventilated, and surprisingly comfortable. No itches or rashes, even if you wear this bad boy for days. The chastity cage also has an opening on the front. So, if nature calls, you will not have to go through the hassle of removal. Plus, who knows, maybe your dominant partner will not let you have the keys anyway.
My serving suggestion? If you decide to buy this one, go for the long-term wear. Try wearing it for at least 3 days. Let your partner have the keys and get sexual on every night.
You will want to literally tear the chastity cage off on your last day, but it will be well worth it. Once you will be released from the cage, you will see your relationship and your sexuality in a whole new light.
My personal experience with this chastity cage was somewhat eye-opening – I began to see just how powerless I felt in bed without the opportunity of penetrating my partner. It was intense, even scary. But, I would like to think that the experience made me a better partner in the long run.
Best for Electro Fetish – "ElectroShock Electrostim Chastity Cage"
Key features: offers light electrical stimulation, great for long-term wear
Check price at Lovehoney
The very name of this chastity cage made my testicles shrivel at first. But, this is actually sort of a hidden treat. While the name of this chastity device hints at electroshocks, the sensations feel more like teasing tingles.
The cage comes with your regular suspects (a chastity device and keys) and also includes a remote. Your partner can use the remote whenever he/she feels as if you deserve a little zip in your pants. There are 3 different sensations to choose from – a light tap, massage, and a vibrating sensation. Of course, your partner can also regulate the intensity of these sensations.
Generally speaking, I am not one for electro fetishes. But, I have to admit, we had fun with this chastity cage. Every time I got a bit too feisty and started talking about removing the cage to get some penetration going…a strategic zap from my wife! A unique experience for sure.
Best for a Long Distance Relationship – "Cellmate Bluetooth Chastity Device"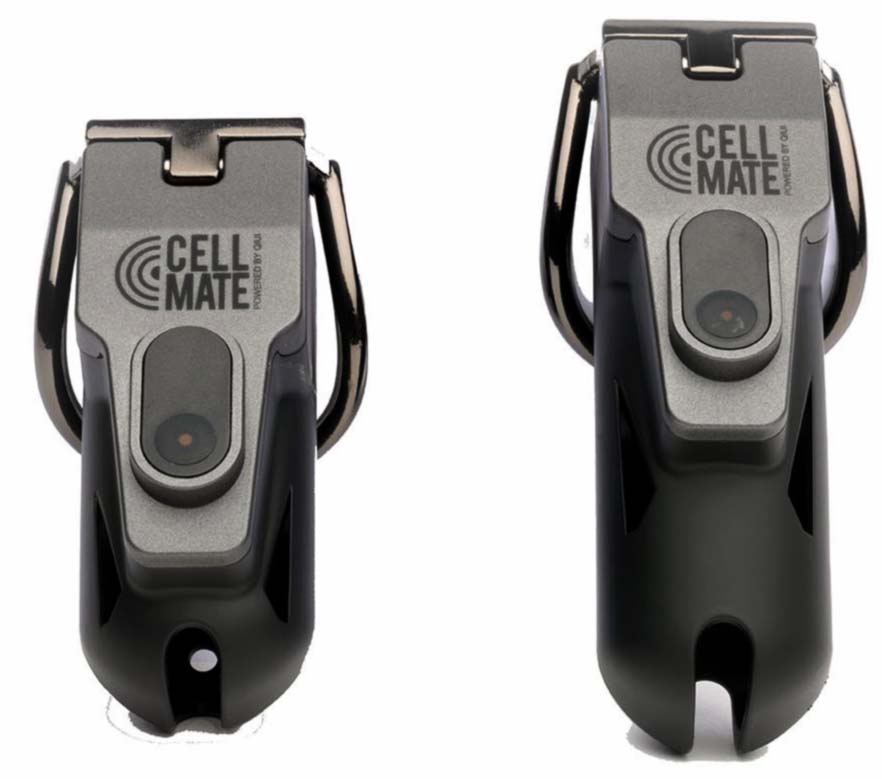 Key features: great for long-distance relationships, fantastic battery life, Bluetooth controllable device, great for long-term wear
Check price at Hustler Hollywood
Let's get more intense. As the name applies, the Cellmate works via Bluetooth. And, it is also lockless. The result? The total control of your trusted partner, even if he/she is miles and miles away. Talk about cheat-proofing a significant other!
Jokes aside – the technical features on this thing are great. You have a battery that will give you at least 10 months of use. You have a cage that is well-ventilated and great for long-term use. And, last but not least, the connectivity works exceptionally well.
It is a unique chastity cage that is NOT suitable for everyone. But, for someone interested in adding a rather unique twist to their long-term relationships, it could be a life-saver.
The Most Intense Chastity Cage – "Master Series Rikers Stainless Steel Locking Chastity Cage"
Key features: best-in-class design, great for testicle play, erection-blocking cage
Check price at Lovehoney
If we are speaking aesthetics, this one takes the cake. Simply put, the minimalist design and the stainless steel finish look great. Combine this one with accessories from a good BDSM kit and you could become one luxurious-looking slave.
Speaking of design, I also love how this one has handled the ball department – your boys are out in the open, well-ventilated, and ever-so-slightly stretched.
Make use of this and let your partner tease your balls and play with them. You will feel the pleasure, yet you will not be able to achieve a proper erection. Let alone orgasm. Your sexual frustration will grow to an intolerable degree as your balls get handled – something that a good Dominant will use to his/her advantage.
While this is easily one of my favorite chastity cages, I would still hesitate to suggest this one to a beginner. It is an intense toy that will only suit men who have already dabbled with orgasm denial before.