The following article contains affiliate links, which means Sex Toy Magazine earns commission from products purchased through links in this post. If you love our work, please consider supporting us by ordering the products of your choice using the links placed in the article.
What was the first hentai you ever watched? I'll start. I saw "Kanojo x Kanojo x Kanojo" back in 2014…and, there was no coming back. I was hooked.
I am a sort of on-and-off fan of the stuff. Whole years go by without thinking of hentai. And then, BOOM! Something draws me back in. Since I am also a massive fan of sex dolls, it is only natural that I have tried and tested my fair share of sex dolls inspired by hentai. This is a massive market, as the demand for great hentai sex dolls is huge. This has also spoiled the market, as you will find lots of companies trying to milk their customers for a quick buck.
Luckily, there are also anime sex dolls that are of pristine quality. Dolls that do manage to bring the hentai world into reality. These are precisely the dolls we will be looking at in this article. So, fasten your seatbelts, folks. We are driving into an animated world of sex, fun, and mystery.
These are the 7 best hentai sex dolls for 2021:
An Erotic Hatsune Miku Imitation – "Hatsune Miku Sex Doll"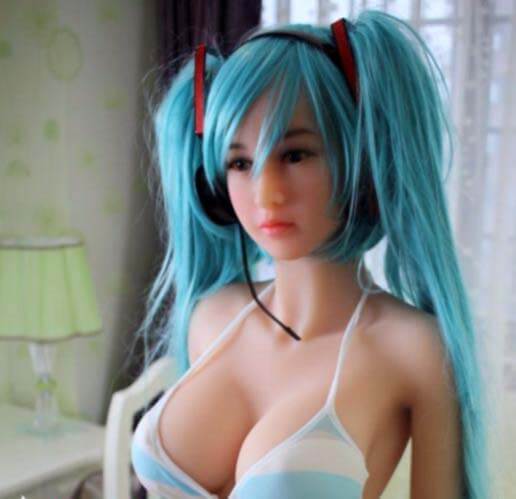 Material: TPE
Measurements: 165cm/5ft5in, 29,5kg/65lbs, 78cm/30,7in bust
Key advantages: best Hatsune Miku sex doll currently available, an outfit included in the order, best-in-class flexibility
Available on Sexy Real Sex Dolls
The girl, the myth, the legend. The one and only Hatsune Miku. It is hard to estimate how many people have started watching hentai only due to Hatsune Miku, but I suspect we are talking about millions.
It is no wonder that a great Hatsune Miku sex doll is on the wish list of countless men and women. There have been lots of options through the years, but one model from WM Doll still reigns supreme. It is the only Hatsune Miku doll that has everything I would want from a hentai angel. You get those soft, bouncy breasts. Quite large, but nothing out of this world. You also get this trademark super lush and long blue hair of Hatsune Miku.
Plus, you have the excellent craftsmanship of WM Doll. The vagina and the mouth are done to perfection. The skin? TPE. Soft, fair, and eerily lifelike. Make sure to customize the model to include full body heating and no vaginal hair. The final result will be as close as you get to sleeping with Hatsune Miku. Waifu material, this one!
Best Hentai Sex Doll for Anal Sex – "Yuna"
Material: TPE
Measurements: 158cm/5ft2in, 86lbs/39kg, 33,5in/85cm bust
Key advantages: best-in-class anal capabilities, a great cross between fantasy and reality
Available on Sexy Real Sex Dolls
CLM Doll is not a company I am that well aware of…but after trying Yuna, this will change soon. I am impressed. Why? Well, for starters, the face of this anime sex doll is a sight to behold. She has the slightly exaggerated feminine features we know from our favorite hentai, yet nothing about this face is off-puttingly ridiculous. A great cross between fantasy and reality if I ever saw one. Think Inubousaki Aya from "Lovely x Cation" and you will get a good idea of the vibe of Yuna.
Like all my favorite sex dolls, Yuna is made of TPE. Generally speaking, TPE is your go-to choice when you want something that is super lifelike but also as body-safe as possible. Yuna comes with anal, oral, and vaginal capabilities. My favorite? Anal. You see, there is something inherently wrong (and oh-so-sexy) about having anal with a doll that looks almost inhumanly innocent.
I must admit, I even felt a hint of shyness before venturing into A-land with this anime sex doll. And, the fact that a sex doll can make me feel something like this means only one thing…the fantasy has come to life.
A Hentai Sex Doll with an E-cup – "Asian Princess Sex Doll Tiana"
Material: TPE
Measurements: 5ft4in/163cm, 72,7lbs/33kg, 35in/89cm bust
Key advantages: superb breasts, unique look, great for oral
Available on Sexy Real Sex Dolls
This one is for the men who want their hentai sex dolls to come busty. You see, the bust on Tiana is a marvel. These breasts are big, beautiful, and round. I, for one, find it next to impossible to keep my hands away from those t*ts while hitting Tiana from behind.
Tiana is manufactured by SM Dolls, an old and reliable producer of elite-quality sex dolls. When ordering a doll manufactured by them, you know that you will get quality. Tiana is not an exception. Some keywords to sum up the Tiana experience? Peachy skin, big breasts, best-in-class oral capabilities, and a slightly gothic vibe.
When selecting the best hentai sex dolls, I had a few parameters in mind. The two most important being looks and durability. You see, when you are ordering something for a premium price, you don't want to compromise. Here, you don't have to. This is a doll suited for heavy action in extreme positions. As long as you are not planning on deliberately hurting Tiana, you'll enjoy her just fine.
All in all, Tiana is easily one of the best anime sex dolls currently available. If you love big breasts and goth hentai, then she is your girl.
An Ayumi Anime Imitation – "Ayumi Anime Sex Doll"
Material: TPE
Measurements: 5ft6in/168cm, 83,7lbs/38kg, 34,6in/88cm
Key advantages: replica of the body of Ayumi Anime, an extremely lifelike hentai sex doll
Available on Sexy Real Sex Dolls
Ayumi Anime is one of the best performers in the industry as of 2021. Naturally, I had to include a replica doll of Ayumi on this list of best hentai sex dolls.
This doll is for men who want a legitimate partner? Huh? Well, this doll is lifelike. From the facial expressions to the skin tone to the feel of her love holes…this thing is legit. One of those hentai love dolls that almost make you forget that you are getting it on with something non-human.
Thus, Ayumi wouldn't be my choice for someone new to sex dolls. Yes, the experience is awesome, and she looks splendid. But, a doll this well done will cost you. And, for someone who hasn't gone through the waifu experience ever before, starting cheaper might be a much better bet.
However, for fans of the great Ayumi Anime, it goes without saying that this doll will be more than worth the investment.
A Goth Hentai Sex Doll – "Curvy Sex Doll Eliza"
Material: TPE
Measurements: 4ft10in/148cm, 70lbs/32kg, 31in/79cm bust
Key advantages: great for gothic sexual fantasies, superb body, great for BDSM
Available on Joy Love Dolls
Saving the best ones for the second half, heh. Our list of best hentai sex dolls wouldn't be complete without including something straight demonic. This sizzling hot succubus is only for the wild ones like me. Just look at those pointy ears, those ridiculous curves, and that striking hair. Eliza truly is a unique specimen.
How about a pro tip? With this hentai sex doll, you want to go for the EVO skeleton. EVO skeleton is a bit more flexible, which means that one can fully indulge in this doll. No situation or position is off the limits. And, with a doll as devilish as this one, you probably want to do some downright dirty stuff. No judgment! I know I have had my fair share of fun with Eliza. I even have a dark gallery of shots I have taken of her. A gallery that no one besides me will ever see.
All things considered, Eliza is a unique doll. She is not for everyone. Why? Well, this doll is almost eerie. So, if you are not used to some dark, gothic fantasies, better stay away.
A Traditional Hentai Sex Doll – "Anime Real Life Sex Doll – Hentai"
Material: Silicone
Measurements: 5ft1in/155cm, 75lbs/34kg, 35,4in/90cm bust
Key advantages: an impressive bust, has all the features of a traditional hentai character
Available on Sexy Real Sex Dolls
As all lovers of hentai know, sometimes one wants to go traditional. Most men fell in love with hentai because of the exaggerated facial expressions and the sheer femininity of the characters. If you are a purist, Hentai is the best anime sex doll on the market. Why? Just look at her. When I think hentai, this is exactly what springs to my mind. Hence the name of this beauty.
It must be said, though, that those breasts are ridiculous. I am not shy about sharing the fact that I have buried my face in there once or twice…or more. What's a poor guy to do! I have never been with a woman with a chest like this in real life.
But, as important as the body is, we want a quality build as well. And, it delivers. The butt, those thighs, these breasts. The skin of Hentai is as smooth as silk, yet it shows no signs of wearing and tearing. Even after rigorous pounding. The same goes for the limbs and the spine.
In a nutshell, despite being a conceptually simple doll, everything here just works. Take a typical hentai girl and turn it into a high-quality sex doll and this is what you get.
Best Hentai Sex Doll with An A Cup – "160cm/5ft2in Small Breast Silicone Doll"
Material: Silicone
Measurements: 5ft2in/160cm, 68,3lbs/31kg, 30,3in/77cm bust
Key advatanges: best-in-class skin, best-in-class heating features
Available on Sexy Real Sex Dolls
Massive breasts are cool, but some of us prefer a beautiful round boob that actually fits in a palm. If you recognize yourself here, then this is your doll. She does not seem to have an official name, but I call her Yuki. Somehow fits the flowery, easy-going vibe of her.
Several of her features are, simply put, best-in-class. I already mentioned the breasts, which are stunning. But, there is more to her. The skin, for one, is done to perfection here. Shiny, soft, and smooth as silk. I am not exaggerating when I say you will almost feel scared to touch her.
Another thing I love is the USB heating feature. Most hentai sex dolls come with a heating feature, but Z-onedoll has got it right. She lights up fast (not literally!!), and holds the heat exceptionally well. All things considered, for fans of hentai girls with slightly smaller and realistic bust, Yuki is your girl.