The following article contains affiliate links, which means Sex Toy Magazine earns commission from products purchased through links in this post. If you love our work, please consider supporting us by ordering the products of your choice using the links placed in the article.
Ever since I saw THAT "Sex and the City" episode, things were not the same. I knew nothing about vibrators at that time, but I just knew that there had to be something special about the so-called rabbit vibrator.
I wasn't wrong, these sex toys are special. Rabbit vibrators work by providing you with dual (sometimes triple, but more on that later) stimulation – the external parts provide you with clitoral stimulation, while the internal shaft "works" you from the inside. To make things even more exciting, the best rabbit vibrators come with different vibration speeds, patterns, and add-ons like small beads and knots. All to further elevate the experience.
Sounds good? Well, it is. Rabbit vibrators still sell like hot bread. Many women credit these vibes with keeping them sane during long spells of being single. Some women have also credited rabbit vibrators with saving their relationships.
One thing is for sure, everyone should try a good rabbit vibe at least once in their lives. But, where to start? Lots of brands have tried their hand at creating the perfect rabbit vibrator…not all of them have succeeded. To help you pick out the cream of the crop, I decided to list my personal favorites. Of course, I will also provide a few words on the features that make these rabbit vibrators stand out from the pack.
Without further ado, these are the 8 best rabbit vibrators for 2021:
• Lovehoney Jessica Rabbit 10 Function Slimline Rabbit Vibrator
• Fifty Shades of Grey Greedy Girl G-Spot Rabbit Vibrator
• Happy Rabbit Triple Curve Rechargeable Rabbit Vibrator
• LELO Insignia Soraya 2 Luxury Rabbit Vibrator
• Womanizer Duo Rechargeable G-Spot and Clitoral Stimulator
• Mantric Rechargeable Rabbit Ears Vibrator
Lovehoney Jessica Rabbit 10 Function Slimline Rabbit Vibrator
Why we love it: 100% waterproof, super simple to use, budget-friendly, one of the most highly-rated sex toys online
Check price at Lovehoney
Yes, the design on this thing is intense. The see-through, the hot pink…it even looks a bit trashy. Never judge a book by its cover, though! For this price, this rabbit vibrator is simply great. First off, you have your 3 rotation speeds and 7 different patterns. Enough to suit women with different tastes and levels of experience.
But, this shaft is where things really get going. It is, for a lack of a better word, a masterpiece. The shape of this shaft and the swirl of the beads. Ideal for hitting all my best spots from the inside. And, at the same time, the "ears" of the Jessica Rabbit will have fun with the G-spot.
The Jessica Rabbit is battery-powered and fully submersible. So, my suggestion – make the first meeting special. Just you, some wine, a bathtub, and the Jessica Rabbit.
For some, she might look ugly, but boy does the Jessica Rabbit work well! Add to this the affordability of this toy and what you have is one of the best rabbit vibrators for 2021.
Fifty Shades of Grey Greedy Girl G-Spot Rabbit Vibrator
Why we love it: a quiet toy, USB-charging, large amount of vibration combinations available, includes a discreet satin pouch
Check price at Lovehoney
Let's get a bit more luxurious now. The Greedy Girl Rabbit Vibrator has been one of the best-selling products on Lovehoney for a while. And, it is easy to see why – it just works on all levels. 36 vibration combinations in total, superb design, fully waterproof material, USB charging…it is all there. And, just to add that little touch of luxury, this rabbit vibe comes with a small satin pouch.
Make no mistake, this is a powerful rabbit vibrator. Some reviewers have even said that the device is not beginner-friendly. I disagree. For one, it is one of the quietest rabbit vibrators on the market. And, experience has shown that beginners tend to feel more comfortable with super discreet vibrators.
My advice for women who think the Greedy Girl might be too intense – start on the slower settings and explore a bit! Play around with how the vibrations feel on your body. Why not slowly slide the vibrating Greedy Girl over your body – your nipple area, your thighs, your clitoris. Eventually, you will not be able to resist the temptation to start exploring everything the Greedy Girl has to offer.
Rosalie Rabbit Vibrator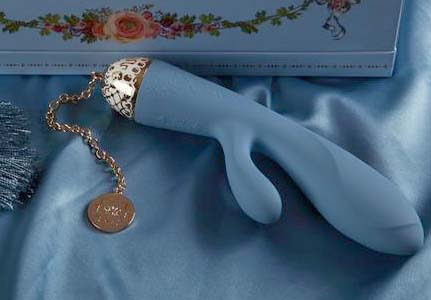 Why we love it: the most beautiful rabbit vibrator on the market, storage box included, 3 different colors available, uses Bluetooth connection for control, a quiet toy
Check price at ZALO
The last few years have seen a revolution in female sex toys. Nowadays, it is not enough to design vibrators that are body-safe and give you orgasms. The vibrators also have to look beautiful. Allow me to introduce you to Rosalie Rabbit, the most stylish rabbit vibrator of 2021.
It comes with details like a jewelry-grade 24 karat gold chain and a handcrafted gold plated tip. And, the packaging follows the same route – a Rococo-inspired throwback to the era of old-fashioned romance.
I must admit, I was wary upon receiving the Rosalie Rabbit. Something that looks this good must have a flaw somewhere. Well, I was wrong. This thing feels as good as it looks. The transitions between the 8 different vibrations are probably the smoothest of any rabbit vibrator I have tried. You can seamlessly switch between vibrations without things ever getting too intense or sudden, which is quite uncommon for most vibrators.
In a nutshell, the Rosalie Rabbit looks exactly like it feels – delicate, glamorous, and simply beautiful. A true celebration of feminine pleasure!
Happy Rabbit Triple Curve Rechargeable Rabbit Vibrator
Why we love it: great for women new to anal stimulation, great design, waterproof, great for couples, USB-charging
Check price at Lovehoney
A rabbit vibrator with anal beads. Whew, as if dual stimulation wasn't enough! Stimulating 3 spots at once might seem intimidating to some of you ladies. But, hear me out, using a rabbit vibrator is one of the most beginner-friendly ways of exploring the oh-so-erogenous anal zone.
The Happy Rabbit has 3 motors, 9 functions in the G-Spot ears, and 12 different speed patterns. Yeah, intense stuff. Still, I hold to my previous statement – this is a beginner-friendly vibe. Just take her to a shower or a bathtub (the Happy Rabbit is made of waterproof silicone), start on the lowest settings and slowly let her stimulate your 3 hot spots at once. At first, the sensation will be foreign, even confusing. But, after about a minute of use, you will see what makes the Happy Rabbit a secret favorite of so many women.
A highly recommended vibe for anyone open to exploring anal play.
BASICS Rabbit Vibrator
Why we love it: budget-friendly rabbit vibrator, waterproof, the more intense settings are surprisingly strong for the price
Check price at Lovehoney
There are plenty of women out there inexperienced with sex toys. Thus, it is understandable if they are less than happy to shell out hundreds of dollars on a rabbit vibrator. Enter BASICS Rabbit Vibrator from Lovehoney. At the time of writing, this thing goes for under $30. Pleasure for pennies!
In all seriousness – this thing can get you to climax just as well as rabbit vibrators that cost way, way more. So, what's the catch? Well…while it does offer multiple rotations, your choices will be rather limited compared to other rabbit vibrators on this list.
Conclusion? A great vibrator for someone entirely new to rabbit vibrators. Play around with it, explore the stimulations. And if you are longing for more, feel free to upgrade to something more premium in the future.
LELO Insignia Soraya 2 Luxury Rabbit Vibrator
Why we love it: the silicone feels super soft, premium design, running time of 4 hours, comes with a lube and a storage bag, 10-year warranty included
Check price at Lovehoney
When it comes to sex toys, there are a few companies that simply have no duds in their line-up. LELO is one of them. Soraya 2 is among the best rabbit vibrators out there for several reasons. Similar to Rosalia Rabbit from Zalo, the Soraya 2 looks stunning – it is a sleek black and gold toy made of ultra-soft silicone. I just love it when a sex toy looks like it belongs to an art museum.
The technical features are impressive too. Fully charged (Soraya 2 comes with USB charging), she will give you 4 hours of play. Duration is important, as I know I am not the only one who sometimes wants to go for another round after getting a steamy orgasm. Slower vibrations for the first session (Soraya 2 has 12 vibration modes in total), more intense speeds after getting my first orgasm. This has become my go-to routine with the Soraya 2.
A hall-of-fame-worthy rabbit vibrator, this one.
Womanizer Duo Rechargeable G-Spot and Clitoral Stimulator
Why we love it: the most intense rabbit vibrator available, the Smart Silence function, fully waterproof, 5-year warranty included
Check price at Lovehoney
This is where things get heavy. If you have ever tried a clitoral vibrator you already know just how intense contactless stimulation can make you feel. Well, blend this sensation with some G-Spot stimulation…yeah, things might get out of hand.
The toy feels almost clinical to use. For me, it delivers a throbbing orgasm in mere minutes. Yes, even with the lower settings (the Womanizer Duo has 12 intensity settings in total). What can I say, the no-contact pulses of air just work in ways that few other sex toys do.
Another thing that I love about the Womanizer Duo – the rabbit vibrator uses a rather unique function called Smart Silence. The toy gets the action going only when it senses your beautiful body near it. It is a small but rather welcome touch that somehow only adds to the appeal of this orgasm-gadget.
All things considered, one of the best rabbit vibrators on the market. But, this one is intense and pricey. Thus, it wouldn't be my top pick if I was a complete beginner to the wonderful world of rabbit vibrators.
Mantric Rechargeable Rabbit Ears Vibrator
Why we love it: firm build of the ears, best-in-class internal stimulation, beautiful design, a quiet toy
Check price at Lovehoney
The material used in this rabbit vibrator is the soft silicone common to many high-quality vibes. Still, the feel of this babe is much firmer than its competitors. Expect to get your fair share of pressure, both externally and internally. Yes, once again, we are dealing with a rabbit vibe that just might scare off beginners with how intense it feels.
The curvature on this one, though. So, so right! This is precisely why I have included it on this list – you see, I have a little routine with this rabbit vibrator. I let her enter me and slowly crank up the vibrations. Meanwhile, I let both the vibrator and my body be perfectly still. Even if things get heated and I want to adjust, I resist. Give it a few minutes and I reach a point where even a single movement sends me into a shaking orgasm.
This routine has worked for me and I sincerely hope it will work for years to come. This rabbit vibrator is a firm (pun intended) favorite on my shelf.
---
Looks like the time has come to wrap things up. Hopefully, this article inspired many of you to explore the ever wonderful world of blended orgasms. Have fun experimenting, ladies!