The following article contains affiliate links, which means Sex Toy Magazine earns commission from products purchased through links in this post. If you love our work, please consider supporting us by ordering the products of your choice using the links placed in the article.
If you are reading this article, you have at least a passing curiosity about sex dolls and male masturbators in general. Perhaps you are going through a dry spell and decided that you want something better and more intense than your hand. Maybe you are longing for a partner but simply hate the current dating scene. Or maybe you are a long-time sex doll enthusiast who wants to see what the hype on Tantaly is all about.
Whatever your reasons for being here, welcome! In this article, I will be reviewing Britney – a flagship sex doll torso/male masturbator from Tantaly, one of the leading sex doll companies in The US.
So, strap in and prepare for the ride! In this Britney sex doll review, you will find out how f*cking her feels, how much she costs, and most importantly, whether she is worth the purchase or not.
Let's start with a quick introduction of Tantaly, the company responsible for creating this beautiful little creature.
What is Tantaly?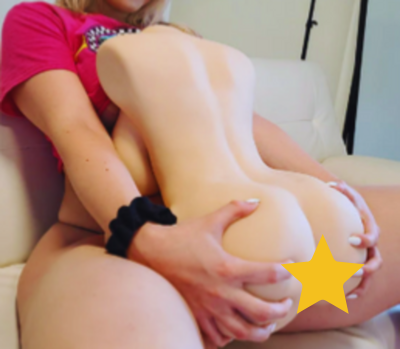 Tantaly is an American company that was founded with the ambitious goal of bringing high-end sex dolls to the masses. Now, one may say that sex dolls are already accessible to everyone. One click and you can order any kind of doll you like – BBW, hentai, ebony…whatever you like is there.
Are these dolls really for everyone though? One look at the pricing of these dolls can send one to the grave. And then there is the storage problem. Well, Tantaly has solved the problem in a very unique way – they build and sell sex doll torsos that cost much, much less than full-sized dolls.
Does this mean a reduction in quality? Nope. The credo of Tantaly is to offer accessible products without sacrifices in quality. The dolls are built using TPE, a material that is pretty much a carbon copy of real skin. Details like goosebumps, beautifully raised nipples, and a satin-soft feel are all there. Plus, all of the dolls have vaginas and *assholes that feature complex inner textures that treat the penis to one hell of a ride.
If you want to read more about Tantaly, you can also check out our full Tantaly review here. For now, let's get to the main treat here – Britney, the most popular Tantaly doll and their flagship product. Let's start with opening up the box and taking a first look at the doll.
What's in the box?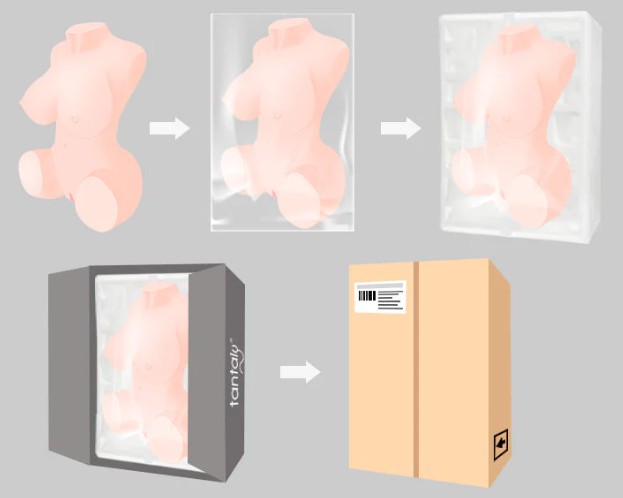 Many men are still hesitant about ordering sex toys and sex dolls for one specific reason – they are afraid that the whole world will see what they ordered. I will use this opportunity to let you all know that there is no reason to be afraid – Tantaly (and most other reputable sex toy companies) know that their customers want their orders as plain as possible.
The situation is the same for Tantaly – Britney is shipped in a super plain cardboard box.
When you open the first box, you will then find a branded box showing things like the Tantaly logo and a gorgeous body of a female model. Nothing too impressive, but I am not gonna lie – seeing the model on the box and knowing what is in it…well, let's just say that I was more than ready to tear the box open and finally meet Britney for the first time.
In addition to the doll itself, the box can also feature additional products such as the heating rod, care kit, etc. I will be talking about extras and whether you should include them with your order later in this article.
For now, let's meet the girl herself and get a good feel of her body and looks. Of course, we will also slide into her holes and finally see what all the fuss is all about.
The look and feel – first impressions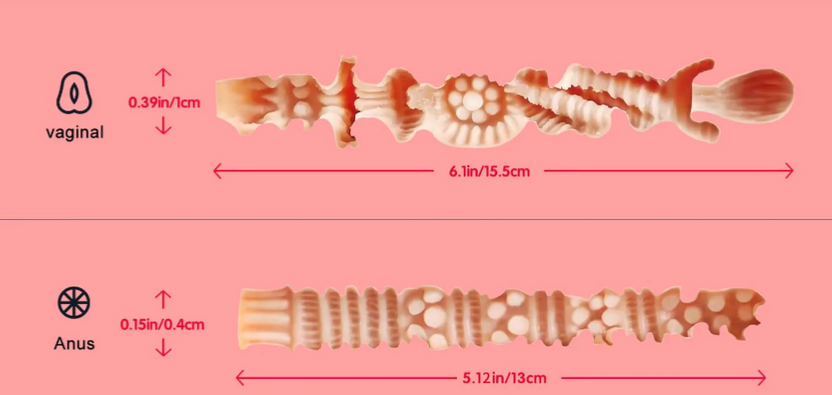 When I first unwrapped and got the Britney sex doll out of the box, I was surprised by the weight of the doll. At an official weight of 28,6 lbs, the Britney sex doll is slightly bulkier than I thought. This is not bad news because this weight range makes the torso transportable, yet you can still cuddle with her and get that "full bed" feeling. Also, her metal skeleton is very flexible, which allows for experimentation with positions that one would find difficult with a real partner. More on that later.
How about the look of the doll? Well, this is the part where I turn into a giggly, horny teenager. Damn, does she look and feel good! For me, this is pretty much the ideal female body – her breasts and ass are huge, but they look completely natural.
The breasts of Britney, by the way, recently got upgraded by Tantaly. The new "Tantabosom" technique they have used here gives those t*ts an amazing, lifelike jiggle.
This is the part that a lot of sex doll manufacturers get wrong. Sure, exaggerated, "stiff" female forms can look great on a sex doll, but eventually we still want the good bits to look natural.
Let's also talk about this alluring p*ssy and *sshole for a minute. Both are highly detailed, alluring, and simply beautiful. An example? Well, let's take the vagina for example – everything here is done down to detail. From the color of the labia down to the size of the vaginal opening. Yes, it is that detailed.
How about the feel of the skin? Well, this is not my first TPE doll so I knew it would feel awesome. Still, a new doll is always a treat. And, I am not going to lie here – I spent a good half an hour just caressing the satin-smooth skin and curves of the doll. Soon enough, I was stone-hard and ready for my first ride.
How is the sex with the Britney sex doll?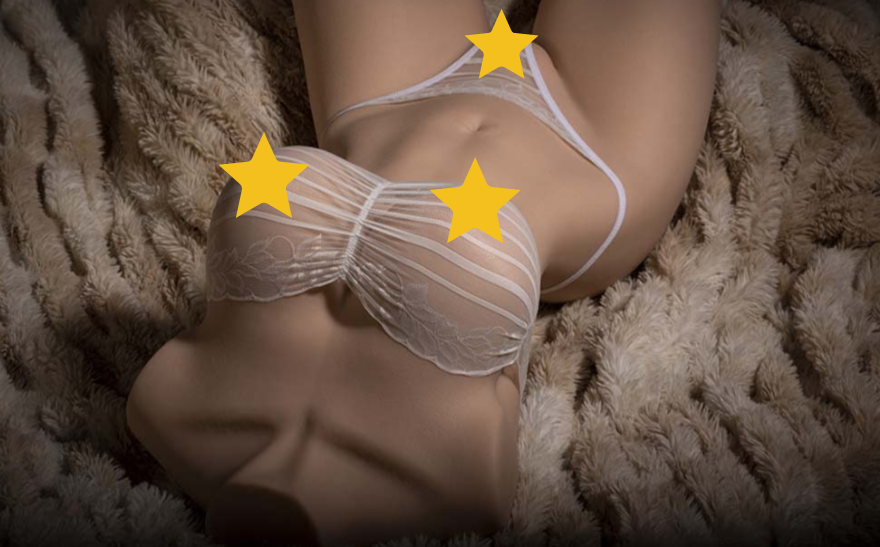 So, we reached the main treat. The part that everyone is interested in – how does it feel to have sex with the Tantaly Britney sex doll torso?
Well, I started off with her vagina. First, I rubbed a generous amount of lube on my c*ck and on the p*ssy of Britney. After this, I massaged the head of my penis over her labia just to get myself even more ready to enjoy her.
As I slowly entered the p*ssy, I was surprised right off the bat. The feeling is tight, intense, and good. This is more than just a wet hole to f*ck. The inner texture is filled with various bumps, ridges, and spirals that massage your penis in juuust the right places. You feel every small bump as you penetrate Britney. The feeling is especially awesome when you f*ck her very, very slowly. Now, I will not tell you guys how long it took for me to shoot my load, but I can say that I did not last long. The plain old missionary felt way different with her compared to what I am used to. In the Tantaly subreddit, you will see a lot of men who f*ck Britney quite intensely, and it is easy to see why – the size of the doll makes it easy to manhandle her and get completely lost in the moment.
Now, there is also the anal experience. This, by the way, is also one of the advantages of owning a sex doll. Let's be real – anal sex is not that accessible to most men. Well, Britney will give you a chance to get a feel of what anal is all about.
First, let's talk about the look of her anus. It's great. Her *sshole is like a cute little sexy button. Just as detailed as the vagina of Britney.
And the feel too – just like with real anal, there is a slight suctioning effect as you enter her. Your penis will feel squeezed, but just enough. Again, the inner tunnel is filled with small nudges and bumps that enhance the penetration experience. The tight *sshole and the inner texture play very, very well together.
Oh, and one more thing worth mentioning – with Britney, you can simultaneously have anal and vaginal sex. You can switch from one hole to another during one session. Something that should not be done in real life. Here, Britney gets another round of bonus points for helping live out stuff that is hard if not impossible to do in real life.
So, the sex is great. How about what happens after? Next, I will quickly talk about how to clean and care for the Britney sex doll torso.
How to clean the Britney sex doll torso?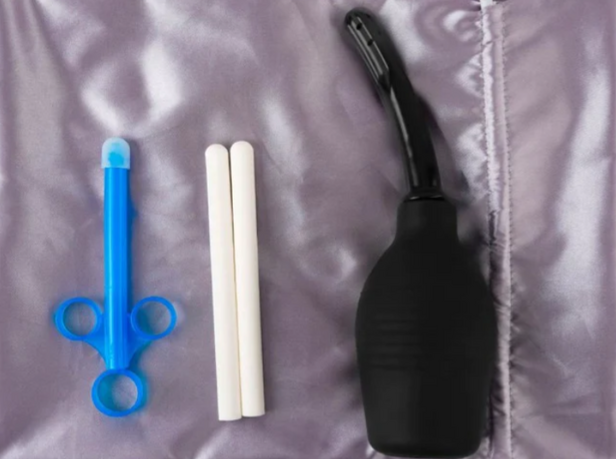 Cleaning this doll is pretty straightforward if you use the original Tantaly doll maintenance products. Here is a quick guide on items that you should use to keep the doll looking fresh, clean, and hot:
The Tantaly sex doll care kit features a washer specifically designed for washing the torso. It is a conveniently bulb-shaped item that you should insert into the orifices of the doll and spritz the insides of the torso, flushing out everything "unnecessary". Very quick and convenient.
The kit also features a drying stick that you enter the doll after washing. This one takes care of the last of the leftover water/lube inside the doll. It is also completely reusable.
Lastly, the kit comes with a lube applicator (if you want the lube to stay inside the doll) and a practical little storage bag. The last item will prove especially useful when you need some discretion. Trust me, having to explain a naked sex doll torso to your family members is not a situation you want to be in.
There are two other official care items worth considering – the USB heating rod and the renewal powder. The heating rod is ultimately about personal taste – it can be annoying sticking your d*ck in something lukewarm and this rod can help here. Personally, my penis usually gets warm enough so I do not always feel the need to use it. The renewal powder is almost mandatory though – it helps keep the TPE skin of the doll beautiful, smooth, and soft for a long time.
The pros & cons of Britney sex doll torso

I have a habit of getting a bit too overlong in my writing. Apologies! For those of you who are not interested in reading all about my escapades with the Britney doll, here is a quick rundown of the main pros and cons of this sex doll:
The pros of Britney sex doll torso
Let's start with the positives, shall we?
The body
Even though she is not full-sized, the care that has been put into this doll is pretty damn impressive. Her voluptuous, beautiful body is like an ode to the female form. The detailing is more than skin deep though – all of the details on her p*ssy, *asshole, and t*ts look and feel amazing. Bravo, Tantaly! If a sex doll can get me horny just by thinking about her then best believe that the doll is a keeper.
The pricing
I challenge you to find a doll of this quality for under $400! Simply put, it is not possible. Yes, there are cheaper and smaller torsos out there, but they are not worth it. Most of such products are glorified rubber holes. Yes, I am being harsh, but there is a lot of rubbish out there. Tantaly has hit the sweet spot between quality and pricing. Especially with Britney, their top-selling girl and the star of tonight's review.
The positions
Again, I have to emphasize the size of Britney. Not too bulky, not too small, and ever-so-flexible. If you have a fantasy position that you are yet to live out for practical reasons, here is your chance! Feel free to bend and take her in whichever way you like. Just do not get too crazy or you will hurt her!
The customer service of Tantaly
The customer service of Tantaly is committed to providing great service. From the moment you have a pre-purchase question about the doll down to the aftercare advice and replacement of faulty products. The latter has never happened to me, by the way. Each doll is carefully inspected by the Tantaly team before it is shipped.
Easy cleaning process
Let's be real here, cleaning a sex doll after f*cking her is never the highlight of the experience. Luckily, the cleaning process of Britney is relatively straightforward and quick if you use the original Tantaly cleaning products.
The cons of Britney sex doll torso
To be honest, finding anything bad to say about this doll was quite difficult, if not impossible. But here goes.
It is not a full-sized doll
To me, this is not a real disadvantage per se. However, if you are a sex doll aficionado who is about 100% immersion, this doll may not be for you. Some people just want to stare at the eyes of the doll while they are f*cking her. This is just not possible with Britney.
The maintenance/cleaning items have to be purchased separately
Technically, you do not HAVE to buy the Tantaly-produced items for cleaning, but it is highly recommended. These extras make cleaning and caring for the doll that much easier. So, why is this a disadvantage? Well, the pricing for the doll can be a bit misleading for some, seeing as the final price of the order will go up if you add these almost mandatory things to your order. Luckily, these items are cheap enough, and ordering them in a bundle will unlock a small discount on the final order.
How much does the Britney sex doll torso cost & is she worth it?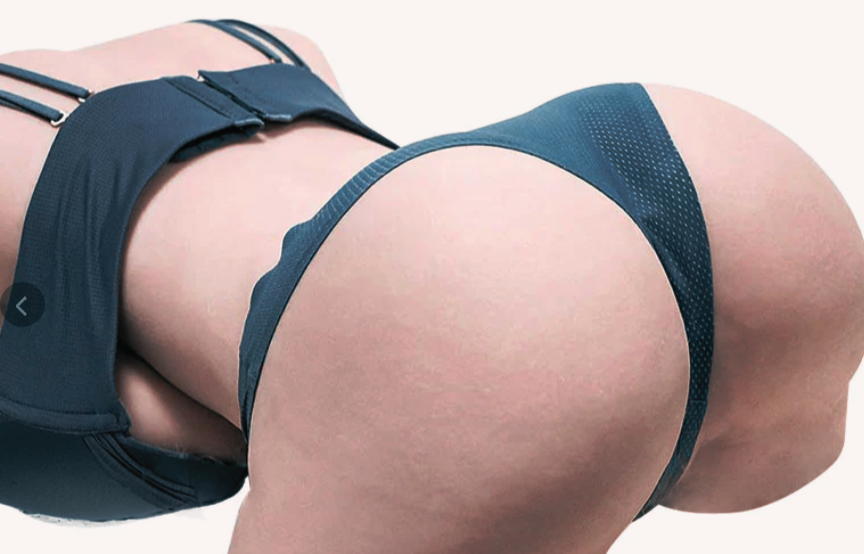 The Britney sex doll torso will cost you around $400 if you buy all the maintenance extras with the doll. With special deals and promotions, it may cost even less. Now, is she worth this price? Absolutely. Some small male masturbator gadgets cost the same amount, but the feel and immersion they offer are nowhere near what Britney can bring to the table.
Taking everything into account, I would go as far as to say that Britney is the best sex doll of 2023. These are big words. I know. But one just can't deny that this sexy little torso has the potential to change the sex lives of millions of people for the better.
For those of you interested in taking the leap, feel free to check out the current price of the Britney sex doll torso here.