The following article contains affiliate links, which means Sex Toy Magazine earns commission from products purchased through links in this post. If you love our work, please consider supporting us by ordering the products of your choice using the links placed in the article.
As of late, I have been very, very into Fleshlights. I have always loved these things and I have quite the collection now. Fleshlights are popular for a reason. Simply put, they are worth every penny you pay. Especially when you compare them to some much more complex and expensive male sex toys that do not feel nearly as good.
Lately, Fleshlight has been stepping up their game. Some of the new Fleshlight Girls models have been stunning. And, tonight, I will dedicate a review to one of the new Fleshlight products that has been getting a lot of hype – the Eliza Ibarra Fleshlight.
Fans of Fleshlight have been waiting for this product for a long time. Understandably so, because Ibarra is one of the most popular pornstars on the planet (she is also one of the best VR stars out there.)
Men want a piece of that hot performer. And, now they have that chance. Is the hype real though? In this Eliza Ibarra Fleshlight review, we will be looking at both the anal and vaginal sleeves of this product to see how they hold up. So, stay with us as we will go deep (pun intended) into the Eliza Ibarra Fleshlight to see whether it is worth the purchase or not.
First, let's see who exactly is Eliza Ibarra and what made her Fleshlight so hyped in the adult toy community.
• Eliza Ibarra Ethereal sleeve – How does it feel?
• Eliza Ibarra Enchanted sleeve – how does it feel?
• What I love about the Eliza Ibarra Fleshlight
• What I do not love about the Eliza Ibarra Fleshlight
• How much does the Eliza Ibarra Fleshlight cost?
• Final verdict – Is the Eliza Ibarra Fleshlight worth it?
Who is Eliza Ibarra?
Born in 1997, Eliza Ibarra is an acclaimed pornstar. She has been in the biz for a while, but during the last 2-3 years she has really made her mark in the industry. So, what makes this particular girl special? Well, first of all, her Mexican background makes her look quite exotic. She has a beautiful, feminine look. Yet, she is not your typical Latina. Instead, she gives off more of a high class model vibe.
Despite her young age, Ibarra has already received several AVN nominations too. Some of the most notable are the following:
As you see, this girl knows her stuff. She is a truly passionate performer who loves sex, adult films, and her fans.
Now, AVN nominations are obviously massive compliments to the talents of Mrs. Ibarra, but we also can't underestimate the importance of becoming a Fleshlight girl. Fleshlight does not work with any girl who has a few scenes to her name. They only work with women who are true stars. Makes sense too. I mean, who would want to buy a vagina mold of some random performer?!
Eliza Ibarra Ethereal sleeve – How does it feel?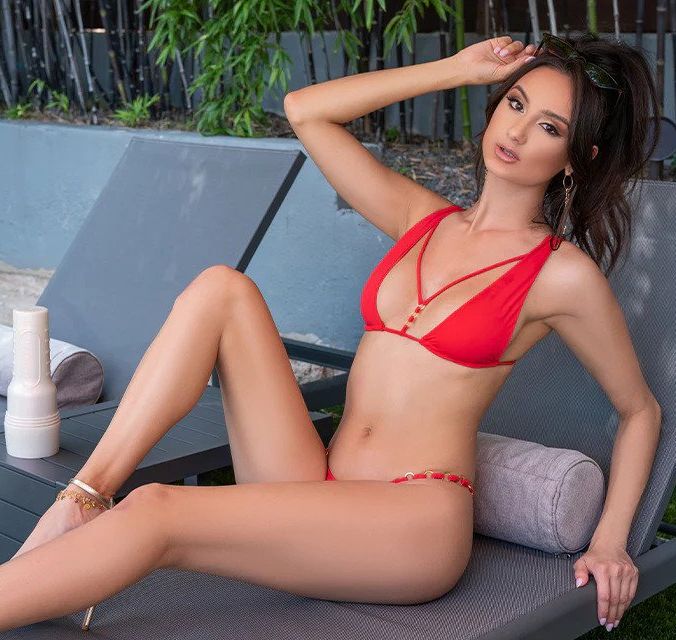 When it comes to Fleshlight Girls, you have the option of ordering a vaginal or an anal sleeve. Choices, choices, man! To make choosing easier, we will dive deep into both of these Fleshlights to see exactly what we are dealing with.
First, we will slide into the Ethereal sleeve, the vagina Fleshlight of Eliza Ibarra.
The first impressions of the Ethereal sleeve are great. I mentioned that Fleshlight has stepped up their game recently. I mean, just take a look at the detailing here – the tanned coloring, the detailing of the labia, the texture….mmm. You will want to f*ck this thing immediately after seeing it! And, this is precisely what we will be doing!
Fleshlights are arguably the most popular male sex toys for one reason – the chamber system. The toys look simple on the surface, but their insides are made to offer you the kind of stimulation that you simply will not find in any other sex toy. There are three different chambers, each of them stimulating you in a different way.
Let's take a look at the chambers of Eliza Ibarra Fleshlight:
Chamber one – Yes, first impressions are key. And these first impressions rock! The first chamber features curves. One notable online reviewer mentioned that this chamber feels as if Eliza Ibarra is moving her hips as you are inside her. Well, I don't know if I would go that far, but I know that this chamber feels good. The head of the penis is in a nice grip and the way your penis "flows" through this riverlike chamber sure feels awesome.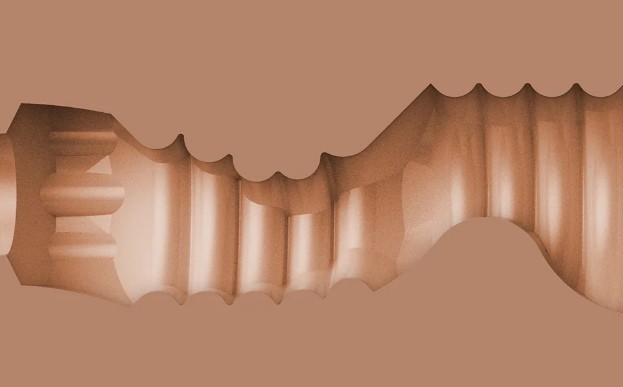 Chamber two – More stable, but somehow even more intense. The inner curves are not that intense anymore, but the grip is somehow even stronger. You have those legendary Fleshlight rings and ribs that stimulate you as you penetrate the fantasy version of Eliza Ibarra. And it feels oh so good!
Chamber three – Ah yes, the grande finale! This chamber is simple but effective. As you enter it, things are tight. Oh so tight! However, the deeper you go, the looser it gets. This creates an awesome effect where you feel the full grip of the Eliza Ibarra Fleshlight just before climaxing. Of course, you may also come while inside the first or second chamber (I wouldn't blame you!), but they have clearly designed the final chamber for the orgasm.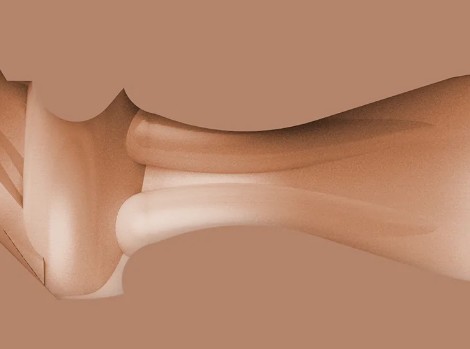 To sum it up – the highly detailed look of this Fleshlight model gives you a good idea of what to expect. The ethereal sleeve is not straightforward – it is a sleeve for someone who is ready to explore new and exciting sensations. Would I recommend this sleeve to a beginner? Sure, just be ready for a surprise. This is not just a wet hole to f*ck. It is an experience.
Eliza Ibarra Enchanted sleeve – how does it feel?
The lovely people at Fleshlight know that anal enthusiasts need love too. This is why all of the Fleshlight Girls also feature anal sleeves. The anal sleeve of Eliza Ibarra is called Enchanted. In the following, we will see how this lovely little hole performs.
As you first slide in, you will get a hit of tightness. I mean, it is an anal sleeve after all. Ask any man who has ever tried anal and they will tell you that this gripping feeling is one of the best parts of the experience, Again, the Eliza Ibarra Fleshlight features three distinct chambers. Time to slide right in!
Chamber one – A snug anal entrance. This is how Fleshlight officially describes the first chamber. And it is true…we are dealing with a very snug fit. Don't get me wrong though, this is good stuff. My member almost felt teased by how tight this thing is at first.
Chamber two – Here, the true stimulation starts. Your cock is massaged by a row of ridges. And, the sleeve is still quite tight. If you are not used to intense stimulation, better be ready to shoot your shot quickly!
Chamber three – Rings, rings, rings! This is the loosest part of the Eliza Ibarra anal Fleshlight. Think of it as the resting place where your heavily stimulated member can finally catch some breathing space. Yes, this part is still tight and intense (and don't forget that the rest of the chambers still work their magic!), but the grip is not nearly as strong when compared to the previous two chambers.
All in all – for fans of anal, this is a good sleeve. However, speaking as someone who owns A LOT of Fleshlights, the anal sleeve was not as much of a surprise as the vaginal sleeve. Yes, it feels good, but there is nothing revolutionary there. So, if you are a collector of Fleshlights, you will not find anything completely new here.
What I love about the Eliza Ibarra Fleshlight
The highs of this Fleshlight are really, really high. In the following, I will quickly talk about what my penis loved most about the Eliza Ibarra experience:
It looks stunning
At the end of the day, this is a Fleshlight not a real p*ssy. You know it, I know it. To make the fantasy work, the product must look good. And, it does look good! As I already mentioned, Fleshlight has upped its game with its more recent offerings. The Eliza Ibarra Fleshlight is one of the most detailed toys they have ever released. From the beautiful coloring to how the lips fold when your c*ck enters the sleeve…yes, this is a gorgeous toy.
The Ethereal sleeve
I love a beautiful fake p*ssy as much as the next guy, but beauty is nothing without a good orgasm! Luckily, the Ethereal sleeve feels as good as it looks. The sleeve is tight without being overbearing. The inner textures are also magic – these ridges and nubs hit exactly the right places!
The durability
Collecting Fleshlights is a thing. And, men would not collect different Fleshlights if these toys would not last. Clean it properly after each use and this thing can provide reliable orgasms for years.
The pricing
A well-chosen Fleshlight will give you a lot of value considering the price. I mean, sure – stuff like hentai sex dolls and AI-driven sex robots are awesome, but they will also hurt your wallet (trust me, I know.)
A Fleshlight is easy to store, will last, and simply put, will give you awesome orgasms for years to come. Considering all of this, the price is not bad at all.
Stamina training
Fleshlight sleeves are getting almost eerily realistic. This means that they are also great for improving your sexual stamina. If you do want a Fleshlight for stamina training, then I suggest you separate your "play sessions" and "training sessions"
You will ruin the fun if you use a toy such as this only for training. Instead, take some days where you are allowed to shoot your load as fast as you want and some other days where you dedicate yourself to only having fun with Eliza. Feel free to come in 10 seconds if you want (this toy is intense, so it is entirely possible.)
What I do not love about the Eliza Ibarra Fleshlight
All things considered, there is A LOT to love about this toy. However, I was left unimpressed with one significant aspect of this Fleshlight Girl.
The Enchanted sleeve
It almost hurts for me to write this, but the anal sleeve of Eliza Ibarra is nothing special. Yes, it is good. Yes, it gets me off. But, as a collector, I am looking for something completely new. The Enchanted sleeve left me with a feeling of "been there, done that."
That said, if this is your first anal Fleshlight, you will not be making a mistake getting this one. For a novice, this toy will do more than fine.
How much does the Eliza Ibarra Fleshlight cost?
Find the best offers for the Eliza Ibarra Fleshlight here.
The prices for the vaginal and anal Eliza Ibarra Fleshlights are the same – you are looking at about $80 per sleeve. The price can change a bit, but this is the general price range.
Now, if you plan on buying the sleeve, my suggestion would be to order directly from the official site of Fleshlight. That way, you will avoid fake products (yup, there are fake Fleshlights out there on the gray market) and you will also find the best prices on the official site. As a plus, their customer service is top-notch,
Final verdict – Is the Eliza Ibarra Fleshlight worth it?
Absolutely. Here, we are dealing with a Fleshlight sleeve that I would happily recommend to both beginners and advanced Fleshlight aficionados. The Ethereal sleeve offers one of the most unique Fleshlight textures yet. It is hard to describe the sensation, but it feels as if the sleeve "moves" as you penetrate it. Plus, the tightness of this thing is nearly perfect. A winner of a sleeve for sure!
Now, when it comes to the anal Eliza Ibarra sleeve, my emotions are a bit mixed. If this is your first anal Fleshlight and Ibarra is one of your favorite stars, then go right ahead! You will see exactly why Fleshlights continue to sell so well. However, if you are a collector who has tried a fair share of anal sleeves, then keep looking. There is nothing particularly new here. Sure, it looks better than some of the older Fleshlight Girls models, but if you are looking for a new masturbation experience, then the vaginal sleeve of Eliza Ibarra is a much better option.
---
With that said, I will wrap things up for now. I hope that this article was helpful to you and that you will enjoy the heavenly orifices of Mrs. Ibarra as much as I do!