The following article contains affiliate links, which means Sex Toy Magazine earns commission from products purchased through links in this post. If you love our work, please consider supporting us by ordering the products of your choice using the links placed in the article.
For many, cock rings are an entry point to the world of sex toys. And for good reason – compared to something like an elite male masturbator or a prostate massager, cock rings are a more safe, beginner-friendly option.
In addition, some penis rings can be found at random grocery stores at a price range of $10-$20. This leads us to a fair question – is it worth investing in a high-quality cock ring if I can buy a similar item at a fraction of the price?
Today, we will be tackling this question head-on. And, we will do so in a unique way. We will take a closer look at one of the most hyped penis rings to hit the sex toy scene in recent times – the one and only LELO TOR 3.
In this LELO TOR 3 review, we will be taking a detailed look at everything you have to know about this pleasure ring.
As always, I will take this thing to the bedroom as well – discussing key features is important and all, but it is the gritty personal details that are always the most interesting. As such, no detail is ever too intimate for the writers of Sex Toy Magazine.
But, enough with the introductions, let's get right down to it. In the following, find my full review of LELO TOR 3:
• What is the LELO TOR 3? – A Quick Introduction
• Key Features of the LELO TOR 3
• How Does it Feel? – Personal Report from the Bedroom
• Where to Buy the TOR 3 And How Much Does it Cost?
What is the LELO TOR 3? – A Quick Introduction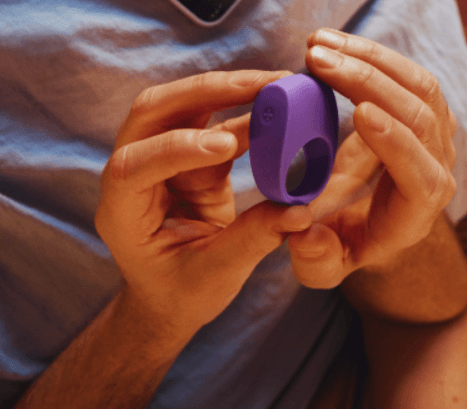 For a sex toy enthusiast, LELO does not need an introduction. This company has been at the forefront of high-end sex toys for a while now. It is a team with a loud and powerful ambition. An ambition to create toys that look stylish, feel awesome, and are intuitive and easy to use. And trust me when I say this – it is NOT easy to find sex toys that fill all the aforementioned criteria.
Due to this kind of reputation, every new release by LELO is bound to cause excitement in the industry.
The TOR 3 is not an exception – this is an improved version of the previous LELO TOR cock rings and it is easily the most ambitious LELO ring yet. This tiny and cool-looking toy comes with some lofty promises.
It wants to improve the sex lives of couples while also being a solid pick for some solo action. Does it deliver on its promises? Well, I guess we will find out soon enough. First things first though – let's get the TOR 3 out of its box.
What's in the Box?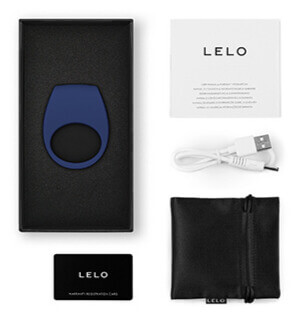 Once again, I want to give a shout to the design team of LELO. They are not just delivering a sex toy. No sir! They are delivering an experience, an experience that starts with the packaging.
The TOR 3 comes in a small, minimalistic black box with the LELO logo and some key details related to the toy.
Is the package important? Well, yes, it kind of is. You see, LELO is one of the very few companies that I feel comfortable gifting to my straight male friends or even my relatives without feeling any weirdness. This is only possible due to how sleek and stylish the best LELO toys for men look and feel.
So, the box looks cool enough, but what's inside? Let's examine.
The LELO TOR 3 – The main character. The look and the key features of the ring will be discussed in the next part of this article so I will not waste any time discussing the TOR 3 itself for now.
A satin storage pouch – All LELO toys come with a small storage pouch for the toy. Not a necessity per se, but adds a nice touch of luxury to the experience.
A USB charging cable – The TOR 3 will get a full charge in just about two hours.
A warranty registration card – LELO toys are not cheap. As such, I suggest you register your toy via the official LELO website. If the build of the toy happens to be faulty, you are eligible for a free replacement provided that the product is registered. As a proud owner and user of nearly everything in the LELO male lineup, I can say that I have never had any issues with the products though. I have always registered everything though. Just to be on the safe side.
An instruction manual – Using the TOR 3 felt very intuitive to me and I admit to throwing the manual to the trash pretty much immediately. Still, a useful addition to anyone with no previous experience with cock rings. Oh, and when it comes to LELO, instruction manuals ARE a necessity for some of their stuff. For example, the LELO F1SV2 male masturbator can seem a bit intimidating at first without a detailed manual. Even for seasoned sex toy fans like myself.
So, the ring is finally out of the box. Next, let's take a quick look at some of its key features.
Key Features of the LELO TOR 3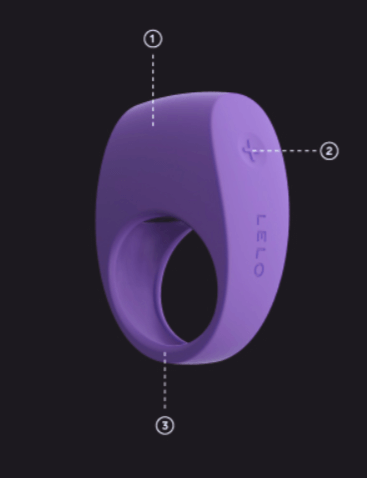 When you are paying over $100 for a penis ring, you will obviously want something more than a circle to throw around your c*ck. Here are some of the feats that make the TOR 3 stand out among the many, many alternatives:
A total of 8 different vibration patterns and 10 speed variations – The vibrations come in varied intensities. The lower settings give your penis a sweet little buzz while the most intense settings rock the entirety of your member. A sort of buzz that you feel from the inside of your cock. Since this is a ring aimed at couples, make sure to discuss her preferences as well before getting it on. On very intense settings, the TOR 3 can be too much for women not used to heavy and direct clit stimulation.
The LELO app – With the TOR 3, you have two choices. You can operate the toy directly by using the controls on the toy. Alternatively, you can go for a more hands-off experience by using the LELO app. Of course, you can also let your partner take charge.
Submersible – You can use your TOR 3 in a shower or a bath without any compromises in vibration quality. Pro tip? Wear this bad boy in a bath. Hot water somehow seems to enhance the experience.
Flexibility – Unless you are packing a true monster down there, the TOR 3 will be a fit. The bendy, premium silicone wraps around the penis with ease. Not too loose, not too tight.
Designed for use by couples – LELO markets the TOR 3 as a "vibrating pleasure ring for couples." This is true. They have kept the female anatomy in mind as the design and the vibrations of the TOR 3 feel very stimulating for all vulva owners. More on that later.
How Does it Feel? – Personal Report from the Bedroom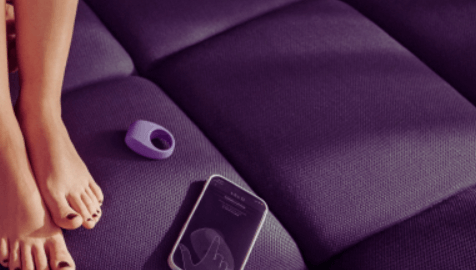 The TOR 3 can be used as a solo toy or with a partner. As such, let's break down this paragraph into two parts. It is a waterproof toy and I am a sucker for using sex toys in a bath or a shower. Thus, I decided to use this thing in a bath for my first introduction to TOR 3.
Solo
As I got this thing out of the box, I immediately felt the quality of the cock ring. The medical-grade silicone feels soft, sleek, and sexy. The kind of thing that you immediately want to put on. And this is precisely what I did.
How will this fit? This was my first thought. And, I don't even have a particularly big member.
However, as I put the TOR 3 on, I understood what they mean when they talk about ergonomic design. The ring is very stretchy and I had no trouble getting it on whatsoever. Keep in mind that even though it is stretchy, it is not too loose nor is too tight. The ring feels like your c*ck is getting a warm hug.
Now, this may be a bit too personal, but I am not always satisfied with how hard I can get.
Yes, the erection is always "good enough", but whenever I am facing even the tiniest bit of stress in my life, I do not get as stone-hard as I would like. Well, a good cock ring can fix that – and this is precisely what the TOR 3 did. My penis felt like a baseball bat!
With the TOR 3 firmly attached to my penis, I entered the hot bath. This is also where I started tinkering with the vibration settings. I went for one of the more speedy and intense settings immediately and I loved it. A lot.
The vibrations felt rumbly and powerful. Not enough stimulation for a hands-off orgasm, but it was close! I stroked the head of my cock and got as close to a glorious O as I possibly could…but I still decided to hold back. I did not want to lay in a bath full of my own semen. Plus, I wanted to test the ring out with my wife later in the evening.
So, impressions from the first wear? Great. Despite being marketed as a toy for couples, I can see myself having a lot of solo fun with the TOR 3.
With a Partner
This was one of the parts that gave me the biggest excitement. After all, the TOR 3 is ultimately a toy for couples. Since I already spoke about putting this thing on, I will skip this part and get straight to the action.
And, my report is positive! My wife was very surprised by how stimulating a cock ring can be. We have tried various alternatives before and they were also good, but they worked only as small boosters of the experience. 
With the TOR 3, my wife reported that the vibrations were felt in the entire clit area. In fact, the toy helped her climax in a classic missionary position.
What exactly did we do? Well, after some stroking, I just stayed inside her with the entirety of my length. The buzz from TOR 3 worked its magic quickly and she was in happy land in less than a minute. Keep in mind that we can't credit only the TOR 3 for her orgasm – we had a good session before I let her feel the ring directly at its full power. That said, it did add a lot of novelty to the intercourse. Something that I did not expect from a penis ring.
For now, we have experimented with the ring for two positions – cowgirl and missionary. It did add some spice to both of the positions, but especially the missionary. Will we be testing it for other positions as well? Hell yeah!
Overall – yes, the marketing is correct for LELO TOR 3. This is indeed a "pleasure ring for couples."
With that, let's do a quick little recap of what we learned about the TOR 3 and write down the main pros and cons of the toy.
Pros and Cons of LELO TOR 3
The pros
Couple-friendly
As I wrote in the previous paragraph, the LELO TOR 3 is very stimulating for a female partner. In fact, I see it becoming one of my favorite toys to use with my wife. VERY surprising for something as simple as a cock ring.
Vibration settings are plentiful
A total of 8 vibration patterns and 10 speed variations accommodate various tastes and experience levels. Personally, I am a fan of intensity when it comes to vibrating cock rings, but I can see a lot of men enjoying a slow and steady buzz as well.
Best-in-class fit
One of the most important features of a cock ring and they have done it very well. This thing fits like a glove. The great fit reminded me of another LELO product that stunned me with how snug yet comfortable it was – the LELO HEX condom.
Submersible
Not important for some, but absolutely a necessity for me. As I said, I love using my toys in hot water. Always did and always will.
Remote use is possible via the LELO app
You can opt to operate it via the toy itself by using the controls or you can opt to use the LELO app as a remote. I prefer to operate it directly, but I can see the remote possibilities being important for someone who prefers their partner to handle the action.
Switching between the vibration settings is comfortable
The usability aspect here is very, very good. The buttons are situated at the sides of the toy and reaching for them is quick and easy, even if you are completely in the throes of passion with your partner.
Whisper-quiet on the lower settings
For what this toy does, I was surprised by how quiet it is on the lower intensities. I know a lot of people want their sex toys to be as quiet and discreet as possible so I can see this as being a huge advantage for a lot of people. It should be noted that on the fastest and most intense settings, the toy still makes some noise. The max noise level of the LELO TOR 3 is 60 dB which is comparable to a quiet but hearable human conversation.
The cons
Not suitable for public wearing
There are some cock rings that could be worn publicly. The TOR 3 is not one of them. Yes, it is discreet, quiet, and feels pretty damn awesome, but I do not see wearing it in a public setting. Unless I would like to be seen walking around with a thundering, vibrating erection. And well, I am not sure this is even legal in my country.
The price
Is it the cheapest cock ring out there? No. LELO stuff is generally not in the lower tier of toys when it comes to the pricing. Most of the time, they are worth it though and this is also the case with the TOR 3 cock ring.
Where to Buy the TOR 3 And How Much Does it Cost?
Check out the current best price for the TOR 3 on the official website of LELO. Yes, this toy is available in other online stores as well, but the official site carries the best offers. In addition, you get the professional customer service of LELO – should you have any issues with the product, you can turn to them directly. Plus, LELO often holds discounts and special offers on the official site.
All in all, if you are going to buy this cock ring, I advise you to get it directly from LELO.
Now, is it worth the purchase? It is. I would especially recommend it as a male starter toy for couples who are interested in exploring sex toys but do not want to get something too intrusive or intense. The TOR 3 is a stylish, discreet, and quiet toy. Yet, it has the potential to improve the sex lives of couples in a massive way.