The following article contains affiliate links, which means Sex Toy Magazine earns commission from products purchased through links in this post. If you love our work, please consider supporting us by ordering the products of your choice using the links placed in the article.
Fleshlight is undoubtedly one of the most widely known sex toy companies in the world. In fact, Fleshlight has become so popular that its name is sometimes mistakenly used for sex toys not associated with the brand at all. An example – someone says that they want to "get a Fleshlight" when they actually mean that they want to buy a random male masturbator that is not associated with the brand at all.
The massive popularity of Fleshlight is well-earned too. These toys are quite affordable, easy-to-use, easy-to-clean, and most importantly, they feel hella good.
That said, picking a Fleshlight is a daunting task. There are loads of Fleshlight sleeves out there and new ones are also being released constantly. So, how does one choose? Well, judging by the messages we get from our readers, tightness seems to be one of the factors that people are interested in.
Which Fleshlight is the tightest? This is easily one of the most commonly asked questions I get regarding sex toys. Answering this question is not as straightforward as it may seem though – the tightness does not automatically make for a good Fleshlight. There are some sleeves that are very tight that are simply not worth it.
Due to this, I decided to put together a little guide on the tightest Fleshlights that also come with great textures. It was not an easy task seeing as there are a lot of good and tight Fleshlights to choose from. So, instead of making the list too long, I decided to narrow things down to the cream of the crop – the absolute kings of tight Fleshlights.
Before we move on to the list and reviews, have a look at a quick breakdown on how I chose the sleeves that feature in this article:
• Intensity of the textures – Intensity is arguably the most important factor when it comes to choosing the tightest Fleshlights. Simply because a lot of people mistake tightness for intensity. A well-created texture can feel much more tighter than a more "boring" texture, even if the latter has a larger fit.
• Feedback from Fleshlight fans – Fleshlight enthusiasts have a massive online presence. When a certain product has been hyped for years, rest assured that there is more than good marketing behind the hype – this stuff is legit. True Fleshlight fans are also often known for their brutal honesty. Due to this, the not-so-good stuff will not stand the test of time among the connoisseurs.
• Personal experience – Merely rewriting what has been said a hundred times before does not provide any value to our readers. My d*ck has been through a lot of sleeves ever since becoming a sex toy blogger and I do not always agree with the opinions of the masses. As such, expect to see a few surprises on my list.
• The look of the Fleshlight – This will be a controversial one. When men are looking for a tight Fleshlight they usually want the toy to look "hot" too. And, some Fleshlights just look more enticing than others. This list will only feature vaginas and anuses that will get you all excited immediately after getting them out of the box.
---
So, now you know how I put together my list. It's time to get down to business. Here are the tightest Fleshlights that are truly worth your time and hard-earned cash:
Stoya Destroya
"Not for the faint of heart, the Stoya Destroya remains one of the most stimulating sleeves to ever hit the market."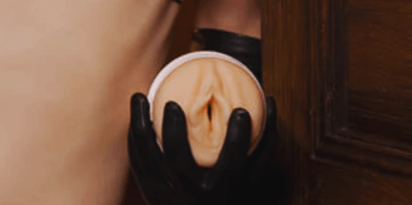 I honestly do not have any insider info on which Fleshlights sell the most, but I am pretty sure that Stoya Destroya is one of their top-selling products. It is a true cult favorite among Fleshlight enthusiasts and for all the right reasons.
The Destroya sleeve was inspired by the vagina of the one and only Stoya – the OG vamp pornstar. These days, we see a lot of pornstars with that alternative vibe. You know the drill – tats, goth look, and a slightly intimidating vibe. Well, Stoya was the OG, the godmother of all of these newcomers.
The Stoya Destroya is just like the star that inspired it – intense with a capital I. The sleeve is often described as the most intense and tight Fleshlight out there. This is due to the very unique textures hidden inside the toy.
The sleeve starts off relatively simple (still very tight though!) and then gradually gets more intense as you move deeper. The deep end of the toy gets even tighter and features some very pointy ridges. These fang-like ridges offer some pretty insane stimulation. The type of tickling sensation that can send me to the moon in less than a minute if I am feeling particularly horny.
When researching this sleeve online you will often hear that it is not suitable for larger penises and/or complete newbies to Fleshlights and I have to agree with the online communities here. It is one of those sleeves that can be intimidatingly stimulating for someone not used to sex toys.
I must admit I do not reach for the Destroya that often anymore. I prefer a slightly more realistic type of stimulation. That said, it fully deserves its status as one of the most acclaimed tight Fleshlights of all time. You simply HAVE to get inside this thing at least once if you consider yourself a sex toy connoisseur.
Violet Myers Ahegao
"With an impressive suctioning effect, the Ahegao has quickly established itself as one of the best anal Fleshlights."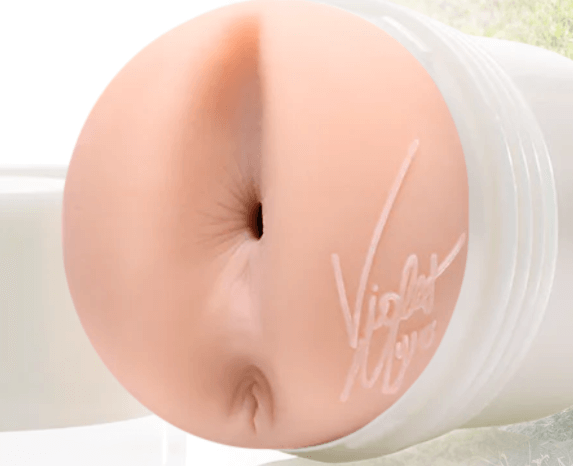 Ah yes, Ahegao – the wonderful anal sleeve inspired by Violet Myers, an owner of one of the most coveted butts in the world of porn. A Fleshlight inspired by that kind of derriere has a lot to live up to…luckily, it does.
The Ahegao is one of the newest sleeves on this list. During its short lifespan, it has become a firm favorite among Fleshlight enthusiasts.
So, what do we have here? At a glance, a relatively straightforward tunnel with almost no variation to it. What makes this sleeve tick is just how well done the texture is – there are 4 half-bead clusters inside separated by super narrow "corridors."
The straightforward feel of this sleeve is precisely what makes it work so well. The beads combined with the super tight tunnel and the softness of the material work together to create a sort of suctioning effect. A sort of effect that reminds me of some high-end blowjob machines – for example, the stimulation offered by Lovense Max 2 has a similar feel to the Ahegao. When you enter your penis into the toy it almost feels like a heavenly pair of lips grasping your c*ck and trying to swallow it.
Did I get a bit too poetic here? Probably. Well, what can I do? This sleeve is truly inspirational. Easily one of the best anal Fleshlights out there.
Autumn Falls Cream
"The Cream offers a sensation similar to receiving a penis massage. It is also one of the sexiest Fleshlights I have ever laid my eyes on."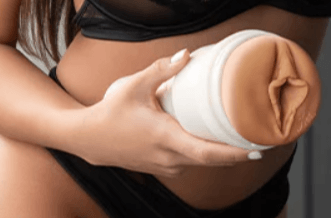 Read our full review of the vagina/anal sleeves of Autumn Falls
Yet again, we have a relatively new Fleshlight release. Autumn Falls is a Latin bombshell known for her hairy bush, enthusiastic performances, and voluptuous body. It was a bit of a pleasant surprise when I heard that Fleshlight will collaborate with this star, but my expectations were sky-high pretty much immediately.
I was not disappointed. This sleeve has firmly established itself in the community and is also one of the tightest and most stimulating sleeves currently available.
Here, the damage is dealt by the three distinct chambers. The tightness is varied with the most intensity being delivered via the tight walls filled with beads and a unique waffle-like texture. The "waffle" is the showstopper here as I have not come across a feeling like this in any other Fleshlight – with the right amount of lube, it can feel like a soft pair of hands is giving your member the best penis massage of your life.
I can't possibly finish talking about the Autumn Falls Cream sleeve without mentioning how it looks – you see, it is literally one of the hottest-looking Fleshlights currently on the market. This slight tan and those enticing lips are simply to die for. You will want to enter this thing immediately after seeing it.
Stamina Training Unit: Lady
"The Stamina Training Unit is meant for improving sexual endurance in the bedroom. It is a legendary toy that continues to captivate sex toy enthusiasts worldwide."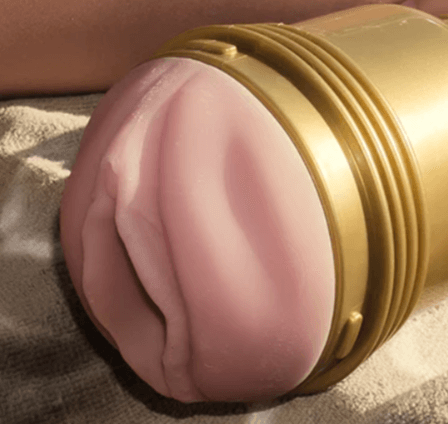 Stamina-training sex toys have been getting a lot of exposure lately and we are all for it! Just recently, Kiiroo and adult performer Kayley Gunner collaborated to release a stamina training program to be used with the new Kiiroo male masturbation toy, the FeelKayley Stroker.
The Stamina Training Unit from Fleshlight is not a newcomer though. It has been one of the top-selling Fleshlight toys for years now and will probably continue to sell well for years to come.
So, what makes it so special? Well, the name of the toy should give you a very good hint about what to expect from it – it is designed to mimic the human vagina as closely as possible. All to help men improve their sexual stamina and confidence in the bedroom.
This Fleshlight is relatively straightforward. There are no magical, massaging textures in there. Instead, you have a very tight tunnel with the trademark Fleshlight beads that deliver the stimulation.
Despite the beads, this is among the most realistic Fleshlights out there. If you want a tight p*ssy to help you prepare for a night out then this is it. Also, the Stamina Training Unit gets a few bonus points for being one of the cheapest Fleshlights on this list.
Megan Rain Thunder
"The Thunder has a texture shaped like a lightning bolt. Somehow, this sort of stimulation works wonders on the head of the penis."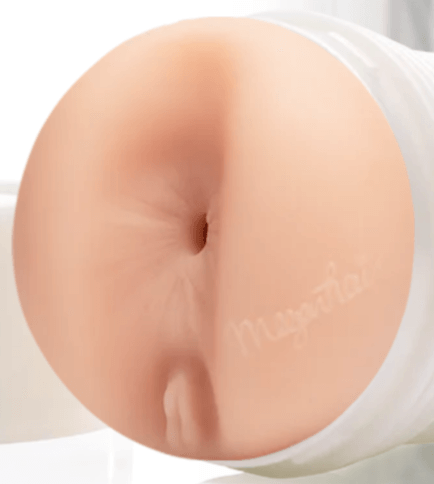 FleshAssist has rated the Megan Rain Thunder as one of the most intense Fleshlights out there. For those not in the know, FleshAssist is one of the most robust Fleshlight review sites available online. Think of it like IMDB but for Fleshlights. If they rate something highly, then it is a certified classic.
Thunder is an anal Fleshlight that looks relatively simple on the surface – the texture is interesting, sure, but there are no crazy pattern variations inside. However, yet again we have a Fleshlight sleeve that does one particular thing to perfection. And as you may have already guessed, this one feature is tightness.
This is a particularly snug Fleshlight that shines in stimulating the head of the penis. The texture reminds me of a lightning bolt (hence the name of the toy) and this texture rubs my bell end in the best way possible.
That said, it is a truly intense toy – I have seen some men describe it as being a little TOO ROUGH. I do not agree. It may be a bit too much if you go super fast, but for slow penetration this sleeve is heavenly.
This should be your pick if you want to enjoy a prolonged stroking session. Ideally when you are completely relaxed and have a long weekend ahead of you.
Emily Willis Squirt
"Inspired by one of the most hyped pornstars of the recent years, Squirt is an intense ride full of various texture variations."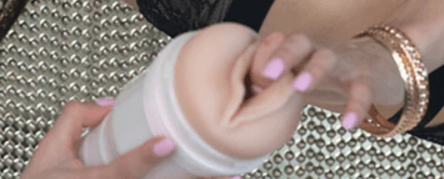 Read our full review of the vagina/anal sleeves of Emily Willis
Emily Willis has got to be one of my favorite pornstars in the business right now. I am especially fond of her VR scenes which is why I also included her in my list of best VR pornstars. I even felt a sense of pride when I heard that Fleshlight finally decided to collaborate with her and release a Fleshlight dedicated to this beauty.
The anal and vagina sleeves are both hall-of-famers, but the vagina sleeve is the true showstopper here.
Right upon entry you feel that you are dealing with something truly special. If you are an uncut man like me then you will immediately feel how the sleeve "tucks away" our foreskin and stimulates the areas beneath it. It does so in a very gentle and pleasant way though.
From there, things get a bit intense – there are the curves, various rugged parts, and a sort of swirling area that I am especially fond of. All of these sensations combined with the tightness of the sleeve create a hell of a ride. Use lots of lube and stroke fast and the sensation is similar to receiving a super fast, sloppy, and enthusiastic blowjob.
This kind of feel suits a toy inspired by Emily Willis very, very well. After all, Willis is known in the industry for putting out some pretty crazy content.
If sheer intensity and unique sensations are what you are after then this Fleshlight is very hard to beat.
Eliza Ibarra Enchanted
"During its short lifespan, Enchanted has already managed to become the highest rated all-around Fleshlight on FleshAssist."
Read our full review of the vagina/anal sleeves of Eliza Ibarra
Theoretically, this is the best Fleshlight currently out there. You see, it is the highest all-around Fleshlight on FleshAssist. I made a slight movie comparison in the previous part of this article and I will do one again – think of Ethereal as "The Godfather" or "Citizen Kane" of Fleslights. It is a certified legend.
So, what makes this one so special? The grip. The Enchanted is one of those sleeves that gets better the deeper you go. At first, I was slightly underwhelmed. Yes, the tightness and the stimulation are there, but they are nothing compared to stuff like the Emily Willis sleeve that took me for a ride immediately.
Luckily, things only get better as you start thrusting. Even though this is a non-automatic toy, it still felt as if my member was sucked in automatically. Almost a scary sensation to be completely honest! The key players in the sleeve are the rings on the sides that offer a very unique type of stimulation. Feels kind of like hundreds of fingers "pushing" the entire length of your penis. It may not sound that good, but believe me, it is. Especially when you "twirl" the sleeve around your penis and stroke super fast.
Now, is it the best Fleshlight of all time? Not for me. I absolutely love it and it is one of the most intense and tightest sleeves out there, but I stopped reaching for it when the novelty wore off.
Quickshot Vantage
"Priced at about $35, the Quickshot Vantage may just be the best value-for-money Fleshlight currently available."
Check price at Fleshlight
For men on a budget, things just took a very solid twist. At about $35 as of this writing, the Quickshot Vantage is by far the cheapest toy on our list of tightest Fleshlights.
Besides the price, there is a lot of other good stuff going on here. Let's start with the looks – this Fleshlight is completely see-through which makes it an ideal choice for people who love to watch themselves or their partner get it on with a sex toy.
I also love how compact it is. At roughly half the size of anything else on this list, this one could easily be a great travel companion. Will not take much room in the suitcase and will not also look too strange for those pesky airport workers. I stopped caring about what people thought about my sex toys a long time ago, but a lot of men are understandably timid about flying with sex toys due to the shame aspect.
How about the feel of the toy itself? Very, very solid for the price. You have the ultra-soft SuperSkin sleeve that is used in other, way more expensive Fleshlights. You also have a surprisingly interesting texture – it is not quite as complex as something like the Stoya Destroya or the Eliza Ibarra Ethereal, but the screw-like texture is enough to turn newbies into believers almost instantly.
Watch out, though – soon enough you will want to start collecting Fleshlights and this can put a dent in your wallet quickly if you go crazy with buying these things.
---
As I already said in the introduction, choosing a Fleshlight is never an easy task. However, if you value sheer intensity and tightness above all, then this list may prove to be very helpful.
Whichever sleeve you end up choosing, I sincerely hope that you will have a lot of fun with your new little miniature-sized friend. Good luck, gentlemen!