The following article contains affiliate links, which means Sex Toy Magazine earns commission from products purchased through links in this post. If you love our work, please consider supporting us by ordering the products of your choice using the links placed in the article.
It is 2021, but many straight men still cringe at the idea of anything going up their butt. I am not judgmental in the slightest, I was a skeptic too. But, as my sexual experiences broadened, I knew I eventually had to give anal vibrators a try.
Ever heard of the P-spot? No? Well, you have surely heard of the prostate. The prostate is a small muscular gland located approximately 2 inches inside the rectum. To be precise, it is the point between the rectum and the penis. This point is responsible for helping produce seminal fluid. And, it also helps propel the precious fluid from the penis.
But, let's leave biology to textbooks. We are interested in the prostate for one thing. Pleasure. You see the prostate comes equipped with a bundle of nerves. So, stimulating the prostate feels hella good. It takes some patience and an open mind to get there, but once you learn how to get a prostate orgasm…there is no going back.
Experienced women know all-too-well about a full-body orgasm. Well, turns out that men CAN have full-body orgasms as well. The easiest way to achieve this? You guessed it. Coming via prostate stimulation. The easiest way to get off via prostate stimulation is by choosing the right sex toy. Seeing as I have gone through my fair share of anal vibrators, it is only fair that I list my favorites with you as well.
But, before we get started, allow me to answer some commonly asked questions about anal vibrators and prostate stimulation. We don't want you to shock your anus and have an unpleasant first experience.
What is an anal vibrator?
An anal vibrator is a sex toy designed specifically for stimulating the anus and the prostate. Anal vibrators come in different sizes, different intensity levels, and different designs. The anal vibrators listed here are mostly very beginner-friendly, so do not be intimidated by the looks of these bad boys.
Will an anal vibrator hurt me the first time?
Using lots of lube is absolutely essential. So, make sure not to skip this part. If you are properly lubed up, using an anal vibrator will not hurt a bit, even if this your first try.
However, the first experiments might not instantly lead to mind-blowing orgasms. This is fine. Get to know the device and your bodily responses. And, my suggestion, experiment solo before inviting a partner along with your anal ventures.
How to choose an anal vibrator?
Use our list! Just kidding. Kind of. Before investing in an anal vibrator, you should make sure whether you want a waterproof device. Something with a remote control? Customizable vibrations? Also, what is your budget?
Rest assured, I covered all the best anal vibrators from all aforementioned categories in this list.
Now that we have cleared a few things up, let's dive right into the good part. Here are the best anal vibrators for men for 2021:
Best overall – "Lelo Hugo SenseMotion Remote Control Rechargeable Prostate Massager"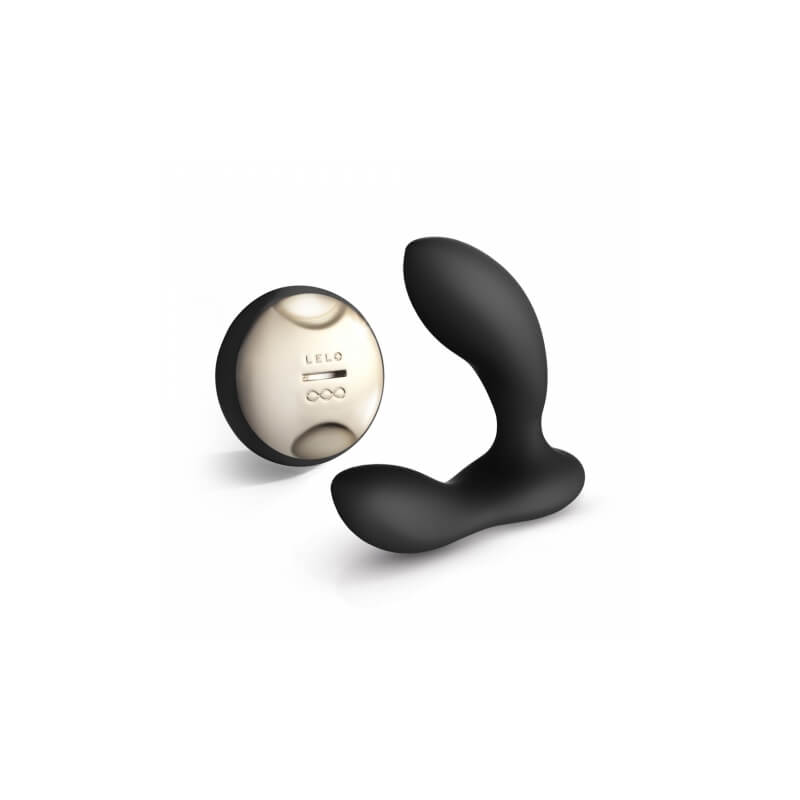 Key advantages: innovative SenseMotion system for customized prostate play, luxurious packaging and design, a remote-controllable device
Check price on LELO
Let's get a bit more intense, gentlemen. LELO has dominated the luxury sex toy market for a while now. So, when I first got into prostate play, I was very excited to see what P-spot devices they are selling. One of the best anal vibrators in their lineup is called Hugo. A goofy name, sure. But, let's hold our judgments for later.
First things first. Hugo looks every bit as luxurious as advertised. The golden details, the soft silicone, the slightly curved shape…attention to detail reigns supreme! But, does it feel as good as it looks? Absolutely. The thing is, Hugo covers all the bases. You have 6 pre-programmed settings for beginners (start with slow speeds and vibrations, remember) and the SenseMotion system for a connoisseur of the prostate.
The SenseMotion is the feature that has given Hugo its reputation as one of the best anal vibrators on the market. It is a remote that makes Hugo directly respond to the movements of the hand. For someone already into prostate play, this means a nearly endless amount of different vibrations and patterns.
Any downsides? I'm afraid so. In my experience, it tends to slip out rather easily. This is probably more of a personal thing. All bums are different, you know, and most men report no such issues with the Hugo.
A cheaper alternative to Lelo Hugo – "Lovehoney P-Stroke Remote Control Stroking Prostate Massager"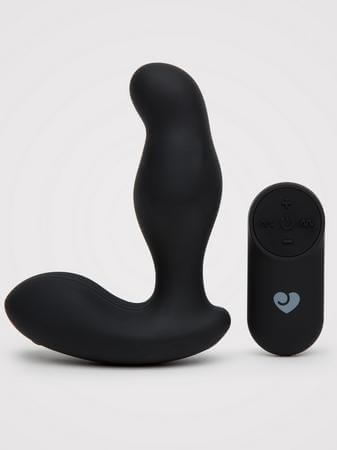 Key advantages: waterproof, a unique curvature of the device, a solid cheaper alternative to Lelo Hugo, USB-rechargeable
Check price on Lovehoney
If you want to go for a prostate massager that is operated by a remote, yet want something a bit cheaper than Hugo, then this a life-saver. The P-Stroke will cost about $70, yet comes with the greatest features of the Hugo.
You have your remote, 3 different speeds, 7 vibration patterns. The prostate massager itself has one of the best curves of all anal vibrators. The curved shaft hits exactly the spots I want it to hit. So, if you have no idea where your P-spot is, this anal vibrator will be a great choice for finding it.
The device uses USB charging and is also fully waterproof. A note of caution here, though. The remote IS NOT waterproof. So, feel free to take this thing to a bathtub, but steer clear from use under the shower. I learned the hard way that the remote really does not like water at all.
All in all, good stuff. But, when compared to the remote capabilities of Hugo, there is a slight disadvantage. You are not able to manually operate it like the Hugo. For a beginner to prostate massage, this is not a dealbreaker. But, for a true freak constantly looking for new vibration patterns, there is only so much you can do with the P-Stroke.
Best cheap anal vibrator – "Lovehoney Smooth Mover 10 Function Beaded Anal Vibrator"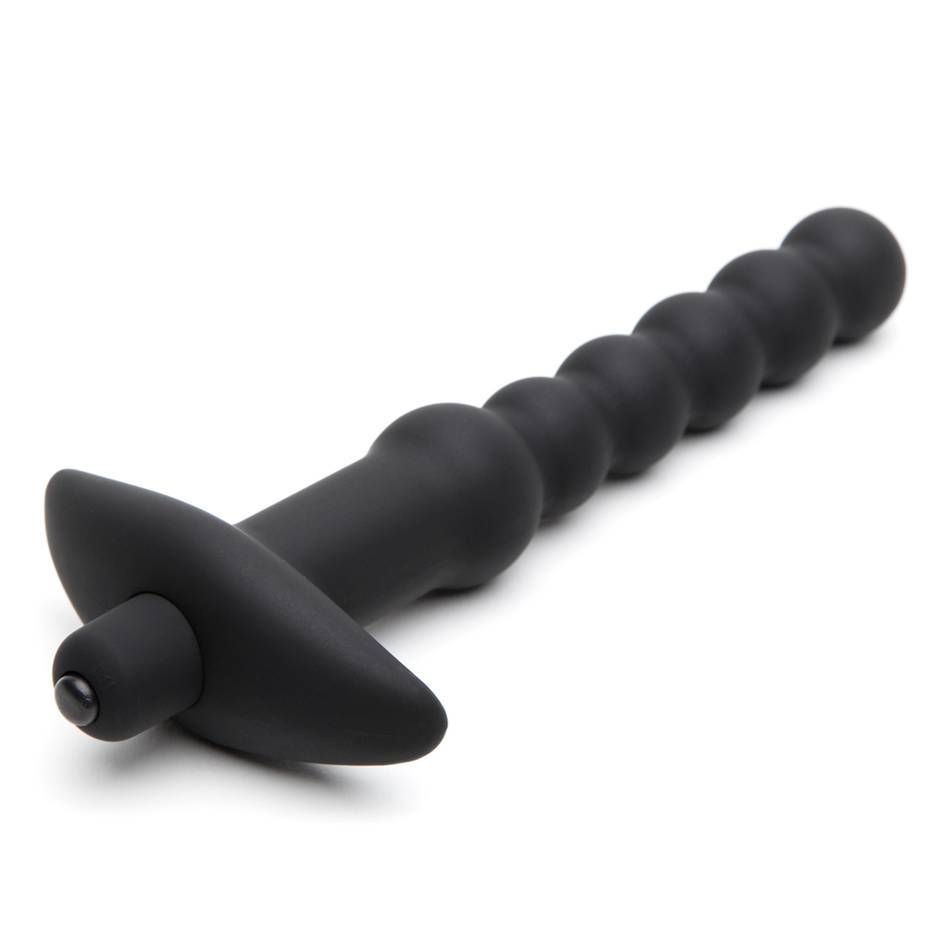 Key advantages: single-button interface, ergonomic design, made from hypoallergenic silicone
Check price on Lovehoney
Sex toys do not have to rip your bank account to shreds. Lovehoney has proven that again and again. They have several budget-friendly alternatives to more premium devices, both for men and for women. This leads us to the Smooth Mover, a cheap yet awesome beaded anal vibrator.
So, what can you get for a device that goes for under $30? 3 speeds and 7 patterns. This means that you will have 10 different vibration levels to play with. The toy itself is super simple to use, which is a major plus point for men new to prostate exploration. You will operate it via a single button.
No annoying scoffing through menus and intensity settings. This stuff is as simple as switching on a toddler's toy. The Smooth Mover comes with a super ergonomic design and is made from velvety silicone. The device is entirely hypoallergenic and will not cause adverse reactions, even if this is your very first time experimenting with prostate play.
Any cons? For a beginner, not really. If I was to point out a single flaw, I would prefer a waterproof device. Still, if you are only just planning on popping your anal cherry, the Smooth Mover will do just fine.
Best for men experienced with prostate massage – "Nexus Revo Extreme Remote Control Rotating Prostate Massager"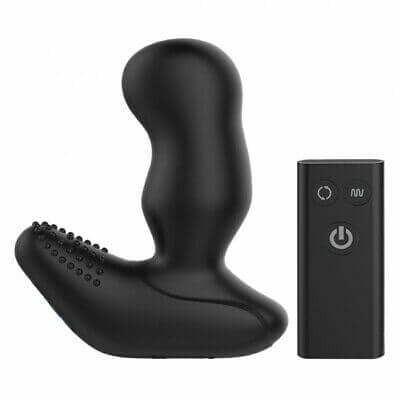 Key advantages: waterproof, made from body-safe silicone, USB-rechargeable, a girthier-than-average anal vibrator
Check price on Lovehoney
If you are new to prostate stimulation, close your eyes now. With 6.25 inches of total girth, this anal vibrator is as thick as oatmeal. Thus, it will be quite a shock for your anus if you have never experienced anal stimulation before. However, if you already have had positive experiences with prostate stimulation, this will be an ideal unit for taking the next step. How does it work?
The key here is the thick rotating head that stimulates the P-spot with intense vibrations. Speaking of vibrations, you can choose between 6 different speeds. Let it be said, though, that this device hits with size and curves, not speed. Even with the highest setting, the vibrations are not that intense.
I love it though. If any of you are fans of a rim job, then know that this device will give you a sensation very similar to a grade A rimjob. Imagine getting your *ss eaten while also getting stimulated from the inside. This is how the Nexus Revo feels.
This anal vibrator is also remote-controllable AND fully submersible. My suggestion is to include this bad boy in your morning shower routine. You will handle that business meeting much better after having a prostate orgasm or two. Speaking from experience.
To summarize. Nexus Revo is one of the best anal vibrators for experienced users, but an absolute no-go if you are a beginner to butt play.
An anal vibrator with an included penis ring – "Lovehoney Wowzer 7 Function Double Penis Ring and Vibrating Butt Plug"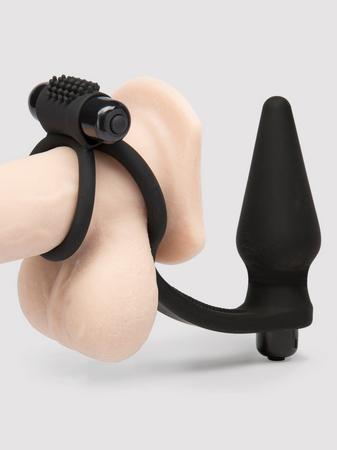 Key advantages: a 3-in-1 sex toy
Check price on Lovehoney
This list wouldn't have been completing this little beast of a unit. The idea behind the Wowzer is simple – you get the benefits of a penis ring, an anal vibrator, and a bullet vibrator all at once. Confusing? It was for me too.
Ideally, you are using the penis ring while the anal vibrator stimulates your P-spot. Meanwhile, the bullet vibrators work on your female partner. Sounds great in theory, and well, it is. Kind of. Wearing a penis ring while also getting your P-spot handled is a marvel.
But, when it comes to intercourse, the results have been mixed. It is a case of too many things at once. Trying to be in the optimal position for stimulating the clit of a partner while also trying to keep the vibrator in your rear is NOT an easy task.
Since this article is focused on the best anal vibrators, let's talk about speeds and vibration patterns. You have 2 speeds and 5 patterns. Slower speeds and patterns are quite beginner-friendly, which makes it also makes it a suitable device for a first-time purchase. All in all, we are dealing with an anal vibrator that is technically for couples but works best as a solo masturbation device.
An inflatable anal vibrator – "Lovehoney Vibrating Inflatable Butt Plug 4.5 Inch"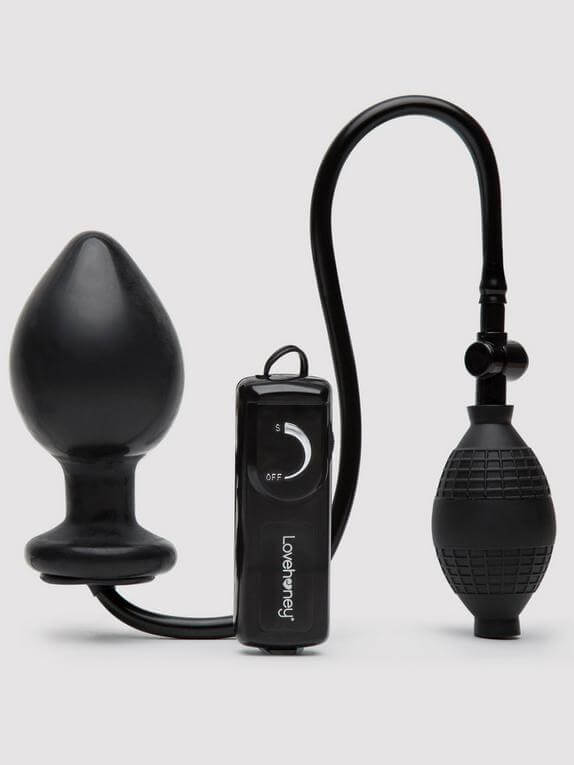 Key advantages: the pump offers a unique sensation, simple-to-use, economic price
Check price on Lovehoney
At first, using an inflatable butt plug was something new to even a seasoned sex toy fan like me. But, the benefits of using a vibrating inflatable anal vibrator are plentiful. For one, at $25, it is a very budget-friendly choice. Especially considering the versatility of the toy.
Another unexpected highlight is the remote of this sex toy. It uses a scroll wheel that is super handy for quickly adjusting the vibration speeds and customizing the experience. The pump is also super easy to use. So, if you have ever used a penis pump before, you know all about the works.
What you probably are not familiar with is pumping up an anal vibrator. Feeling the plug increase and decrease in size while vibrating inside you is an awesome sensation that all men should try.
There is only one single downside to this bad boy. It is not waterproof. Warm water would probably enhance the experience of an inflatable anal vibrator. So, rest assured that I will make it my mission to find and review an inflatable, vibrating, AND waterproof anal vibrator in the future.
Best for beginners – "Lovehoney Butt Tingler 10 Function Vibrating Butt Plug 3.5 Inch"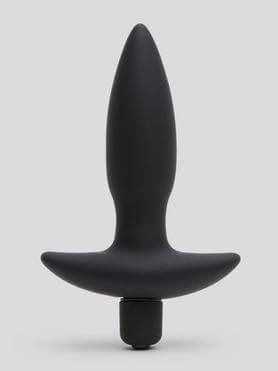 Key advantages: great anal vibrator for beginners, a small device, economic price
Check price on Lovehoney
Yes, this anal vibrator looks a bit strange. But, in reality, the opposite is true. It is one of the most beginner-friendly prostate massagers out there. It is much smaller and easier to use than most anal vibrators. Luckily, this is also reflected in the economic price.
This little anal vibrator comes with 2 vibration speeds and 3 patterns. Admittedly, this is not an intense device. So, if you are among men who want their vibrations to be super intense, this ain't it.
However, if you want something that is super small, comfortable, is great for losing the P-card, and has a wonderful battery life, this might be your pick.
Oh, and before we wrap this list up, I also want to give credit to the packaging of the Butt Tingler. This is a $25 device, but the packaging and the design of this anal vibrator feel much more premium.
In a nutshell, yet another anal vibrator suitable for men planning on braving their first P-spot experience.
---
Looks like we are done. Hopefully, you enjoyed our list and got plenty of inspiration for discovering something new. And, if this was not your first time reading about prostate stimulation, even better. Maybe, Sex Toy Magazine helped you find something that can amp up your P-spot sessions to an even more intense level than before.