The following article contains affiliate links, which means Sex Toy Magazine earns commission from products purchased through links in this post. If you love our work, please consider supporting us by ordering the products of your choice using the links placed in the article.
Becoming a dominatrix is not that difficult. As you may already know, all BDSM is about attitude. So, to succeed and have fun, you need to get into the mindset of a sexually dominant, devious woman. And, you need to do it 100%.
You can spend hundreds of dollars on BDSM gear, read tens of books on BDSM, and watch hundreds of videos on the subject. But, if you do not have the attitude, all of this will be in vain.
Let me tell you a little secret – the easiest way to get the attitude of a dominatrix is dressing the part. There is something about dressing up that can change your personality nearly instantly. Know that feeling of buying and wearing luxurious, expensive lingerie? No one sees it but you feel like a hundred bucks anyway.
Well, the same goes for BDSM outfits. You may be the shiest, most timid woman in your group of friends, but when you dress up in something that looks like a statement…you change.
I am a big fan of all erotic clothing. But, BDSM outfits are something I am particularly passionate about. Thus, I decided to compile a few articles on BDSM outfits. I will start with my top picks for a new dominatrix. These are the pieces that will make a statement – a statement of pure power over your partner.
Time to make your man your b*tch, these are the best dominatrix outfits available in 2021:
• Lovehoney Fierce Tough Love Wet Look Studded Zip-Around Catsuit
• Rubber Girl Latex Wear Mini Dress with Garters
• Faux Leather Collared Steel Boned Corset
• Exposed Lust Black Wet Look Studded Keyhole Bra Set
• All Tied Up Large Net Bodystocking Set
Chain My Mind Vinyl Bra Set
Check price at Yandy
Complete the look with wearing the Arome De Femme pheromone
For something that costs under $30, this set is ridiculously well done. Let's examine what we have here. There are 3 key features that make this set stand out – the striking black vinyl straps, those metal O-rings, and an open design on both the panty and the bra. Throw these features together and you have a dominant, sexy vibe that is so hard to do tastefully.
Since this set is both dirt cheap and doesn't necessarily scream fetish, I would find it to be a great choice for women only beginning to experiment with BDSM.
Oh, one more thing – don't let the entirely open design scare you. This set is one of those rare examples of lingerie that seems to flatter almost any body type. All things considered, a highly recommended set for women new to BDSM.
Feline Fetish Costume
Check price at Yandy
Complete the look with a Luxury Leather and Walnut Spanking Stick
Yes, a Catwoman-inspired costume…and I don't even like cats! Well, zero regrets – from head to top, the costume screams power and dominance.
The main player here is the long-sleeved black vinyl romper. Wearing it gives me that air of confidence. That aura of just being better and more powerful than your partner. This might sound mischievous, but it is exactly the attitude you want to convey if you want to be a successful dominant.
This costume also comes with cat ears and…yes, a tail. Naturally, I was wary of these at first. But, much to my surprise, they actually complimented the romper and gave the fit that extra edge.
True, a Catwoman-inspired costume might not be your idea of BDSM-wear. But, as I mentioned, being dominant is all about having that fantasy-level confidence. And, fantasy-level confidence is what thou shall receive when wearing something that works with your silhouette this well.
Lovehoney Fierce Tough Love Wet Look Studded Zip-Around Catsuit
Check price at Lovehoney
Complete the look with your favorite f*ck-me shoes
Ah yes, the classic dominatrix. The shiny wet look is a staple of female BDSM wear, and it is done to full effect here.
The set features a long-sleeved catsuit and detachable stockings. I suggest wearing both for the full effect.
Oh, and if your partner is one for the breasts, watch out. Why? Well, the plunging neckline on this one seems to do nothing less than wonders for the bust. A note of caution, though – wearing something this sexed-up might even tempt you to forget about your partner entirely and indulge in a solo session instead. Not a bad idea.
Want to try the classic BDSM look without breaking the bank? Start with this one.
Rubber Girl Latex Wear Mini Dress with Garters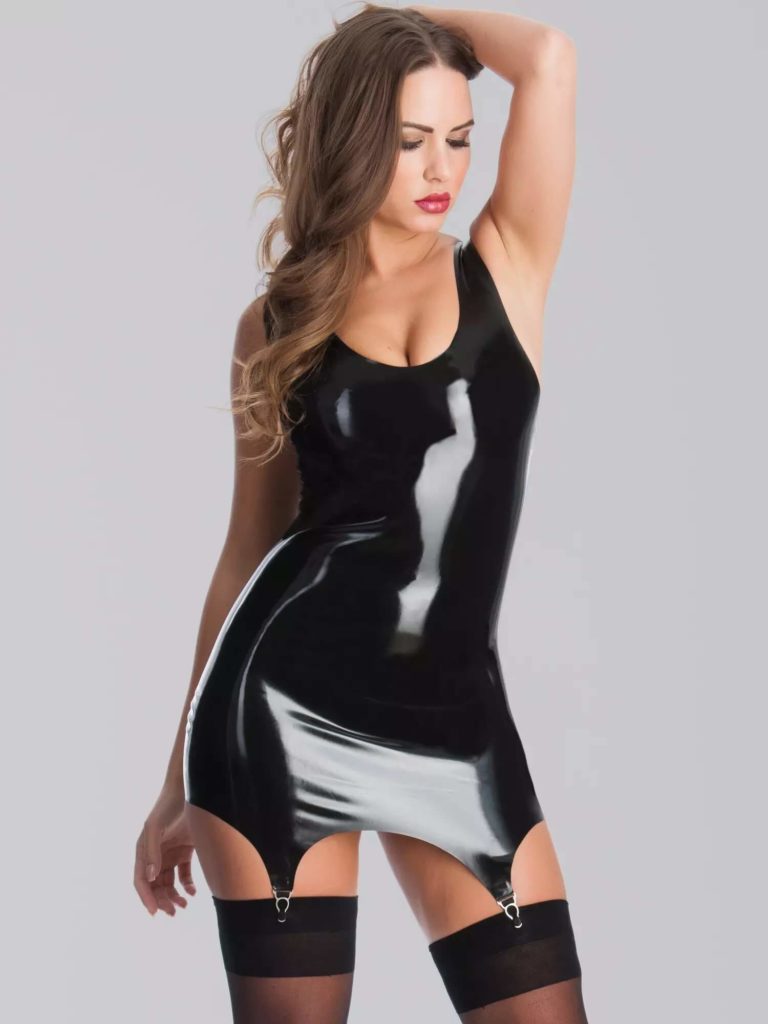 Check price at Lovehoney
Complete the look with Sheer Black Lace Top Thigh High Stockings
This one reminds me of something more classic. Think of a traditional cocktail dress mixed with something way more sinister and you will get the gist of what this dress is about.
The dress is skintight and will accentuate every inch of your curves – a true celebration of the female form.
I love the tightness. There is something insanely erotic about the feeling of latex on your naked body.
While the dress is almost classic (with an edge of kink) from the front, the back tells another story. It is short…and by short, I mean short enough for your partner to see your butt. I love it. It adds that little dimension of a surprise to an already superb BDSM-ready outfit.
Faux Leather Collared Steel Boned Corset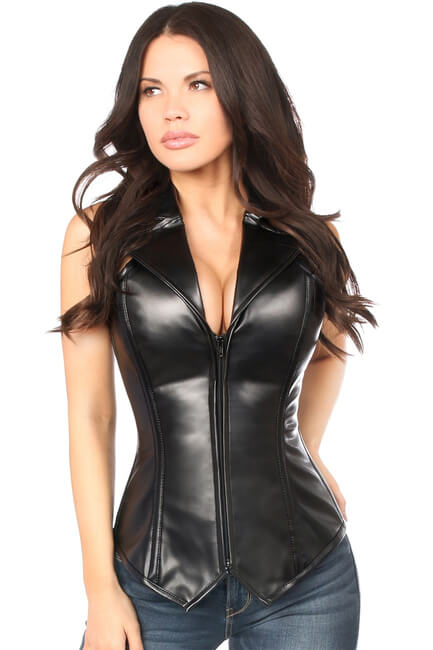 Check price at Discount Stripper
Complete the look with your favorite skinny jeans (for daily wear) or Black Leather Boody Shorts (for the bedroom)
Faux leather is something you will often see when searching for BDSM outfits. Most of the pieces will be tacky…still, once in a while, you hit gold.
I managed to cop this one from an online shop called Discount Stripper. The name of the shop made me very, very skeptical of how this corset will look in real life. Much to my surprise, it is a true winner.
By far my favorite part about the corset is that you can wear this outside the bedroom as well. Throw this on (don't wear a bra, this corset will only work without one), head for a night out with your partner, and let the anticipation build.
The long hours will pass by and your man will find it next to impossible to keep his hands off that zipper. Maybe let him pull it down just a little and get a little peek in on your way home from the club?
Vinyl Countdown Bodysuit
Check price at Yandy
Complete the look with ZALO & UPKO Leather Thorn Whip
This one is simple but oh-so-hot. Out of all the BDSM clothing ideas here, this is possibly the most customizable of them all.
Throw your favorite cute necklace on for that mix of sweet and naughty. Wear some kinky boots to make the outfit even more devilish. The choice is up to you and the possibilities are nearly endless.
I also love that the bodysuit comes in both red and black. I have the black in my rotation, but I suspect that the red might be just as dazzling.
One last thing, this bodysuit comes with a thong cut back. So, if you are proud of that ass (and you should!), then this outfit would be a superb way to show it off.
Exposed Lust Black Wet Look Studded Keyhole Bra Set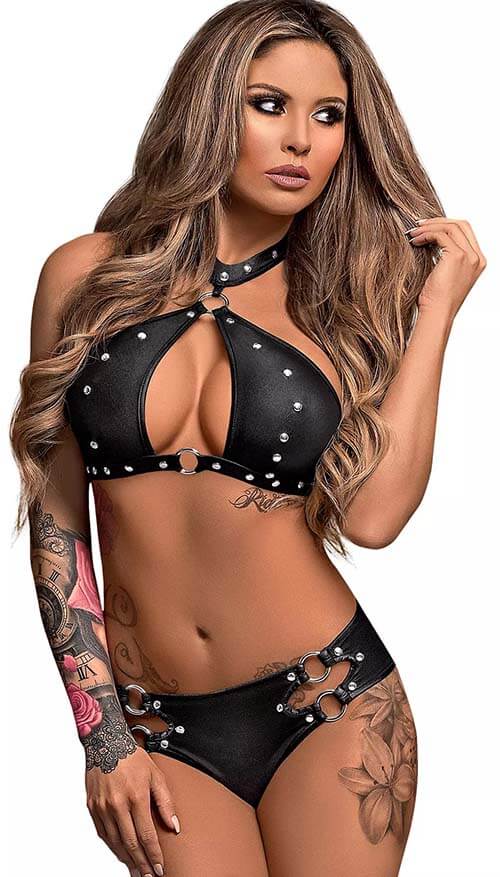 Check price at Lovehoney
Complete the look with a Black Italian Leather Flogger
When you are looking for BDSM outfit ideas, comfort is probably not on your priority list. It should be, though! After all, comfort is confidence.
Well, this bra set blew my mind with the contrast. This thing looks fierce as nails but feels as soft as a pillow. Seriously, I never imagined that BDSM wear could be this comfortable.
Of course, this bra set wouldn't be on this list if it wouldn't look effective too. You have a collared bra, O-ring details, and little silver studs. Fierce, fierce, fierce!
All Tied Up Large Net Bodystocking Set
Check price at Yandy
Complete the look with Seduce Me Black Harness Panty
Some of you probably want a set that comes with some included goodies. Well, look no further. This BDSM-ready fit comes with a satin blindfold and two satin wrist restraints. These two items are enough for getting started with experimenting with some power play.
The bodystocking itself is also a marvel. It is an intense and revealing, yet tasteful piece. My serving suggestion? Well, we are talking domination today. So, put the blindfold and the restraints to good use. Restrain and blindfold your partner first (promise him/her a little surprise), and dress yourself up in the bodystocking.
Slowly rub yourself on your clueless partner and let him/her feel parts of your naked skin through the straps of the bodystocking. Imagination will flow and the desire will heat up. Have fun!
Hopefully, these outfit ideas gave you some inspiration to work with. As you will soon find out, power play is one of THE best ways of truly expressing yourself in the bedroom.