The following article contains affiliate links, which means Sex Toy Magazine earns commission from products purchased through links in this post. If you love our work, please consider supporting us by ordering the products of your choice using the links placed in the article.
Becoming a dominatrix is not that difficult. As you may already know, all BDSM is about attitude. So, to succeed and have fun, you need to get into the mindset of a sexually dominant, devious woman. And, you need to do it 100%.
You can spend hundreds of dollars on BDSM gear, read tens of books on BDSM, and watch hundreds of videos on the subject. But, if you do not have the attitude, all of this will be in vain.
Let me tell you a little secret – the easiest way to get the attitude of a dominatrix is dressing the part. There is something about dressing up that can change your personality nearly instantly. Know that feeling of buying and wearing luxurious, expensive lingerie? No one sees it but you feel like a hundred bucks anyway.
Well, the same goes for BDSM outfits. You may be the shiest, most timid woman in your group of friends, but when you dress up in something that looks like a statement…you change.
I am a big fan of all erotic clothing. But, BDSM outfits are something I am particularly passionate about. Thus, I decided to compile a few articles on BDSM outfits. I will start with my top picks for a new dominatrix. These are the pieces that will make a statement – a statement of pure power over your partner.
Time to make your man your b*tch, these are the best dominatrix outfits available in 2022:
• Tank Dress with Front Zipper from Syren
• Rubber Girl Latex Wear Mini Dress with Garters
• Faux Leather Collared Steel Boned Corset
• Exposed Lust Black Wet Look Studded Keyhole Bra Set
• Full Latex Catsuit from Syren
• The Wednesday Dress from Syren
• Madonna Gown Dress from Syren
The Swing Dress from Syren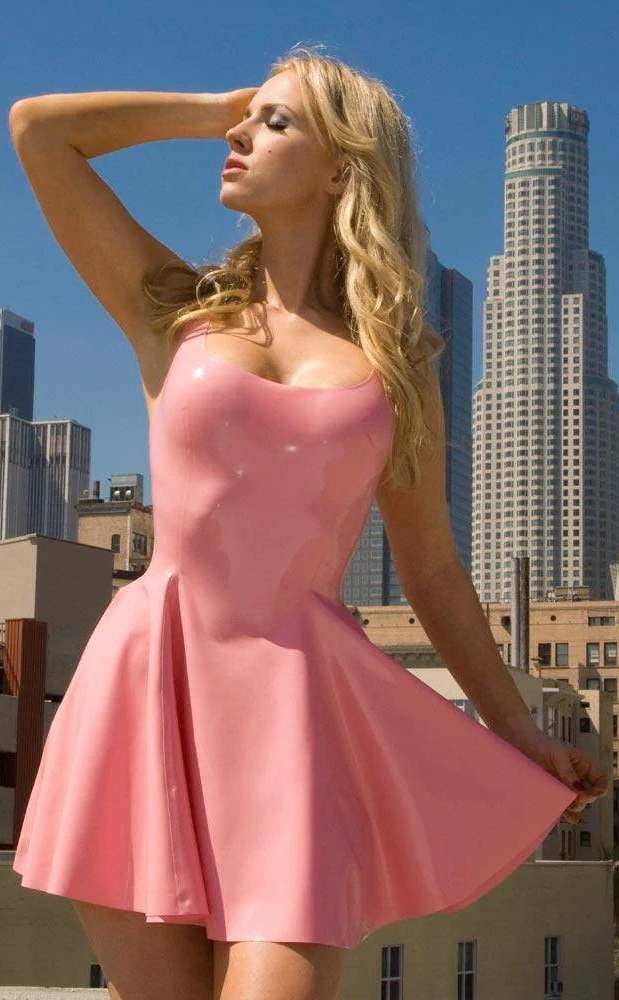 Check price at The Stockroom
The Swing Dress from Syren is a beautiful, almost classic-looking dress with a dark edge. This one will compliment every body shape, so you can rest assured that it is blind buy worthy. The dress is made from high-quality materials and construction, and it shows in the fit and feel of the dress.
In my opinion, the Swing Dress is a true homage to versatility – you can wear this one while spanking your partner in a sex dungeon, but accessorize smartly and you could also pull this off at a summer garden party.
This makes it one of the few dominatrix dresses on this list that I would easily recommend even if you are not into BDSM. It is just that versatile.
Tank Dress with Front Zipper from Syren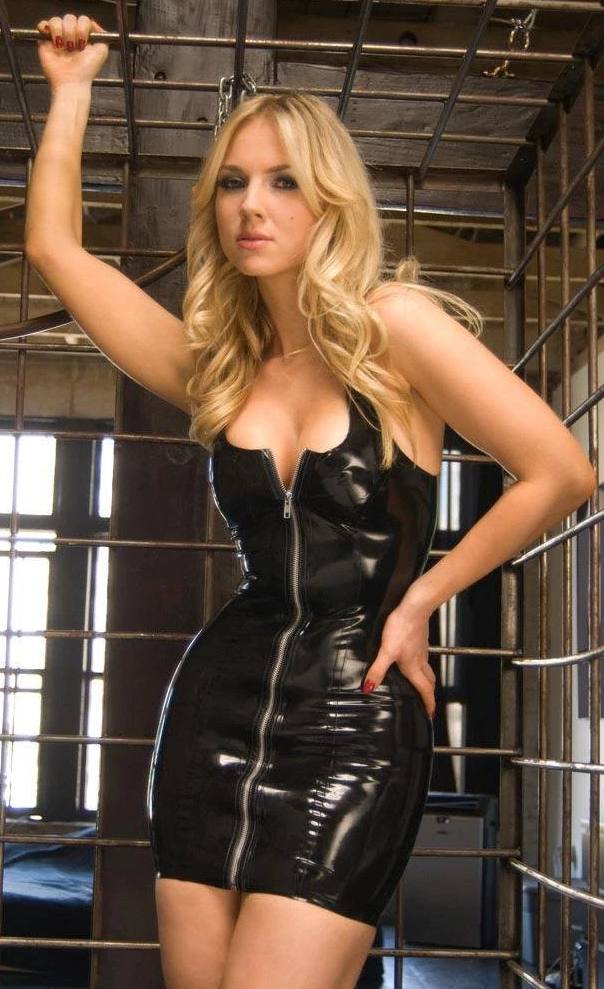 Check price at The Stockroom
This tank dress from Syren is straight-up femdom! It has been described as "The Little Black Dress" of the fetish world, and I couldn't agree more! In fact, if you want a daring and dark dominatrix outfit yet don't know where to start…then, well, this is one of the best choices out there.
The front zipper allows you to adjust the amount of cleavage you want to show, and the tank style keeps you comfortable, even if things get very heated (and they will!). 
The dress is made from a stretchy latex that worships your curves, and the length is just right – not too short or too long. In a nutshell, this one is a BDSM staple!
Rubber Girl Latex Wear Mini Dress with Garters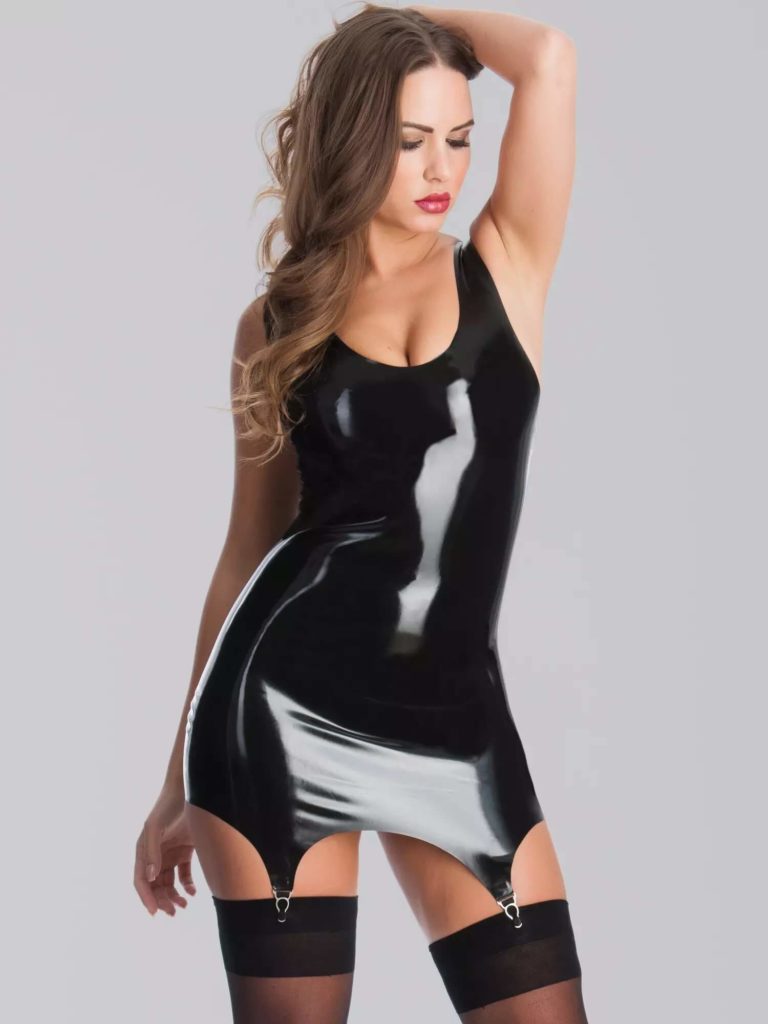 Check price at Lovehoney
A good latex dress does not have to break the bank – this one will come at under $50 yet looks every bit a dark and chic as some of the more expensive latex dresses on this list.
This one reminds me of something more classic. Think of a traditional cocktail dress mixed with something way more sinister and you will get the gist of what this dress is about.
The dress is skintight and will accentuate every inch of your curves – a true celebration of the female form.
I love the tightness. There is something insanely erotic about the feeling of latex on your naked body.
While the dress is almost classic (with an edge of kink) from the front, the back tells another story. It is short…and by short, I mean short enough for your partner to see your butt. I love it. It adds that little dimension of a surprise to an already superb BDSM-ready outfit.
Faux Leather Collared Steel Boned Corset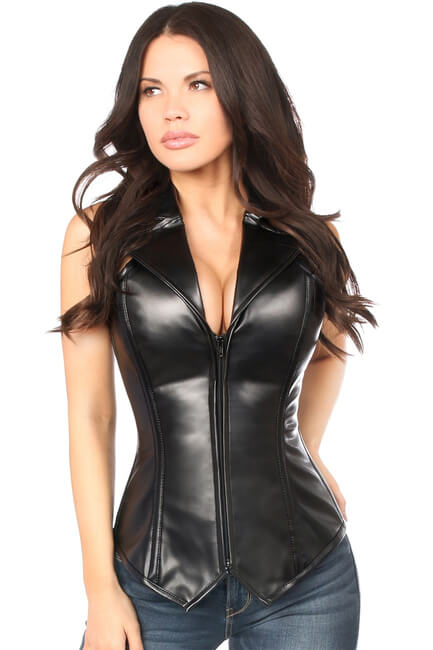 Check price at Discount Stripper
Faux leather is something you will often see when searching for BDSM outfits. Most of the pieces will be tacky…still, once in a while, you hit gold.
I managed to cop this one from an online shop called Discount Stripper. The name of the shop made me very, very skeptical of how this corset will look in real life. Much to my surprise, it is a true winner.
By far my favorite part about the corset is that you can wear this outside the bedroom as well. Throw this on (don't wear a bra, this corset will only work without one), head for a night out with your partner, and let the anticipation build.
The long hours will pass by and your man will find it next to impossible to keep his hands off that zipper. Maybe let him pull it down just a little and get a little peek in on your way home from the club?
Exposed Lust Black Wet Look Studded Keyhole Bra Set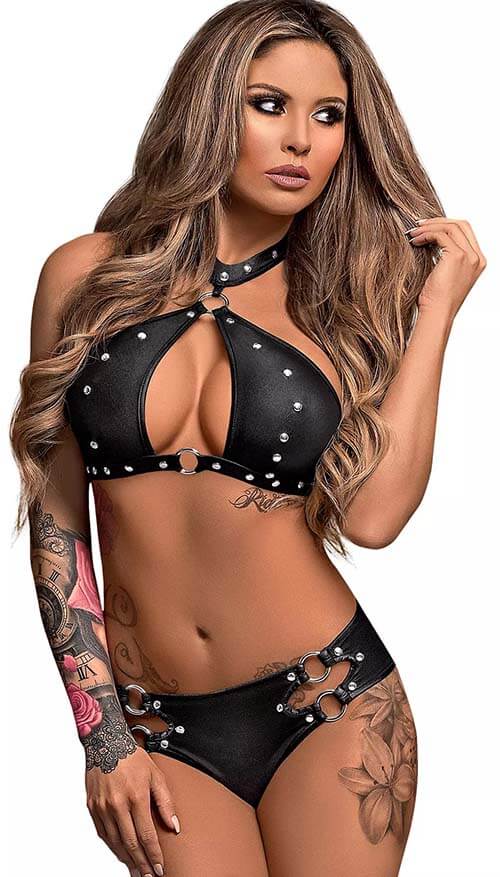 Check price at Lovehoney
When you are looking for femdom outfit ideas, comfort is probably not on your priority list. It should be, though! After all, comfort is confidence.
Well, this bra set blew my mind with the contrast. This thing looks fierce as nails but feels as soft as a pillow. Seriously, I never imagined that BDSM wear could be this comfortable.
Of course, this bra set wouldn't be on this list if it wouldn't look effective too. You have a collared bra, O-ring details, and little silver studs. Fierce, fierce, fierce!
Full Latex Catsuit from Syren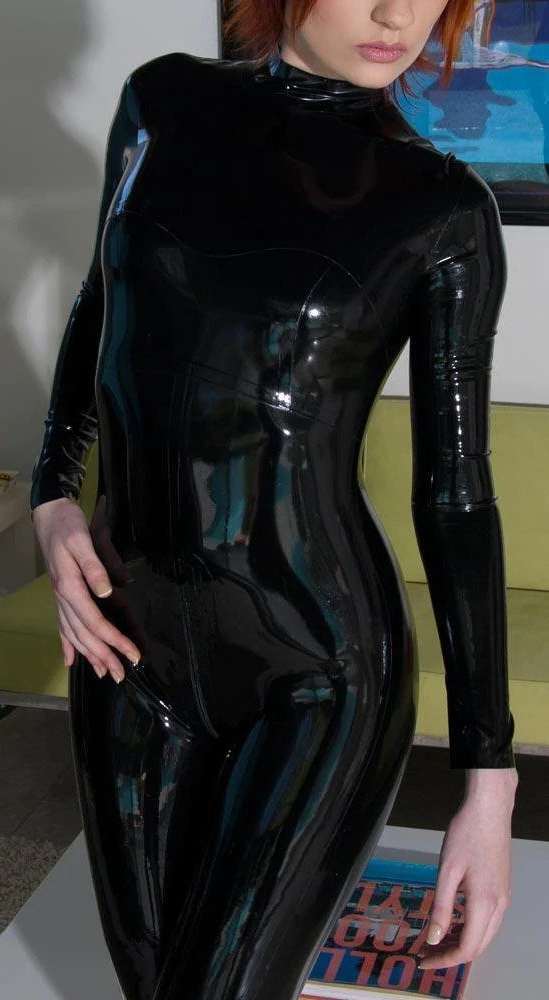 Check price at The Stockroom
The Full Latex Catsuit from Syren is a made-to-order item. You will not find this in mass production, which makes this piece all the sexier. This form-fitting catsuit
If you're looking for a full latex catsuit that will make you feel sexy and powerful, look no further than this design from Syren. This suit is made of high-quality 14 gauge latex, which feels amazing against your skin. It's also been used in the horror series "American Horror Story: Murder House", so you can be sure that it's a design that will turn heads.
The latex is thick and durable, so you can be sure that it will be a worthwhile investment for all femdom clothing enthusiasts.
Whether you're looking to spice up your dominatrix game or want to add a touch of excitement to your next costume party, this full latex catsuit is sure to please.
The Zeta Jacket from Syren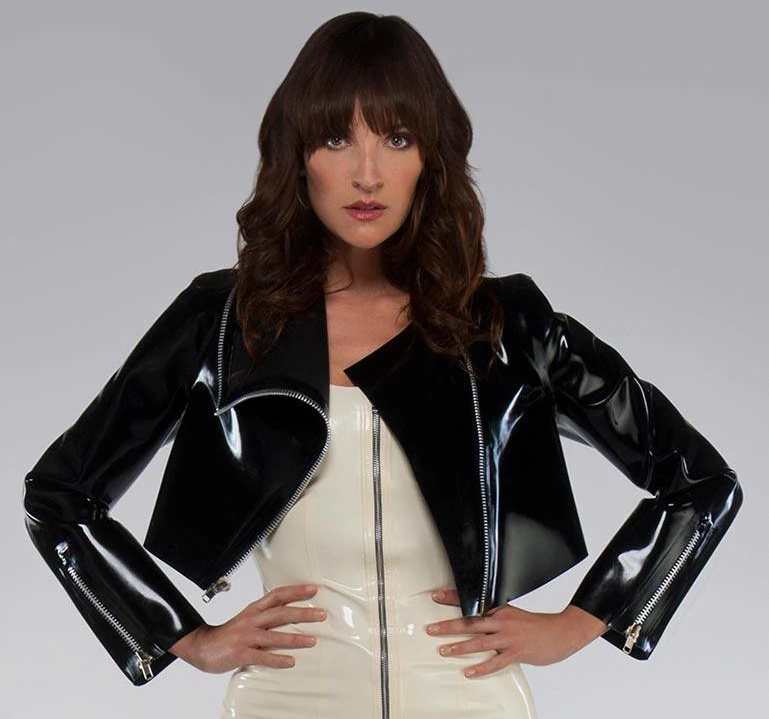 Check price at The Stockroom
If you're looking for a unique take on the iconic biker jacket, the Zeta Jacket from Syren is a great option. Made from 30 gauge latex, this jacket is both stylish and kinky as hell.
This is another one of those statement pieces that one can rock both in the bedroom and in the streets. When I am in my Dominatrix mode, I can wear this jacket without wearing anything under it. Looks hot as hell.
I also love how well you can accessorize the jacket. You can turn it into a BDSM-ready piece by wearing some restraints and blindfolds.
Or, you can flip things upside down and wear it with some of your more down-to-earth accessories and a good T-shirt. Works just as well. No one has to know that you wear the same jacket when you are punishing your partner in the bedroom.
The Wednesday Dress from Syren
Check price at The Stockroom
The Wednesday Dress from Syren is the femdom outfit we are looking at next. This dress features a beautiful Peter Pan collar and intricate details that make it stand out.
The fit is flattering and comfortable, and the handcrafted black latex is of elite quality. What I love about this dress is that it feels like a sort of twisted take on your average office dress.
From afar, you could easily mistake it for something casual, almost official. Yet, from close, this piece is kinky as hell with its black latex and daring accents.
Would I dare to wear this outside of a dungeon? Not really, but I think there are women who could pull it off outside a session with the right attitude. Are you this woman? If so, can we be friends?
Madonna Gown Dress from Syren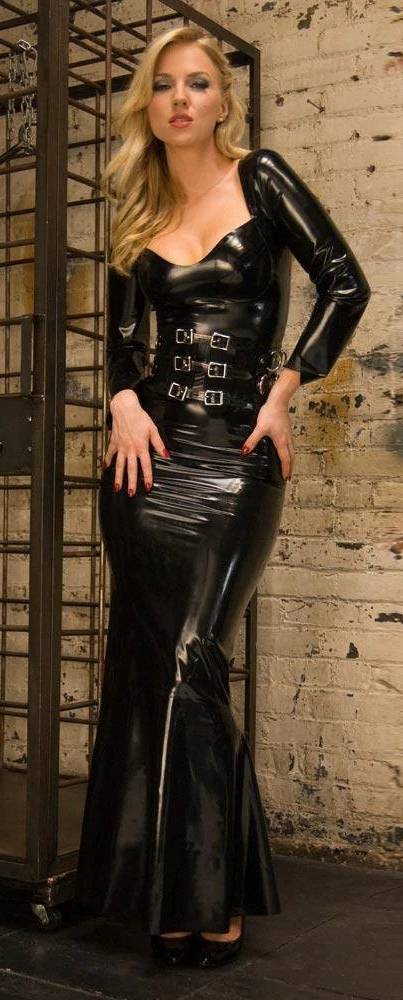 Check price at The Stockroom
The Madonna Gown Dress from Syren is a stunning piece that will make you feel like a femdom goddess. This company is known for producing costumes for Batman and Catwoman movies, so you know their quality is top-notch.
This dress SCREAMS vamp, so it is obviously not from the faint of heart. What you have here is a floor-length dress in all black latex. When I first saw this one, I immediately got a medieval dungeon vibe from this one – makes me think of the notorious Countess Bathory and those rumors of her bathing in the blood of virgins. Too much? Yes. But this is the vibe I get from this look – sinister, powerful, yet oh-so-sexy.
Rest assured that your Submissive will be both intimidated and turned on by this look!
---
Hopefully, these outfit ideas gave you some inspiration to work with. As you will soon find out, power play is one of THE best ways of truly expressing yourself in the bedroom.