The following article contains affiliate links, which means Sex Toy Magazine earns commission from products purchased through links in this post. If you love our work, please consider supporting us by ordering the products of your choice using the links placed in the article.
During the last 15 years, Abyss Creations (the creators of RealDoll) have garnered quite a reputation for themselves. In the world of adult toys, their sex dolls are known as the most advanced and lifelike models money can buy. Most sex doll collectors consider RealDolls the crowning jewels of the sex doll world.
The sex toy world is evolving fast and competitors to RealDoll are popping up constantly. But, somehow RealDoll still seems to be the most well-known and best-selling of the bunch. This leads us to today's topic – is RealDoll still worth it in 2021 and beyond?
I have had a considerable amount of experience with this company over the years. So, I feel quite confident in writing about Abyss Creations and the RealDoll series.
Hopefully, this in-depth review will be helpful to anyone considering whether to invest in a RealDoll or not. After all, we are talking about sex dolls that cost several thousands of dollars. One needs to seriously think about whether this kind of investment is for them or not.
Let's dive right in.
This is our review of RealDoll and its parent company, Abyss Creations LLC:
• Pre-owned RealDolls – Yes or No?
• Sex With a RealDoll – How is it?
• Conclusion – Is RealDoll Worth It or Not in 2022?
What is RealDoll?
RealDoll is a series of sex dolls created by Abyss Creations, a Californian-based adult toy company. Abyss Creations are the true innovators in the sex doll game.
Their ambitions were clear from the start – Abyss Creations was never interested in just creating high-quality sex dolls. No, sir. What Abyss Creations wanted is to create dolls that are so lifelike that they can genuinely replace a living and breathing partner.
RealDoll maintains super strict quality control. All the dolls are made of elite-quality silicone rubber and feature accurate, fully articulated skeletons. Small details like the bounce of the butt, the curve of the lip, the irises of the eyes…everything is done to perfection.
In addition to the superb craftsmanship of the dolls, you also have a level of customer service previously unheard of in the sex doll industry. They offer an endless amount of customization options, a solid refund policy, repair options, and an overall smooth customer-client experience.
The aforementioned details have made them one of the biggest (certainly the most innovative) players in the sex toy industry.
Now, let's continue our RealDoll review by looking at the different doll series available to order on RealDoll as of 2022.
RealDolls Available in 2022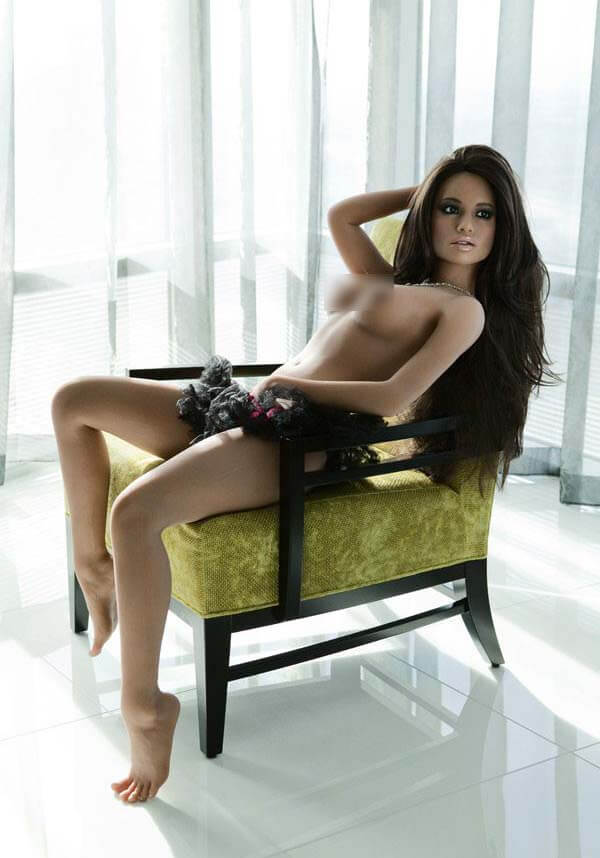 As of 2021, RealDoll features 6 different series of dolls available for purchase. Keep in mind that you can customize all of these dolls.
For example, you want to buy a lifelike Asa Akira (or any other adult star) sex doll, but with slightly larger breasts. No problemo. Just configure your order accordingly or contact Abyss Creations directly.
The following are the 6 different RealDoll series available to order as of 2021:
Wicked RealDoll
Check offers on RealDoll
This series from RealDoll features sex dolls that are exact replicas of some of the most famous adult stars in the world. The weight, the breast size, the height, the ass, the vagina…everything is exactly as on the real-life counterpart of the model.
As of 2021, RealDoll has 7 adult stars available for order – Asa Akira, Lupe Fuentes, Alektra Blue, Kaylani Lei, Jessica Drake, Stormy Daniels, and Samantha Saint.
If you have dreamed about a certain star for years, then this series is a genuine opportunity to make your dreams a reality.
Classic RealDoll
Check offers on RealDoll
The OG sex dolls that made RealDoll famous. You have only 2 pre-configured dolls available in this series. Admittedly, the Classics are not my favorite dolls from RealDoll, but I still have a lot of respect for these models. After all, they paved the way for the future of RealDoll.
Petite RealDoll
Check offers on RealDoll
Petite RealDoll is a series that features lightweight, shorter-than-average sex dolls.
By the way, this is where things start to get a bit more personal for me, as I am a huge fan of this series. Honestly, I would probably get each and every pre-configured petite doll that they have if I would have the resources. The models that I do have in my collection…well, let's just say that these women get a lot of action in my bedroom.
RealDoll X
Check offers on RealDoll
During the last few years, this series has been the talk of the down among sex doll enthusiasts. Why? Well, the RealDoll X models are the pioneers of AI-driven sex dolls. 
I will not be stopping on RealDoll X for long, as I already published an in-depth review of SolanaX. Solana is one of the flagship sex dolls of RealDoll X series.
Want to learn more about Real Doll X? Feel free to read our review of the SolanaX sex doll.
RealDoll
Check offers on RealDoll
In this series, you will find the widest selection of pre-configured RealDoll sex dolls available. The series features lots of different types of women and anyone can find something to their taste from their roster.
And, if not, there is always the customization option.
Male RealDoll
Check offers on RealDoll
This is a RealDoll series featuring male models. We are planning on publishing a full review of one of the male RealDolls soon. So, if any women or gay men are reading this, stay tuned.
What we can say is that the male RealDolls are just as show-stopping as their female counterparts.
Now that you are familiar with the selection of dolls available to order, let's get more detailed with our RealDoll review and look at the pros and cons of RealDoll.
Pros of RealDoll
These are some of the main advantages of RealDolls:
The build of the dolls
RealDoll is not a new company. They have had the time and the resources to develop dolls that truly are technically superior to anything else out there.
As far as the build of the dolls is concerned, there are no flaws. Nada.
The skin of the RealDolls feels smooth and luxurious. The body bounces in all the right ways. The dolls are durable without any sacrifices in flexibility. The faces are as expressive as that of a real human. The…erm, orifices feel exactly like those of a real woman.
I could go on and on, but you already get the gist of what I am saying. The product is technically superior and I am genuinely struggling to find a single fault in that department.
Endless customization options
Yes, most high-end sex doll companies offer customization options for their dolls. But, when it comes to the sheer amount of choices available to you, RealDoll is the clear winner in the bunch. You can edit anything from the look of the nipples to the arch of the eyebrow.
If you do not see a customization choice in the options of your order, just contact Abyss Creations and tell them what you want on your doll. They will figure something out. Speaking from experience!
The customer service
The customer service offered by Abyss Creations is quick, professional, and very client-centric. If you have a problem with your order, doll, or any other aspect of the RealDoll experience, the issue will get solved.
Abyss Creations clearly knows that they are catering to a niche audience. Thus, they treat each and every customer very well.
RealDolls are the best dolls for dressing up
For me, this was one of the most pleasant surprises about RealDolls. The lifelike feel of the models extends to clothing – one of my RealDolls has pretty much the same measurements as my wife and I have done a fair bit of experimenting. High-end lingerie, light summer dresses, yoga pants…you name it. Everything looks great on the models without looking clunky or unnatural.
For a sex doll photographer, a RealDoll would be a marvel to work with.
Easy-to-clean dolls
Taking care of the models is easy. All you have to do is take out the "love orifices" of the sex doll and clean them. This process will only take a few minutes. I sincerely suggest cleaning out your lady after each use. You want to keep your companion smelling as fresh as a crisp winter morning.
Best-in-class AI
This obviously only goes for the RealDoll X series. The AI of these sex dolls is genuinely impressive. These dolls DO have a personality, which makes the whole partnership experience feel very, very immersive.
Cons of RealDoll
All in all, I consider RealDolls worthy of the hype. But, sex dolls like this are not for everyone. Plus, they cost a lot. One must seriously think about whether investing in a RealDoll is worth it or not. Let's look at some of the disadvantages of RealDoll.
The price
Bet you saw this one coming. Most RealDolls cost anywhere from $3000 to $15000. A steep price, sure. But, all things considered, I understand the pricing.
Abyss Creations needs to keep its profit margins healthy to keep churning out dolls of this quality. Before purchasing, you need to do a long and hard evaluation and think about whether you need an elite-level sex doll in your life.
Dolls not available in retail
I mean, yeah, it is common for elite-level sex dolls to be order-only affairs. Still, I would love the opportunity to visit the RealDoll studio in California and visit an in-house shop with some pre-configured dolls available for direct purchase.
I guess Abyss Creations knows that people rarely buy $6000 sex dolls on a whim…oh well, a man can dream.
No payment plans available
These dolls are exquisite, yes. But they are EXPENSIVE too! As of 2021, Abyss Creations doesn't offer any flexible payment options. What a shame!
I, for one, am not shy to admit that I would probably own more RealDolls if I could have access to some more flexible payment possibilities. I suspect I am not the only one.
Shipping & Packaging
If you have decided to invest in a RealDoll, you probably also want to know how she will arrive. Allow me to walk you through the process so you know what to expect after putting the order in.
Once you finish your order and pay for the doll, you will receive a confirmation via phone, e-mail, mail, or fax.
It is hard to give an estimate of how long the shipping process will take. It will mainly depend on where the doll is being shipped to and how much the doll is customized.
If you order a pre-configured doll that is already manufactured, your waiting time can be as short as a few weeks. If you are letting them build a doll from scratch, you will probably have to wait much, much longer.
The doll itself will arrive in a discreet, boring wooden crate. So, if you have never ordered a sex doll before and are worried about your privacy, don't be. Every reputable adult toy knows that their clients prefer privacy.
Oh, please also remember that these dolls are life-sized. I made the mistake of ordering the doll to a third floor. Sure, the courier helped with getting the crate out of the car, but I was on my own after the delivery car left. Somehow, I managed to haul the doll up, but it was not an experience I would like to repeat.
You might need help with the doll if there are stairs involved. Consider this in advance!
Pre-owned RealDolls – yes or no?
The internet has a large amount of active online communities of sex doll aficionados.
In these online communities, owners of high-quality sex dolls come together to share their experiences, photos of the dolls, and reviews of the dolls. Some of these communities also serve as marketplaces for previously used dolls. Yes, this includes RealDolls as well. If you get lucky, you might stumble upon a RealDoll that is more than 25% cheaper than a new model.
That being said, purchasing previously used sex dolls is something that is out of the question for some men. If that is the case for you, I fully understand.
Personally, I have never purchased a used sex doll. I have nothing against secondhand dolls – if I would see something I like available on the cheap, I would go for it. Sadly, I am yet to see a RealDoll that I sincerely want on doll forums.
Whether you want to purchase a pre-owned RealDoll is up to you. There are benefits, the most obvious of those being the pricing. But, you will miss out on things like consumer guarantees and the possibility of customizing your doll.
The 2 communities you will want to join if you are interested in sex dolls are the following:
• The Doll Forum – The most active online community of sex doll aficionados. Discussions on RealDolls are found often, and you might also stumble upon users selling their RealDolls.
• UK Love Doll Forum – A UK-based online community for sex doll enthusiasts. A very active community with lots of reviews, pictures, and occasional offers for used dolls.
Sex With a RealDoll – How is it?
The orifices of RealDolls are splendid. I have experienced my fair share of male masturbators of all kinds, and a RealDoll is up there with the best of them.
Entering this vagina feels as if you are dipping your penis into a cloud of pleasure. I know I am getting too poetic here, but it does feel just right. It looks scarily realistic, feels just tight enough, and the skin feels as soft as satin.

I mean, I instinctively flinched after nutting into a RealDoll for the first few times. I freaked out about possibly getting pregnant for a few seconds! Stupid, sure. But this is just how realistic these dolls feel!
The mouth? Well, it will feel unnatural getting a blowjob from a doll if you are a beginner. Don't worry, this will pass! Plus, you get to control the tempo without having to worry about hurting her.
The ass? This is where the quality of RealDolls is on full display. They have managed to replicate the thrill of an anal experience very well – the intense tightness turns into snugness as you slowly get used to her forbidden hole. Just like the real thing!
This is probably also a good place to warn you about getting it on with your doll too quickly. You will probably want to spend your first day exploring all the wonders of your new friend. Not a bad idea, but before penetrating her do a full body checkup on her. Make sure that everything is exactly as you ordered. Thing is, you generally can't return sex dolls after having your way with them.
Best RealDoll Alternatives
RealDoll truly is one of the top dogs in the sex doll market as of 2022. But, let's be honest for a second – these dolls are expensive. Would I recommend RealDoll as a first sex doll purchase? No, I wouldn't. If I was only just getting into sex dolls, I would start with 3 sites in particular.
All of these RealDoll alternatives offer a huge number of pre-configured sex dolls, loads of customization options, and flexible payment possibilities. Oh, and most importantly, all of these sites are considerably cheaper than RealDoll.
Here are the 3 best RealDoll alternatives in 2022:
Sexy Real Sex Dolls – One of the first sex doll sites I ever ordered from, and still one of my all-time favorites. SRSD shines with exceptional customer service and a nearly endless collection of sex dolls. As a plus, they offer great discounts on the regular. If you are interested in more information on this site, feel free to read our full Sexy Real Sex Dolls review.
Joy Love Dolls – Again, we have a site with solid customer service and a huge collection of dolls. Joy Love Dolls has become one of my go-to sites for fantasy-inspired sex dolls. If you are into something more exotic than your average blonde doll with massive breasts, then check out Joy Love Dolls. You just might find your queen on that site.
Silicon Wives – Without a doubt one of the most popular sex doll sites online. Silicon Wives is also the home of two of my favorite DC Comics sex dolls – Wonder Woman sex doll and Harley Quinn sex doll.
Conclusion – Is RealDoll Worth It or Not in 2022?
For me, RealDolls are still the cream of the crop of the sex doll world. The dolls are elite in almost every imaginable aspect. The only legitimate downside is the price – these dolls cost a lot. This issue would be easily solved if Abyss Creations would be slightly more flexible about the payment options.
As of 2022, you are going to have to shell out the cold hard cash all at once. So, you are going to have to do some serious soul searching before ordering.
Maybe you are just horny? If so, have a quick wank and come back to the decision later. Still think buying a RealDoll is worth it? If you do, go ahead. The quality of your doll WILL NOT disappoint you.
Also, a note of caution for men who are single and plan on dating in the near future – a RealDoll will make it more complicated. You WILL have a hard time motivating yourself to meet real women if you have dolls like this in your home.