The following article contains affiliate links, which means Sex Toy Magazine earns commission from products purchased through links in this post. If you love our work, please consider supporting us by ordering the products of your choice using the links placed in the article.
We live in a truly wonderful world. A world where anything can go viral. Even sex toys. A while back, a little sex toy started making buzz on various social media platforms. TikTok was the main culprit, but this toy made its rounds pretty much anywhere.
What kind of toy am I talking about? The one and only rose sex toy of course. This thing seemingly popped out of nowhere in 2022 and the buzz is still going strong. We have reached a time where a "rose toy" is pretty much an entirely new sex toy category – lots of reputable companies have jumped on the train and put out their version of the rose sex toy.
I was a skeptic at first. I mean, it all seemed too random. We suddenly had something that sits in the lower pricing range of sex toys, yet millions of women swore by this thing and said that it opened the gates of heaven for them.
But is it random though? I mean, the rose toy is still one of the most sought-after sex toys in the world. There must be something to it.
Well, I decided to finally check it out for myself and see what the buzz is all about. And, in this rose sex toy review, I will be sharing my thoughts on this phenomenon and see whether this thing is truly worth a purchase or is it just a random viral product with a hint of genius marketing thrown in.
In this rose sex toy review, you will find:
• What Makes It Special? – The Key Features of Rose Sex Toy
• How Does it Feel? – My Personal Experience With the Rose Sex Toy
• What I Did Not Love About the Rose Sex Toy
• Where to Find Best Price & Is It Worth It?
---
What is the Rose Sex Toy?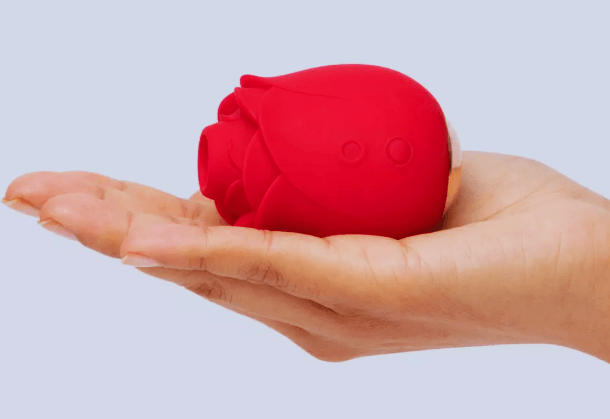 In essence, the rose sex toy is a small clitoral stimulator. I assume that a good percentage of rose toy buyers want to get the rose as their very first sex toy so I will do a quick explanation of what is a clit stimulator.
A clit stimulator is a sex toy meant to stimulate the clitoris, the most glorious point of the female body. The little cute bean filled to the brim with nerve endings that react gloriously to the right type of stimulation.
Clitoral stimulators use vibrators to gently "buzz" on this area and generally come with various power settings to offer users a variety to choose from. We are all different – some of us prefer a super gentle, airy touch while some of us need something a little stronger to get the action going. Some toys like the clit vibes from LELO take an entirely different approach and use sonic waves to stimulate this area.
The rose toy takes a different approach – this one is a suction clit vibe. It stimulates the clit via a suctioning stimulation that feels kind of similar to getting oral. It is obviously not the same as a flicking tongue, but the sensation is in the same ballpark.
Now that we have the introductions out of the way, let's take a closer look at the key features of the rose sex toy.
What Makes It Special? – The Key Features of Rose Sex Toy
My first impressions of the rose sex toy were positive. As I got it out of the box, I pretty much immediately understood the appeal. I generally do not like the word "cute", but it is very fitting here. It is beautiful and does not look like a sex toy at all. Plus, I love the feel of the satin-soft silicone…kind of gets me in the mood almost immediately.
Of course, it is not the good looks that are important when it comes to sex toys. The following are some of the key features of the rose toy:
10 different suction modes – Versatility is always important when it comes to sex toys. Luckily, the rose toy is blessed with a solid number of different vibration patterns and speeds. Whether you are a novice or a seasoned clit stimulation enthusiast, you are bound to find something that will work with your body here.
A submersible toy – Again, an important feature for someone like me. I often enjoy my favorite toys in a bath with a good bottle of Merlot. The rose toy fits the bill here – this thing can be taken to a shower or a bath without any worries.
Two-button interface – The buttons are situated on the side of the toy. The placement is super convenient for switching between patterns and speeds in the heat of the moment. Again, a small detail, but an important one nevertheless.
Run-time of about 65 minutes – Keep in mind that this is the official info. Personally, my rose dies down after about 50 minutes or so on a maximum charge. Wish it had a bit more lasting power, but it is enough for one good session. Gotta remember to always charge the thing after using it though. Just so I can grab it spontaneously when I get in the mood for some rose toy action.
Travel lock – An important feature since the rose toy is one of the most travel-friendly vibrators currently available. As I already said, this thing is small, discreet, and non-erotic looking. The airport personnel would probably not mistake it for a sex toy. Unless it starts to vibrate randomly…and this is where the travel lock can help.
USB-rechargeable – Battery-operated sex toys are slowly but surely dying out. This is good. Nothing more annoying than wanting to use a toy but finding out that you do not have any spare batteries in your home.
It seems that this is it when it comes to the technicalities. Now we can get to the better part and see how exactly the infamous rose sex toy feels.
How Does it Feel? – My Personal Experience With the Rose Sex Toy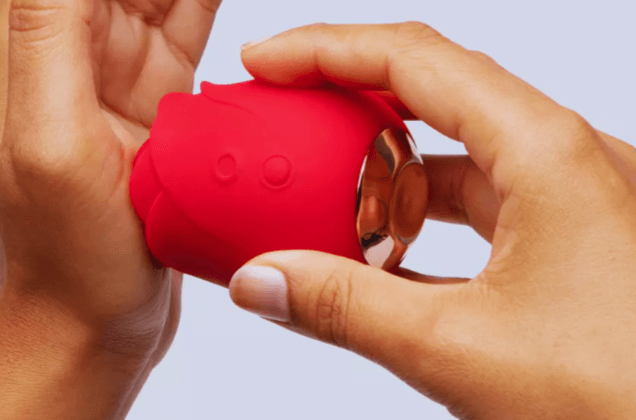 As I already said, the first impressions were great so no complaints in that department. It looks feminine, sexy, and stylish.
How about the feel though? Well, I started my session by throwing on a generous amount of lube. Now, I did mention that I usually take advantage of submersible toys and use them in a bath. Well, for my first time with the rose toy, I simply did not have the time. I only had a quick half an hour before other errands.
I switched the button on and started to explore the settings this thing offers. To my surprise, it had plenty of buzz. Even on the lower settings. The suctioning part gives off a nice rumbly vibration that made me want to explore this thing further.
So, I slowly made my way toward my clit area. And, what can I say – it did put a smile on my face immediately. It is quite intense and direct. On more intense modes, it can even give you those tickles and make you remove the toy immediately. Awesome stuff.
Now, my suggestion is this – ride this thing out on a slower setting at first and then gradually increase the intensity when you feel the excitement building up. A leg-shaking orgasm is guaranteed if you are in the mood and let the thing work up the intensity.
Oh, one more super important thing – it is a great toy for stimulating the clit during intercourse. I tried it during missionary and it added another dimension to the experience. Also, it is super convenient – small enough that you barely even notice it working its magic. Even if you hold it yourself.
To sum it up – I get it. Yes, it was a viral toy for a while, but these times are long gone now. Yet, this type of sex toy still sells very well. And, it is easy to see why once you use it.
Now, let's do a quick summary on the main advantages and disadvantages of the rose toy.
Why I Love the Rose Sex Toy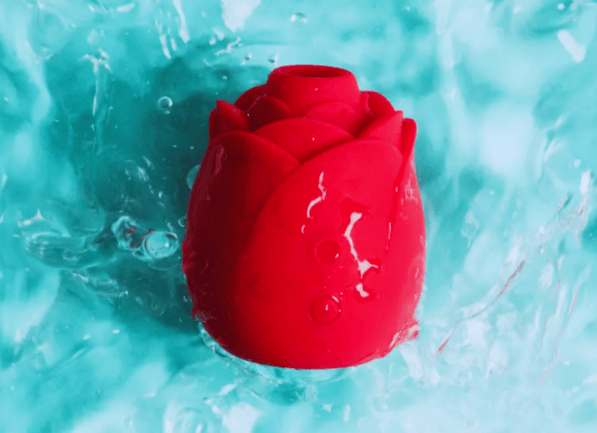 Discreet size and design – This one can fit in a purse easily. Never know when the mood strikes you and you want to spice up your workday in the office bathroom. Seriously speaking though – it is a truly discreet toy with its unassuming design and petite size.
Power! – It caught me by surprise just how intense something this small and cheap can be. I have been a fan of clit vibes for a long time and even I was pretty surprised by the power it can offer on the more intense settings.
A rumbly suction-type stimulation – Many clit vibes market themselves as offering a suction-type of stimulation with the vibe offering a completely different kind of feeling in reality. Here, the stimulation does give off some legit vacuum-type vibes. In that regard, the rose toy is a pretty unique one.
Submersible – The rose toy handles a bath or a shower with ease. You can make full use of the discretion of the toy and use it when taking your daily shower. A super fun way of giving some little extra oomph to a routine activity.
Great for other areas of the body as well – Again, a relatively surprising feature. You do not have to target your clit directly to enjoy this one. It feels very arousing on other erogenous zones as well. My nipples, thighs, and even my earlobes enjoyed the rose a lot.
Simple and comfortable interface – Two buttons are placed on the side for turning the toy on and switching between various modes. This is it. No bells and whistles.
Body-safe – For a long time, I gladly used sex toys made of suspect materials like PVC. Nothing ever happened and I just did not care. Well, as I am getting older, I do not want to take any unnecessary risks. The rose sex toy is built from body-safe silicone and is completely latex- and phthalate free. No potential health risks lurking here.
Affordable – The rose toy is readily available at under $50. This makes the value-for-money ratio very, very solid.
Great starter toy – Considering all of its features and how discreet it is, the rose toy would be a great first sex toy for someone interested in starting to explore this kinky world.
What I Did Not Love About the Rose Sex Toy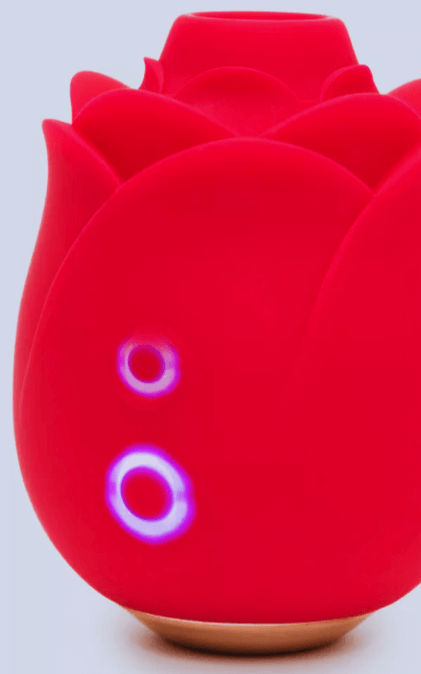 Nothing is perfect, is it? Here are some downsides to consider before buying the rose toy:
Cleaning it can be a bit annoying – I am a complete neat freak when it comes to my sex toys. I ALWAYS clean my toys thoroughly after each use. With the rose toy, the cleaning process is a little annoying due to the rose-shaped design. Stuff does easily get under the "leaves." Luckily, the toy is small so I can manage.
Not as quiet as some of the alternatives – It is not a loud toy by any means, but it is hearable with the more intense settings.
The run time is relatively short – Feels almost like nitpicking, but it is still worth a mention. The rose toy will give you an hour of action which is generally more than enough, but for an airhead like me who tends to forget to charge…yeah, it can get annoying trying to remember to charge it every time after the action.
---
Where to Find Best Price & Is It Worth It?
Find the best price for the rose toy at Lovehoney.
While you are at it, you may want to check out other sex toy categories from Lovehoney as well. It is a lovely site with a massive range of sex toys, fast shipping, and some of the best prices out of all online sex toy stores.
Now, when it comes to the rose toy – is it worth it in the end? It is. For something that costs less than $50, it is a great sex toy with no noticeable flaws. Also, it is among the most beginner-friendly sex toys out there and one of the very few that I would actually consider buying as a gift to someone. If anything, I would like it to be a bit more quiet, but even this is not a dealbreaker in the end.
So, how do I wrap this up? Well, the key thing I took from my experience with the rose sex toy is this – sometimes, things become hyper-popular for a reason. I, for one, am looking forward to what kind of sex toy TikTok falls in love with the next time.