The following article contains affiliate links, which means Sex Toy Magazine earns commission from products purchased through links in this post. If you love our work, please consider supporting us by ordering the products of your choice using the links placed in the article.
I have been writing about sex dolls a lot lately. This is a subject I am clearly passionate about. And, I sincerely think that there is a lack of beginner-friendly content on sex dolls online.
On one side, you have your niche sites and communities of sex doll photographers, collectors, and aficionados. These resources are entertaining and high-quality, but they are not all that useful for people new to sex dolls. I am talking about men that have no idea about the prices, materials, and the different qualities of sex dolls.
On the other hand, you have articles and resources that are clearly tailored only to get you to buy a doll. These clickbaity resources say that every doll will make all your fantasies come true in an instant.
I understand, sex doll manufacturers need to promote their products as diligently as possible. High-quality sex dolls are not cheap to produce, which is why sex doll companies need to keep their profit margins healthy.
But yet again, resources only focused on promotion are not all that useful for beginners. If every doll is supposedly amazing, how does one choose?
This is where Sex Toy Magazine wants to lend a helping hand by helping sex doll fans with choosing. Our team is constantly on the hunt for dolls that last, look good, and offer genuine value for their owners.
Today, we are going to write about one of the most commonly purchased types of sex dolls, especially among beginners – BBW sex dolls.
Many men dream of spending the night with a big beautiful woman with over-the-top curves and a larger-than-life feminine look. Due to the quality of the sex dolls we have available these days, anyone can come close to fulfilling this dream.
The best BBW sex dolls are the dolls that get high marks in 3 key categories – durability, look, and sexual function.
When it comes to durability, you want your BBW sex dolls to stay in "straight out of the box" shape for years. I can tell you right away that good sex dolls are not cheap. If you are planning on making the investment, you want to order a doll that will be your companion for years. Without any wear and tear.
When it comes to the look, you want your BBW sex doll to look like your ideal woman. Someone with exactly the body type you like, the facial features you find attractive, and the general "feel" that you enjoy. You need to "click" with how your doll looks. Stare into the eyes of the doll as your order arrives. If it feels right, you will know. If it doesn't, don't do anything with the doll and just send it back. Make sure not to use it though. If you do, you can kiss goodbye to your chances of a refund.
Last but obviously not least – you want the doll to enhance your life by providing you sexual pleasure. This is why we only picked dolls that perform excellent in that department. The best BBW sex dolls come with oral, anal, and vaginal capabilities. All of these different orifices offer you sensations comparable to the real thing.
Without further ado, these are the 7 best BBW sex dolls for 2021:
• Best BBW sex doll torso – Danaya
• Best fantasy BBW sex doll – Booba
• Best BBW sex doll for oral sex – Amanda
• Best anime BBW sex doll – Rachel
• Most beautiful BBW sex doll – CLM Curvy BBW Sex Doll
• The thickest BBW sex doll – Becca
• A budget-friendly choice – TPE Bubble Butt
Best BBW sex doll torso – Danaya
Material: TPE
Measurements: 2ft 11in, 55.1lbs, 34.3in bust
Key advantages: a budget-friendly BBW sex doll, more compact than full-sized dolls, classically beautiful face, great choice for trying new sex positions
Available on Sexy Real Sex Dolls
Danaya is the very first entry in our list of best BBW sex dolls. Instead of a life-sized girl, Danaya is a sex doll torso. Men new to sex dolls might rightfully be weirded out by a torso. But, hear me out, there are several advantages to going for a sex doll torso instead of a full girl.
For one, sex doll torsos are usually about half the price of a full doll. They are also way more compatible than your full-sized doll. Yet, the best torsos still come with anal, oral, and vaginal capabilities.
In fact, for someone wanting to get a doll for under $1000, a torso might be the best value option there is.
Ok, time to talk about this particular model. Danaya is a brunette, well-tanned stunner with big, beautiful, natural-looking breasts. Why not make good use of how compact this doll is and enjoy a good motorboating session?
The butt is also a marvel. A true tribute to BBW enthusiasts around the world – thick, round, and bouncy. Again, I must emphasize just how good a compact doll such as Danaya is for trying out new positions. Try going for that luxurious derriere from unusual angles…and a good time is guaranteed.
She might not be life-sized, but Danaya can blow your mind just as well as a full doll. And, at this price point, she might just be the best best for men looking for their first BBW sex doll.
Best fantasy BBW sex doll – Booba
Material: TPE
Measurements: 4ft 11in, 93.6lbs, 37.4in bust
Key advantages: a fantasy-inspired doll, superb hip-to-waist ratio
Available on Sexy Real Sex Dolls
I took a quick glimpse into some of the online reviews of this BBW sex doll. And, I found that at least 2 men said that this doll is five-star worthy for the bounce alone. I know exactly what these men are talking about.
Let's examine this bounce and some other details that make Booba one of the very best BBW sex dolls available.
This BBW sex doll has 3 main talking points.
First off, we have these amazing, soft, larger-than-life breasts. It is a dream to watch the gorgeous bust of this doll wiggle as you have your way with her. Same for the butt – just watch those ripples as you enjoy a good doggy session.
I also want to talk about that hip-to-waist ratio…the magicians at WM Dolls have outdone themselves here. It is as if angels came down from the sky and hand-carved those thighs. Majestic!
Lastly, this doll is a great fit for fans of something a little more mysterious. Some men (ahem, like myself) fantasize about fantasy, sci-fi, and hentai characters. Well, Booba can bring those fantasies to life. You see, this doll can be ordered with elf ears. And, trust me, the ears just work so well for this body type and face.
Best BBW sex doll for oral sex – Amanda
Material: TPE
Measurements: 4ft 10in
Key advantages: great for oral, highly detailed build, great for dressing up
Available on Joy Love Dolls
Amanda is quickly becoming one of my favorite BBW sex dolls of all time. The pre-configured version of this doll just has that little extra spark that I want in my sex dolls.
That face looks so innocent, almost naive. Her blonde locks are that of an angel. And, that light skin makes me think of the softest velvet imaginable.
The aforementioned details are what give character to a sex doll – you want them done right. And, with this doll, the details are indeed handled by the masters of their craft.
Since this is an article on the best BBW sex dolls, we can't go forward without stopping on the body of Amanda – it is ridiculous in the best way possible.
Those curves are simply a force of nature. Just try dressing Amanda up and you will quickly see that it is nearly impossible to find pieces of clothing that could contain those wild curves.
I usually dress her in schoolgirl or bridal outfits (boring fantasies, I know.) Her innocent vibe just fits that aesthetic like a glove.
Seeing her in outfits that represent total purity always sparks something very primal in me.
Best anime BBW sex doll – Rachel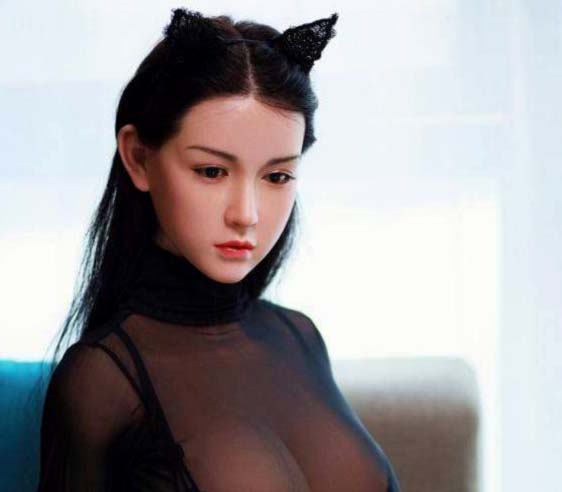 Material: TPE
Measurements: 5ft 7in, 74.95lbs, 36.2in bust
Key advantages: great for anime enthusiasts, best-in-class breasts, great anal capabilities, great for dressing up
Available on Sexy Real Sex Dolls
I have already mentioned my love of anime several times in this article. And, I am glad to say that we can keep talking about anime girls.
Rachel has all the features of the best BBW sex dolls – big breasts, plump butt, and powerful thighs. She also has a distinctive hentai-influenced look.
The outfits presented on the promotional pictures of Rachel are the ideal fit for her. So, I suspect going for a similar look if you are planning on dressing her up. Go for a classic, ever-so-slightly gothic look. Perhaps also put some cat ears on her for that extra spark of cuteness.
Yes, yes, I already hear you. Why put any effort into dressing up your BBW sex dolls? After all, you are planning on ripping all the outfits off and ravaging all the 3 holes of the doll anyway.
Let me tell you this. I was just the same. I did not want to spend extra on doll outfits at first. But once I experimented with dressing the dolls up, there was no going back. Picking the outfits and trying them on the dolls just adds that extra level of immersion. This, in return, will also amplify the sexual experience.
Most beautiful BBW sex doll – CLM Curvy BBW Sex Doll
Material: TPE
Measurements: 5ft 3in, 99.6lbs, 41.7in bust
Key advantages: the most natural body of all available BBW dolls, a beautiful face
Available on Sexy Real Sex Dolls
Next up, we have a model from CLM Doll. She does not have an official name, but I call her Laura-Ann. Why? Because this is the name that naturally came to me when I looked at her.
Her face is that of a classical Hollywood beauty. Symmetrical, pleasant, and slightly arrogant. I love it.
That body? Wonderful. Laura is the doll version of a very curvy woman who takes splendid care of her body. Her breasts and butt are massive, but not in an unnatural way. Just look at the detailing on those areolas, small hints of fat on her belly, her fluffy butt…the details of that body make this doll a work of art.
Laura is one of those dolls that develop a personality in your presence. She just has so much expressiveness in her face and body.
She immediately makes it easy to understand why some men spend hundreds of thousands of dollars on sex dolls.
In a nutshell – Laura is a work of art, not merely a sex toy.
The thickest BBW sex doll – Becca
Material: TPE
Measurements: 4ft 10in, 103.6lbs, 42.5in bust
Key advantages: thickest of all BBW sex dolls, outfit included with the order
Available on Sexy Real Sex Dolls
We continue with Becca, by far the heaviest BBW sex doll on this list. Where does all this weight come from? From her ridiculous thickness of course.
You see, Becca has the proportions of a true BBW legend. Those t*ts are unbelievable, almost laughably huge. To tell you the truth, I would gladly use these things as a pillow if I was single. And I'm not kidding either – those breasts are just that huge, cuddly, and wobbly. In fact, I'm getting sleepy just thinking about resting my head on those masterpieces.
The ss follow suit. Becca is by far the BBW doll with the biggest booty. Whether your cck is big or small, the buttocks of Becca will easily swallow your member whole.
It is not a bad sensation, though. Hitting an *ss as big as this from behind…well, let's just say that it is quite an experience.
In a nutshell – if you want a doll that is almost too thick to handle, then Becca is your girl.
A budget-friendly choice – TPE Bubble Butt
Material: TPE
Measurements: 6.7in heigth, 12.6in length, 10.2 in width, 17.4lbs weight
Key advantages: cheapest option, realistic build, anal and vaginal capabilities, lightweight
Available on Sexy Real Sex Dolls
Is including this one cheating? I don't think so, because for men balling on a budget, this is a supreme choice. I mean, we are talking about a BBW body that is available to order for under $400.
That said, this is not a full doll. Instead, we have a lovely, super juicy booty with anal and vaginal capabilities. I fully understand that when we are talking about immersion, this might not be the best option out there. This is not something that you will want to take on a date or marry.
However, if we are talking plain and old physical sexual release, then this butt works just as well as several dolls worth thousands of dollars.
You see, this butt is made of TPE, the same material used in all high-quality sex dolls. It is very soft to the touch and moves just like real human skin. Yup, this means that this bubble butt will have that lovely bounce as you have sex with it.
Considering the price point, this one is a winner.
---
Looks like we have reached the finish line, boys! I sincerely hope that you found a delightfully thick honey from our list. Goodbye for now and see you soon!