The following article contains affiliate links, which means Sex Toy Magazine earns commission from products purchased through links in this post. If you love our work, please consider supporting us by ordering the products of your choice using the links placed in the article.
I sometimes get almost ridiculously excited about reviewing various sex toys. This happens when I have to test and review something new that I have been waiting for a while. It also happens when I get to review a toy that I have loved for a long time.
Today is one of those days. I finally get to write about one of my favorite sex toys of all time, the Lovense Domi 2 wand vibrator.
In a way, I already ruined this review with a spoiler. It is already obvious that I am a fan of the toy. So, what is the point of this review? Well, the thing is – this is a rather unique toy and I figure it would be a good idea to share all the possibilities, pros and cons, and the overall feel of the toy in a comprehensive review.
By the end of this Lovense Domi 2 review, you will have an idea of whether this popular wand vibrator would be a great investment for your pleasure. We will examine everything from how the toy looks to how you can use it to enhance your sex life.
---
There is a lot to unravel here so I think we are due for a start. In this Lovense Domi 2 review, you will find:
• My personal experiences with the Lovense Domi 2 wand vibrator
• The Lovense Domi 2 during intercourse
• The main pros and cons of Lovense Domi 2
• Where to find the best price for the Lovense Domi 2 wand vibrator?
What is the Lovense Domi 2?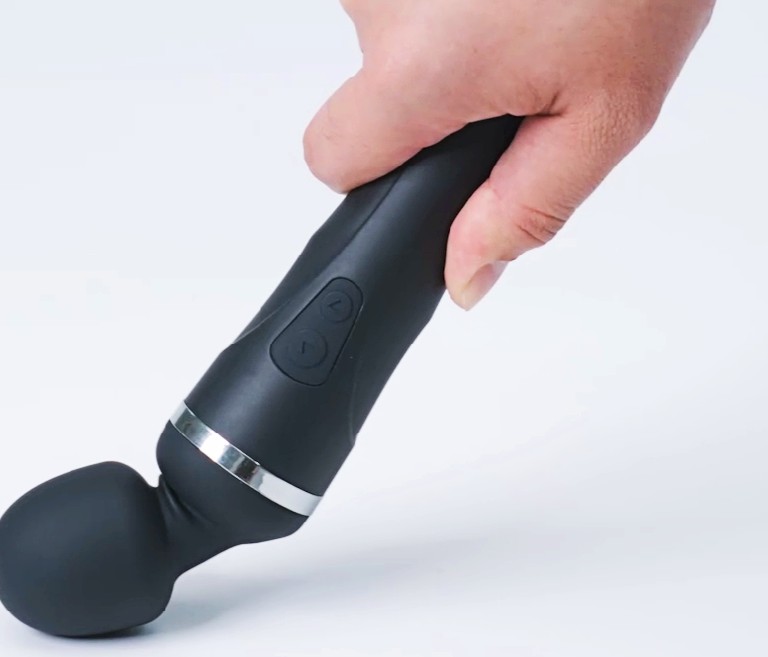 The Lovense Domi 2 is a wand vibrator. These types of toys, known by some as magic wands, are external vibrators that could be used on the entire vulva. Depending on the exact areas that you want the vibe to stimulate.
Wand vibrators are shaped like wands (hence the name) and usually feature a prominent head that rotates and/or vibrates. The head of the wand usually covers a pretty big surface which makes the sensation feel medium-to-heavy in terms of how intense the stimulation is.
As such, wand vibrators are sometimes mistakenly considered too stimulating for people new to sex toys. I do not agree with this idea – a good wand vibrator will have a wide range of power settings and could be tinkered to be tame enough for a beginner too. The Domi 2 luckily falls in that category – this thing is a beast on the more powerful settings while also being quite gentle on the more lower settings.
Oh, and since this is a Lovense toy, it can also be used from long-distance. With the free Lovense app, another person can control the Domi 2 wand vibrator from however far away. No wonder that the Domi 2 is one of the most popular sex toys for cam girls. I will be talking more about the long-distance capabilities of Domi 2 later in this article.
For now, let's take a look at what is included with the Lovense Domi 2 order.
What's in the box?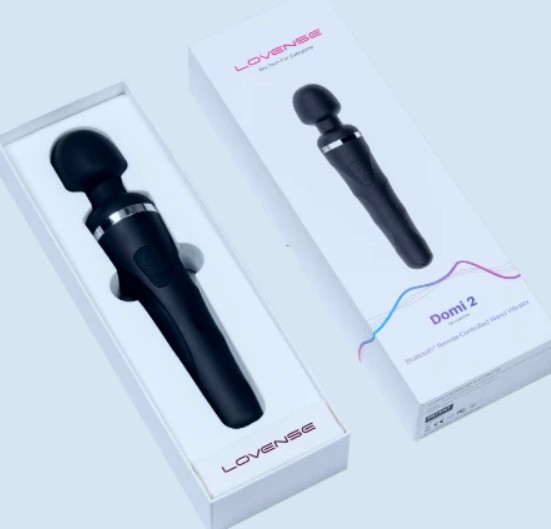 I always get a good hit of dopamine when I receive a new toy and get to unwrap it. The Domi 2 was not an exception. It felt great to receive the box, sure. Little did I know that this wand would end up becoming a firm favorite of mine.
Here's everything you can expect to receive with your order:
The Lovense Domi 2 Bluetooth wand – The main treat. The Domi 2 comes in a beautiful, black color and has an overall feel of quality to it. Also feels very nice and comfortable to hold. Not too heavy, not too light.
Small storage bag – Nothing to write home about, but still a valuable addition in case you want to put your Domi 2 away from prying eyes.
USB charging cable – No long stories needed here. You will obviously need your cable to get your Domi 2 wand up and running.
User manual – A nice thing to have, but I usually like to do my own exploring when it comes to sex toys. Makes it a bit more fun that way. In the case of Domi 2, I would suggest keeping the manual though. Just to have a quick read on how to operate and use the Lovense app which is generally a key part of the Lovense experience.
So, the first impressions were good, but it is ultimately never about the visual first impressions when it comes to sex toys. It is all about how this stuff feels.
In the next part, I will be taking you fine folks to a more intimate journey and write about my own experiences with this toy.
My personal experiences with the Lovense Domi 2 wand vibrator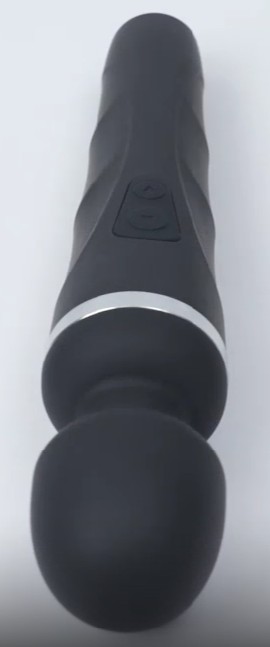 Since Domi 2 is one of my favorite sex toys, it would be hard to describe every single encounter that I have had with this toy. Instead, I will write about what made me fall in love with it so hard and for so long.
First, there is the vibration itself. The Domi 2 has up to 10 possible vibration patterns and 3 steady strength levels. I started on the lightest steady setting available, but the toy still immediately surprised me with how deep and rumbly the vibrations feel. Almost feels like a super deep purr of a cat. Bad analogy, I know, but it was the best I could muster. What matters is that I loved the vibration even when I was just holding the vibrator in my hand.
Oh, a side note – I have never used the Domi 2 as a run-of-the-mill massage toy, but I know plenty of people who use it for a "regular" massage. It was not a coincidence that I loved the vibration even when I was just holding it.
The real fun starts when you get down to business though. I did not go for the vagina immediately. Instead, I took my sweet time just caressing my thighs, sides of my breasts, and even my neck with the Lovense Domi 2. I just adore how deeply this toy rumbles and how big of an area it covers while it is buzzing on my body.
Once I was completely "in the zone", I slowly started to approach my vagina though. This is the part that puts a big beaming smile on my face – this stuff is magic. Yes, it feels great as a direct external stimulator and hits the right parts very well due to its flexible head and neck, but it is how it vibrates that takes the Domi 2 to the next level.
Those rumbly vibes feel good anywhere on the body, but when they hit an excited vulva…yeah, things get intense pretty damn fast. This is the type of toy that somehow stimulates your body from both the inside and outside. The clit and all the other key erogenous zones get their share, but somehow the stimulation still feels a little extra. At times it can feel like your entire lower body is getting stimulated at the same time. Awesome stuff.
Keep in mind that the Domi 2 is not entirely submersible. Yes, it is waterproof and you will not have to worry about squirting or getting it wet, but you will not be able to take it to a bath. This is one of the very few negative sides of this toy seeing as I am generally a big fan of a trio of good wine, a sex toy, and a bath. Not a massively big deal though seeing as this is a genuinely great toy in almost all other aspects.
Now, as I mentioned, the Lovense Domi 2 works very well during intercourse as well. In the following, let's examine how you can use it during sex for enhancing things a bit.
The Lovense Domi 2 during intercourse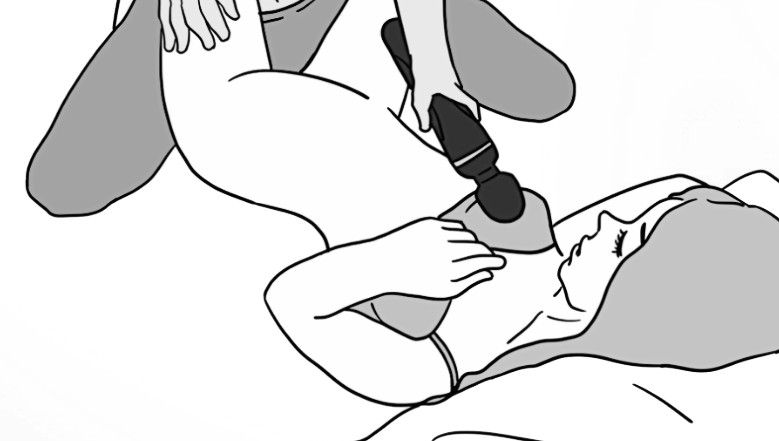 Since the Domi 2 feels so good in the hand, I decided to try it while having sex. It was a very good idea as playing with it during intercourse feels great.
Here, there is no specific guide on how to get the most out of it. My suggestion here is to listen to your gut and your vagina. Let's say you are having a lot of fun getting d*cked down, but still feel as if you want something a little extra. This would be the perfect scenario to break out the Domi 2 and use it.
Let me give you an example of how I like to use it – you probably already know that most vagina-owners need some clit stimulation to orgasm. Well, the Domi 2 works very well as a clit stimulator. Missionary is probably my favorite sex position and the first time I used Domi 2 during sex was while getting penetrated during missionary position.
It felt amazing. Something about slow stroking and the deep vibrations from the Domi 2 just hit right. Would this combo work as well if I would not have access to a penis? I think so. I am yet to try it, but I figure a good realistic dildo would play just as well with this wand.
The main pros and cons of Lovense Domi 2

So, is this wand vibrator worth it or not? Here are some of the key advantages and disadvantages of this toy.
The pros of Lovense Domi 2
Superb stimulation
Ultimately, the value of a sex toy comes down to something very simple – does it feel good or not? The Domi 2 feels good. It feels very, very good. The rumbly and deep vibrations of the motor of this wand are to die for. Intense yet somehow gentle at the same time. Just good stuff all around.
Long-distance connectivity
Long-distance sex toys became all the rage during the countless quarantines of the Coronavirus times. And, Lovense is the market leader when it comes to long-distance sex toys. Each feature of the Domi 2 can be controlled via the Lovense app. Even if the user of the app happens to be in another country entirely. I suggest you try remote play even if you are NOT in a long-distance relationship. Even letting your partner operate the toy from a different room can be funny and hot at the same time. And, this sort of combination is always a recipe for a great sex life.
A solid battery life of 5-6 hours
Ever had the battery of a toy go dead right in the midst of a hot masturbation session? Yeah, sucks. This should not be an issue with the Domi 2 seeing as it will give you at least five hours of fun with continuous use. Plenty of time for several wet and loud orgasms.
User-friendly and comfortable design
Lovense is one of the pioneers of so-called "sex tech", yet the Domi 2 wand vibrator itself is super intuitive and comfortable to use. It has loads of features for maximum pleasure, but the toy itself is super simple to use. You have the conveniently placed buttons for adjusting the intensity settings and this is basically it. This goes for the app too – very simple to use and you will become familiar with everything on offer very quickly.
Suitable for couples
As I already wrote about in detail, the Domi 2 wand is also an effective intercourse enhancer. Personally, it hits the best for me during missionary, but feel free to experiment with other positions as well. Alternatively, you can use it for prolonged foreplay or just a massage. Whatever the case may be – this is a toy that loves company so feel free to introduce this splendid wand to your partner.
Can be synced to music
Sounds like a ridiculous feature for some, but it can be a lot of fun. Sync it to a relatively repetitive, long, rhythmic track and you will see heaven. House music for example works well with the Domi 2.
Great value-for-money
I know, I know. It is not the cheapest sex toy out there. At about $100, it is still priced higher than many similar alternatives. That said, the value here is still more than solid. The possibility of syncing it to music, using it from long distances, and the variety of different intensity settings mean that this is not the type of toy that will start to gather dust after a few uses. In fact, I am still exploring it even though I have had the Domi 2 for a while now.
The cons of Lovense Domi 2
Not submersible
Yup, pretty much the only issue I have with this wand vibrator. I get it though – this stuff is pretty high tech and it would simply not make sense for it to go completely underwater.
Where to find the best price for the Lovense Domi 2 wand vibrator?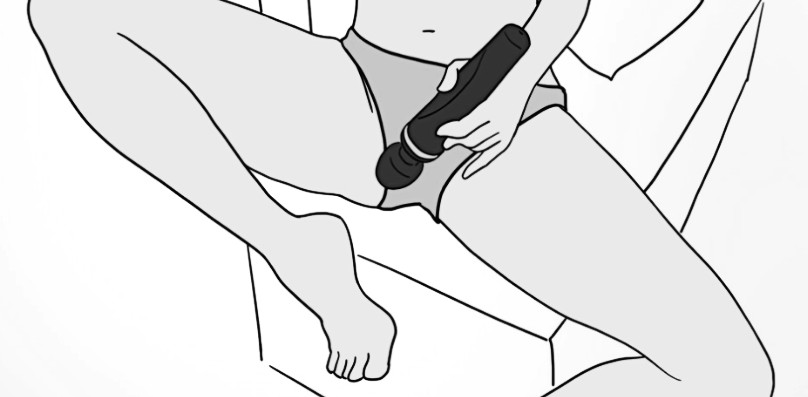 You will find the best offers for the Domi 2 wand on the official site of Lovense.
Ordering the toy "straight from the source" has some other useful extra benefits as well. For one, there is the efficient customer service. Have any issues with your order? Just contact Lovense directly and you will get a quick, detailed answer.
Secondly, you have the possibility of getting your product replaced if you receive anything faulty. This has not happened to me thus far, but it is still good to know that this option is out there.
Ultimately, is it worth it though? Absolutely. This is a very nice sex toy in pretty much all aspects – it feels good, it is great for beginners, it looks good, and it has a large number of interesting perks such as long-distance connectivity.
---
For me, it is time to go for now. I hope you enjoyed this Lovense Domi 2 review. If you do end up getting it then I envy you. This was one of the sex toys that I most enjoyed exploring and I am pretty sure it will be the same for you too.