The following article contains affiliate links, which means Sex Toy Magazine earns commission from products purchased through links in this post. If you love our work, please consider supporting us by ordering the products of your choice using the links placed in the article.
Dildos are awesome. They are versatile, beginner-friendly, and super simple to use. I have been a dildoholic for a while now. I am not sure how much I have in total, but I simply love collecting dildos. In my line-up, you can find stuff like glass dildos, tentacle dildos, black dildos, and some ridiculously large dildos.
Now, when people are looking for an entry to this world, they generally want something as realistic as possible. People are looking for something that reminds them of a real dong yet gives them the possibility of using it however and whenever.
So, which are the most realistic dildos out there? This question is exactly what inspired this article. We will look at dildos that offer the most value-for-money while also looking and feeling as realistic as possible.
In our list of most realistic dildos, you will find something for every taste. We have small-to-medium size c*cks, we have uncut penises, we have circumcised stuff, we have stiff and straight, and we also have gorgeous and curved stuff. Basically, I found something for every taste.
Before we get started with our list, have a quick look at some of the key features you should consider when choosing a realistic dildo:
The size – Even the best and most realistic dildos can feel awful if you go for something that is too big or too small for you. If you have bad experiences with big penises then it does not make sense for you to get something super thick and long. Similarly – if you are a total size queen then it does not make sense for you to get something average-sized. If you have no experience with sex and sex toys then feel free to head over to our guide on the best dildos for virgins instead.
The material – You will want to seek out realistic dildos that are made of body-friendly materials. PVC is a material that is potentially allergenic and toxic. Thus, it would be best to avoid this material just to be on the safe side. Silicone is the most common material used in quality dildos and it is considered completely body-safe. Luckily, it is also the material that generally FEELS the best.
The price – You do not have to get the priciest realistic dildo just for the hell of it. Yes, the most realistic dildo out there is also the most expensive, but that does not mean that the cheaper alternatives are somehow not worth it. It IS possible to find a dildo that looks and feels like the real thing at a reasonable price.
---
With that, I think we are ready to get started. These are the most realistic dildos available in 2023:
• The Most Realistic Dildo – "Dirk from RealCock 2"
• An Affordable RealCock Alternative – "Vixen Mustang"
• Best Pornstar Dildo – "Boomer Banks Dildo"
• The Thickest Realistic Dildo – "Goliath"
• A Realistic Penis Extender – "Vixen VixSkin Colossus"
• Best Remote-Control Realistic Dildo – "Lifelike Lover Luxe Remote Control Dildo"
• Best Black Realistic Dildo – "Lifelike Lover Luxe in Black"
The Most Realistic Dildo – "Dirk from RealCock 2"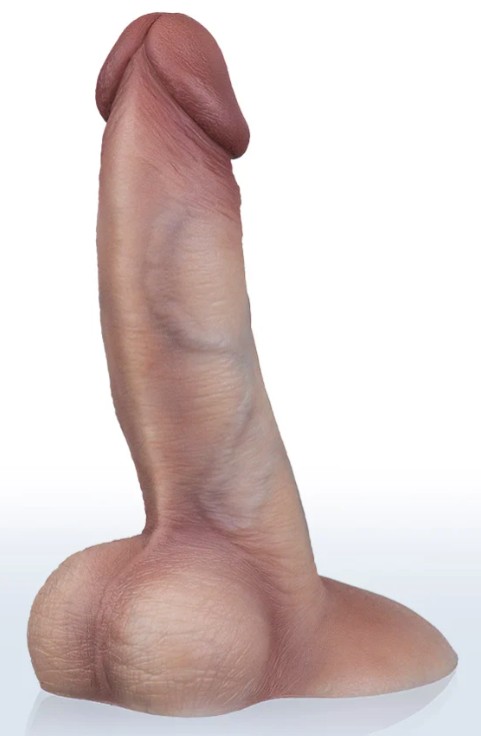 Before we start talking about Dirk, allow me to give you a quick introduction to RealDoll and RealCock.
Both of the aforementioned product lines are developed by Abyss Creations, an American company known for creating the most lifelike dildos and sex dolls currently on the market. This is their credo – to provide toys that are as lifelike as possible. Everything is handmade and crafted to perfection – unfortunately, this is also reflected in the price. This stuff is expensive and this is just how it is.
Now, what do you get if you pay about $500 for a dildo? Well, simply put, the most realistic dildo on the market. All the details are there – the movement of the balls, the sliding of the skin, and the shape of the head.
When it comes to size, it is a bit on the bigger side. It comes at about 8 inches and 6 inches in circumference. Nothing monstrous, but obviously still on the bigger side.
Now, the key question – how does the most realistic dildo in the world feel? Pretty damn good. Especially if you are in the market for a direct substitution of the real thing. Throw in a generous amount of lube and the differences between the Dirk and the real thing are simply not there.
You feel the skin of Dirk move as you penetrate. You also feel the balls bounce against your vag if you decide to go for some fast stroking. Details such as this are precisely what has made the brand so famous.
Is it worth it though? Up to you. If you have the spare cash and want a carbon copy of a penis then the Dirk will absolutely be worth the price.
An Affordable RealCock Alternative – "Vixen Mustang"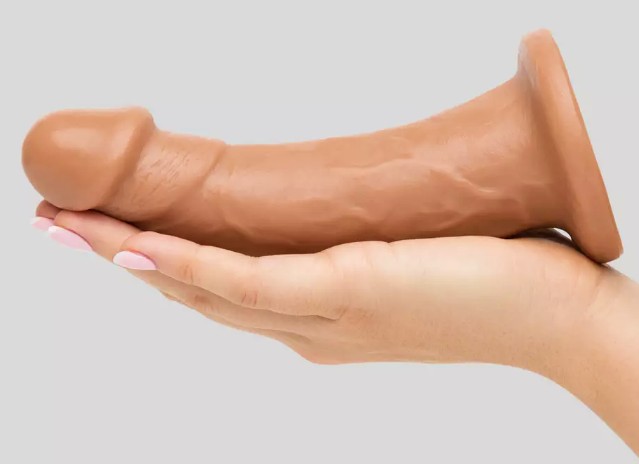 So, Dirk is the king of realistic dildos. How about the next best thing? The silver medal? Allow me to introduce you to Vixen Mustang. A dildo that I also recently included in my list of best toys to order from Lovehoney.
To be completely honest, it feels almost as realistic as Dirk at first glance. The skin feels just as authentic and soft. The details such as the veins and the head of the penis are done just as well. Basically, the overall feel is just as good. So, how does it cost hundreds of dollars less than Dirk?
For one, Mustang lacks balls. And it is precisely the balls that are arguably the most impressive feat of the Dirk. Also, the Dirk is a bit bigger than Mustang.
While we are on the subject of size – Mustang has a length of 6.5 inches and a circumference of 5 inches. A pretty average, upper-medium sized penis. This also makes it a solid choice for beginners.
When it comes to how it feels – well, pretty great. For one, the size makes it super versatile. This is the type of toy that you can easily use both for vaginal and anal purposes. And, it feels just as great either way.
I will wrap up talking about Mustang with the one significant downside of it – the suction cup. Yes, it has an included suction cup, but it is a pretty bad one. And, as any dildo enthusiast will tell you – nothing worse than being in the heat of the moment and riding an attached toy only for it to fall off. Completely ruins the moment. 
This is obviously not a dealbreaker if you plan on using it manually. Still, for the sake of full transparency, I just had to let you know about the not-so-great suction cup. Other than that, good stuff.
Best Pornstar Dildo – "Boomer Banks Dildo"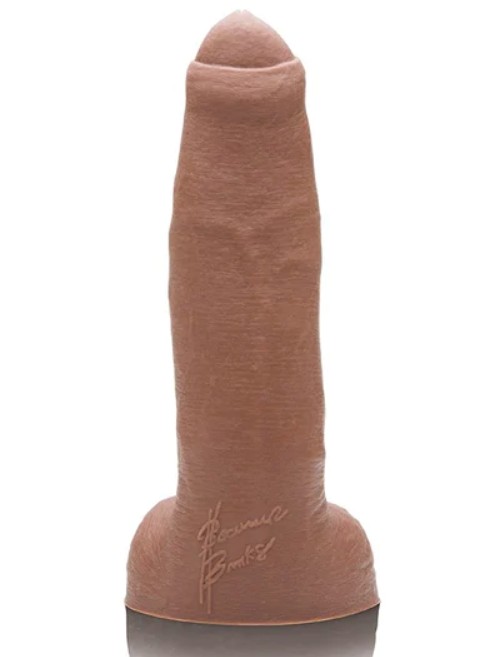 Next up, we are looking at the Boomer Banks dildo. It is a model inspired by the male pornstar Boomer Banks…and it is a great one. This is one of those realistic dildos that gets me in the mood with a mere glance alone. It looks that hot.
Why? For one, I love that it is slightly tanned and uncut. Somehow works very well with this large size and makes it even hotter.
Now, when I mention large size I do not mean something stupid-large. The insertable length is 9 inches. Big, but nothing too crazy. Circumference at the base is 6.5 inches – again, big but nothing ridiculous.
The head of the dildo is only slightly less girthy than the shaft. This means that you will be in for an intense ride from the start. Do not start penetrating yourself right away. Tease yourself with the head until you are mega wet. After this, feel free to slowly let it slide into you. Great stuff!
In a nutshell – if you have a thing for big, dark, uncut penises then the Boomer Banks will be a superb choice.
The Thickest Realistic Dildo – "Goliath"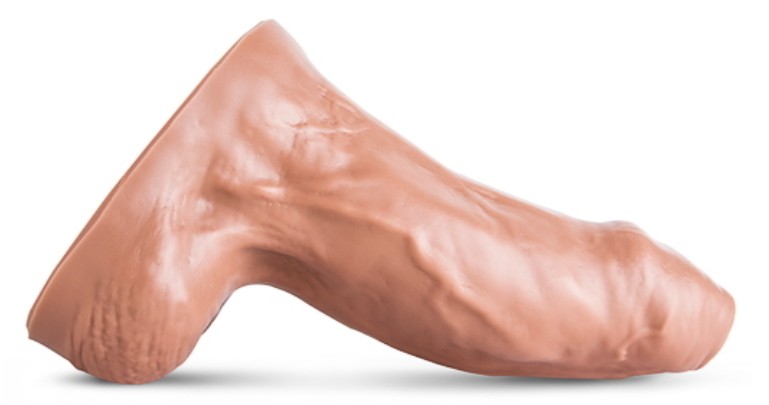 Check best price at Mr. Hankey's
As we move on, we get more and more intense. The Goliath from Mr. Hankey's is pretty appropriately named. It is a hunk of a dildo. A massive, coke can of a monstrosity. It is uncircumcised, veiny, and just plain HUGE.
Most folks new to this world have a legitimate question – how on earth am I supposed to take something like this in?
Well, these types of dildos fill a very specific, fantasy-focused niche. They are not necessarily meant for deep, in-and-out type of penetration. Instead, you will want to get it in and just enjoy having it inside you and slowly rotating and twisting it. Just listen to your body and enjoy that super filled-up feeling.
It is not something that will work for anyone. In fact, beginners should start with something much smaller. But, if you have ever had a fantasy of just having something ridiculously big inside you then it may be a very, very good option.
A Realistic Penis Extender – "Vixen VixSkin Colossus"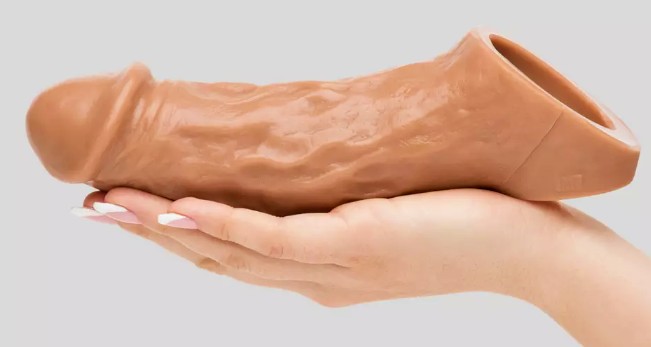 Look, some may say I am cheating here – Colossus from Vixen is not necessarily a dildo. Instead, it is a penis extender. For those not in the know, penis extenders are sex toys that are meant to be worn on the penis for size increase, combating erectile dysfunction, or just for some fun in the bedroom. Personally, I am a big fan of my husband's penis, but I still let the dude wear an extender from time to time. He loves it and so do I.
If you have been paying attention, you already know the name Vixen from Mustang, another highly realistic dildo featured on this list. When compared to Mustang, the Colossus is the bigger boy. Both the length and the circumference of the Colossus are 7 inches. For length, this is nothing too crazy…but a circumference of 7 inches…yeah, this is major league stuff.
It is not only the size that makes this thing impressive though. It is a Vixen toy which automatically means that it shines in the realism department. Similarly to Mustang, you have satin-like skin, great flexibility, and a firm core. All-around quality stuff.
Now, despite being a penis extender, you should not be thrown off from using it solo. If the look, shape, and size of it seem appealing then go for it! You will probably have to provide some sort of filling for the dildo, but it should not be hard to find something suitable. I used a cheap dog bone toy I got from a local store. Weird, I know, but it fits into the Colossus like a glove.
Best Remote-Control Realistic Dildo – "Lifelike Lover Luxe Remote Control Dildo"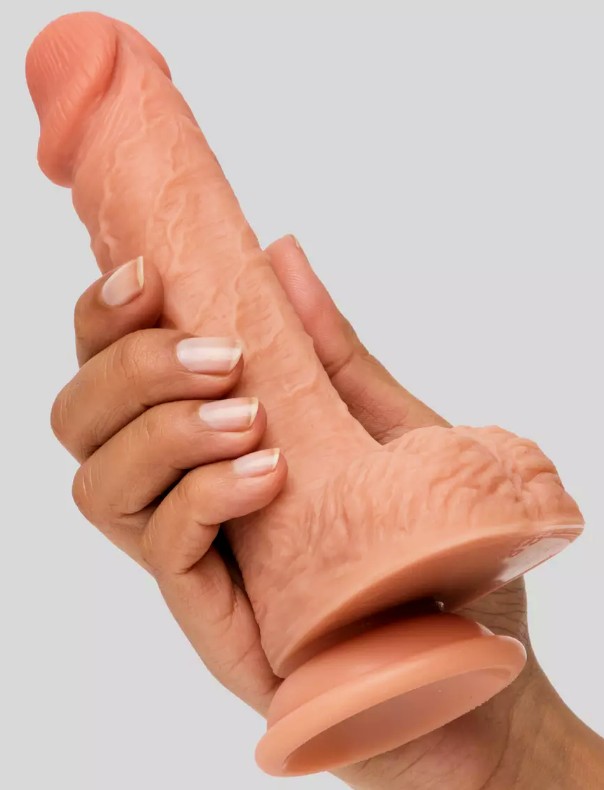 Vibrating dildos are surprisingly unpopular. Many folks go for stuff like rabbit vibrators, clit vibrators, and pinpoint vibrators like the LELO Dot. It is quite strange, then, that vibrating dildos do not get that much attention.
They absolutely do deserve the attention though! Just imagine a beautiful penis inside you while it also throbs and buzzes – amazing stuff!
The Lifelike Lover Luxe is one of the prime examples of such a toy. Here, we have a realistic dildo that comes with all the bells and whistles associated with good dildos. The veins, the detailed head, and even a lovely pair of balls. All the works!
In addition to realism, it also offers a great, rumbly vibration. There are 6 vibration modes that offer plenty of variety – the lower settings are like a sweet, erotic buzz while the more intense settings can provide plenty of power. Even for more experienced sex toy enthusiasts.
The Lifelike Lover Luxe is operated via a small, black remote. Super simple and comfortable to use. This is great news – I usually prefer app-operated, cam-girl-friendly toys myself, but sometimes I still find myself yearning for a quick, old-school remote. This dildo offers just that.
Since this realistic dildo is much cheaper than many other specimens on this list, there are bound to be some downsides too. For one, it is not completely waterproof. It handles a splash here and there and squirting will not be a problem. However, you can't take the Lifelike Lover Luxe to a bath. And, I like my toys in a bathtub or in a shower. However, if this is not an issue for you, then go for it!
For this price, it is a pretty solid pick.
Best Black Realistic Dildo – "Lifelike Lover Luxe in Black"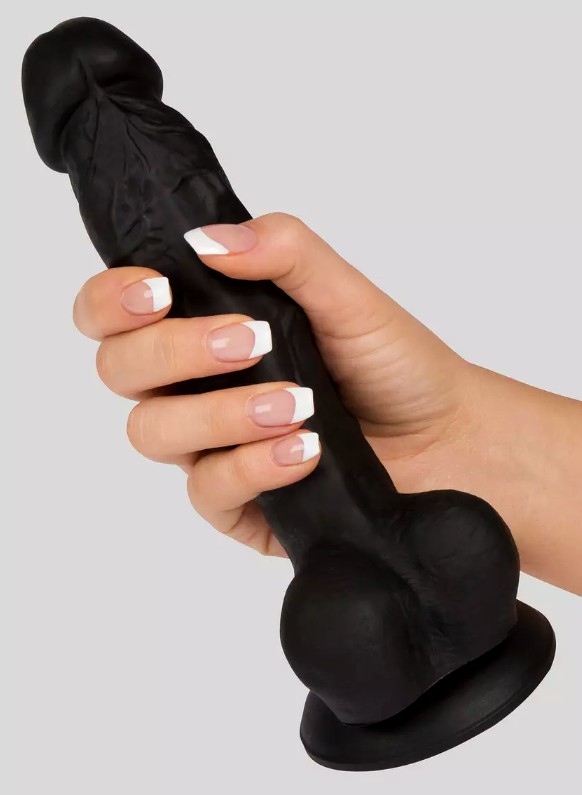 We continue with yet another wonderful toy from the Lifelike Lover series. This time, we have a model aimed at people who have a thing for deep black dildos. Look, having a fetish for black dildos is a bit of a touchy subject – I have been accused of racism more than once. I firmly stand my ground though – the fact that I have this fantasy from time to time does not mean that I objectify anyone or am a racist. So, if you are in the same boat and have a thing for black dildos yet are afraid to get one due to similar reasons…then just stop judging yourself and go for it!
Back to the Lifelike Lover Luxe – it is an affordable, beautiful 8-inch penis in matte black color. Plainly put, it is gorgeous. The deep black color works very well for emphasizing the beautiful, well-crafted details of this dildo. I especially love those beautiful round balls on the bottom of it.
This is one of those realistic dildos that I would use for G-spot stimulation. The shaft has a slight curve that just works so well for hitting this area. I usually manage to stimulate the G-spot by making good use of the suction cup. I attach it to a wall, slightly raise one leg, and just ride away. Feels almost like exercise…except with a lovely addition of a G-spot orgasm.
In a nutshell – affordable, beautiful, realistic, and G-spot friendly. What's not to love?!
---
Hopefully you had fun learning about the most realistic dildos out there. As you saw, modern dildos are pretty impressive in just how lifelike they can look. Even better – they are available in various price ranges and sizes. As such, anyone with an interest in a sweet little (or big!) penis substitution should easily find something to suit their tastes.
With that, I will finish now. Have a beautiful night!