The following article contains affiliate links, which means Sex Toy Magazine earns commission from products purchased through links in this post. If you love our work, please consider supporting us by ordering the products of your choice using the links placed in the article.
I do not have the numbers, but I am pretty sure that Lovehoney is the most popular online sex toy vendor out there. Their selection of toys is immense, the customer service is fast and efficient, and they deliver to most places worldwide. Oh, and the prices…they have deals for their best-sellers often and if you keep an eye on the site, you could snatch something very good for a very tempting price.
This site is also great for someone looking to pick up their very first sex toy. Why? The packaging. You see, Lovehoney knows that its customers value discretion above all. I mean, who would want their neighbors to see that they are walking to a house with a god-damn humongous package that has a picture of a dildo on it?
Well, this is not an issue at Lovehoney. They ship their stuff in super, super plain packaging.
Now, what was the inspiration for this article? Mainly to give you, the female readers, a quick overview of the best Lovehoney toys for women. Treat this as a sort of guide on where to start…and, if you are a long-term sex toy fanatic then just use the article as inspiration on where to go next.
Long story short – Lovehoney is the best online marketplace for sex toys and I figured it would be a good idea to give you my reviews of the Lovehoney best-sellers. The list will feature all sorts of unique stuff – anything from wand vibrators, clit vibrators, and cam girl sex toys all the way to large dildos will be featured here.
If you want a quick shortcut to the entire store then feel free to jump right in and take a look at the entire website of Lovehoney.
However, if you want a little guiding hand on where to start then here are the best Lovehoney sex toys for women:
• Best Dildo – "Vixen Mustang"
• Best Rabbit Vibrator – "Fifty Shades of Grey Greedy Girl G-Spot Vibrator"
• Best Clitoral Suction Vibrator – "Lovehoney Rose Clitoral Suction Stimulator"
• Best Bullet Vibrator – "Lovehoney Magic Bullet"
• Best Wand Vibrator – "Magic Wand Rechargeable"
• Best Butt Plug – "Lovehoney Butt Tingler"
• Best Egg Vibrator – "Lovense Lush 3"
---
Best Dildo – "Vixen Mustang"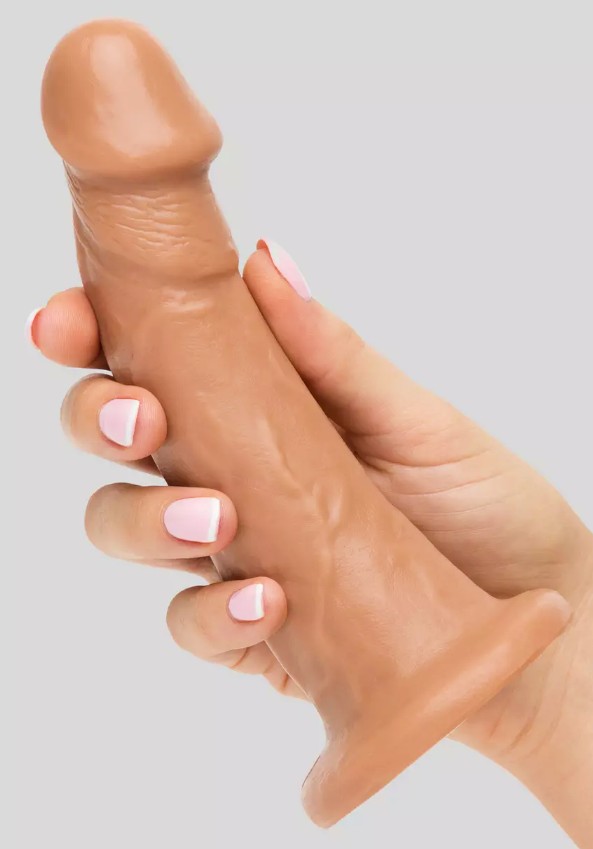 Check best price at Lovehoney
"A hyper-realistic dildo that offers amazing quality. One of the most popular toys among dildo enthusiasts."
We start things off with Vixen Mustang, the best mid-sized dildo available on Lovehoney.
The main reason for this dildo being such a hit on Lovehoney (it is out of stock often) is the amazing realism it offers. Yes, it is not quite as realistic as something from RealCock, but for the price this stuff is pretty god-damn amazing.
Some dildos are sturdy as a rock, some are too soft and bendy. This one sits right in the intersection of these features. It is bendy enough for using in various positions yet it never feels unrealistic. Basically, think of a real penis with the added advantage of never being limp or not in the mood and you get what the Vixen Mustang is all about.
The only thing holding this dildo back from achieving full realism is the lack of balls. For me, this is not a dealbreaker, but I know that some vagina-owners like to play with the balls while having their fun with a dildo.
Also, keep in mind that the dildo has a splendid curve going on for it that makes it even more beautiful. This makes it an ideal choice for targeting the G-spot and perhaps even using it as a squirting sex toy.
I could keep going on and on with writing about this bad boy, but I will stop here. Basically, if you want a supremely lifelike dildo at a reasonable price, you can't do any better. This is pretty much a sure bet as far as dildos go.
Best Rabbit Vibrator – "Fifty Shades of Grey Greedy Girl G-Spot Vibrator"
Check best price at Lovehoney
"A rabbit vibrator that treats you to awesome dual stimulation. Also, looks more stylish than any other rabbit currently available."
A list of the best Lovehoney sex toys for women would not be complete without a good rabbit vibrator. And, this "Fifty Shades of Grey" inspired rabbit vibe just happens to be the best option from this product category.
First things first – this thing can fit your body regardless of whether you prefer super intense stimulation or something more down-to-earth. There are 3 different speeds available along with 9 different patterns of vibration.
Second, this toy is completely submersible. And, I for one, am a big fan of enjoying my sex toys at a bath with a good bottle of vino and some awesome fantasy of mine. Well, the Greedy Girl fits the bill – this thing is fully submersible and will work its magic underwater if you want it to.
How does it work its magic though? Simple. The one curved end sits inside you and works on the G-spot while the "rabbit ears" tickle your clit. A truly divine feeling if you are in the mood for this sort of blended stimulation.
It must be said though that Greedy Girl is not a type of sex toy that can get me in the mood by itself. Dual stimulation is not for the faint of heart so it can be a bit too much when I go in cold. That said, all vagina owners are different and for many women, this toy is the complete winner regardless of how or when they use it.
Best Clitoral Suction Vibrator – "Lovehoney Rose Clitoral Suction Stimulator"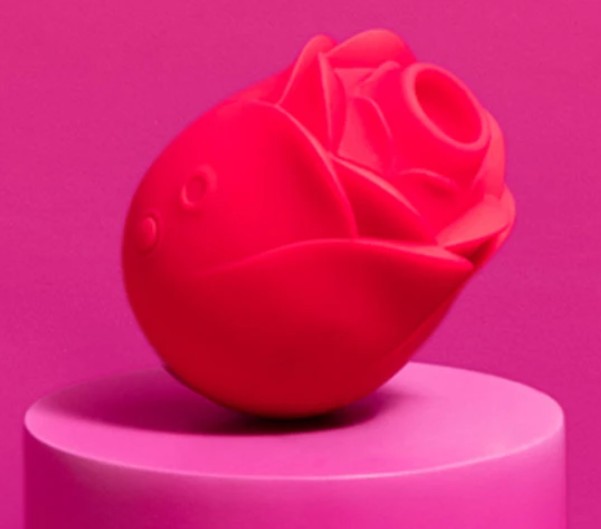 Check best price at Lovehoney
Read our full review of the Rose toy
"A toy that got popular by going viral on TikTok. Still going strong and for very good reason – affordability, pleasure looks. It just works."
Ah yes, the ever-famous rose toy. A sex toy that went viral on TikTok a while ago and still seems to be as popular as ever.
Things that are "viral" are often overhyped, but this little rose is a complete exception. Here, the goods are just as awesome as the hype suggests.
Let's take a closer look.
Now, it is marketed as a suction toy, but this is not quite true. For better or worse, I am yet to try a sex toy that feels exactly like the human tongue.
So, how does this one feel? Well, like a clitoral stimulator. The feeling feels more like a pulsation than a suck if you catch my drift. Just get this thing close to your clit and you will immediately understand what I am talking about. There are loads of reports online about how this toy made women come in under a few minutes. Not sure whether these reports are fake or not, but I do know that this toy is INTENSE.
Even on the lower settings, it is a type of stimulation that somehow hits your entire body with a warm,tickle-like feeling that feels so pleasurable. For me, the first "hit" usually fades fast though – the first few seconds are like an orgasm in itself, and from there it is just a pleasurable feeling that you can build upon.
Now, in addition to just feeling plain awesome, this is also a winner in usability. It is light and small and the buttons for the settings are comfortably placed on the sides of the toy. This means that you can easily change the settings according to your taste in the middle of an intense masturbation session. All without losing contact with the key area on your body.
Lastly, this thing is waterproof too. Remember that story about bottles of wine, a bath, and a fantasy? Yeah, The Rose can work in that scenario as well.
Best Bullet Vibrator – "Lovehoney Magic Bullet"
Check best price at Lovehoney
"A budget-friendly bullet vibe that is suited for pinpoint stimulation for your favorite spots."
Is it possible to find a legitimately good sex toy for under $20? Well, this little bullet vibrator shows that this is indeed possible.
The Lovehoney Magic Bullet is built for pinpoint stimulation – kind of similar to the LELO Dot, but at a fraction of the price. The pointy end of this toy is meant for targeting super precise spots on your body. Let's say that you love to have the upper area of the clit stimulated instead of the entire area…then, well, this bullet is your savior.
Is it a perfect toy though? Nope. The key issue worth mentioning is that the material is hard plastic. Personally, I have used plastic toys for years without any issues, but I do know that there are people out there who do suffer from allergies to plastic. Thus, if you are allergic to plastic, better steer clear completely.
Second, it uses AAA batteries. Not a big deal, but I have always been a charger kind of a girl myself. Super annoying when the battery dies out and you have no spare batteries lying around. By the time you get home from the store, your mood is all but dead.
With all of that said you must keep in mind that we are talking about a toy that costs less than $20 or even $10 when you manage to find a deal. It is pretty obvious that there are bound to be some issues when the toy is pretty much literally first cheap.
For a first vibrator though? Why not? You have got nothing to lose when you pretty much spend nothing. And, as far as the feeling itself goes, nothing to complain about.
Best Wand Vibrator – "Magic Wand Rechargeable"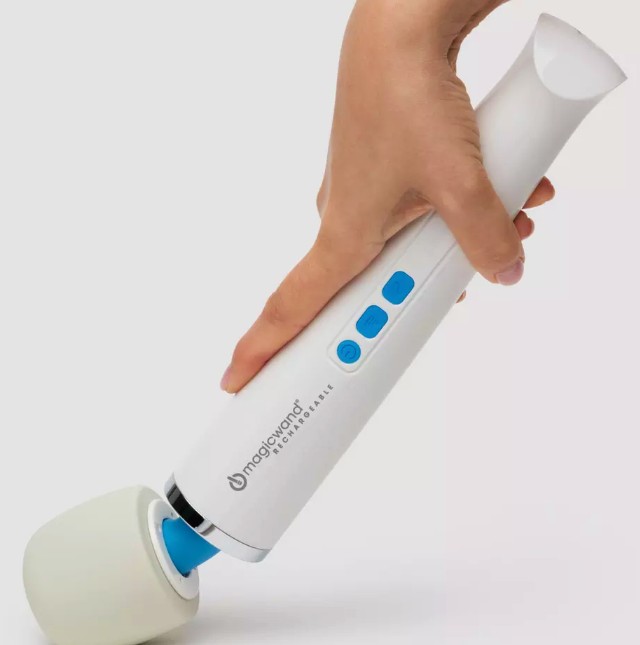 Check best price at Lovehoney
"A legendary wand known for its sheer power and intensity."
It is rare for me to say that a sex toy is TOO powerful, but this wand vibrator is a very rare exception. Everything about it screams power – from the bulky size all the way to how intensely it rotates.
It is one of those toys that you put on your pleasure areas and immediately feel a "shock". Some absolutely adore this type of intense sensation and can come in minutes from something like this. Some others find this type of sensation just too much. I am one of them.
That said, I still think it is one of the top sellers on Lovehoney for good reason. It has worked wonders for countless women out there and is considered an essential orgasm tool for many.
Where I do have an issue is how it looks. It sits very well in the hand so everything is fine in that department, but other than that – it is not a beautiful toy. It just isn't. It looks more like a power tool than a sex toy. At least in my book.
Well, at least it fits the look – after all, it is one of the most powerful sex toys out there for vagina owners.
Best Butt Plug – "Lovehoney Butt Tingler"
Check best price at Lovehoney
"An affordable, well-designed toy that works well as an entry-point to anal play."
With the Butt Tingler, we have yet another sex toy on Lovehoney that offers unbeatable value for money. This one is a butt plug, but a very, very well-done butt plug that is also one of the best anal toys for complete beginners of the anal world.
Why? Well, first, there is the material – the silicone feels super smooth which makes it non-intimidating. An aspect that is VERY important when it comes to anal toys for newbies. And, of course, the material is completely body-safe too.
Second, there is the fit – the shape of the Butt Tingler just feels RIGHT inside you if you are open to anal play.
Third, it offers variety – there are 10 different vibration patterns and speeds in this toy. As always, get it in as a completely non-vibrating toy and then explore from there. Slow at first, and if you love it – well, then feel free to ramp up the sensations.
Any downsides at this price? The runtime could be better and it is a battery-powered toy which is always a minus. But at this price though? Still, a bargain. And finding a better all-around anal toy for beginners is next to impossible.
Best Egg Vibrator – "Lovense Lush 3"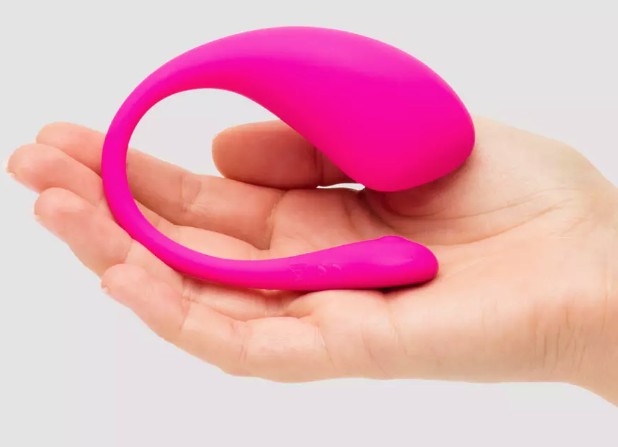 Check best price at Lovehoney
"An iconic sex toy that is the firm favorite of cam girls."
Ah yes, the legendary Lush 3 – probably the most popular sex toy among cam girls right now.
In simple terms, the Lush is a wearable G-spot vibe that sits inside you and targets this ever-so-pleasurable spot with various vibration intensities until you reach that heavenly orgasm that you deserve.
Now, things are not that simple though – after all, this is Lovense we are talking about here. One of the most revolutionary sex tech companies currently operating.
The Lush 3 is their flagship product when it comes to interactivity. The long-distance capabilities of it are impossible to beat. Your partner (or a random stranger if this is what you are into) can operate it from thousands of miles apart without any hiccups.
In addition, there are other awesome perks such as syncing the vibrations to music or any sound. Just think of all the sexy games you can play with it. Oh, and while we are on the subject of noise – the toy itself is very discreet and quiet so if you are someone who wants to handle their business in silence…then, well, look no further.
I will finish talking about the Lush 3 with the most important part of every sex toy – it just feels damn good. Something about this design just works with the female body and if you are into G-spot stimulation then this is pretty much a sure bet. Just like the Greedy Girl rabbit vibe, one of the previous toys featured on our list of best Lovehoney toys.
---
Lovehoney is a good one when it comes to sex toys. This is just a simple fact. Yes, they do not have some super niche stuff, but this is also not what 99% of sex toy buyers are looking for. As such, Lovehoney is pretty much the perfect place for ordering your toys.
And even in the niche aspect – when putting together this list and going through the best-sellers, I was actually pretty impressed by how strange (in a good way) some stuff in their selection is. So, yeah, I might have been wrong in the niche aspect too.
Whatever the case, I sincerely hope you had fun reading this Lovehoney best-of and that you found a treat or two in this list.
Goodbye for now, have fun!