The following article contains affiliate links, which means Sex Toy Magazine earns commission from products purchased through links in this post. If you love our work, please consider supporting us by ordering the products of your choice using the links placed in the article.
Look, when it comes to penises, dildos, and vibrators, I am not a size queen. For me, there is no correlation between how a toy works and how big it is.
Still, sometimes I get in the mood for taking in something truly big and intense. There is just something special about fitting in a big one and then having fun with it.
For today, I decided to take a quick look at my dildo collection and review my personal big favorites. The biggest and meanest in my collection that are still high-quality and suitable for beginners and advanced toy enthusiasts alike.
Beginners? Really? Can someone completely new to sex toys really take in a mammoth dildo? Yes they can. If taking a big dildo excites you and you choose correctly then you will most likely love it. Even without previous experience. Still, if you are hesitant about getting something big and bulky then feel free to head over to our list of best dildos for virgins. That list features some smaller, realistic, and very beginner-friendly specimens.
With that said, I think we are due for a start. Here are the two main features we considered when choosing the best large dildos:
Body-safety – PVC is known to cause allergies in some people. As such, I avoided PVC dildos in my list. Even though PVC stuff is generally cheaper, it is not worth the risk.
Value-for-money – This cheap is not based solely on cheap toys. That said, I paid attention to only including large dildos where you truly do get what you pay for. There are a lot of overpriced toys out there that are not nearly as good as the price suggests. I avoided these.
---
So, how about we get down to business and start with the list. Here are the best large dildos currently available as chosen by Sex Toy Magazine:
• A Large, Tanned Dildo – "The Boomer Banks Dildo"
• Best Pornstar Dildo – "Johnny Sins Dildo"
• An Affordable Squirting Dildo – "Fun Factory The Boss Stud"
• Most Realistic Large Dildo – "RealCock 2 – Bruce"
• A Cheaper RealCock Large Dildo – "RealCock 2 – Max" 
• Best Large Fantasy Dildos – "Mr. Hankey's Fantasy Dildos"
• An Affordable, Realistic Large Dildo – "Vixen Johnny"
A Large, Tanned Dildo – "The Boomer Banks Dildo"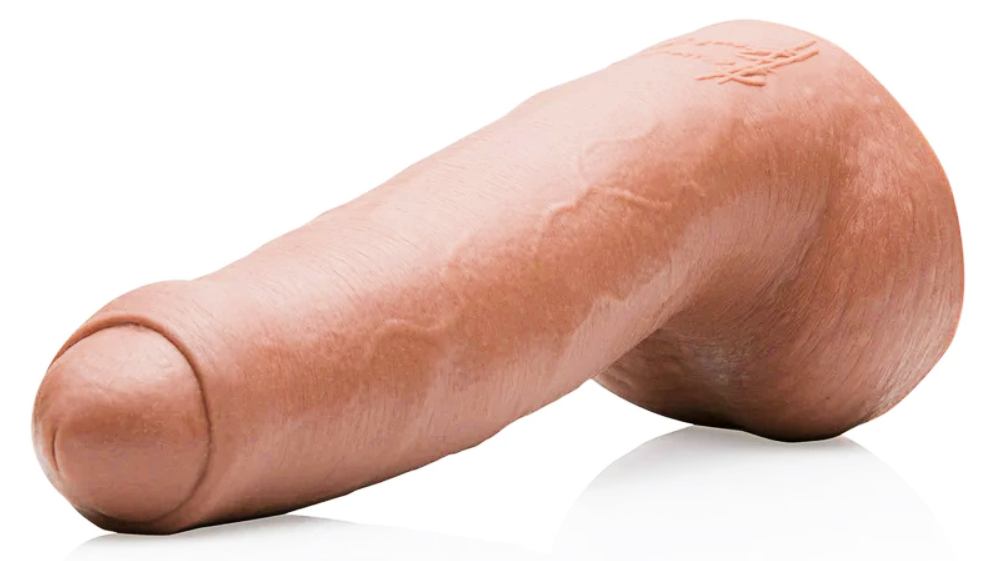 Get this if: you want a humongous, lifelike dildo in beautiful tan color
Measurements: 7.25 inches of insertable length, circumference of 6.5 inches
Boomer Banks is one of my favorite male pornstars of all time. This dude is like a one-man army. He is a designer, an activist for various social causes, a club personality, and of course, an adult performer. And yes, the man also packs strikingly good looks and a gorgeous body.
The Boomer Banks dildo is…you guessed it, a dildo designed as an exact replica of what Boomer Banks is packing.
It is made of platinum-cured silicone and comes in a beautiful dark Latin color. This is one of those toys that you want to use immediately after getting it out of the box. It just looks so damn inviting.
At a circumference of 6.5 inches, the emphasis in the Boomer Banks dildo is on the thickness. Simply put, this one fills you up. With mega-thick dildos, I usually just like to take them in and stay put. Just enjoying the thickness.
That said, the Boomer Banks is thick, but it is not hopelessly thick. This one could easily be used for regular penetration purposes as well.
Watch out though – something realistic and big may just turn you into a size queen.
Best Pornstar Dildo – "Johnny Sins Dildo"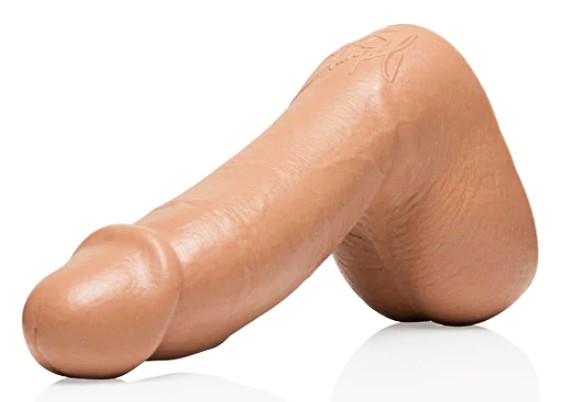 Get this if: you want to experience a large dildo molded to be a replica of the most famous male pornstar on the planet
Measurements: 8.5 inches insertable length, 5.5 inches of girth
For anyone who has even a bit of experience with watching porn, the name Johnny Sins does probably not need an introduction. I mean, we are arguably talking about one of the most famous male pornstars on the planet.
So, how does a dildo inspired by his penis live up to his name? Exceptionally well! If you have seen the work of Sins then you know exactly what to expect. Here, we are dealing with an exact lifelike replica.
What I love about this dildo is the shape of the head. The roundness and the curves of it make it amazing for sliding on my clit area. And, as a big lover of clit toys, something like this is a true treat for me. There are a lot of times when I simply do not enter the toy and go all the way with a "rubdown."
Of course, most readers looking for the best large dildos will be more interested in penetration. And, it works well in that department as well. It wouldn't be on our list if it didn't.
And it is a big one too at an insertable length of 8 inches and a circumference of 5.5 inches.
Overall -if you have ever wondered what it is like to have sex with one of the top adult performers on the planet then here is your chance!
An Affordable Squirting Dildo – "Fun Factory The Boss Stud"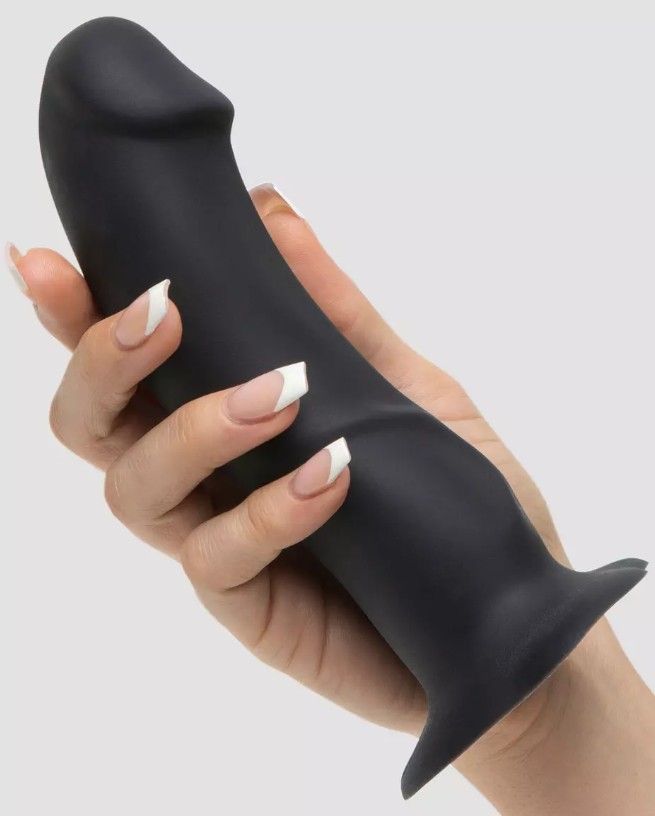 Get this if: you want a dildo to explore G-spot stimulation
Measurements: 7.5 inches of insertable length, 5.5 of circumference
Next up, we are looking at the Boss Stud from Fun Factory. Yes, I know – this name does not sound very appealing, but it is the sensation that we are more interested in so…who cares about the name.
The Boss Stud comes in striking black color and features a pretty unique build. With this dildo, the head and shaft smoothly transition into each other. This is the aspect I love most about this dildo – the head does feel slightly different when it is inside you, but only just.
You see, the head of this one is pretty much as thick as the shaft. A build rarely seen outside of fantasy dildos. And, what can I say, it just works. There is a miniature curve on the head of this dildo which puts pressure on the G-spot. And, G-spot stimulation combined with the filled-up feeling can lead to some pretty amazing experiences. Oh, by the way, this kind of stimulation is also known to make many vagina owners squirt – as such, the Boss Stud could be worth a try if you are looking to "unlock those waters."
Most Realistic Large Dildo – "RealCock 2 – Bruce"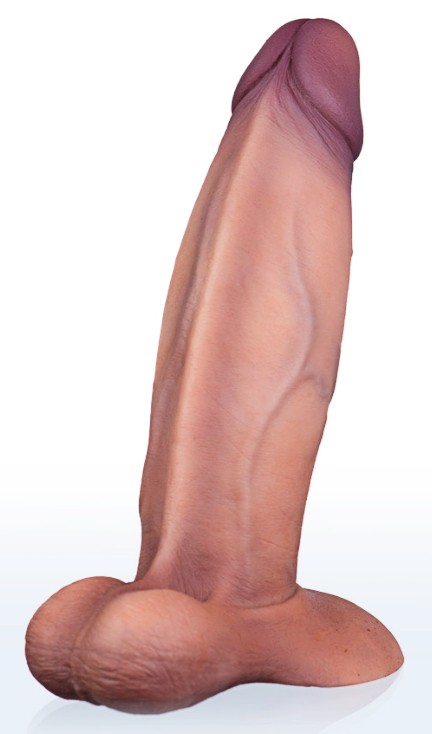 Get this if: you want to experience the most lifelike dildo money can buy
Measurements: length of 10 inches, circumference of 9.5 inches
For someone who is constantly yapping about value for money, it may seem a bit ridiculous of me to include an $800 dildo on this list.
But look, if you do have the cash, then the RealCock 2 is as good as it gets when it comes to large dildos.
I am a big fan of realistic dildos and Bruce is a stunner when it comes to the level of realistic details. Upon the first touch, a big, beaming smile showed up on my face – the skin feels amazing. They use platinum-cured silicone, which is nothing new and is used in cheaper dildos as well, but it is HOW they have used it that makes all the difference. They have somehow managed to layer this material so that every movement that the dildo makes is a carbon copy of the real thing.
Some examples? The shaft and the head of the toy move exactly like the real thing. Close your eyes and jerk this thing and I bet you would not be able to tell that you are stroking a dildo.
The balls are a marvel too – they "float" inside the dildo and you can play with them in a way offered by nothing else on the market. Just watch some of the promotional videos on the official page of RealCock to understand what I am talking about.
Keep in mind that this is no ordinary large dildo. I mean, how could it be at this price tag?! Every model is handmade – thus, each model will also look ever-so-slightly different. If you get this, you will have a true, one-of-a-kind dildo in your lineup.
A Cheaper RealCock Large Dildo – "RealCock 2 – Max"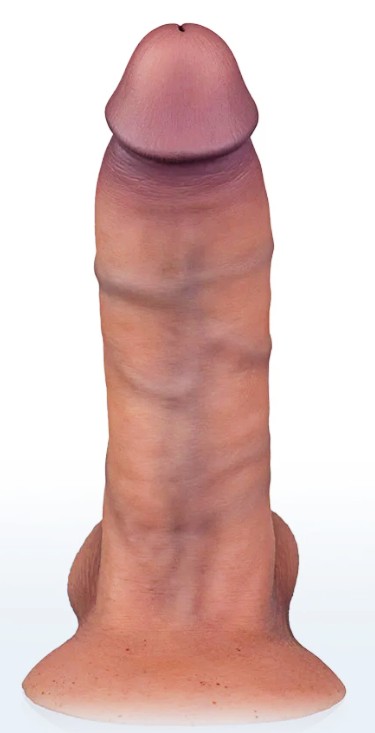 Get this if: you want to explore the most lifelike dildo series in the world in a slightly more affordable way
Measurements: length of 7 inches, circumference of 6.5 inches
At $500, Max is a bit more affordable than Bruce. That said, it still comes with the perks associated with all the RealCock models. Namely the supreme realism, handmade products, and individual customer service.
I will also have to say that I personally prefer it to Bruce. The Max is just a tad bit more down to earth and smaller than Bruce.
Mind you, it is still a humongous dildo, but it is one I can actually take in and use for penetration.
Bruce is more of a novelty dildo that I take in super slowly and just let it sit inside me. Feels good, orgasmic even. But nothing I could see using every day. I appreciate it more as a collector.
The Max though – a very solid pick for everyday use. Works for clit stimulation, and G-spot stimulation, and I know that it is also a firm favorite for enthusiasts of prostate toys.
There is also one very specific detail that I love about Max – the shape of the head of this toy. Reminds me of the bulb of my first boyfriend. In all honesty, his size was nothing compared to that of the Max, but I loved that c*ck anyway. As such, I will always associate the Max dildo with the sweet times of my youth.
Best Large Fantasy Dildos – "Mr. Hankey's Fantasy Dildos"
Get this if: you are a dildo collector or just want to explore a popular series of some very unique fantasy dildos
Measurements: Varied
Look, I am not even going to try to make it sound like I have tried each and every toy in Mr. Hankey's lineup. If I was to order and review everything they have, I would go broke fast. Plus, I would probably not find the time to do anything besides enjoying those dildos.
That said, I have a pretty good collection of Hankey's toys and I love all of them. Everything from this company is unique, weird, and yes…large.
Titles like "The Taintacle", "The Gut Puncher", and "Minotaur" should give you an idea of what sort of products you can expect from this company.
Yes, they do have "regular" large dildos as well, but fantasy stuff is the bread and butter of Hankey's – in fact, it is the prime competitor of the more well-known (and more expensive) Bad Dragon. For more realistic stuff, there are other great alternatives on this very list you are reading.
Keep in mind that large fantasy dildos are not only for BDSM enthusiasts, cybergoths, and other fans of alternative subcultures. The weird curves, the intense sizing, and the fantasy vibe can be a very good fit for anyone who wants to add a little spritz to their dildo game.
All in all – I never recommend entire sex toy companies in lists like these, but I made an exception here. Just goes to show how much I appreciate this brand.
An Affordable, Realistic Large Dildo – "Vixen Johnny"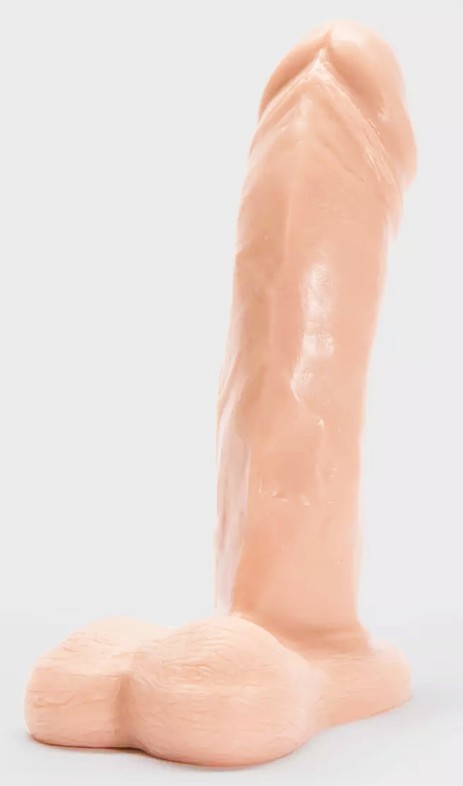 Get this if: you want to explore a hyper-realistic dildo that is way more affordable than RealCock
Measurements: 8 inches of length, 5.75 inches of circumference
Ah yes, Vixen – the best RealCock alternative currently out there. If you are looking for something hyper-realistic that won't break the bank quite like RealCock then Vixen is by far the best option out there.
Johnny is the largest dildo in their lineup and comes with a whopping 8 inches in length. It is a dual-density dildo, meaning that it is very soft on the inside and rigid on the inside. It is also bendy enough to enjoy it in various positions and angles. Whatever suits your fancy, best believe that Johnny can handle it.
So, where is the catch? The looks are almost as good as those of RealCock, but the price difference is humongous. Well, it is not quite as detailed – for example, the Johnny does feature balls, but they are not as floaty and realistic as those of the RealCock. The same goes for the veins, shaft, and the head. Beautiful, realistic, and cool, but not a 100% replica of the real thing like the RealCock is.
That said, feeling-wise, this thing is still a rockstar though. If you want something highly detailed and realistic, yet somewhat affordable, then start with the Vixen Johnny.
---
To be honest, I had loads of fun putting this list together. Sure, large dildos are an acquired taste and I would never imagine reaching for them everytime I masturbate, but they are still a staple in my collection. And, when I use them, I really, really love everything on this list. It just feels a little different to take in something humongous if you are used to more vanilla stuff like average dildos, clit stimulation, and regular sex.
So, whether you have ever taken anything this big before or not, I sincerely suggest you give large dildos a try at least once in your life. It may just prove to be an unforgettable experience.
With that, I will leave you dear vagina-owners for now. Have fun!