The following article contains affiliate links, which means Sex Toy Magazine earns commission from products purchased through links in this post. If you love our work, please consider supporting us by ordering the products of your choice using the links placed in the article.
Dear vagina-owners, today we are talking about squirting. Yes, squirting. It is an often misunderstood, almost mysterious topic that still captivates many men and women around the world.
Does it feel good? What fluid does squirting produce? How to masturbate for squirting? How to make my wife squirt? Is it even real? You would not believe how many comments and messages we get with questions such as these.
Look, I am not a scientist and I do not have scientific answers to these questions. I would be glad to write about my personal experiences though.
What I do know is this – I had never squirted for most of my life and frankly, I also did not care about it. Until, lo and behold…I had intercourse with my husband in a plain old missionary position and it happened. Seemingly out of nowhere. My first load was pretty big too so you could imagine the surprise.
It did feel good. Somehow empowering even. My husband loved it too as he found the experience very stimulating. Stimulating enough to automatically orgasm at the time of my squirting.
Due to my positive experience with squirting, I started to research the subject a bit more. Specifically, I tried to give myself squirting orgasms with sex toys.
This is a bit of a difficult subject as all vaginas are quite different and science proves this too. What works for one woman may not work for the next one.
That said, some sex toys do have a pretty reliable track record when it comes to making those sheets messy. And, these are precisely the toys we will explore today. Before we tackle some commonly asked questions and concrete sex toys, know this – it is completely normal if you do not squirt. Also, just because you do not squirt now does not mean that this will never happen. After all, it came literally "out of nowhere" for me.
Hopefully, you now have a positive, no-pressure mindset about squirting and we can move on with some of the most commonly asked questions related to squirting:
---
How do pornstars squirt on command?
Sorry to burst the bubble, but they do not. Not all squirting scenes are necessarily fake, but considering how fetishized squirting has become, I would suspect that about 70-80% of squirting scenes you see on camera are fake. Fake squirting can look impressive and it is not necessarily bad per se, but it does set some unrealistic expectations for people. Especially for male partners that are looking to get their wives to squirt on command.
What kind of liquid is the squirt?
It is either urine or a liquid substance from the Skene's glands. It can even be a combination of both. Now, I already hear you asking "Will it smell and stain the bed sheets?"…after all, urine is involved.
Strangely enough, in my own experience, the stuff never stains or smells. This only goes to show how mysterious this female bodily response is. The short, scientific answer is this – it is most likely urine, some other female bodily fluids, or a mixed bag type of a thing.
Can squirting be trained?
I would say that squirting is more about exploration than training. For me, it was as if something new was unlocked in me. After I squirted for the first time, it started to happen more often. Not every time I had intercourse or used sex toys for squirting, but it did not take years for it to happen again. These days, I can bring on the squirt relatively often when I am in the right mood and approach the right angles. It does not always happen, but I know which buttons to push to maximize the likelihood of it happening.
Does squirting only happen during orgasm?
No. Science clearly says that squirting can also occur after or before an orgasm. Or even without a "traditional" orgasm. That said, there is a clear correlation between squirting and extreme pleasure. At least in my case. Every time I squirt, I am also enjoying the act of sex or masturbation…A LOT. And more often than not, the squirting is indeed happening during the time of orgasm or at least very close to the orgasm. I could not imagine squirting if I was not in the mood for sex or not enjoying myself.
---
As you see, there is still a lot of gray area when it comes to squirting. Even science does not have all the answers yet. The mystery is probably partly what makes squirting so interesting and alluring for many people.
Hopefully, this introduction helped you understand squirting a bit more. Now, let's get a bit more concrete and look at the best sex toys for squirting. While none of them is a guarantee that you will gush, they are the ones that have worked for me and countless others. Also, if you do not squirt using these toys, don't worry. This does not mean that it will never happen.
Oh, and each of these toys is great anyway so you will have a good time regardless. Even if you do not make them waterfalls flow right away.
Here are the 8 best sex toys for squirting:
• A Versatile Wand Toy – "Njoy Pure Wand"
• Most Powerful Wand Vibrator – "The Cordless Hitachi Magic Wand"
• Best Rabbit Vibrator – "Fifty Shades of Grey Greedy Girl Rabbit Vibrator"
• A Pinpoint Clit Stimulator – "LELO Dot Cruise"
• Best Butt Plug – "Lovense Hush 2"
• A Viral Air-Suction Toy – "The Lovehoney Rose Toy"
• Best Thrusting Dildo – "The Velvet Thruster Prime"
• Best-in-class Realistic Dildo – "The Vixen Mustang"
A Versatile Wand Toy – "Njoy Pure Wand"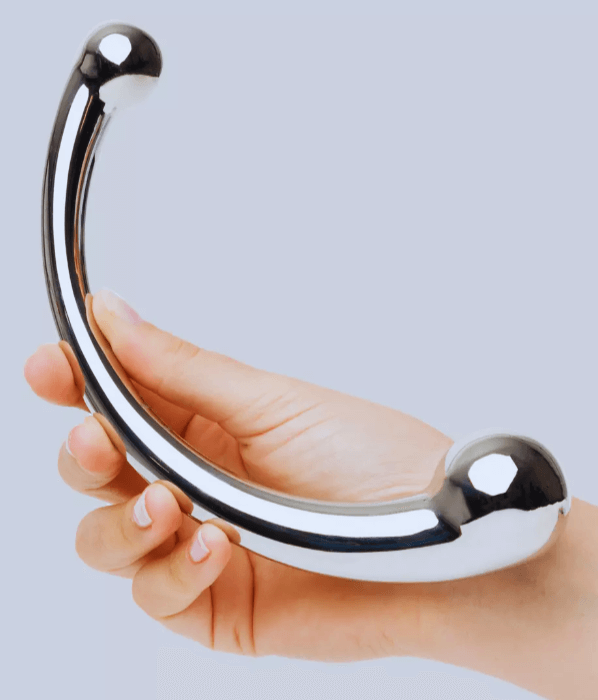 It is not often that you see a sex toy rated five-star worthy by the Lovehoney customers, but lo and behold – this seemingly simple wand can boast this perfect rating.
The simplicity is precisely one of the reasons I love this toy. It is a sleek, stainless steel dildo that is also double-ended. Both ends feature bulbs with one of them being slightly larger than the other. You can experiment with both to see which bulb tickles your fancy the most. I prefer the big one, but the smaller end may seem a little more inviting to a complete beginner.
What truly makes this dildo special is that curve. It has an intense, almost C-shaped curve that fits oh-so-well for targeting the G-spot, an area commonly associated with squirting.
Just let the toy slowly enter you and you will understand the hype immediately. The G-spot is a bit of a mysterious area even for women themselves, but the njoy wand will make you go "yup, there you are" pretty much immediately. The design is just that good.
It is also a considerably weighty toy so keep this in mind when you are going for long sessions. Your hands may get tired if you do not have someone to use this on you. That said, the weight is one of the things that makes it one of the best sex toys for squirting. You see, the weight adds pressure to the key spots. The type of pressure that can bring out those waterfalls that we are after!
Most Powerful Wand Vibrator – "The Cordless Hitachi Magic Wand"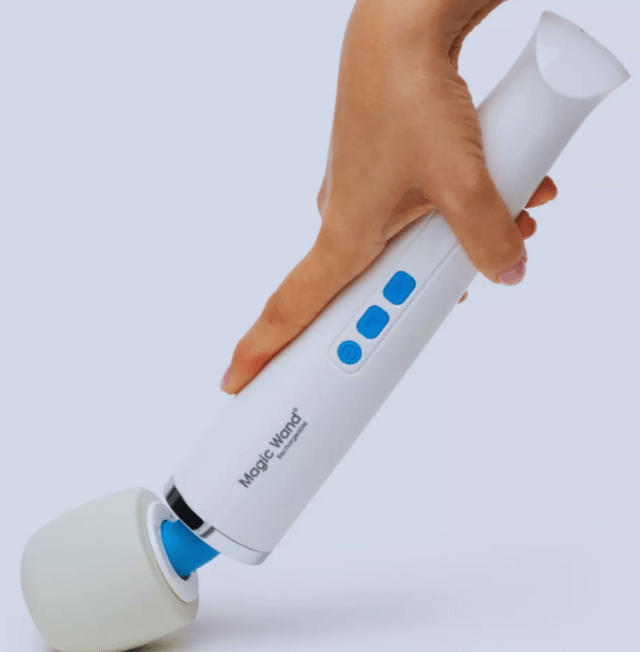 I am always a bit hesitant about recommending this one, but what can I do – an article about the best sex toys for squirting would be incomplete without the Hitachi Magic Wand.
So, what makes it such a controversial choice? Well, for many women, this wand is simply too powerful. The plug-in version of this toy is by far the most powerful wand I have ever tried. And I have tried many. In this article, I decided to include the cordless version simply because it is more convenient to use.
Now, does it desensitize your lovely bits as some say? I wouldn't say so. Of course, all women are different, but I genuinely could not see how the Hitachi wand could do any legitimate harm unless you use it for hours on end.
The power aspect is precisely what makes it such a good fit for the squirt-seekers. This is not the type of toy that I would use to slowly build up the orgasm. Instead, I use other toys like the Domi 2 wand vibrator (my favorite wand of all time) to bring me to the brink and then use the Hitachi. If you do not have a lot of toys, the penis, a tongue, or a set of hands can work just well for the build-up.
The immediate rush from the more intense settings of the toy can be enough to "shock" one into squirting. Especially when you have intercourse during use. This is where you have to listen to your body and get the timing right.
As far as the practical side of things is concerned – it has a broad, round, and flexible head that can effectively stimulate non-erogenous areas too. If it turns out to be too intense for the "good parts", then don't let the wand go to waste and try using it as a muscle massager. Works just as well.
Best Rabbit Vibrator – "Fifty Shades of Grey Greedy Girl Rabbit Vibrator"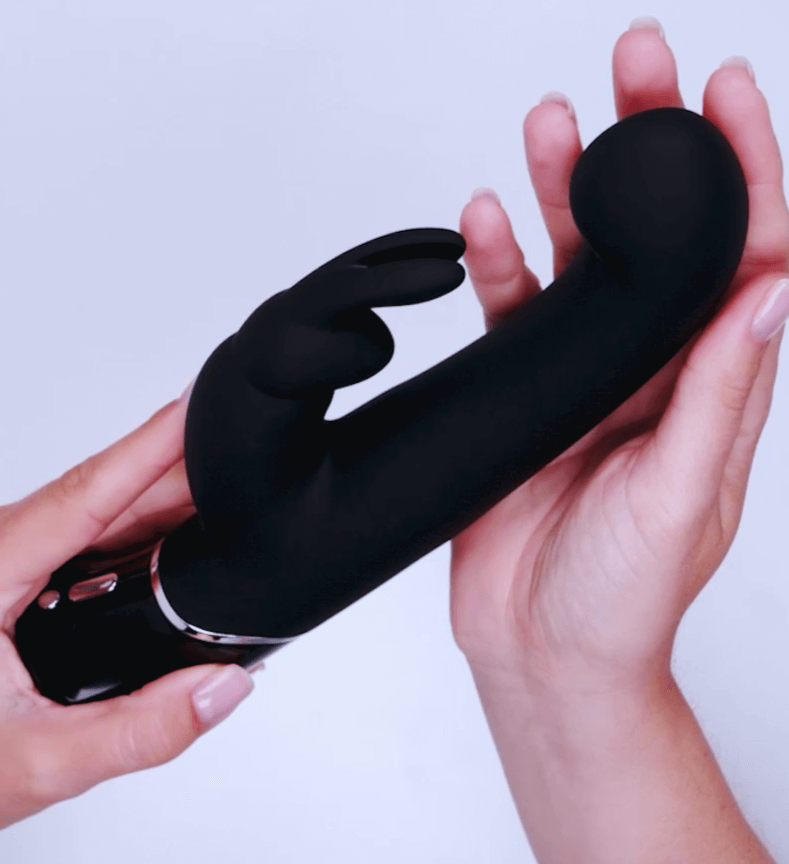 Ah yes, the Greedy Girl. A toy featured in our post on the best rabbit vibrators has stealthily also made its way to our squirt-friendly list.
Now, rabbit vibrators in general are considered one of the best toy categories for squirting so I will also take a minute to do a quick introduction on what exactly IS a rabbit vibrator.
Rabbit vibrators are designed to stimulate the G-spot and the clit at the same time. One (usually bulkier) end sits inside you and stimulates the G-spot while the other end features a set of "rabbit ears" that work on the clit. When done right, this sort of combination can be enough to bring on that gush.
So, what made me pick this model in particular? Simply put, it is the best value-for-money rabbit vibe out there.
There are a total of 36 possible vibration/speed combinations which pretty much ensures that everyone will find a stimulation suitable for their bodies and experience levels. In addition to the versatility, I also love the ergonomic shape of the toy. Feels very, very comfortable to hold. Even in the most intensely erotic moments.
The Greedy Girl is also completely waterproof so feel free to take it to a bathtub or enjoy it discreetly under a shower.
Lastly, there is the aesthetic experience – everything here feels luxurious. Especially considering the price. Everything from the sleek, matte-black color to the included satin storage bag screams premium. And, as seasoned pleasure seekers know, the sex toy experience starts with the unboxing of the toy.
Any flaws here? Honestly, not really. It has been a Lovehoney top-seller for years now and it is very easy to see why.
A Pinpoint Clit Stimulator – "LELO Dot Cruise"

LELO released the LELO DOT a while back and I loved it. For those interested, feel free to read my full review of the LELO Dot.
As I said, I liked the toy but it was not something I would have recommended for squirting purposes. The new Dot Cruise, however, can be a solid choice. Before we get into the differences between the two toys, allow me to explain how the Dot works.
The LELO Dot is a pinpoint clit stimulator. It works as a regular vibrator with the key difference being that the Dot has a very small tip. It is meant to target a very specific spot on the female body. We are all so different, yet most vagina-owners have their own, hyper-specific spots that respond to the stimulation the best.
This pointy, hyper-flexible end allows the user to target these spots. In addition, the Dot offers a sensual, elliptical movement that is unlike anything else out there. It is hard to describe this sensation, but "gentle yet intense at the same time" comes pretty close.
Now, what makes this new version of the Dot different? Well – press the end of the toy against your pleasure spot and more power is immediately released. Without stopping the stimulation. This is something completely new in the world of sex toys and it works ever so well.
Using the Dot Cruise Control feels, for a lack of better word, intuitive. It feels as if your body gets exactly what it wants in exactly the right moments. Press the toy against your favorite area at the right time and…squirts ahoy!
And, as with all LELO toys, the Dot Cruise looks simply breathtaking.
Sure, it is not the cheapest toy out there, but this is just how it is with LELO. This is a company that is all about innovation and luxury. And, whether we love it or not, features such as this do come with a price tag.
Best Butt Plug – "Lovense Hush 2"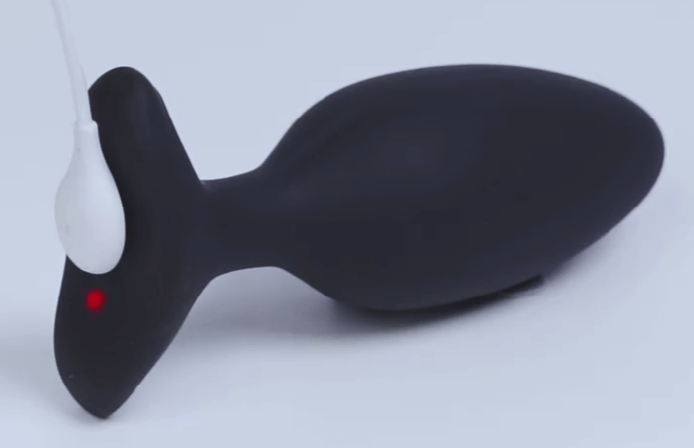 I already know that including this one will be a bit controversial. You see, butt plugs are generally not considered the go-to sex toys when it comes to squirting. But hear me out – in the right scenario, a good butt plug can help you squirt.
For me, the standard missionary position while wearing a vibrating plug has done wonders. There is just something about having that extra pressure and feeling those buzzy vibrations that enhances the PIV. Enough to give me an occasional gush. The thing that readers of this article are chasing.
Why the Hush 2 though? Well, simply because it is the best butt plug out there in my opinion. It has a sleek, ergonomic design and a safe base that ensures your hole will not suck it in and leave you with an unwanted and embarrassing ER visit.
It is also the only butt plug I can wear for extended periods of time – I think 5 hours was my personal record.
Now, as with all Lovense toys, it also has supreme long-distance capabilities. It can easily be operated via the app from thousands of miles away.
In a nutshell – a bit of a left-field pick here, but I suggest giving it a go. You may be surprised just by how effective combining anal/vagina stimulation can be for squirting.
A Viral Air-Suction Toy – "The Lovehoney Rose Toy"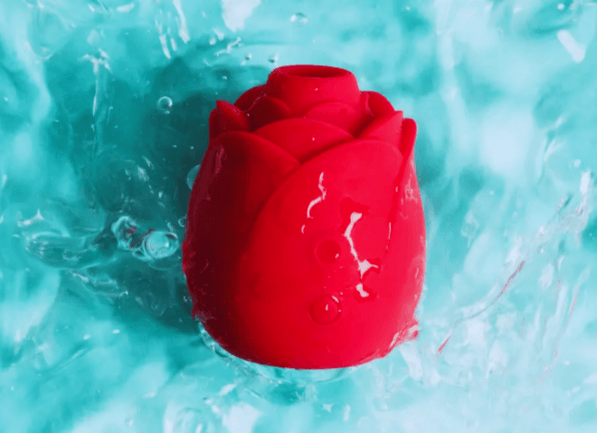 Read the full review of Rose Toy
The rose toy is one of the most talked-about sex toys of recent years. And, as much as I wanted to turn up my nose at a "TikTok viral" sex toy…I just can't. It is good, it is really, really good. Especially considering the price.
At a glance, it is a regular air-suction toy. These types of toys have been around for a while and they are also generally well-loved. Technically, the rose toy does not do anything particularly new…but it is the details that count.
For one, you have a very solid number of vibration patterns and modes. Whether you are a beginner or a seasoned sex toy user, you will find a mode fitting to your tastes.
Secondly, it is just so damn comfortable. I just love how it sits in my hand. This is also why it has become one of my squirt-friendly toys. I can smoothly direct it to an area of my vagina that I want it to stimulate. Again, I get the best results from the rose if I use it while having intercourse. This is a pattern here – for me, one of the best ways to squirt is by using a toy while enjoying "traditional" penetration.
No partner? Well, a good dildo or some other type of insertable toy will do just as well. The logistics may be a slight issue though as both of your hands will be busy which may take you out of the moment a bit.
Back to the rose toy though – yes, it is the cheapest toy on this list, but it can easily compete with the more high-end stuff. Highly suggest you try this one out.
Best Thrusting Dildo – "The Velvet Thruster Prime"
For those of you folk yet to try a thrusting dildo – you are missing out! These are not the types of toys that I reach for on a regular basis, but when I get in the mood for some automated action…intense orgasms often follow.
The Velvet Thruster Prime is the best-in-class choice for squirting for one key reason – it is a fully customized toy. When ordering, you can choose from a variety of different heads, colors, and various accessories. How to choose? Well, all of the options are solid so your best bet is to just go with your gut.
How does The Velvet Thruster bring the squirt though? Well, I am sure we have all been in a situation where the penetration just hits right…the angles, the speed, and the motion of the d*ck just work. And then…just when you are about to come, something changes in the stroke motion and you have to start from zero. Look, this is human – your partner is not a machine. Still, it can be annoying.
The Velvet Thruster eliminates this issue completely. Mount it to the floor or a wall and let this bad boy take you with constant, intense penetration. It offers a maximum of 140 strokes per minute which is pretty insane if you ask me. Combine this with the fact that this stroker also goes pretty deep and…yup, you have the makings of a squirting orgasm right there.
Best-in-class Realistic Dildo – "The Vixen Mustang"
Vixen Mustang has quietly made its way to becoming one of my favorite dildos of all time. Yes, it does look relatively simple on the surface, but boy is there a lot to unravel here.
First, there is the realism. At this price point, it is pretty damn amazing just how lifelike this beautiful penis looks and feels. The head, the shaft, the veins…everything is crafted to perfection here.
Then there is the feel of the toy – it is a dual-density dildo. This means that the touchable, outer layer of the dildo feels super soft and silky while the core of the dildo is more rigid.
So, yes, it does look hyper-realistic and sexy, but what does it have to do with squirting? Glad you asked! You see, the Vixen Mustang has a special curve going on. The angle is just right for getting that G-spot stimulated. And, if you have been paying attention, then you know that squirting is all about three things – consistent motion, the right angle, and a horny, relaxed mindset.
I am going to have to be completely transparent though – I am not the biggest fan of the suction cups of Vixen dildos. Simply put, they suck.
It is not a dealbreaker for me because I like to use my Vixens manually, but there are better options for those of you who want mounted action. The previous toy on our list, The Velvet Thruster, would be one good example of a type of toy that would work well in this scenario.
---
I sincerely hope that this list of squirt-friendly was helpful to you. As I have already emphasized – there is no guarantee that these toys will make you squirt. However, they do have a proven record of getting women there (myself included) and even if they will not make you squirt…hell, every single one of these toys can still up your sex toy game.
And, even if you do not squirt during your first sessions, know that this stuff can happen very unexpectedly. It did for me, and I suspect I am not the only one. Relax, do not become obsessed with squirting, and above all, have fun! Sooner or later, those waterfalls will show up.
With that, I will leave you lovely people for now. Take care!