The following article contains affiliate links, which means Sex Toy Magazine earns commission from products purchased through links in this post. If you love our work, please consider supporting us by ordering the products of your choice using the links placed in the article.
I have to admit that I was not sold on the idea of a thrusting dildo immediately. Even as a seasoned sex doll collector, I held off from getting my first thruster for a long time. You see, I love control when it comes to dildos. I have no problem with riding a good sex machine like The Tremor or The Sybian, but for smaller toys, I simply like to have control.
Everything changed when I finally gave my first thrusting dildo a shot. It was a win at first sight. There is something intensely hot about sticking a mechanical toy to a wall and just letting it have its way with me.
That said, not all thrusting dildos are worth the money. I have gone through some models that are flimsy enough to give up after only a few sessions. I also have tried thrusting dildos that come with suction cups that are pretty much unusable.
To help you steer away from such products, I compiled a quick list of the best thrusting dildos currently available. In addition, the list will feature quick reviews of each product. Before we get down and dirty, allow me to answer a few key questions related to thrusters.
This is the type of stuff I wish I knew before diving into the world of this exciting category of sex toys.
---
How do thrusting dildos work?
Thrusting dildos work by imitating penetration. These toys feature a motor (some even have multiple motors) that stimulates an in-and-out motion. All you have to do is be a good sport and take it in. Many popular thrusting dildos also offer a vibrating and rotating motion which can make the experience even more intense.
Are thrusting dildos expensive?
Not necessarily. Thrusting dildos have become more and more popular and nowadays you can find quality thrusters for very reasonable prices. Not specific enough? The cheapest thrusting dildo on this list currently goes for about $50.
What are the benefits of a thrusting dildo?
A lot of people love the classic in-and-out type of penetration. Now, add some buzzy vibrations to the feel of the automatic penetration and you have quite the little pleasure machine on your hands.
Also, there are practical reasons for considering a thruster – as everyone knows, it can take a while before reaching that O zone. Your hands may simply get tired after a while. This is where a good thrusting dildo can be immensely helpful.
---
Ok, time for some action. Here are the 6 best thrusting dildos on the market:
• Best Overall – "Velvet Thruster Prime"
• Best Cheap Thrusting Dildo – "Powerful 10 Function Thrusting Vibrator 7.5 Inch from Lovehoney"
• A Realistic, Budget-Friendly Thruster – "Lifelike Lover Luxe Thrusting & Rotating Dildo 8 Inch"
• Best for Beginners – "Fun Factory Stronic Real"
• Most Luxurious – "ZALO Desire Pre-Heating Thruster"
• Best Long-Distance Thrusting Dildo – "Lovense Gravity"
Best Overall – "Velvet Thruster Prime"
"Loads of customization options, best-in-class thrust length, and a max of 140 thrusts per minute are just some examples of features that make the Velvet Thruster Prime the best thrusting dildo on the market."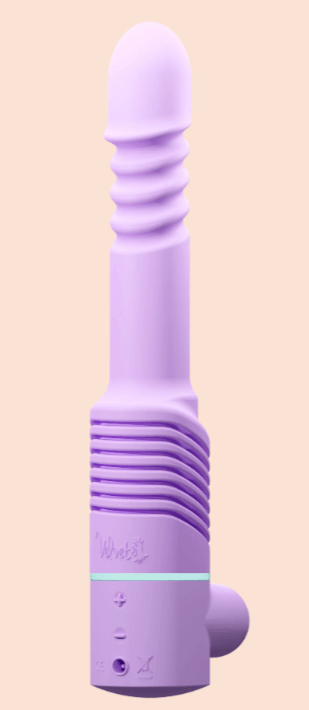 We kick things off with the champion of this list, the one and only Velvet Thruster Prime. Currently the best thrusting dildo on the market.
It is difficult to put the main features of this toy into a quick review though. Why? Well, this is a "build your own" type of affair. Yup, you can choose between different colors, the shape of the head, and a boatload of unique accessories. All to make it possible for you to create your own sort of "fairytale prince" of a thruster.
Since the head of the thruster is obviously the key part, I will do a quick rundown on some of the types of heads you can choose for your Prime:
Jackie – A sort of fantasy-inspired head that is covered in veins and has a girthy glans penis on top of it. Great for fans of Bad Dragon and other popular fantasy sex toy developers.
Frankie – This one features a very stimulating spiraling texture. The head of the penis on this one is also pretty long compared to an average d*ck. Intense stuff, not necessarily the best choice for beginners.
Walter – Despite the somewhat stupid name, this is the most unique head of the Velvet Thruster. It features a beady texture – the beads get gradually thicker the deeper the toy goes. A super unique and pleasant thrusting experience. This is the head that truly sets the Velvet Thruster apart from its beginners. Yes, the feeling of getting railed by something like this may not sound enticing and I have to admit that even I was scared of taking this one in…but it was love at first sight. Arguably my favorite head of the Prime.
Sammie – A thicker version of Jackie. The thick look works very well with the aforementioned fantasy-inspired veins. Beautiful stuff, but the fit of Jackie is just a tad bit better. At least for me. For a size queen though, this may be a brilliant pick.
Nanci – A head that looks like a toothbrush. Yes, it did immediately remind me of a large toothbrush. Not that appealing, but the feeling though – something super unique yet again. The thrusts from Nanci are pretty obviously targeted at the G-spot and what can I say – they do hit the spot. If you are a fan of rabbit vibrators but want to explore something more automatic then this is a very good pick.
In addition to the heads, you can also opt to add a few more perks to the Velvet Thruster.
The prime suction cup – This is an almost mandatory item. At least for me. Having the dildo mounted to a wall is the key to a good thrusting experience.
Long reach handle – This one is for preventing arm fatigue when you are having fun with your Thruster Prime.
Partner play handle – A sort of "helping hand" for your partner when he/she/they are using the thruster on you. I like to keep things solo when it comes to thrusting dildos. As such, I deliberately skipped this handle. Worth a consideration though if you plan on sharing the thrusting fun with someone else.
Looks like we have covered all of the customization options for the Velvet Thruster Prime. I told you that you have a lot to choose from when it comes to this thruster! That said, the customization aspect is far from being the only special thing about it. The Velvet Thruster Prime wouldn't top our list of best thrusting dildos if it was only about having a lot of choices.
You see, this thing is a rockstar in other ways as well. For one, there is the length of the thrust – at 3.5 inches of thrust length, it will give you more than all other toys on this list. And, at a maximum speed of 140 thrusts per minute…yeah. This is as intense as it could possibly get.
And then there is the bend – every head compatible with the Velvet Thruster Prime can bend at a 90-degree angle. This means that you can virtually target any sort of area you want with your thruster. And yes, this is great news for people who are fans of prostate stimulation toys. The Prime can easily compete with the best anal vibrators for men.
Lastly, I just have to mention that the toy is also completely body-safe. The medical-grade silicone used on the build will not cause any unwanted reactions in your body.
Whew, this quick review came out a lot longer than I envisioned. But hey, it is what it is. Praising this toy comes easy – The Velvet Thruster Prime is without a doubt the best thrusting dildo currently on the market.
Best Cheap Thrusting Dildo – "Powerful 10 Function Thrusting Vibrator 7.5 Inch from Lovehoney"
"At about 50 dollars, this thruster from Lovehoney gets the job done very, very well. Lack of a suction cup is a drawback though."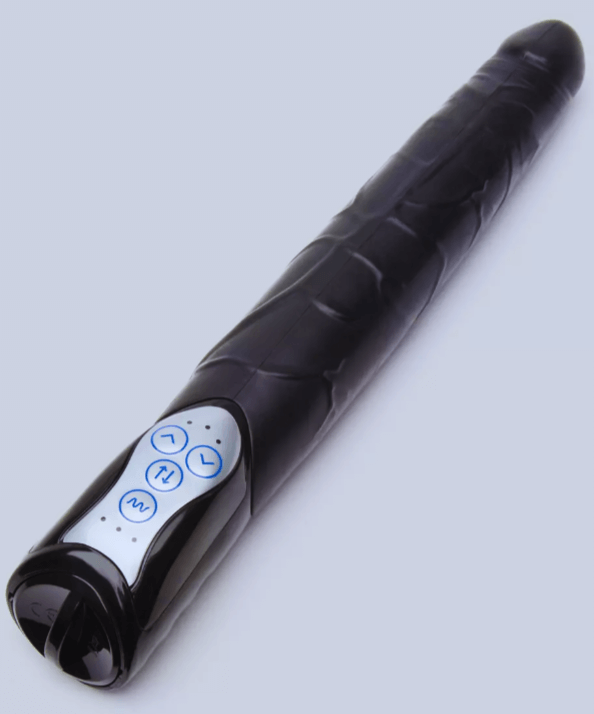 Lovehoney is one of the best places for finding budget-friendly deals for sex toys. And, when I saw a thrusting dildo vibrator available for about $50, I had to give it a go. To be fair, I did not expect much considering that it is a cheap, battery-operated toy, but boy was I wrong.
First off, it looks inviting as cake! I love how dark, long, and sturdy it is. Made me want to do things with it right after getting the dildo out of the box.
So, off I went – I slid in the batteries and took an even closer look at the toy. The grip is very comfortable and I love the placement of the controls too. They are found on the bottom of the dildo and can be reached easily. Even if you happen to get very frisky in the heat of the moment.
So, how about the most important part? How does it feel? In a word – great. While the overall look of the toy is great, the veins and the head do not look too prominent. And from my experience, details like this can make or break a dildo.
Well, looks are only skin-deep in this case. You really can feel the little ridges on the sides of the dildo as it slides in and out.
Oh, and while we are talking about penetration – this bad boy gives you 7 vibration settings and 3 thrusting speeds in total. Plenty of variety there.
It is not a perfect thrusting dildo though – for one, the lack of a suction cup can be a dealbreaker for many. Secondly, it is not the quietest thrusting dildo out there. You will not get away with this one if you are sharing a house or a room with roommates or parents.
All things considered – this thrusting dildo does punch above its weight considering the price. As such, it could be considered a great starter option for people looking to explore this category of toys.
A Realistic, Budget-Friendly Thruster – "Lifelike Lover Luxe Thrusting & Rotating Dildo 8 Inch"
"Lovehoney again. A relatively big and realistic thrusting dildo for the price. Also features a very rumbly and nice vibration."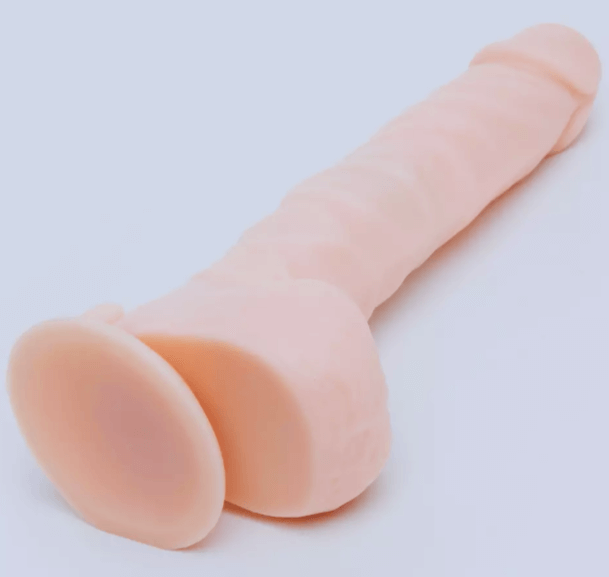 The Lifelike Lover line from Lovehoney can be a very solid starting point for new sex toy fans. It is a line known for offering quality toys for dirt-cheap prices. Yes, the durability may not be quite there and the line-up does contain a few duds as well, but I am generally a big fan of this line.
The thrusting dildo from that series is also a surprising hit. It is a realistic toy that features veins, a finely-crafted glans penis, and even balls. At 8 inches, this dildo is a bit bigger than most specimens you will meet in real life though. Unless you are a true size queen or a frequent visitor of male porn star hangouts.
This big boy felt great inside me too. The power and length of the thrusts were nothing particularly impressive, but this was easily compensated by how good the slight rotation and the vibrations felt. The vibrations were super buzzy and nice while the rotation tickled me in EXACTLY the right spots.
It is also worth a mention that this thrusting dildo does have a suction cup. And a good one at that. I tested it on various surfaces and it clung on effortlessly. You would be surprised how hard it is to get the suction cup right. Even many premium dildo brands tend to fail at creating a solid suction cup. And trust me – there is nothing more annoying than having a dildo fall off a wall right before you are about to orgasm. No such worries here.
Best for Beginners – "Fun Factory Stronic Real"
"A non-intimidating and beginner-friendly thruster from Fun Factory, a cult favorite sex toy brand."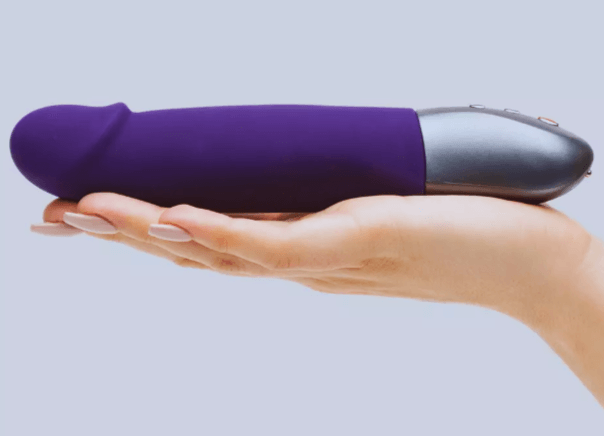 When compared to other thrusting vibrators on this list, the Fun Factory Stronic Real is a tad bit more beginner-friendly. I would even dare to recommend it as a dildo for a virgin. You see, long gone are the days when sex toys were taboo for someone with no sexual experience. In fact, I think a lot of virgins would benefit a lot from feeling the thrusts and getting a glimpse of how penetration feels for them.
So, what makes it so beginner-friendly? Well, first off – the size. At an insertable length of 5.5 inches and a 5-inch circumference, the Stronic Real is a pretty non-intimidating thrusting dildo.
The motion of the toy is great too. You have 7 speeds and 3 patterns in total. And, to be fair, this is one of those thrusters that I actually love more when I use it with the less intense settings. You see, the Stronic Real has an ever-so-slight upward curve that is designed to massage the G-spot.
For me, this kind of massage-type stimulation only works when the thrusting is slow and gentle. Love feeling the toy slowly penetrate me while also feeling that head and those buzzy vibrations inside me.
Finally, I love how lightweight and feminine this thing looks. The purple color and the sleek feel really give you an idea of what to expect here. Sure, it is not the cheapest thrusting dildo out there, but it may just be the best pick if you are completely new to dildos and just want something for easing yourself into the world of thrusting toys.
As a hip-hop fan, I just have to use the chance to finish writing about this dildo with a Drake line. Drake once called himself a "slow-stroke king" on one of his verses. Not sure about the stroking proficiency of Mr. Aubrey Graham, but the Stronic Real dildo is truly a slow-stroke king.
Most Luxurious – "ZALO Desire Pre-Heating Thruster"
"A breathtakingly beautiful specimen from Zalo. One of the very few thrusters that would not look out of place in a gift bag. Also, hats off to the splendid heating feature."

I just love beautiful sex toys. Whenever I see something that looks stylish, sleek, and erotic, I just have to get it. And, for beautiful sex toys, ZALO is pretty hard to beat. Pretty much only LELO toys like the Ida Wave dual stimulator or the Dot pinpoint stimulator can rival stuff from ZALO.
Considering this, I was super excited to hear that ZALO has a thrusting dildo in their line-up and naturally I had to give it a go.
I must say that I was a bit hesitant at first. Something that looks this beautiful can't possibly feel amazing. I mean, this thing is embellished with a Swarovski crystal for god's sake!
Luckily, I was wrong. This is not only a beautiful, gift-worthy dildo, but a true workhorse as well.
In fact, Desire has some perks rarely seen in the alternatives. The main perk is the heating feature – it safely heats up to natural body temperature and also retains the heat while you are having fun with the toy. So, yeah, if you are a sucker for realism, then the Desire thrusting dildo will give you a reminder of a super warm, stiff penis.
In addition to the heating function, I was also surprised by how quiet and discreet it is. At its most intense mode (fittingly called the turbo mode), the Desire will give you 40 dB. This sort of sound level can be compared to a quiet library. Hearable, but very quiet.
There is only one single flaw in this toy – it is splashproof, but not completely submersible. As someone who is a huge fan of using toys in a bath, this is a bit of an issue for me. Other than that, yet another winner from ZALO.
Best Long-Distance Thrusting Dildo – "Lovense Gravity"
"Lovense is still the king when it comes to long-distance sex toys. For those planning on letting someone else operate the thruster from a distance, this is easily the best choice. Also the most suitable thruster for erotic content creators."
Ahh yes, Lovense. A company mostly associated with sex toys for cam girls and a general favorite of people who enjoy long-distance sex toys.
Lovense is also quite an innovative company so naturally I was interested in their take on a thrusting dildo.
And yet again, Lovense did not disappoint – there are several unique features on this thruster.
For one, there is the legendary interactivity of Lovense. I mean, just try to find another thrusting dildo that has a "group chat" feature where multiple people can control the vibration/thrust from thousands of miles away. Just find a dedicated Lovense community with willing strangers and you are good to go.
Yeah, now you know why Lovense is so well-loved in the cam girl community.
Secondly, there is the power aspect – the Gravity will give you up to 140 strokes per minute which makes it one of the fastest thrusters on our list. This may just be your toy if you enjoy your stroking fast and intensely.
Thirdly, there is the suction cup. The Gravity has arguably the best suction cup of everything on this list – I tested it on a variety of surfaces and the bad boy remained sturdy. As long as the surface is flat, you are good to go.
The stroke length of the Gravity is probably the only shortcoming here. A stroke of 1.18 inches is enough for most, but for true depth fans, it may just fall a little short. Yes, this can be fixed by taking the Gravity in manually, but this goes against the very idea of a thrusting dildo.
Overall, yet another great offering from Lovense though, and easily the best choice for fans of long-distance toys.
---
Looks like we have reached the end of the line. If you are becoming slightly bored of plain old dildos and vibrators and want to try something new, then a thrusting dildo may just be what you are looking for.
Have fun experimenting, people!