The following article contains affiliate links, which means Sex Toy Magazine earns commission from products purchased through links in this post. If you love our work, please consider supporting us by ordering the products of your choice using the links placed in the article.
I was as vanilla as they come before getting into collecting and reviewing sex toys. Not vanilla in a bad way – I still enjoyed sex with my husband, but when it came to toys and other "weird" stuff, I shut down.
Fast forward a few years and I am pretty much down to anything that involves sex toys. However strange or freaky the toy may be, I will try it.
Naturally, I have explored my fair share of tentacle dildos as well. I mean, there is something insanely hot about the dark eroticism, the strange designs, and the sheer fantasy of "having sex" with something otherworldly. And even if we ignore the fantasy aspect – tentacle dildos just feel good. Some of these shapes and sizes just stimulate the ass and the vagina in ways that no other dildos can.
I have been on a bit of a fantasy dildo binge lately. As such, you can expect a lot of content on weird dildos in the coming months. I decided to start off by reviewing the best tentacle dildos on the market.
Before we start off, allow me to answer a few of the most commonly asked questions about tentacle dildos:
What is a tentacle dildo?
Roughly speaking, a tentacle dildo is a dildo inspired by sea creatures like octopuses, mythical Krakens, or squids. These toys are made to look like the tentacles of the aforementioned creatures. As such, they have weird textures, shapes, and sizes that offer stimulation that is completely different from what average dildos bring to the table.
Can I get a tentacle dildo as my first sex toy?
Sure. Most tentacle dildos are associated with large sizes and intense textures, but there are exceptions. Some of these toys are completely beginner-friendly and you will find at least one such toy on this list as well. Basically – you can find a suitable tentacle dildo if you want. Even if you are completely new to sex toys. Hell, I should probably consider updating my list of best dildos for virgins by adding a good tentacle dildo in there as well.
How much do tentacle dildos cost?
Expect to pay anywhere between $40 to about $180 for a quality tentacle dildo. The exact price will vary between the size, the brand, and other features. What is important here is that tentacle dildos are not necessarily as expensive as you may think.
How did I choose the best tentacle dildos?
The single most important feature when choosing the best products was the FEELING. This list is not about the strangest, most "out there" tentacle dildos. I went for toys that look good and exciting, but feel good as well. I also deliberately avoided overpriced and possibly allergenic toys. Everything here is completely body-safe.
---
I think we are ready to go. These are the 7 best tentacle dildos currently on the market:
• Best Thick Tentacle Dildo – "Hentai Dildo"
• Best for G-Spot Stimulation – "Davy's Tendrils"
• Best Glass Tentacle Dildo – "Lovehoney Tentacle Textured Sensual Glass Dildo"
• A Dragon-inspired Tentacle Dildo – "Fantasy Rippled Dragon"
• Best for Depth Play – "Sigmaloid"
• Best for Anal – "The Taintacle"
• Best for Beginners – "Beastly Tapered Bumpy Dildo"
---
Best Thick Tentacle Dildo – "Hentai Dildo"
Check best price at Mr. Hankey's
When talking about the best hentai dildos, most people think of long and thin stuff. The Hentai, a new release from Mr. Hankey's, turns the tables a bit. It is a thick, hulking tentacle dildo that sits on the extreme side of things.
That said, it is still practical. As I said, everything on this list feels pleasurable. Collecting tentacle dildos is cool, but I want to USE my stuff as well. How do you use something this big though? I mean, even the smallest size looks like a damn pillar of a temple at 8 inches of circumference.
Well, you just take it in super slowly and with a lot of lube. Also, you will want to be super horny for something like this to work. Get it in and then just vibe with that filled-up feeling. No intense movements, no quick in-and-out. Just slowly turn and twist this beast while it is inside you. The Hentai is so big that the suction cups actually manage to reach and stimulate my clit as well.
Sounds good? Yup, it is.
Best for G-Spot Stimulation – "Davy's Tendrils"

Check best price at Mr. Hankey's
When I first started looking at this toy, I was prepared to go over $100. Most tentacle dildos will cost around that price range. As such, you can imagine my surprise when I saw that it costs right around $70 instead. A very budget-friendly price for a fantasy dildo!
Does this mean reductions in quality? Nope – still body-friendly, still intense, and still unique as hell!
It is a long dildo consisting of two tentacles wrapped around each other. The two tentacles are also covered in small suction cups that further add to that lovely deep-sea fantasy.
How about the feeling though? Well, with this one, you will want to take your time. Use the pointy end to slowly tease the outer parts of your vagina. A quick swipe over the lips. A little tickle on the clit. Whichever you prefer. For clit, you can even use it like you would use the LELO Dot pinpoint stimulator. The pointy end is "sharp" enough for this sort of super-targeted stimulation.
Once you are excited enough, it is time to let the tendrils enter you. Here, things get even more interesting. I don't want to give too much away, but, let's just say that those twisting tentacles play very, very well with the G-spot.
Best Glass Tentacle Dildo – "Lovehoney Tentacle Textured Sensual Glass Dildo"
Ah yes, glass dildos. Absolutely adore them. Whenever people say that dildos are ugly and non-erotic, I usually show them my collection of glass toys.
When putting this list together, I knew that I had to include at least one glass specimen as well. And, I picked a good one.
This tentacle dildo from Lovehoney is amazing for several reasons. For one, it is pretty damn cheap. Lovehoney sex toys are generally a hit-and-miss type of affair. You can find absolute steals for a great price, but you can also find stuff that is cheap and bad. The textured tentacle easily falls in the good category.
This one is also very beginner-friendly. At a circumference of about 4.5 inches, a complete beginner to tentacle dildos should still easily be able to take it. It is also quite smooth – there are some bumps and ridges on it, but nothing too protruding when compared to other stuff on this list.
With glass, we will also have to talk about temperature play. You see, glass is the ideal material for experimenting with hot and cold. Just heat the toy up in warm water or cool it down in cold water and let it enter you. The sensation will be new. Some do not like it, but others absolutely adore this type of stuff. And you will not know unless you try.
Personally, I love using my glass dildos ice cold. There is something super intense about sliding a cold, glass d*ck all over my body. Usually gets me very, very excited. I let the craving build and then just suddenly penetrate myself with the tentacle. The ice-cold shock hits you from the inside pretty hard…but I adore this feeling. Absolutely adore it.
A Dragon-inspired Tentacle Dildo – "Fantasy Rippled Dragon"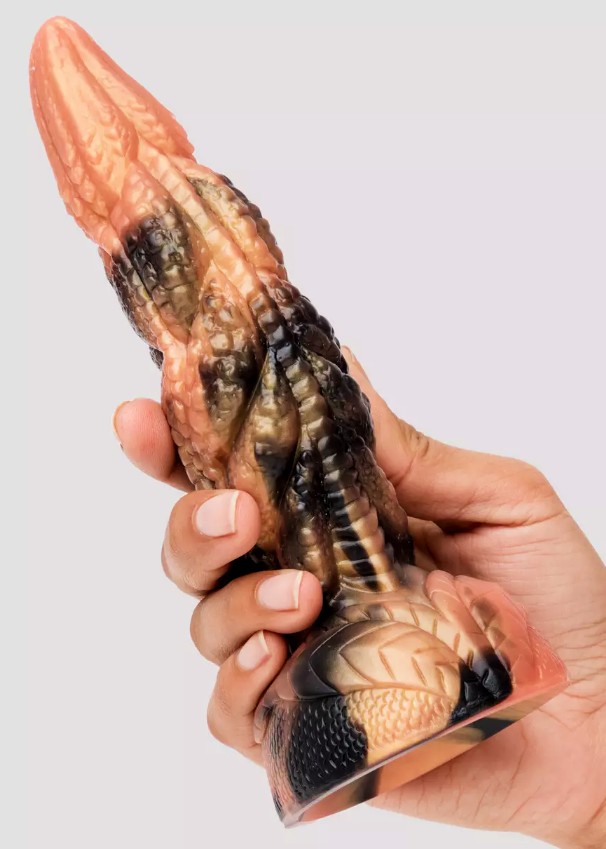 Here, we have a rather unique one. It is sort of like a cross between a fantasy-inspired dragon dildo and a regular tentacle dildo. It has a sort of fiery and earthy coloring that makes you think of stuff like "Game of Thrones." It also has a scale-like texture on one side of the dildo. I would still qualify it as a tentacle dildo though – the overall feel of it is deep-sea inspired.
Enough about the looks though. It is the feel of the dildo that we are interested in.
Let's talk about size first. It has an insertable length of 6.5 inches and a circumference of 5.75. Nothing ridiculously humongous, but a considerable beast nevertheless.
The feeling of taking it in is pretty interesting. You have the suction cups on one side while the scales feature prominently on the other side. This sort of texturing feels very nice on the inside of my vagina. It hits those inner walls in a way incomparable to anything else I have in my lineup. For some reason, this one works especially well with fast penetration.
Another feature worth talking about is the suction cup at the base. For a reasonably priced tentacle dildo, the suction cup is of very high quality. The toy easily attaches to any type of wall or floor. You can enjoy this thing hands-free and this is precisely how I like to use it. I usually attach it to the floor and ride away.
In a nutshell – if you have a thing for dragons AND tentacles then look no further.
Best for Depth Play – "Sigmaloid"

Check best price at Mr. Hankey's
Have you ever wondered just how deep a dildo or a penis can go? Will it feel nice or will it be cringe-inducing instead? Well, the real answer is quite boring – it depends. Some vagina-owners HATE this feeling while some find depth-play super pleasurable. You will not know unless you find out.
And, the "Sigmaloid" from Mr. Hankey's is a pretty solid way of finding out whether this type of stimulation is for you or not. Unlike many other best tentacle dildos, the "Sigmaloid" is completely focused on length instead of width. Even the XS size can go more than 8 inches deep.
That said, the length is not the only thing going for the "Sigmaloid." In order to make the insertion feel great, the dildo comes with a small curve and strategically placed bulbs. In addition, the entire length is covered in small ridges. Details and textures such as this are there for a reason – they make taking in the dildo feel great. Trust me, depth play does not feel nice if you just go for a long, random stick. It will just annoy you.
Go slow with the "Sigmaloid" and listen to your body through the entire ordeal. Personally, I did not manage to go very deep during my first explorations. I could even say that it was quite annoying at first. I gradually grew into it though. The excitement got the best of me and I found myself craving for more depth every time I broke out the "Sigmaloid."
Depth play is still not something that I practice very often. But when I do get in the mood, I absolutely adore it. Give it a try. After all, you have got nothing to lose.
Best for Anal – "The Taintacle"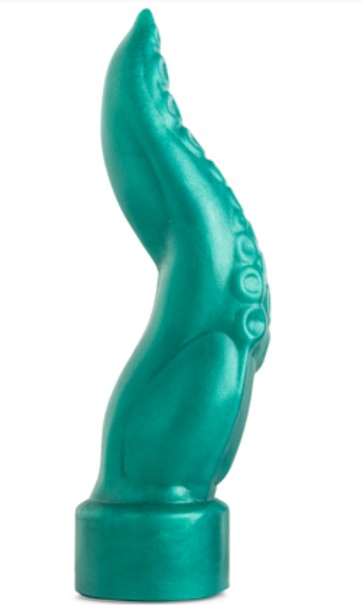 Check best price at Mr. Hankey's
The Taintacle is the tentacle dildo that you use for anal. In fact, this is precisely what it is designed for. Now, if you are already kinky enough to be interested in tentacle dildos then you are probably at least open to the idea of getting something up there.
It is a relatively simple dildo – what you get here is a slightly curved, relatively thick member that is covered in suction cups. Getting it in is relatively easy as the tip is quite narrow and gentle. However, as you pass the midpoint, the real action starts. You get that filled-up anal feeling that has drawn so many women to experimenting with anal sex.
At first, it may not even feel directly stimulating. Still, that feeling of doing something "forbidden" and "unusual" is nearly always enough to get me in the mood. In fact, this is what I usually do – I get the Taintacle up there and start using another toy while the dildo sits inside my ass. Usually, I go for a clit vibrator or the Domi 2 wand vibe. I suggest you give this kind of system a try. Use your favorite toy in combination with an anal toy – it may just open up the world of anal stimulation to you. It did for me.
Best for Beginners – "Beastly Tapered Bumpy Dildo"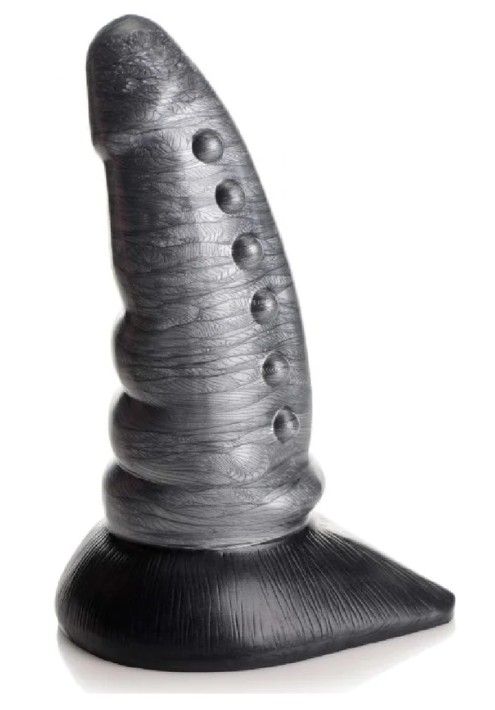 Check best price at Betty's Toy Box
If you have been carefully going through our reviews of the best tentacle dildos, you have probably already identified a common pattern – all of these toys are very textured. They come with various bumps, ridges, and intense curves. Now, what if you want to live out the deep-sea fantasy with something slightly more straightforward? Don't worry, we got you covered.
This dildo is thick as a can of coke at about 9 inches of circumference, but other than that it is relatively tame. Yes, there are some small suction cups on it, but it is nothing compared to other stuff on this list. This is a smooth, thick c*ck that only "hints" at the tentacle association.
So, who would I recommend this one for? Simple. This should be the top pick for people who are curious, yet not completely open to the idea of bringing a humongous and weird deep-sea-inspired beast to their bedroom.
If you try it out and find yourself attracted to the slight weirdness of this dildo then feel free to upgrade and get a more beastly toy in the future.
Oh, and one more thing – I love the coloring of this one. Sharp, beautiful silver works very well with that shape and size.
---
Whether you are completely new to dildos or a seasoned collector, I highly suggest you give tentacle dildos a try at least once. Not only do they look downright strange (in a good way!), but they also stimulate in ways most folks out there never experience. For me, having a hulking tentacle inside me was an eye-opening experience. I managed to stimulate spots I never even knew existed!
It took some time to get used to tentacle dildos, sure. But it was worth it! It was so, so worth it! With that, I will climb to bed for now. Who knows, I may even break out one of my deep-sea inspired toys to accompany me in bed.