The following article contains affiliate links, which means Sex Toy Magazine earns commission from products purchased through links in this post. If you love our work, please consider supporting us by ordering the products of your choice using the links placed in the article.
Ah yes, getting it on with a shower head…a true classic. While I do not have the statistics, I am pretty confident that a laaarge percentage of vagina-owners have tried stimulating their clit with a shower head at least once in their lives.
What is even stranger is that it works! I would generally not advise using random stuff as dildos and vibrators, but a shower head is generally safe and worth a shot. Unless you are using something super crusty and unhygienic. In that case, clean up your sh*t if you do not want to get some sort of nasty infection.
Seeing as I have had a few pleasurable experiences with shower heads, I was surprised to see that the legendary Womanizer released a shower head created specifically for masturbation! It was a pleasant surprise that seems pretty left-field yet somehow still makes all the sense in the world.
In this Womanizer Wave Shower Head review, I will be giving you all the naughty details of my adventures with this toy. We will also see how it compares to an average shower head, what are the key advantages and disadvantages of this "sex toy", and whether it is worth a purchase or not.
So, without further ado, let's get wet! Here is my review of the Womanizer x hansgrohe Wave:
---
• Womanizer X hansgrohe Wave – A Quick Introduction
• The Key Features of Womanizer Wave
• My Personal Experience With the Womanizer Wave
• Pros and Cons of the Womanizer Wave
• Where to Find the Best Price & Is it Worth it?
---
Womanizer X hansgrohe Wave – A Quick Introduction
Simply put, the Wave is a combination of a traditional clit stimulator/vibrator and a shower head. It was conceived by a collaboration between Hansgrohe and Womanizer. Hansgrohe is one of the most well-known bathroom ware developers in the world. Womanizer is one of the most well-known developers of female sex toys in the world. A match made in heaven if you ask me.
As I already said, something like this makes sense and I sincerely hope that everyday items that could be used as sex toys will become a sex toy trend in the future and we will see more stuff like this in the coming years.
Back to the topic at hand – the Womanizer wave. To give you a more concrete idea of what this thing is all about, let's look at some of its key features.
The Key Features of Womanizer Wave
In the following, we will examine what exactly makes the Wave different from your run-of-the-mill shower head.
Three pleasure settings – These are the three different "modes" or settings of the Wave. Each of them is designed to make the water stimulate your erogenous zones. They are called the PowderRain, PleasureWhirl, and PleasureJet. I will be discussing the feel of all these three settings in the latter part of this article where I focus on my personal experiences with this shower head. Feel free to skip to that part right away if you want to read exactly how the 3 different settings "hit".
A switch for changing the modes – The switch for flicking between the 3 different modes is situated on the upper part of the base of the Womanizer Wave. It is the details that make this feature worth a mention – the switch reacts to a light push which makes changing the modes very smooth. In addition, I love the placement of the switch – it is situated at the upper part of the base of the shower head. Feels very intuitive to reach. Even when your eyes are closed and you are just about to climax.
An intensity slider – A pressure adjustment slider on a shower head is not exactly a groundbreaking feat, but on this one, it still feels "different." Again, the key here is just how seamless and intuitive it is to reach for it and use it.
An ergonomic shape – I admit, I am not an expert on bathroom equipment, but I have to admit that the Wave is the most comfortable shower head I have ever held. It has a beautiful, sleek, lightweight design. It also has an unusual curve and it looks "sharp" instead of being round like most common shower heads. This shape makes it easy to grip and use it with one hand. Do not worry about the unorthodox shape giving anything away though – most of your guests would not mistake this for a pleasure object. Instead, they would probably think that they are dealing with some sort of high-end, avant-garde bathroomware.
Simple screw-on design – Look, I am NOT a handy person. In fact, I have never changed a shower head before. Well, I still wanted to try the Womanizer Wave immediately after getting it…so off to the bathroom I went. The Wave easily fit my standard shower hose and it took me two minutes max to install it.
Sustainability – When compared to a regular shower head, the Womanizer Wave will use up to 60% less water. This is good news for all of us eco-friendly folk. And, of course, the bills are a bit more friendly too. This feature has nothing to do with the pleasure aspect of the Womanizer Wave, but I figured it was still worth a mention.
And this basically covers it. You have now met the first shower head clit-stimulator in the world. I bet you are interested in the more juicy stuff though – how does it actually compare and can a shower head really hold its own against "real" clit vibrators?
My Personal Experience With the Womanizer Wave
If I am in the right mood, a good shower pretty much always gets me in the mood. The flowing water, wet skin, and the good scents of shower products. Erotic stuff. At least for me.
I started my Womanizer Wave experience with a "regular shower" – cleaning and exfoliating the skin, washing my hair, etc. For this, I used the PowderRain setting as it had the widest distribution of water. Nothing particularly interesting here – a regular, comfortable showering experience. I have to admit that washing my hair was a bit of a struggle though, the distribution of water from the Powder Rain setting was barely enough for a good rinse. Next time I do my hair I will be going for the PleasureJet which also was my favorite setting in general. More on that later. For now, let's take a detailed look at the 3 main settings of the Womanizer Wave shower head.
Powder Rain setting – Things started getting interesting once I was done with my regular under-the-shower beauty routine. Since I already had the PowderRain setting on, I figured it would be a good place to start. I grabbed the Wave shower head and slightly adjusted the intensity to be a bit lower.
I also went for slightly hotter water because my intuition told me that hot water and low intensity would be a good mix for this setting. I was right – it felt pampering and ever-so-nice. Not necessarily erotic, but a fine starting point for "getting in the mood."
PleasureWhirl setting – This is where the true fun starts. I set the Womanizer Wave to the PleasureWhirl setting and started targeting my erogenous zones with it. I started with my breasts and I grinned pretty much immediately…I understood what this thing is all about.
The whirls of the water felt teasing and gentle on the sides of my breasts and thighs. These are the two areas that I like to be stimulated during foreplay so I targeted those. After about 10 minutes of teasing myself, I turned up the intensity a bit and went "down there" with the shower head.
Now, the feel was even more teasing – just the right amount of stimulation. As many sex toy enthusiasts know, some clit vibrators and rabbit vibrators can be too much immediately. The PleasureWhirl setting of the Womanizer Wave was just right – the feel was stimulating, but not strikingly intense. The whirls are not focused. Instead, they "dance" around the labia and the clitoral area.
I stayed with the PleasureWhirl setting for about 10 minutes to let my excitement build up before going for the PleasureJet. Why did I leave the PleasureJet for last? Simply because it seemed like the most intense and targeted setting – the one that will get me to come.
PleasureJet setting – This is the one! If we put this shower head in a sexual context then the first two settings are the foreplay, and the PleasureJet is the main treat. This is the setting that offers the most direct stimulation. This one shoots out a pulsating stream of water that precisely targets the key spots. I was already pretty "excited" from the PleasureWhirl so all it took was two minutes and I was in heaven.
The stimulation of the PleasureJet feels somewhat similar to the feel of a pinpoint clitoral stimulator like the LELO Dot. I can only speak from my own experience, but I had a great time with the following routine – use the PleasureWhirl setting to tease yourself and go for the PleasureJet to finish off. With the intense settings, the PleasureJet can be a bit too much. A somewhat surprising feat considering that we are talking about a shower head – I mean, who thought that something like a bathroom product can be as intense as a sex toy?!
To sum it all up – an awesome, unique type of stimulation that I will surely be returning to.
Pros and Cons of the Womanizer Wave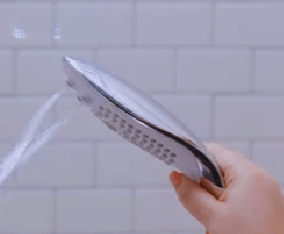 As much as I love writing long-winded descriptions of sex toys, I know a lot of our readers simply want quick rundowns of the advantages and disadvantages of the stuff we test and review.
So, here goes. In the following, find a quick summary of the pros and cons of the Womanizer Wave shower head:
What I Loved About the Womanizer Wave
The usability
Doesn't matter whether I use the Womanizer Wave for masturbating or practical purposes only – it is a super convenient product. Love how light it is and how well the ergonomic shape fits in my hand.
The 3 pleasure settings
All three settings serve their purpose and work well on their own. However, as I described in a previous part of this article, the true magic shows itself once you use all three pleasure settings in one loooong self-love session.
Discretion
Womanizer Wave is the first sex toy I have owned that also works as a common household item. As such, this is quite possibly also the most discreet sex toy ever invented. I know a lot of people worry about the noise levels of their sex toys. Here, this issue is solved for good.
Sustainability
The Womanizer Wave can help you care for the environment by saving water. Always an important feat considering the times we live in.
Surprisingly intense
Yes, I have experimented with water streams for masturbation before, but never could I have imagined that this sort of stimulation can be so intense. The PleasureJet setting can easily compete with some of the most intense clit stimulators out there. Good stuff!
What I Did Not Love About the Womanizer Wave
Re-installing can get annoying
As of right now, I plan on keeping the Womanizer Wave as my go-to shower head. So, no issues there for me. However, I would probably get annoyed fast if I had to switch between a random shower head and this one on the regular. The installation of it only takes minutes, but I would still not imagine myself doing this every day.
The widest jet is a bit weak for washing hair
I did get my hair done with the Powder Rain setting, but the process was a bit slow and annoying. Here, I would recommend using the pinpoint settings instead. This means that you will have to wash your hair with a more precise stream of water which is not necessarily to everyone's liking.
---
Where to Find the Best Price & Is it Worth it?
You can find the best online price for the Womanizer Wave at Lovehoney.
Now, is it worth the purchase? Yes. The one single benefit that the Womanizer Wave has over pretty much any sex toy is that it is 100% discreet. You will not have to worry about hiding it from pesky roommates or parents and you will not have to worry about the noise (your moans do not count.)
The discretion is not the only thing it has going for it though. The sensations are pretty unique and masturbating with this shower head feels more like a full self-care ritual instead of something casual.
In addition, I also want to point out just how revolutionary this thing is. Let's be honest, the sex toy market is pretty oversaturated right now, and finding something truly unique is next to impossible as a sex toy reviewer. And well, this item managed to surprise me. This alone makes it a winner in my book.
With that, I will finish for now. I hope you will have a lot of fun exploring just how stimulating a well-aimed stream of water can be. Good night!