The following article contains affiliate links, which means Sex Toy Magazine earns commission from products purchased through links in this post. If you love our work, please consider supporting us by ordering the products of your choice using the links placed in the article.
In addition to being a massive sex toy enthusiast, I also love good, well-shot pornography. As such, I get all tingly every time an interesting crossover between porn and sex toys pops up.
And, the spring of 2023 brought a very, very interesting collaboration – Kiiroo and Kayley Gunner. It saw the release of FeelKayley, a FeelStars stroker inspired by the vagina of the amazing blonde adult star.
Today, I will gladly share my detailed thoughts on this sleeve. In this Kayley Gunner FeelStars stroker review, we will learn how the sleeve feels, who it is best suited for, whether it is worth a purchase, and how to get the most out of the Kayley Gunner experience.
So, strap on and prepare for the ride as we will explore everything there is to know about Kayley Gunner FeelStars stroker.
• Kiiroo – A Quick Introduction
• What Does the FeelKayley Stroker Feel Like? – My Personal Experience
• The FeelStars Stamina Training Program with Kayley Gunner
• The Pros and Cons of the FeelKayley Stroker
• Where to Buy & Is it Worth it?
Who is Kayley Gunner?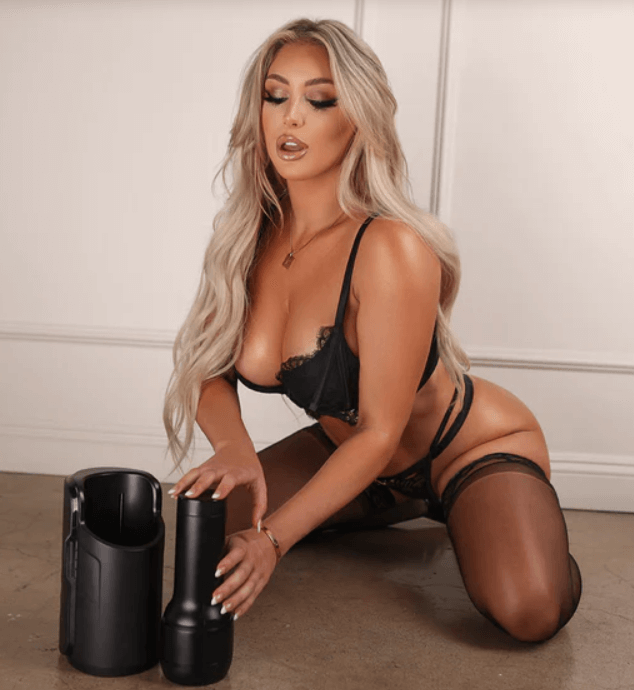 Born in 1997, Kayley Gunner is an American adult film actress who has quickly risen to become an industry sensation.
It is easy to see how she has become so popular so quickly. For one, modern porn has been screaming out for a leading blonde bombshell for a while now. Yes, we have some good performers in that category, but no one with a true superstar quality. Well, Kayley has the enthusiasm, the charisma, and the body. A hat trick in the porn industry.
But what else makes her so special in addition to the killer body and that enthusiasm? Well, she served in the American army, reaching the rank of sergeant. Yup, you heard that right – this gorgeous woman is more than qualified to handle military-grade weapons. And, to me, this just makes her work that much hotter. There is just something insanely tempting about a woman who is not only beautiful and sexy but potentially dangerous as well.
If you want a quick peek at some of the content offered by Kayley, feel free to check out her official social media profiles:
• Twitter @kayleygunner
• TikTok @notkayleygunner
• YouTube @kayleygunnerofficial
• Instagram @kayleygunnerofficial
Kiiroo – A Quick Introduction
Seeing as we have already met Kayley, let's also introduce you people to Kiiroo. It is a Netherlands-based company that has made its mission to offer sex toys with a high-tech edge. Every single toy they have released is an innovation – the designs, the feel, and the capabilities of Kiiro toys are different from everything else on the market.
Of course, this also reflects in the price – Kiiroo releases are not the cheapest on the market, but for people looking to make masturbation an experience, they are more than worth it.
I will not waste too much time introducing Kiiroo because I have already covered many of their previous key releases in detail. For those interested in getting to know Kiiroo and their male-oriented products, feel free to read our guide on the best Kiiroo toys for men. Spoiler alert – you will want to get the Kiiroo Keon if you want the full Kayley Gunner FeelStars experience.
For now, let's get back to the star of the show – Kayley Gunner and her FeelStars stroker.
What's in the Box?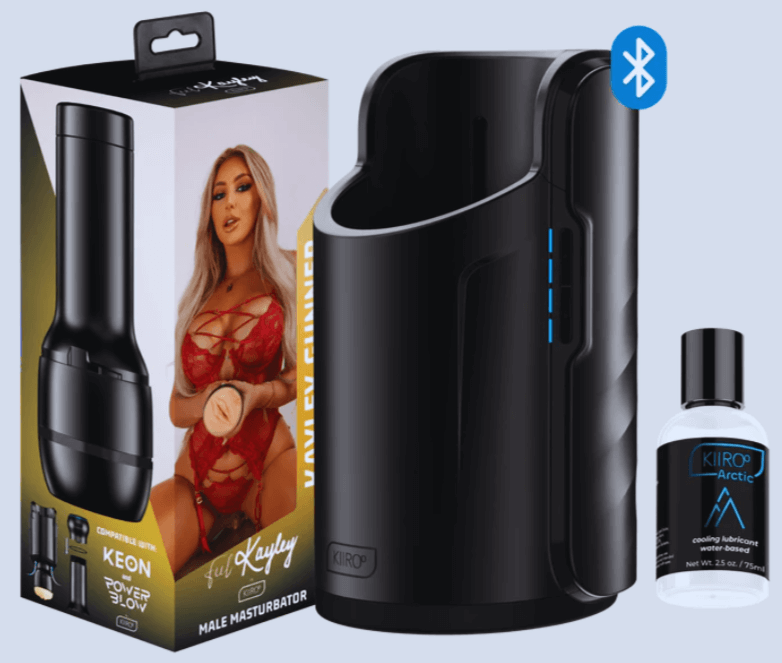 Ok, time to unwrap this bad boy (girl?) and take a look at what exactly is included in the FeelKayley bundle. I am already a proud owner of the Keon so I only got the FeelKayley stroker. If you do not have the Keon though then I highly suggest you get the bundle with the FeelKayley Stroker, the Keon, and the Arctic lube. It is by far the best value-for-money bundle in the FeelKayley Collection.
The box itself is neatly designed – nothing spectacular, but the promotional picture of Kayley and the stroker on the front was enough to get my juices flowing. Even in the picture, this vagina looks tempting as hell.
So, let's open up the box and see what's inside:
• FeelKayley Stroker – The obvious star of the show. At first glance, you immediately see how Kiiroo keeps stepping up their game. FeelStars are getting better with each new release. The entrance looks beautiful – highly detailed lips, satin-soft to the touch, beautiful pale beige color. I will be discussing how it feels to enter and penetrate it later on in this article, but the first impressions were…let's just say, hot.
• Kiiroo Keon – Sleek, intense, and well-built, this masturbator from Kiiroo is still their flagship male toy. Feel free to read more about this toy in our detailed review of the Keon.
• Arctic Cooling Lube – Many sex toys these days come with lube included. This one was a bit of a nice surprise though. The cooling sensation is pretty strong and goes very well with the Kayley Gunner Stamina Training Program (more on that later.)
Time to get to the best part and enter this beautiful vagina and see what the FeelKayler stroker actually feels like.
What Does the FeelKayley Stroker Feel Like? – My Personal Experience
The FeelKayley stroker is an experience that starts even before actually getting your member inside that doll. As I mentioned, that p*ssy is gorgeous. And it feels gorgeous too – the FeelKayley Stroker is made of TPE, a material known for its skin like qualities. Think of the silkiest skin you have ever touched and you get an idea of what TPE feels like.
Yep, this is just how it is – Staring at it and touching it with my fingers is part of the appeal, especially before the first time with a new toy. Just as important as foreplay before real sex.
Remember that the Keon is a hands-off male masturbator and the up-and-down stroking can be very intense on higher settings. As such, I use the Keon on slower modes to get a good, precise feel of this new FeelKayley stroker.
So, what does it feel like?
Well, the FeelKayley stroker has three distinct chambers. In the following, let's examine all of these chambers in detail.
• The first one starts things off with a tight, almost suction-like type of a feel that intensely stimulates the head of the penis.
• The second, lengthiest part of the sleeve features a spiraling texture that also holds several "spikes" that massage your c*ck as you penetrate the FeelKayley stroker. This is the area that hits the entirety of your penis and can feel very exhilarating and "new" for men that have never experienced these types of toys before.
• The sleeve ties things up with the third part where I was greeted with a tighter, twisting area. Here, the feel is almost like someone is rubbing your d*ck between their hands. A great finishing line as I tend to blow my load while the entirety of my member is inside the FeelKayley – just as things should be.
Remember that if you use the FeelKayley with the Keon, you will have a nearly endless number of options of how to enjoy this thing. And, as already emphasized, the Keon is the best bet for getting the most out of the FeelKayley stroker. Personally, I am not the biggest fan of hyper fast stroking. Instead, I usually go for something slow and steady to "understand" each distinct part of the sleeve.
Now, with the Keon and the FeelKayley stroker, there is one more interesting feature to discuss – the Stamina Training Program. And this is precisely what we will be looking at next.
The FeelStars Stamina Training Program with Kayley Gunner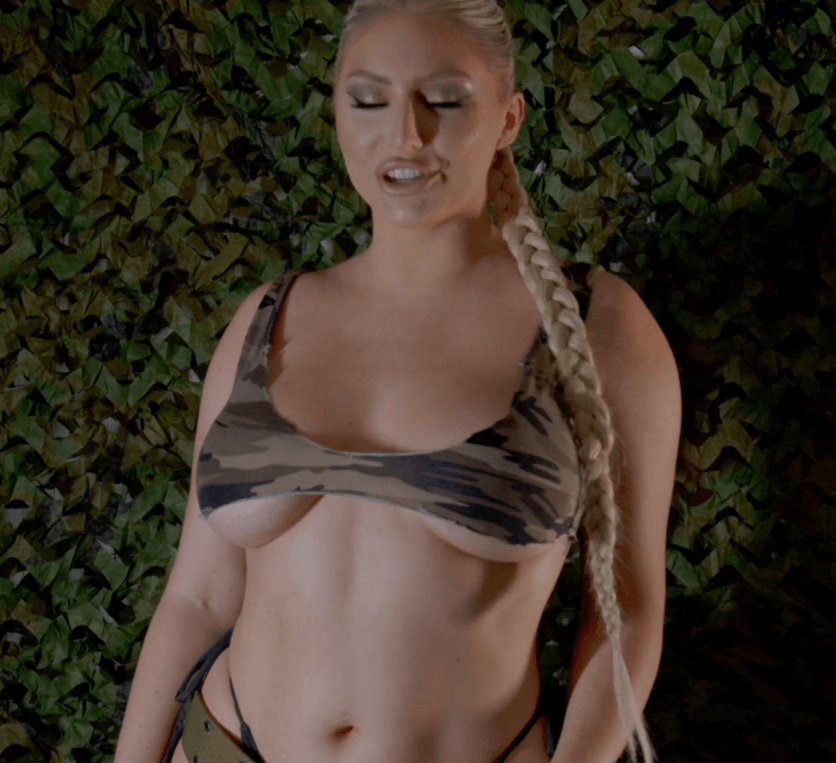 As we already established, Kiiroo is all about interactive content. And the Stamina Training Program featuring stars from the FeelStars lineup is a great way of experiencing this interactivity. These programs are meant to train your sexual endurance. You choose the intensity and the positions and the on-screen action is synced to what your virtual girlfriend does on the screen. The goal? To make you last longer.
Now, I will have to admit that I have not checked out most of the Stamina Training Programs from the FeelStars collection, but I just had to check out the one featuring Kayley Gunner. After all, what is cooler than having your sexual stamina trained by a legitimate army sergeant?
It is also worth noting that the FeelKayley Stroker is the first toy that is specifically designed with the Stamina Training Program in mind. And it shows. The intensities and the positions offered play very, very well with the textures of this sleeve. Yes, this makes it considerably difficult to push through the entire program…but this is kind of the point. Also, kudos to Kayley for taking the content so seriously – her attitude, her acting skills, and her enthusiasm are on full display in this program. And yeah…that body, truly amazing stuff.
I will not be discussing my personal achievements with the Stamina Training Program here, but I can confidently say that it is worth a try for all fans of interactive pornography. Even if you do not have any issues with bedroom endurance, this thing is still plenty of fun just for playing as a porn game.
It is not all sunshine and rainbows though – unfortunately, the Stamina Training Program comes at an additional cost. I understand why though – the company probably had to invest a lot of money into making something like this work and they need to get their returns on investment.
If you are a big fan of Kayley, then the program is absolutely worth it. It shows Gunner at her best and these clips are some of my favorite scenes featuring her. If not, there is a lot of other great content to experience with your FeelKayley Stroker. 
As you have seen from what I previously wrote, there is a lot to love about this stroker. But, to sum things up and make things a bit easier for those on the fence, I will put down a quick list of the main advantages and disadvantages of FeelKayley stroker.
The Pros and Cons of the FeelKayley Stroker
Let's get to the good part first and see what are some of the main features that make this toy tick.
The advantages
The toy looks amazing
I have a few models from the FeelStars collection and the FeelKayley is the most detailed and hot out of them all thus far. These highly detailed lips just scream for someone to come inside.
Great for stamina training
This is a very tight, stimulating sleeve. If you do not watch out and go hard, expect to blow your load in minutes. As such, this toy is great for some serious stamina training. Combine the sleeve with the official Stamina Training Program and you have a serious boot camp on your hands.
Stamina Training Program
As we already covered, this is so far the best Stamina Training Program from the FeelStars. You can see and feel that the sleeve was designed considering the training program. Oh, and the vibe Kayley Gunner gives off fits the training program like a glove. Super fun and hot!
Endless customization options with the Keon
Paired with the Keon, the FeelKayley will allow you to experience it in a nearly endless number of different vibration settings and intensities. Want something slow and romantic? Why not! Want to test your limits by going as intense and fast as possible? Yes, sir! In a nutshell – this toy will give you plenty of novelty for a long- long time.
Accommodates all penis sizes
Whether you are on the big side of things or are packing something average/below average down there – the tightness and the intensity will still be there. The TPE material is stretchy and will accommodate and stimulate you no matter what.
Inspired by one of the hottest stars in the biz right now
This comes down to personal taste, but I simply adore the star that this toy was inspired by. Having the chance to feel what it is like to spend a night with Kayley is great. This stroker has made me an even bigger fan than before.
The disadvantages
No sex toy is perfect and the FeelKayley stroker is no exception. Here are some disadvantages to consider when purchasing this stroker. Here are some things to consider when you buy this sleeve:
Pricey
This is not the cheapest toy out there and there are several other budget-friendly blowjob machines available out there. That said, I can confidently say that you do get what you pay for here – for fans of high-tech male masturbators, this sleeve is pretty awesome in combination with the Keon.
The Stamina Training Program comes with an extra cost
If you want to go for the Stamina Training Program then you will have to pay extra. To me, this was not an issue because I was such a fan of the star that I wanted to check out the program no matter what. Is the Stamina Training Program worth it if you are not after endurance training? This is up to you, but I would probably skip it.
Where to Buy & Is it Worth it?
You can find the best prices and bundles of the FeelKayley stroker on the official site of Kiiroo. Buying directly from Kiiroo has other perks as well – for example, signing up for their newsletter gives you 10% off as of this writing.
In addition, the customer service of Kiiroo is solid. They will be more than happy to answer all of your questions regarding the toy.
Now, is the FeelKayley Stroker ultimately worth it? Yes, yes it is. If you are looking to explore male masturbators, this is one of the best possible entry points there is. Keon is a sleek machine with endless customization options and speed intensities.
It is also a completely VR-compatible toy and there is a constant influx of great new VR porn content being put out. And, the FeelKayley stroker is one of the best sleeves for experiencing the Keon and compatible VR content.
---
With that, I will wrap things up for now. In the end, this was a situation where a much-anticipated sleeve was exactly as good as I hoped it would be. Congratulations to Kiiroo and Kayley Gunner for delivering this into the world! Good night!