The following article contains affiliate links, which means Sex Toy Magazine earns commission from products purchased through links in this post. If you love our work, please consider supporting us by ordering the products of your choice using the links placed in the article.
Fleshlights are probably the most popular male sex toys in the world. They are also commonly the first ones men get when they start exploring sex toys. It is a very good starting point too – Fleshlights are simple, but they are damn effective in offering pleasure, combating death grip, and even bringing some variety to the sex lives of couples.
There is a hairy BUT in here though – for something so simple, Fleshlights can be pretty expensive. The best Fleshlight girls will cost about $70-$85. I am not saying that this is unbelievably expensive, especially considering just how stimulating the tightest Fleshlights can be.
I would probably gladly pay more for some of my current personal favorites – the Emily Willis Squirt, the Autumn Falls Peaches, and the Eliza Ibarra Ethereal.
Still, you will not know whether you will even like Fleshlights if you have not explored one before. So, one will inevitably wonder – are there any great cheap Fleshlights out there?
Luckily, the answer is yes. In this post, I will be reviewing the best cheap Fleshlights out there.
Keep in mind that I will only cover official Fleshlight products. There are other Fleshlight alternatives out there too. Some of them are worth it, some not. That is a topic for another time though – today, we will only check out stuff from Fleshlight, the OG.
So, without further ado, these are the best cheap Fleshlights currently available:
• Quickshot Stamina Training Unit
Quickshot: Vantage

At about $35, the Quickshot: Vantage remains one of the best-selling toys available on Fleshlight. Surprisingly enough, this little toy actually has some advantages over the more "premium" Fleshlight models.
For one, there is the see-through build. Seeing my member penetrate this thing only adds to the hotness of the overall experience.
And then there is the size – at only about 4.5 inches in length, this toy is super compact. If you do not have a good place to store your sex toys then this thing can just safely sit in your bag somewhere. I know a lot of men who are interested in exploring sex toys but are not able to buy them due to sharing space with parents or roommates. Here, this issue is completely solved. The Quickshot: Vantage is just so small – you will have no problem hiding it.
How about the most important part, the sensation offered by the toy? Great. The inner part of the toy features the soft SuperSkin sleeve which is the trademark of all Fleshlight toys. Super soft and nice feel, especially with some good lube thrown in.
The textures are surprisingly intense too – those inner spirals will be a pleasant surprise for anyone who has never experienced such toys before. Pro tip? Use the Vantage for enhancing the blowjob experience – the design of the toy is open-ended so the tip of your penis will be "free" for some additional tongue action.
Stoya Quickshot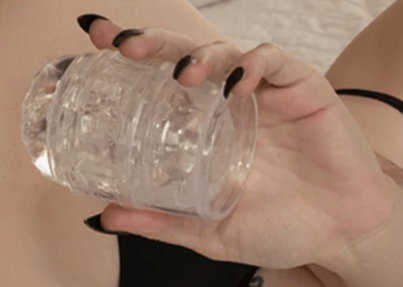 The Stoya anal and vagina Fleshlight sleeves are arguably the most well-known and acclaimed Fleshlight toys of all time. They are known as some of the tightest Fleshlights available and have pleased countless men worldwide.
Now, the opportunity to get a feel of these sleeves for about half the price is an opportunity that is simply too good to pass. So, what exactly do we have here? Well, the Stoya Quickshot is a unique one – it is a combination of both the butt and vagina sleeves of the Stoya Destroya. On one side, you have the vagina. On the other side, you have the butt. Also, you have the legendary open-ended design familiar from all Quickshot products.
Is it as intense as the more expensive, OG Stoya Destroya? Yes, but it is different. Quickshots are shorter than the full-sized Fleshlights. As such, the Stoya Quickshot is not quite as "gripping" as the OG. Still, the textures play on your c*ck in some amazing ways. They are intense, tight, and highly stimulating. From my experience, the Stoya Quickshot works especially well when you go super fast – stroke up and down as fast as you can and you will see heaven.
In a nutshell – the Stoya Quickshot can easily compete with its "bigger sisters", the full-sized Destroya sleeves.
Autumn Falls Quickshot

Out of all these cheap Fleshlights, this is the one I was probably the most excited about. You see, Autumn Falls is easily one of my favorite pornstars in the biz right now. And, as I already mentioned in the introduction, her Fleshlight is also one of my favorites.
As with the Stoya Destroya, the Autumn Falls Quickshot features both the anal and vagina sleeves in a compact, miniature form.
The vagina sleeve here features dots that feel especially nice on the head of the penis. Feels like having a set of fingers pushing against the head in a very sensual manner. I have to be honest though – this area makes me want more. I want to get more of this feeling, but I have to move on with the stroking.
Luckily, the anal part of the Autumn Falls Quickshot feels just as good. As you may have guessed – this area is more intense and has a little suctioning effect going on. It is not quite as textured as the full anal sleeve of Autumn Falls, but you still get an idea of what makes the Autumn Falls Fleshlight products so popular.
Again, I have to emphasize one thing though – just like the vagina part, the anal area of Autumn Falls ends a bit too soon. As you are about to start to enjoy those mysterious and intense textures, your penis pops out of the other end.
Still, much better than using only your hand…and for $40? Absolutely worth it.
Mia Malkova Quickshot
Mia Malkova can already be considered a certified porn legend. As such, it is no wonder that Fleshlight decided to collaborate with this marvel of a model and bring out a Quickshot model inspired by her wonderful orifices.
Malkova has done some pretty wild scenes in her time, and this cheap Fleshlight follows suit by being quite wild as well. The key here is variation – for such a small toy, it is amazing just how different the individual areas feel.
The entrance features a sort-of tentacle design. Think of something like a whirlpool and now imagine your penis being softly handled by that very whirlpool. Strange, but ever-so-nice!
The next areas come with the legendary pleasure pockets that so many Fleshlights have implemented so well. The placement of these pockets is immaculate here – they alternate between offering the penis ultimate tightness and some "breathing space." Just when you feel as if you get some rest from the intensity, the super tight spots suck you right back in. Literally.
What can I say? A legendary Fleshlight for a legendary star.
Quickshot Stamina Training Unit
Man, I just love good endurance-training sex toys. Just recently, Kiiroo and Kayley Gunner released FeelKayley – a stroker that can be paired with a stamina training program led by the immaculate Kayley herself. Trying out this toy reminded me of an older and cheaper endurance training toy – the Quickshot Stamina Training Unit.
In this one, we have the traditional Quickshot open-ended design. This time though, the insides are a bit different. You see, this toy features a mouth on one end and an anus on the other end. Sound freaky? Well, it kind of is, but you will forget all about it once you slide into these holes.
Immediately, you understand what they mean when they call this the performance training Fleshlight.
It has a straightforward albeit super tight texture that is filled with beds from the start to the end.
The best way to describe the feel would be this – entering an excited vagina even before it had the time to properly warm up and lubricate. The woman wants you. A lot. The issue is that her body is yet to catch up. If you have had a super fast quickie before then you know what I mean.
If you lack experience in that area…well, the Quickshot Stamina Training will show how it feels.
Riley Reid Quickshot
We finish things up with the Fleshlight inspired by the one and only Riley Reid – arguably the most-loved pornstar on the Internet. Something about her personality just makes virtually every online adult community love that girl.
As such, the pressure was on Fleshlight to create something truly great. And with the Riley Reid Quickshot, they did just that.
For one, I simply adore the vagina part of this sleeve – SO. MANY. BEADS.
Most cheap Fleshlights on this list have beads concentrated on the edges of the toy. Here, they strike the entire penis from every possible angle. The head, the shaft…everything gets its fair share of action. This type of stimulation is something that every FL enthusiast should try at least once,
Now, how about the butt side of this toy? Very tight, but a bit more traditional when compared to what the vagina part offers. Here, you get the traditional swirling type of feel.
Still feels awesome though…and remember that the Quickshot models combine both the vagina and anus parts. This means that the wonderful vagina part of this sleeve is always doing its thing on your c*ck.
---
Every toy I wrote about costs less than $50. This makes the Quickshot series one of the best value-for-money sex toy lines out there.
The Fleshlight name is always reliable, the customer service is great, the packaging is discrete…and most importantly, these toys feel amazing.
So, if you have ever planned on dipping your toys into the world of Fleshlights but hesitated due to the pricing – here is your chance to see what this stuff is all about.
Just remember that experimenting with Fleshlights can be addictive. It is just so much fun. Before you know it, you may end up with a closet full of tens and tens of sleeves.
With that, I will wrap things up for now. Keep it real, gentlemen!