The following article contains affiliate links, which means Sex Toy Magazine earns commission from products purchased through links in this post. If you love our work, please consider supporting us by ordering the products of your choice using the links placed in the article.
Everyone knows sex dolls. For many, they are the first items associated with sex toys. After all, sex dolls have been depicted in many Hollywood movies, reality shows, and even documentaries. It is safe to say that most men are at least interested in the idea of what it feels like to have sex with a sex doll.
So, off to Mr. Google they go and what do they find…dolls that are lifelike, beautiful, and sexy. So, where is the catch? The prices of most of these dolls start at $1500.
Yes, with high-end sex dolls, you do get what you pay for. But, are there alternatives? Are there cheap sex dolls out there worth your time and money? I am glad to say that there are and today's article will be dedicated to just that – reviewing the best cheap sex dolls currently available.
Before we head over to concrete products, let's answer some commonly asked questions about cheap sex dolls.
---
Does cheap mean a reduction in quality and durability?
Not necessarily. As you will see in our list, you can find a durable sex doll made of premium materials for under $250. So, where is the catch? A lot of the best cheap sex dolls currently available are sex doll torsos. The price reduction comes from the fact that the dolls are not full-sized. you get a fully functional vagina, anus, breasts, and butt, but you will have to do without the head, legs, and hands.
Are inflatable sex dolls still a thing?
They are, but only a few are worth the money. These are generally the cheapest types of dolls available so there is a lot of weird, gray market stuff out there. My advice is to GENERALLY steer clear of inflatable dolls. If you do want to get one then do your research VERY carefully – this article will also help, wink-wink.
Are sex dolls shipped discreetly?
Yes, all reputable sex doll sellers know that their clients value privacy above all. As such, the packaging of the dolls will be discreet and boring. Where and how you will store your companions will be up to you though.
---
Without further ado, these are the best cheap dolls currently on the market:
• Best Overall – "Britney from Tantaly"
• Best Full-Sized Doll – "Ridmii Jean"
• Best Inflatable Doll – "THRUST PRO Naomi"
• Best for Anal – "Ridmii Delilah"
• Most Compact – "Dita from Tantaly"
• Best for Glans Stimulation – "Cecilia from Tantaly"
• Best Trans Doll – "Sarina from Tantaly"
• A Sex Doll Torso with Oral Capabilities – "Danaya from IronTech"
Best Overall – "Britney from Tantaly"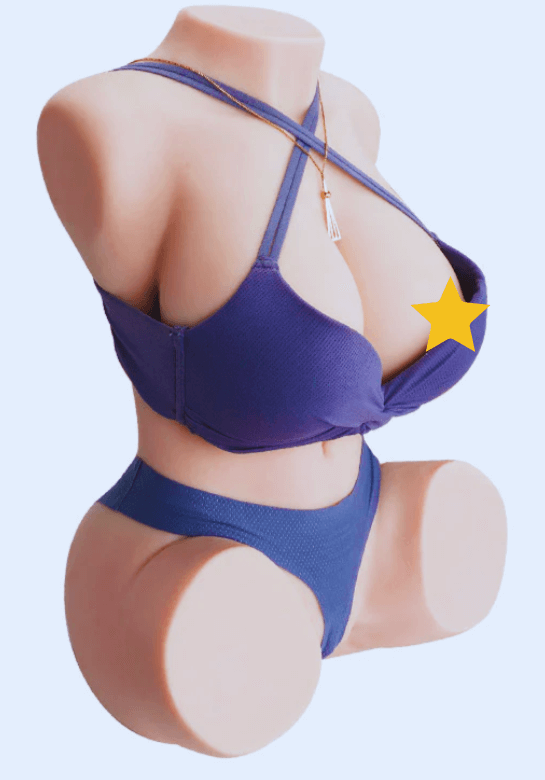 Check price and measurements at Tantaly
Britney has been the best value-for-money sex doll for a while now. Allow me to explain. Firstly, there is the price – for under $400, you get a doll that can easily compete with some of the high-end models out there.
She is made of TPE – a material known for its detailed, skin-like quality. Back dimples and goosebumps are there – yes, it is that detailed. Think of the softest, most satin-like skin of a woman and you get an idea of what touching Britney feels like. And then there is the body – she has big and beautiful 32B breasts and a perfectly sculpted butt to match.
In addition to this, she has well-crafted anal and vagina tunnels. Both of them are textured to the max. The anus is obviously tighter, featuring a swirling tunnel that grabs your penis and stimulates it to the max. The vagina is a treat too – tight and beautiful. The feel of these tunnels is similar to a cross between male masturbators like the Lovense Max 2 and the best Fleshlights. In a word – awesome.
Any other perks? The metal skeleton is very flexible and fully adjustable. This means that Britney will allow you to take her in virtually any position you like. As such, it makes for a great toy for practicing unique positions in preparation for real-life action.
Any cons? Well, as with all sex doll torsos, the immersion will not be quite the same as with a full-sized doll. However, the wonderful body, the compatibility, and the solid price of the doll more than compensate for the lack of hands and feet.
Overall, still the best value-for-money sex doll available. Let's hope that the price for her will not go up in the near future. If you are on the fence about getting her, feel free to check out my full, detailed review of the Britney sex doll.
Best Full-Sized Doll – "Ridmii Jean"
Check price and measurements at BestRealDoll
With experience, one knows how to scout for full-sized, TPE sex dolls that do not cost more than $1000. And, trust me when I say this – for a high-end sex doll, this is a very solid deal.
In Jean, we have a classic brunette beauty with a slender body and perky breasts/*ss. To be honest, just looking at her makes my blood pump. I do not "use" her that much these days, but when I get it on with her, it is always a sweet ride.
A fully articulated skeleton, soft skin, and a highly detailed face are the main perks of Jean. And, while we are on the subject of the face – it is gorgeous. Kind of reminds me of the Hollywood bombshell Megan Fox. There is a slightly vampy vibe going on which I absolutely adore.
It is also worth noting that with a Ridmii doll like Jean, there are nearly endless customization options available. From pubic hair all the way to manual moaning/wiggling, you can choose to add additional perks to your Ridmii doll. Of course, this will blow up the price a bit, but it is still worth looking at everything you can add to your doll. Just so you can get your dream girl for your hard-earned money.
Oh, and a pro tip – dress up your doll. Even for your first "date" with her. It will make things that much more intense and immersive.
Best Inflatable Doll – "THRUST PRO Naomi"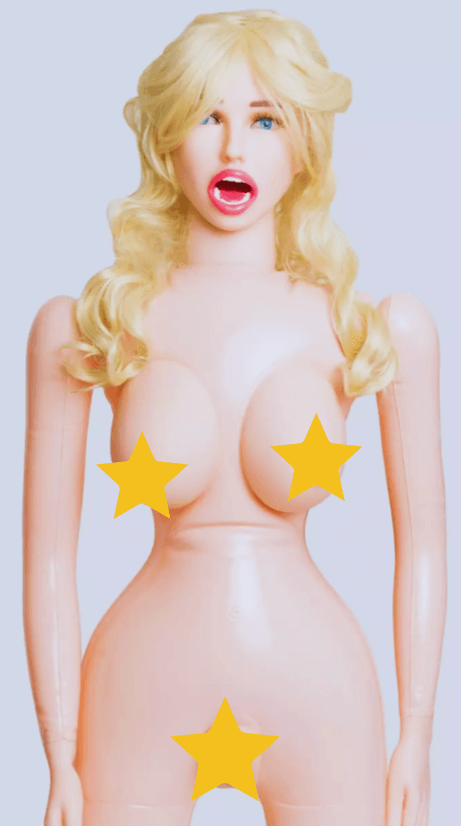 Check price and measurements at Lovehoney
In the introduction of this article, I mentioned that inflatable dolls are worth it if you know where to look. With Naomi, we have one of the few inflatable sex dolls truly worth a shot. So, what makes this one special?
First off, this is not just a random blow-up doll. She also has a vibrating function – there are 3 speeds and 7 vibration modes to choose from. Just enter 3 AAA batteries and you are good to go. These vibrations enhance the feel of f*cking her in the *ss or vagina. If you enter her orifices with a generous coat of lube, it feels as if your penis is getting a massage while you are penetrating her. Fun, fun, fun – and for less than $230.
This cheap sex doll also includes a foot pump – you can quickly pump her up and get going. And trust me, you will want to get going quickly because getting your first sex doll will be ever-so-exciting and hot.
Yes, she may not be eye candy on the level of some other cheap sex dolls in this list, but for an inflatable doll…not bad at all.
Lastly, I want to give a quick shout out to her mouth – this is the part of her that does not vibrate. Still, with a coat of lube, I find the experience to be very, very good. The anus and the vagina are the obvious stars here and getting oral from Naomi is not quite on the level of the best blowjob machines.
Best for Anal – "Ridmii Delilah"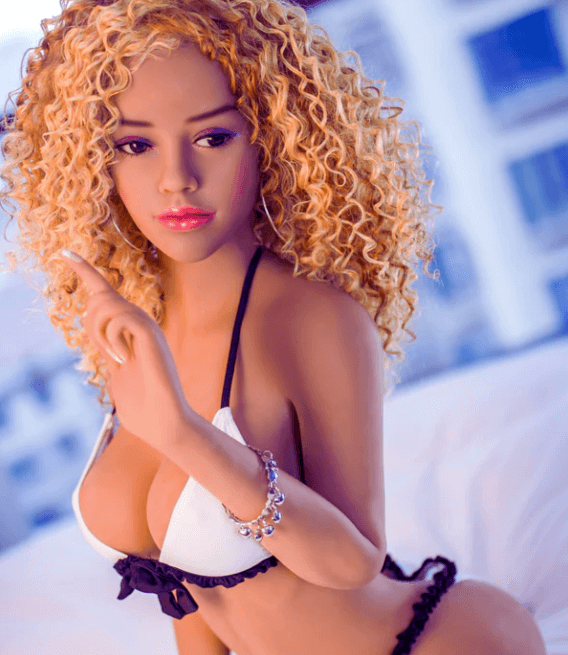 Check price and measurements at BestRealDoll
Next, we are looking at arguably the best cheap sex doll for the fans of breasts. Ridmii from Delilah is, simply put, stacked to the max. Those breasts look huge, yet very natural. Now, imagine hitting that delicious body from behind and seeing those massive t*ts bounce. Yup, it is just as good as it sounds.
Now, the butt of Delilah is a bit too big for my taste. Reminds me of the ever-famous fake butts we see from hip-hop so often. Yes, it is still kind of sexy, but I tend to lean towards more natural BBW dolls if I am in the mood for some *ss.
Still, there are perks to that body. That slightly fake-looking *ss is somehow amazing for anal. I do not know what it is about the combo of anal sex and fake butts, but somehow it just works very well. And those lovely blonde curls too…amazing.
I usually dress Delilah in a good thong. Just to enjoy the view and maybe take some pictures before getting it on with her.
In a nutshell, if you love a good pair of t*ts, start here!
Most Compact – "Dita from Tantaly"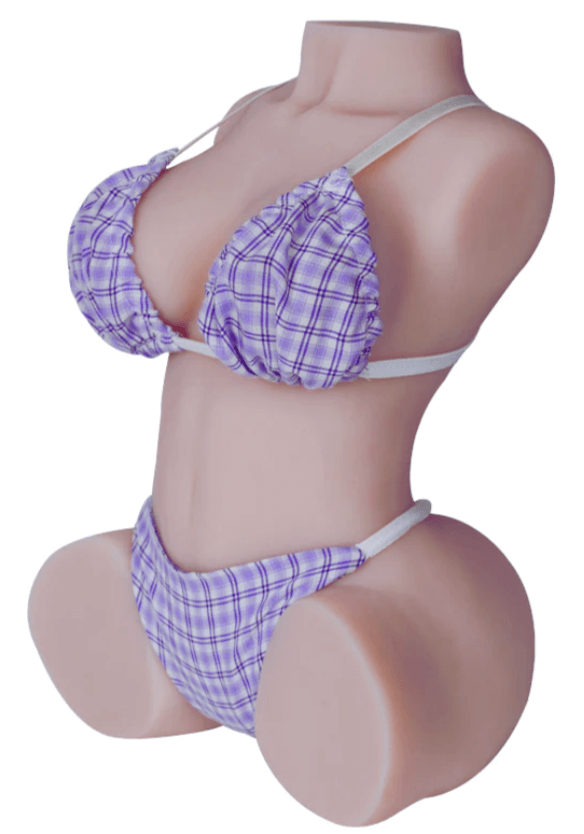 Check price and measurements at Tantaly
As of this writing, Dita is the cheapest and smallest sex doll on this list. At only 9,26lbs/4.2kg, she is a truly compact little babe. Now, we have already established that Tantaly only offers quality – so, how is the smallest torso of their lineup?
With a 20-inch bust and a big *ss to match, she is still a voluptuous one. So, if you are a grabby fellow, then there is plenty to enjoy here. In addition, her curves are wonderful to enjoy while you are sleeping beside her. The curves more than make up for the small size of the doll.
The anus and the vagina though? No reduction in quality there. The anus is still wonderfully tight as with all the Tantaly dolls. There is also the slight suctioning effect that I love so much. The vagina? Swirling ridges, nubs, and bumps all through the tunnel. Great stuff. Oh, and your size does not matter. This is the part that even some of the best male masturbators get wrong. A lot of the time, bigger men simply can't fit into the toys. Here, everything is elastic and stretchy, accommodating even the largest of gentlemen with ease.
If you want something truly compact yet exhilarating, then start with Dita. Be warned though, there is usually no going back after getting your first sex doll! You will probably get another doll soon. And then another…and then another.
Best for Glans Stimulation – "Cecilia from Tantaly"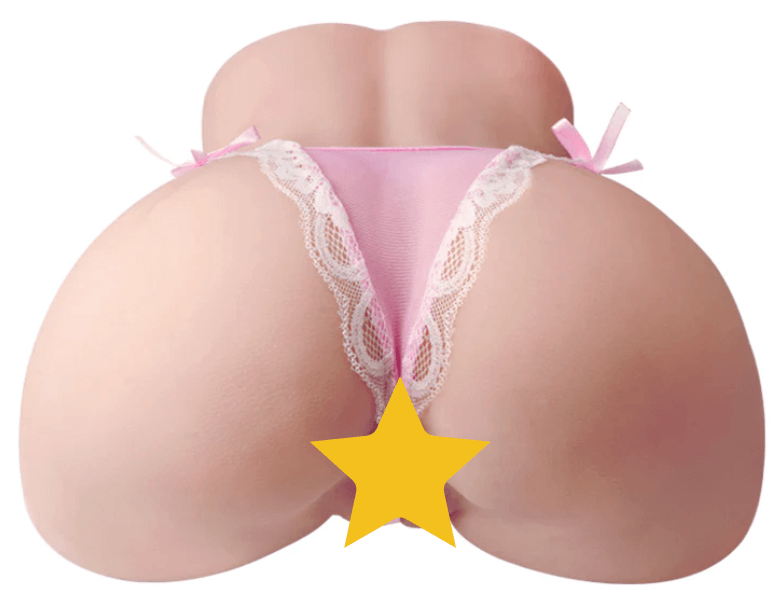 Check price and measurements at Tantaly
At 18lb, Cecilia is a mid-sized Tantaly sex doll torso. The reason for her being on this list of the best cheap sex dolls? Her tunnels. You see, every Tantaly doll has a slightly different vagina/anus texture. As such, you will never tire of collecting these dolls. Your wallet will, but this is irrelevant for now.
The vagina tunnel of Cecilia is, in a word, exhilarating. The tunnel contains a total of 6 considerably large beads. And, you will feel every single one of these beads as you slowly penetrate her. Oh, and by the way, the penetration speed completely changes the feel of her tunnel.
Go fast and there is a sort-of classic suctioning effect. Go slow and there is the feeling I already described – a soft massage-type of feel where you feel each of the 6 bumps.
The anal tunnel of her is also top-notch – tight with lots and lots of nubs that hit your penis from every angle. Somehow, the anus of Cecilia feels especially good on the head of my penis. Somewhat of a similar feel to what the Lovense Gush offers. So, if you are familiar with that toy, you already kind of know what to expect from the butt of Cecilia.
Best Trans Doll – "Sarina from Tantaly"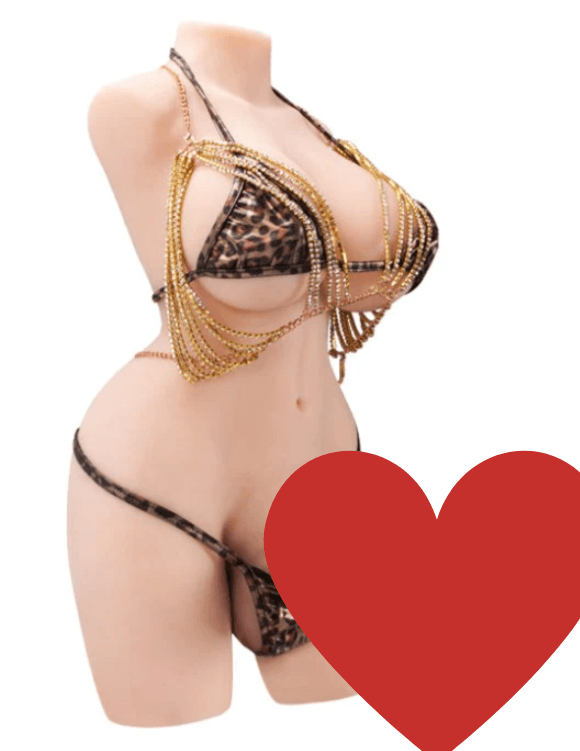 Check price and measurements at Tantaly
Sarina is currently the best cheap trans sex doll available. It is unique in many aspects. For one, I legitimately do now know any other trans sex doll torsos that combine this quality with this kind of price.
Let's look at some key details of Sarina. For one, you have the traditional Tantaly satin-smooth skin and beautiful big, soft breasts. But, as you guessed, the doll also features a penis. And it is a beautiful one – at 7 inches/18cm, the c*ck of Sarina is pretty big, to say the least, and taking it in will not be an easy feat. Luckily, you can bend the c*ck to whichever position you like in order for it to precisely stimulate your prostate or your G-spot. Since the doll is also small, you will have no trouble getting the positions right.
In addition, you have an anal tunnel – on Sarina, the textures are relatively straightforward. The tunnel is tight and filled with small "circles" that feel ever-so-awesome in combination with the intense suction. Oh, and the fact that you can play with the d*ck of Sarina while you penetrate her makes things even more exhilarating.
All things considered, Sarina is a niche product, but I would still readily recommend it to anyone who has entertained the idea of playing with a trans sex doll.
A Sex Doll Torso with Oral Capabilities – "Danaya from IronTech"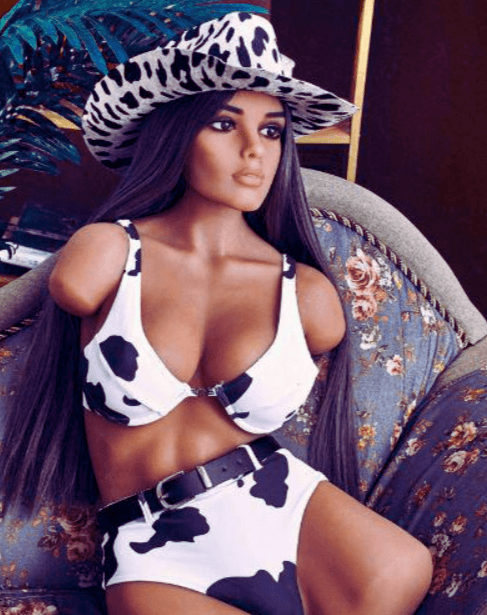 Check price and measurements at Sexy Real Sex Dolls
If you are on the fence about whether you should get a torso doll or a full-sized doll, then, well…there is also the possibility of a compromise. With Danaya, you have a beautiful, brunette sex doll torso that has a fully functional head.
This means that you get all the perks of a traditional sex doll torso – namely the anus, vagina, butt, and breasts. But, you also get a well-crafted head. And yes, the head is designed for oral so that is also a possibility.
Danaya is a beautiful brunette that gives off the vibe of a Latin/Brazilian bombshell. The kind of woman you could imagine walking down the legendary Ipanema beach in a skimpy bikini. Yes, that body is voluptuous and gorgeous, but man…one also has to give a shout-out to those dark seductive eyes and that pair of lips. Simply stunning.
Now, who would I recommend this doll to? Well, for men who want a compact doll, but are afraid that the lack of a face will destroy the immersion. Here, you get the best of both worlds.
---
I am confident that this article helped shatter the myth for good – sex dolls are not only for lonely millionaires. These days, there are lots of affordable sex dolls available. And, as sex dolls get more and more popular, I foresee even more good and budget-friendly stuff coming along in the future.
With that, I will finish for now. As always, feel free to contact us with any and all questions regarding sex dolls and sex toys in general. We would be more than happy to help you orientate in this exhilarating world.