The following article contains affiliate links, which means Sex Toy Magazine earns commission from products purchased through links in this post. If you love our work, please consider supporting us by ordering the products of your choice using the links placed in the article.
For women and other vagina owners, vibrators are arguably the most common type of sex toy. There are similar different fun vagina-oriented vibrators out there – clit vibrators and rabbit vibrators are just some of the most well-known types out there. But there is some unique and popular stuff as well – just take a look at the recent, TikTok viral rose vibrator!
Ok, the point stands – vibrators for women are immensely popular. But how about penis vibrators? This is a completely different ballgame we are talking about here.
These are toys that stimulate the parts of the penis (or the entire penis) with vibrating sensations. Sometimes, they also add a stroking motion to the mix. You know, like the one offered by real sex.
We will explore several types of toys in this list, but what matters, for now, is that the best penis vibrators are worth checking out. Whether you are flying solo or have a regular partner, these toys can enhance your pleasure in a multitude of ways.
But which are the best penis vibrators?
Well, this is what you people came for, right? You can read all the in-depth reviews of the toys in the article below, but here is the quick line-up of stuff featured:
• The Most Versatile Penis Vibrator – "Fun Factory Manta Black"
• An Affordable VR-Compatible Penis Vibrator – "Lovense Max 2"
• A Cheap, Warming Penis Vibrator – "Lovehoney Hot Shot Male Masturbator"
• Best VR-Compatible Penis Vibrator – "Kiiroo Pulse Solo"
• Best Long-Distance Penis Vibrator – "Lovense Gush"
• Best Penis Ring – "Tracey Cox Supersex Twin Silicone Vibrating Love Ring"
Before we start with the reviews, let's answer some other commonly asked questions about penis vibrators:
How much do penis vibrators cost?
It depends, but generally speaking – expect to pay anywhere from $30 to $300 for the best penis vibrators. It is not necessarily the price of the penis massager that is the most important part to look for.
Instead, you should keep your focus on what kind of stimulation and features you are looking for.
What features to look for in a penis vibrator?
What kind of masturbation do you enjoy? Do you want something that resembles the feeling of real intercourse? Would you like to try something new, for example, a type of stimulation that is completely focused on the tip of the penis? And of course, as with anything in real life, you will also have to consider your budget.
Do penis vibrators feel as good as real sex?
Yes. Different, sure. But just as good. When you value realism above all, then choose one of the best penis vibrators that have realism as one of the key features. These types of toys can get you very, very close to the real thing.
What types of penis vibrators are out there?
Here are some of the main types of penis vibrators that you will find in our list of best penis vibrators:
Penis rings – We are now in 2023 and long gone are the days of stupid rubber rings that do little more than block the blood flow of your penis and get you stupid hard. These days, there are penis rings that can be used as genuine masturbation aids.
Strokers – Arguably the most popular type of penis vibrator. These toys use a stroking motion and vibrations to get you off.
Glans vibrator – The most unique type of penis vibrator. Here, the sensation is focused entirely on the upper part of the penis.
There are more unique types of penis vibrators, but these are the most common and generally, the types you should look out for.
Now that we have answered all of the key questions, let's get to the main course and check out the best penis vibrators as rated by Sex Toy Magazine.
---
The Most Versatile Penis Vibrator – "Fun Factory Manta Black"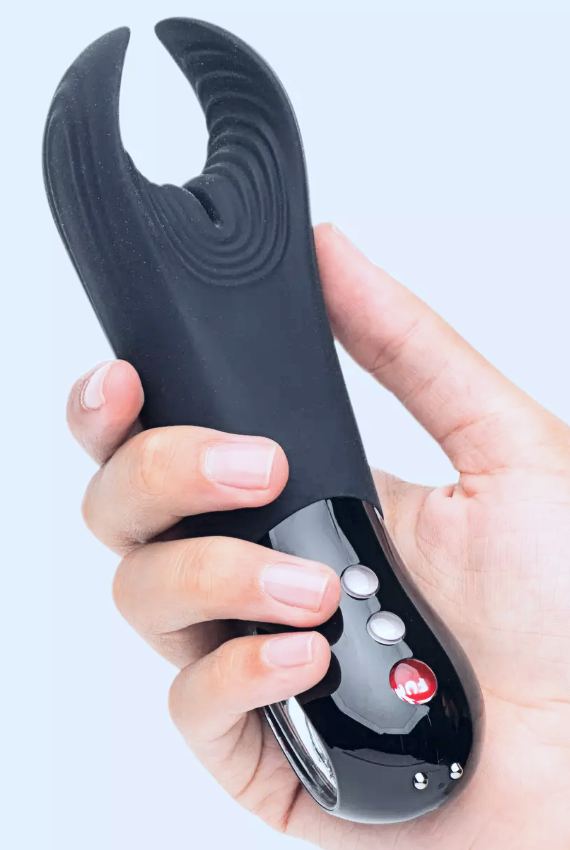 Check best price at Lovehoney
I know, I know – your first thoughts are that this looks like a god-damn wrench. I mean, what the hell? Could it get any more cliche than that? These were my first ideas too. At least until I got my c*ck on this thing.
It is hard to describe the specific sensations this thing offers because it is arguably one of the most versatile male vibrators on this list. The stretchy upper "grip" of the toy can be used anywhere on the penis.
Try to get it over the head of the penis to use as a glans massager and discover a new type of masturbation sensation.
Alternatively, try placing it on the lower end of the penis and jack off the upper part of the c*ck while it vibrates down there.
You can also just get the penis inside and jack off using the handle. And then there is the option of using it during sex – as a c*ck ring.
There are 6 speeds and 6 patterns on this machine and all of them offer slightly different types of a sensation. Versatile as hell – just as I said in the beginning.
Pricing wise, it sits somewhere just in the middle – depending on different deals and such, expect to generally pay right around 150 bucks for this bad boy.
An Affordable VR-Compatible Penis Vibrator – "Lovense Max 2"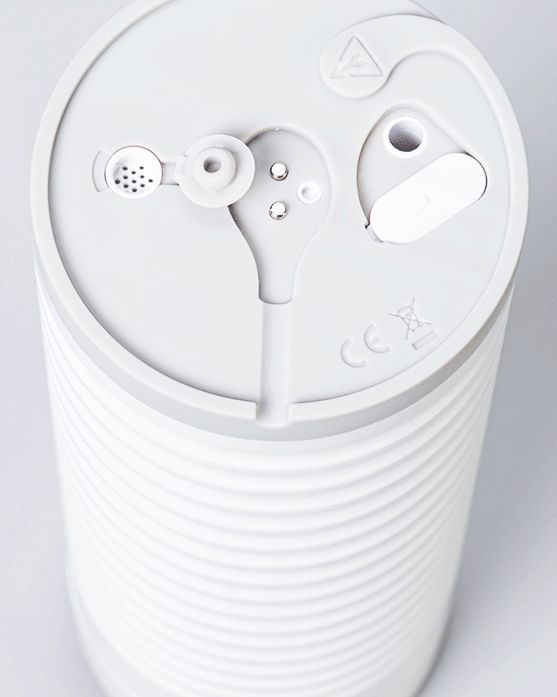 Check best price at Lovense
Ah yes, the legendary Max 2. A toy that has seen itself featured on several of our best-of lists – best blowjob machines, the best vr sex toys, and of course the best Lovense toys all were lists that saw the Max 2 being featured.
So, what makes it so special? To be completely honest – it is mostly the price. You will usually find this toy for about $100 if you order it online…and for this price, it has hell of a lot going for itself.
First, the vibrations themselves feel super unique. Being inside this tube feels kind of like feeling the vaginal contractions of a woman while she is coming. Not exactly, but this is a good description of what to expect.
Second, this thing can be connected to VR. And you will simply not find a better VR-compatible sex toy for enjoying your favorite VR stars at this price range.
Third, there is the legendary long-distance connectivity of Lovense. Your partner can operate the settings from thousands of miles away for some shared fun. Even if you do not have a partner, there are dedicated communities of Lovense fans out there that will gladly tinker with your toy.
Is it an ideal toy? No. It is pretty loud, big, and bulky…but it is still one of the best penis vibrators out there considering how many features it offers.
A Cheap, Warming Penis Vibrator – "Lovehoney Hot Shot Male Masturbator"
Check best price at Lovehoney
Lovehoney's own brand is generally a hit-and-miss type of affair. Most of the time, you get very solid pleasure products for a very reasonable price. However, sometimes, you get a dud in there as well.
With the Hot Shot Male Masturbator, you get something pretty solid – a penis vibrator with everything you would want from such a product. It works mainly on the upper side of the penis with the main focus on the head. If you throw in a lot of lube then the vibrations will feel somewhat similar to a tongue quickly flicking all over the head. Oh, and it adds some lifelike action by also having a heating system.
There are some issues though – the run time of 60 minutes or even less may not be ideal for some super drawn-out sessions. In addition, the toy is not completely submersible. Other than that, fair game, especially for someone who is new to these types of toys.
Oh, and according to one reviewer, this thing works well on a super gorged penis. So, why not use something like a penis pump or a c*ck ring to start off the session and then finish using the Blowmotion? This is something that I need to try out soon.
Best VR-Compatible Penis Vibrator – "Kiiroo Pulse Solo"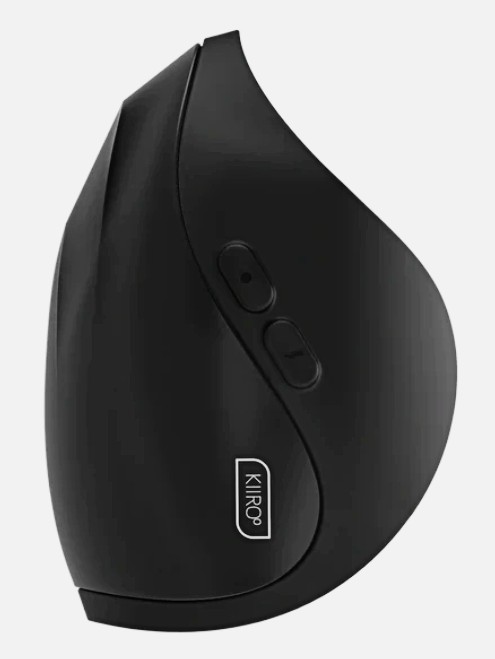 Check best price at Kiiroo
Ah yes, Kiiroo. The best Kiiroo toys just hit different when it comes to interactive sex toys.
Admittedly, the Pulse Solo is not the most popular Kiiroo toy out there, but for me, it can easily compete with everything else they have in their line-up.
So, let's take a closer look at what we do have here.
First off, this may be slightly off-topic, but it is the best-looking toy on this list. This is the one that your parents, friends, or even girlfriends will probably mistake for a high-end tech gadget instead of a sex toy.
Secondly, the vibrations offered by this one just hit the penis in a super unique way. The stimulation feels as if it is not only hitting the outside of the penis, but the interior of the penis as well. Imagine an electric shock, but in a very good way and you kind of get the gist of the Pulse Solo.
This is the type of toy that you do not have to operate yourself. All you have to do is place it on the spot that feels the best and let the toy do the work for you. Of course, as with all the Kiiroo toys, you can easily connect it to VR porn sites like VR Bangers and let the toy do the work in sync with what is happening on the screen.
Oh, and if I generally find Kiiroo toys to sit on the pricier side, then this one is another bargain deal. Yes, the Max 2 is even cheaper, but it is just not as comfortable to use as this bad boy.
Best Long-Distance Penis Vibrator – "Lovense Gush"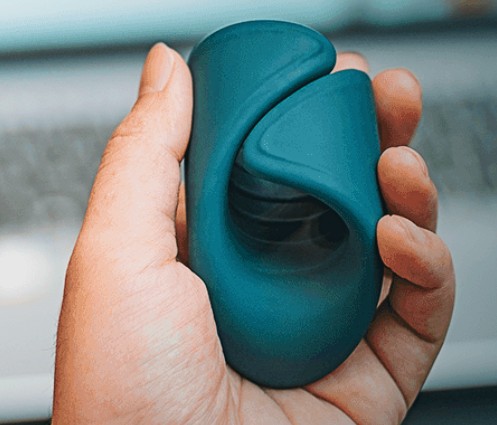 Check best price at Lovense
We have already mentioned some of the perks of Lovense in this list – namely the amazing long-distance connectivity.
The Gush is the Lovense version of a glans massager. Now, what niche does this one fill? To me, foreplay. It sits on top of the penis super comfortably and the vibrations are nice and buzzy as well, but for some reason, this one has never made me orgasm. It gets me right to the edge, the status where it almost feels like any touch of the penis is enough…but it doesn't happen.
Now, if I still want to get off and do not have a partner, I usually finish with another toy. Usually, I build things up with the Gush and then start hitting a Fleshlight. Something like the Kazumi Fleshlight, for example, fits this scenario very well. It is a tight, stimulating sleeve and a few meandering, Gush-inspired strokes are usually enough for a glorious finish into this thing.
As such, I like to use it for edging and torturing myself. Using a device like this on the regular will help get the sexual stamina up very well.
Best Penis Ring – "Tracey Cox Supersex Twin Silicone Vibrating Love Ring"
Check best price at Lovehoney
Cock rings are commonly thought of as items for couples. And yes, this one is not an exception – the design allows it to hit the clitoris directly and surprisingly intensely. She will enjoy this ride.
That said, this is still one of the few cock rings that works very well as a solo toy. When you look at this thing, you see that it consists of two silicone rings. These two rings allow for some pretty unique, and dare I say, incredible sensations if you play your cards right.
Just one example, let the ring stimulate your perineum on the more intense settings while you beat your meat. This type of stimulation can be a fun starting point for exploring prostate toys in the future.
Of course, the price of the toy is also worth a mention. At about $20-$25, you will not have to spend much and the chances that the thing will go to waste are pretty much zero.
---
So, this is it for today. These were the best penis vibrators out there when taking everything into consideration. Hopefully, you had a blast reading and choosing between these toys. I will be publishing something interesting soon enough so stay tuned. Good night, folks!